19

min read
25 Things you must see and do in Aix-en-Provence (Part II)
Here is a list of 25 things you must see and do (illustrated by my photos), many of which you'll stumble upon simply by walking around the city. NB: This list is by no means exhaustive but features a couple of things I found interesting.
CONTEMPORARY AIX-EN-PROVENCE
Just like Lyon, Aix has an interesting mix of both super old and super modern buildings. France has the difficult task of preserving old buildings and monuments of heritage value while simultaneously keeping up with the times and population increases by building new and modern buildings. I think Aix has definitely succeeded in this area. Look at the bunch of new buildings I discovered on my second trip there.
In just a few years, Aix-en-Provence has become one of the most important cultural hubs of Europe. The Cité du Livre library (which was built in 1993, more info below) started a trend of having a group of modern buildings constructed in the new Sextius-Mirabeau area covering all the artistic disciplines: literature, dance, opera, music, cinema, arts, with le Pavillon Noir, le Grand Théâtre de Provence, le Conservatoire, les Archives départementales, le Centre Arcade.  Interestingly, most of them are situated on the aptly named Avenue Wolfgang Amadeus Mozart.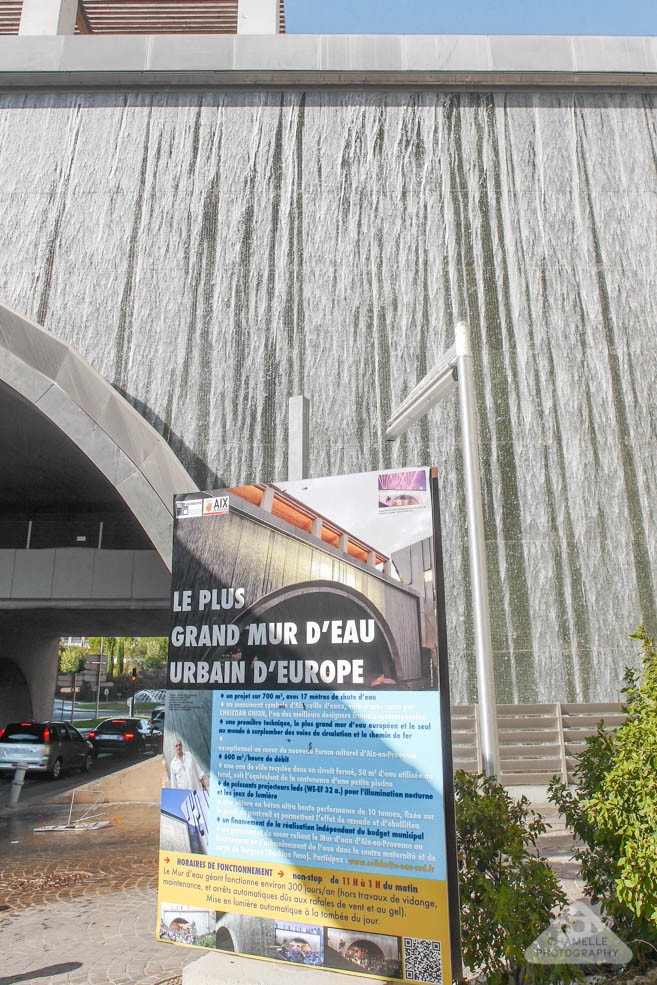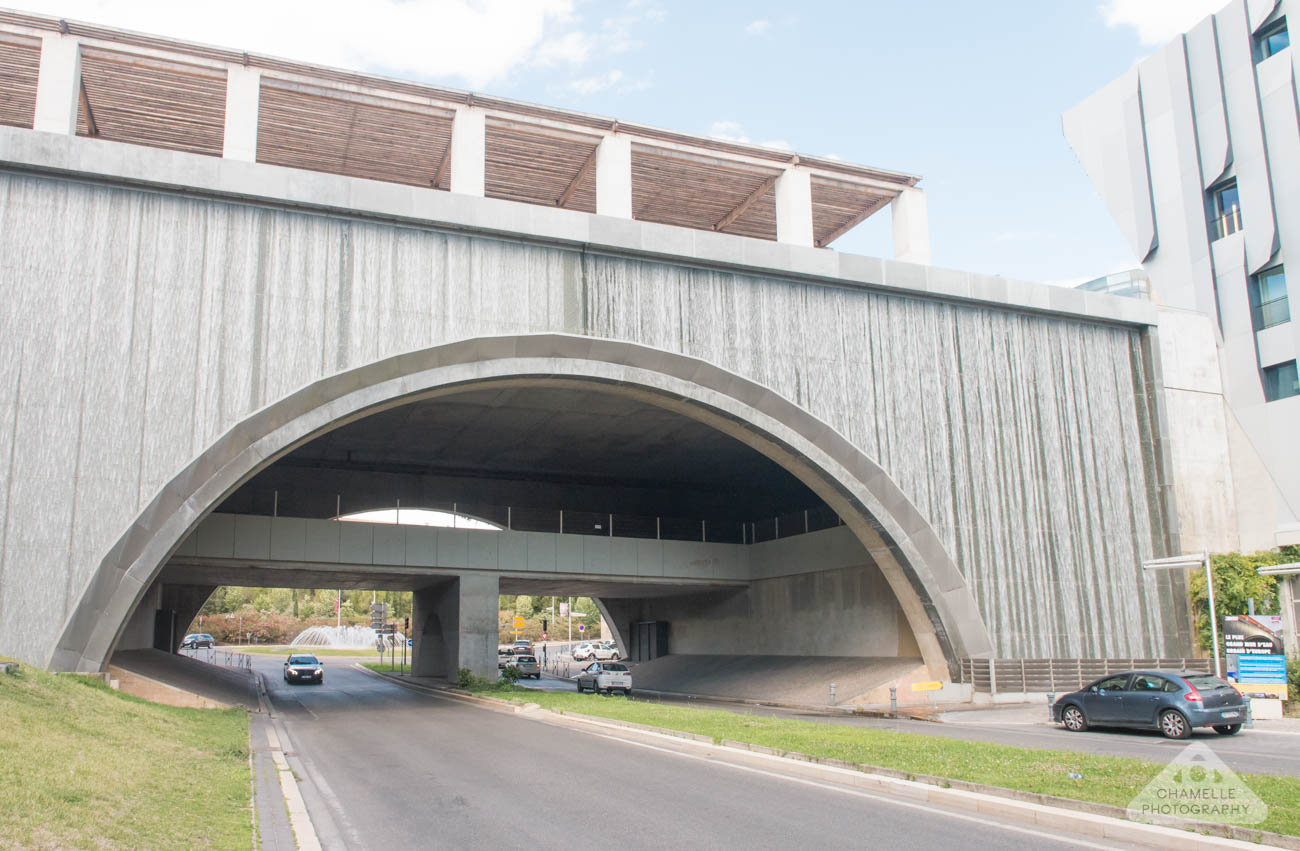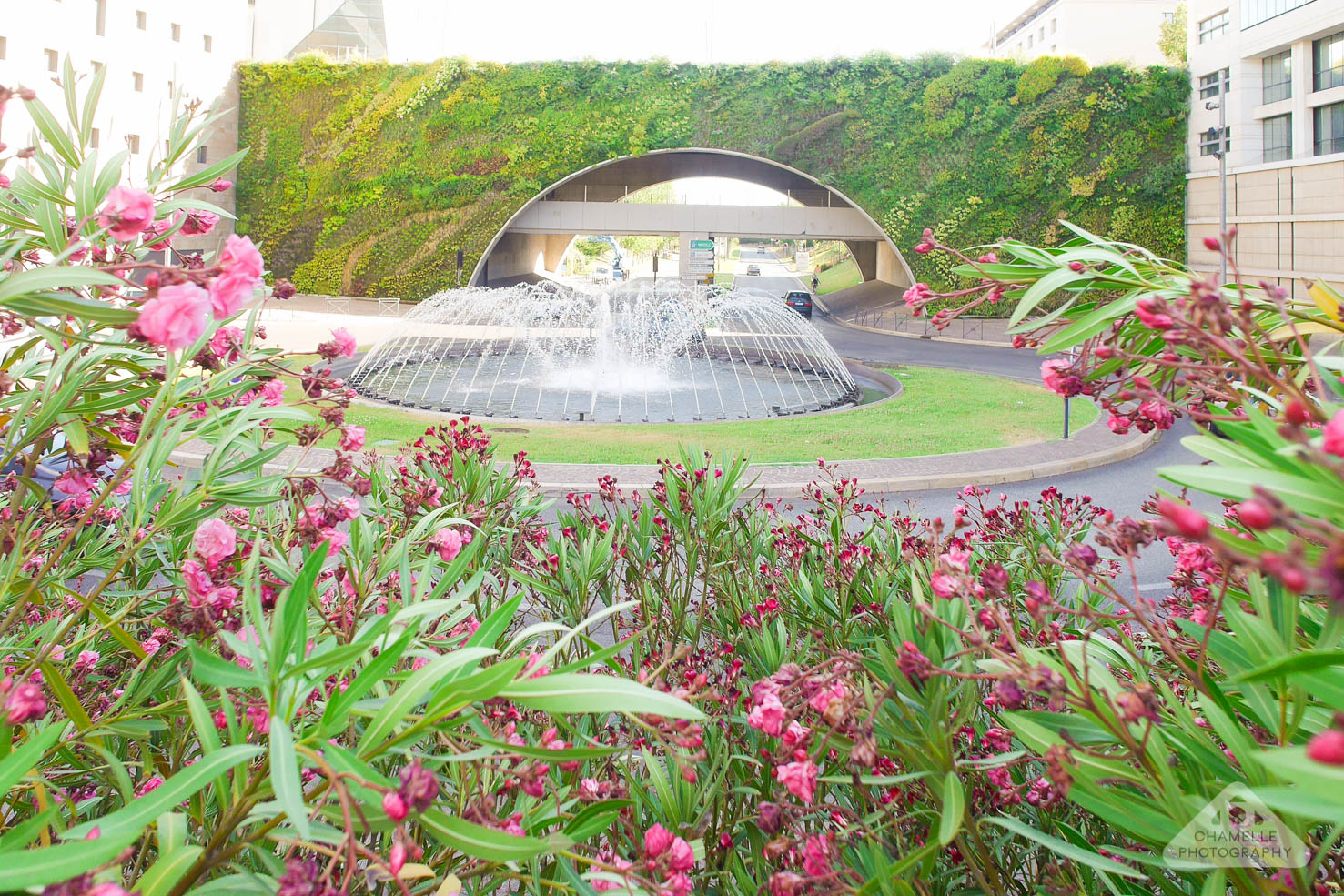 18 Mur d'eau d'Aix-en-Provence (Water Wall)

I actually stumbled upon this by accident. After dropping my friend off at the main bus station and trying to find my way back to my Airbnb without my phone (which had run out of battery) nor a map of any kind and not remembering the name of the street (ie getting really lost), I passed this incredible structure. It was a really hot day and it felt super refreshing to walk past it.
This stunning mur d'eau (water wall) opened in 2014 and is the the largest one in Europe.
It was designed by Christian Ghion with the concept of « ville d'eaux, ville d'art » ("city of water, city of art") in mind and was built to forge the contemporary identity of the Sextius-Mirabeau quarter. Almost a million euros were spent building it! It is 17 metres (56 feet) high with a surface area of 700 m² (7,534 square feet). And notice how it doesn't flow into the tunnel? A clever design channels the water around it! Ingenious! The mur d'eau runs on recycled water and is beautifully illuminated at nightfall.
Remember what I said at the beginning of my blogpost about how French people like to disguise 'ugly' things?
Well the back of the wall is also a stunner! There you'll find an amazing vine-covered wall developed by landscape artist Patrick Blanc in 2008 and just a bit further you'll see yet another fountain sitting on a roundabout. Are we still counting how many fountains there are? 😀
The water wall is situated in the Sextius-Mirabeau quarter, at one of the entrances into the city, at the intersection of Avenue Max Juvénal and Avenue Wolfgang Amadeaus Mozart.
A Caveat: The footpath/sidewalk on this road is extremely narrow and it was hard enough rolling my suitcase along it. I wouldn't recommend it for prams and definitely not for wheelchairs. It seems like they forgot to make the road pedestrian-friendly 🙁

19   Conservatoire de Musique / Conservatoire Darius Milhau (Conservatorium of Music)

This 7400m² building was completed in 2013 and was designed by a Japanese architect, Kengo Kuma. Its design kind of reminded me of the Caverne du Pont d'Arc. It is large enough to house 1400 dance, music and theatre students, 100 teachers and 120 miscellaneous staff. There are 62 classrooms and 15 performance practice rooms.
The conservatorium holds 60-70 performances a year in the theatre.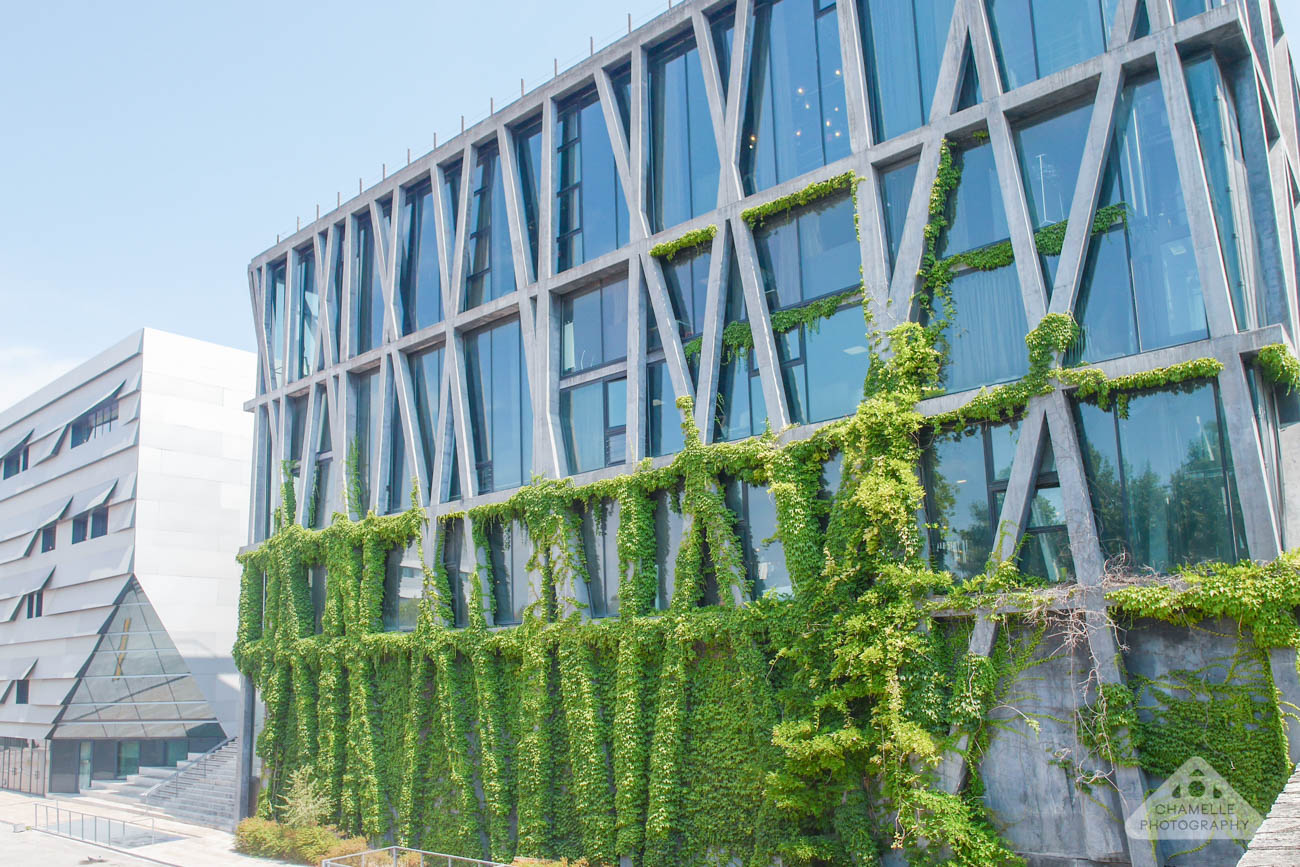 20  Ballet Preljocaj / Centre chorégraphique national d'Aix-en-Provence AKA 'Pavillon Noir' (Choreography centre of Aix-en-Provence AKA the 'Black Pavillion')
The building is normally just black but since I visited during summer it turned green! 😉
The Black Pavillion was completed in 2006, built for the Ballet Prljocaj dance company. They chose to base themselves in Aix-en-Provence as part of a National Choreographical Centre, a French cultural institution.
Rudy Ricciotti won the Grand Prize for architecture in 2005 for this building.
21 Bibliothèque Méjanes / Cité du Livre (Book City Aix-en-Provence Library)
Bibliothèque Méjanes opened to the public in 1810 and moved into this building (a former matches factory) in 1993. It was named after Jean-Baptiste Marie de Piquet (1729-1786), the marquis of Méjanes and a huge bibliophile.
The reason why I came here was because The Little Prince had alerted me to the fact that a giant-sized version of 'his' book was here… so we had to come and see it! 😉 At the entrance of the library you'll find an enormous copy of 'Le Petit Prince' book by Antoine de Saint Exupéry and alongside it, two other French favourites: 'Le malade imaginaire' ('The imaginary illness') by Molière and 'L'Étranger' ('The Stranger') by Albert Camus.
Speaking of Camus, a lot of his original manuscripts and over 300,000 heritage items dating back to the 16th century are stored in this library.
Recently, I happened to come across an article about an amazing 800-year old handmade book all about colour which is housed in this very library. It sounds incredible! Check out the article below:
271 Years Before Pantone, an Artist Mixed and Described Every Color Imaginable in an 800-Page Book
If you get to see it let me know in the comments below or by email please! 🙂
Bibliothèque Méjane
Address: 8-10, rue des Allumettes, 13100 Aix-en-Provence
Open: Monday-Saturday 9am-6 or 7pm, Borrowing times: Tuesday-Saturday 10am-7pm
22 Le Grand Théâtre de Provence
Finally, we have the contemporary Grand Theatre building which opened in 2007 in the same Sextius-Mirabeau district. It hosts operas and concerts and has seating for 1370.
Address: 380 avenue Juvenal, 13100 Aix-en-Provence

(mine on top, Catherine's on the bottom)
23   Art lessons in Aix-en-Provence with Catherine Moullé of Quatrinaime
This was actually the very last thing I did on my trip so that's why I've left it till last. I was googling Things to do in Aix and I came across a Tripadvisor page about an art teacher offering lessons. I thought it would be a cool thing to try as I loved drawing as a kid and pretty much stopped since I was a kid… I'd always wanted to improve… As well as that it would be good to have a real local and cultural experience rather than just doing touristy things, shopping and eating.
I did a 2.5 hour art class with Catherine Moullé of Quatrinaime and I highly recommend it! I didn't know what to expect and I didn't know where we'd be meeting till a few days before (as she chooses a spot based on weather and according to how many students she has that day). She'd given me the address and I didn't think too much about it but when I arrived and I saw the queue of people I realised that we were actually at a tourist attraction! I was so surprised and excited. Lo and behold, the other class members didn't turn up either so lucky me, I had her all to myself too!
I'd have to say that this was the highlight of my trip! Not only did I have a wonderful time with Catherine drawing and chatting (she speaks both English and French) in the beautiful gardens, I discovered another gorgeous 'hotel de particulier' building (Caumont Centre d'Art) that I absolutely fell in love with (see Part I).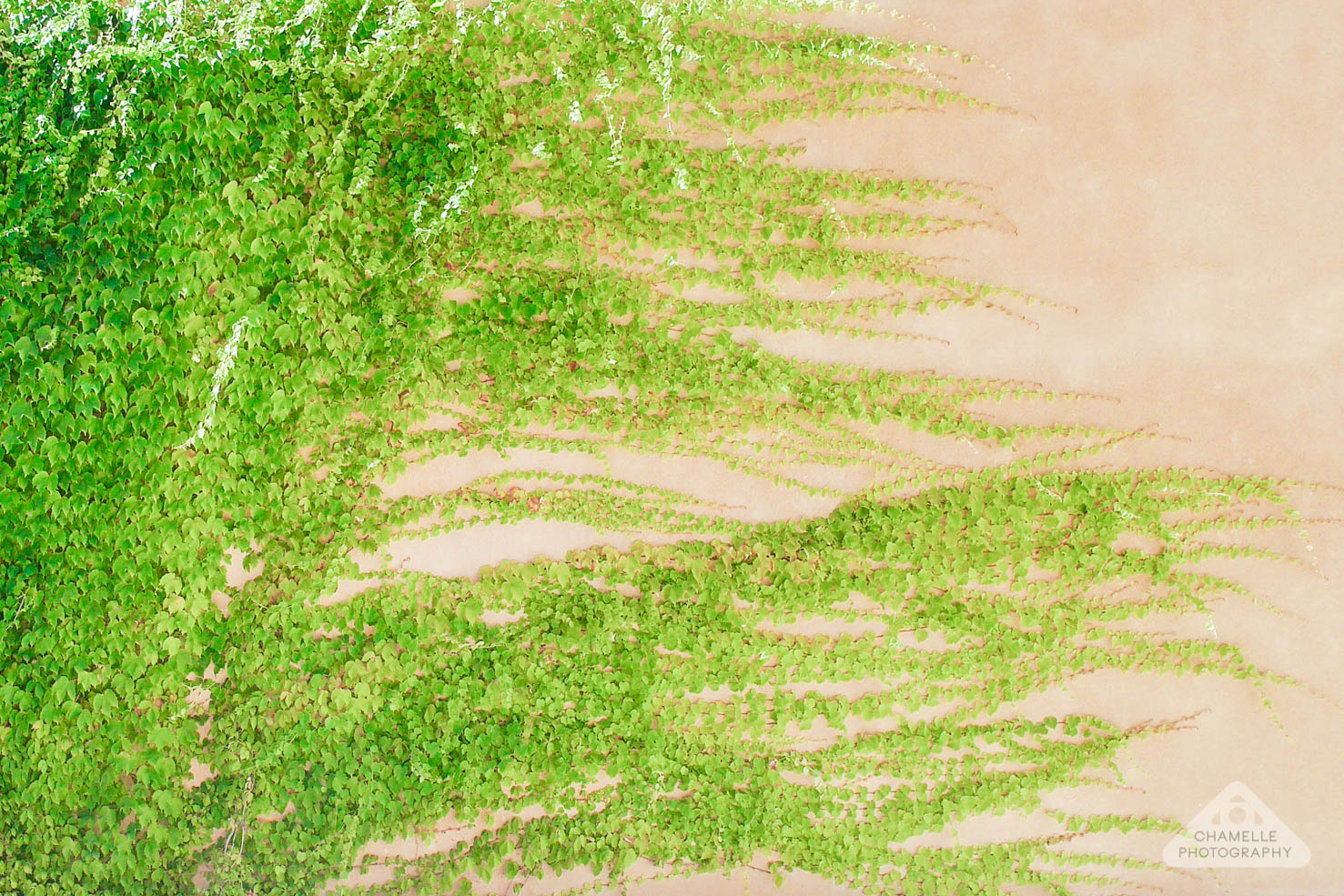 I spent a good 2.5 hours with Catherine, sitting in the beautiful gardens in the breeze. There was a bit of a cold breeze which was refreshing given how hot it had been the previous day. She teaches 'carnet de voyage' (travel diary) drawing classes. We're supposed to not only draw things we see on our travels but also scrapbook as well by including clippings and photos, etc. It's the kind of thing I'd love to do had I more time! Instead of having a written diary or a photo diary it's a beautiful artistic way to record one's travels or even one's daily life.
I was a bit nervous and self-conscious at the start as one gets when – you know – one becomes an adult… but Catherine quickly put me at ease. We started with me drawing her bag. I felt like I was being too slow and time was going too quickly so I had to be quicker. I know that it wasn't a race and good work takes time but.. she told me I was being too perfectionistic with my work and to be freer…
In the second exercise she asked me to draw anything that I could see around me. I chose the freaky fish fountain. I soon wished I had chosen something more colourful and not monochrome but actually I was surprised with the final result. I had a bit of difficulty with making the rocks look 3D. She said to leave the tops white to show the light hitting them from above. Compare my fish drawing to hers (one she'd done earlier).
The third and last exercise was a colouring-in exercise with a catch. Instead of drawing the outline first and then painting it, I had to draw the coloured parts first. Wow, that was an experience! I drew the back of the yellow Caumont building. Then I had to put the ink over the top, however, I was not allowed to be perfectionistic by making the lines perfectly match up nor was I allowed to draw perfectly straight lines. She said that it creates interest when everything is not so perfect and rigid and indeed she was right! The outlines for the rooftop are actually purposely going into the sky!
She also reminded me of an apt quote by the master Salvador Dali, "Have no fear of perfection. You'll never reach it."
Wise words indeed. Well I guess I sort of gave up my perfectionism because I realised I drew the windows too big and I only had 4 instead of 8, but in the end it doesn't matter, does it?
OK, So here's what else I learnt. I learnt the difference between watercolours and gouache. She was using watercolours and I was using gouache (because that's just what I had – I love Caran d'Ache products because they're made in Geneva). With watercolours you cannot make the colour white, the white comes from the paper. With gouache you can add white paint (which is included in the set) to paint the colour white or make other colours lighter. With watercolours the only way to make a colour lighter is by adding more water. If you're interested about this I found this great video with a real life example showing the differences between the two.
She also told me about Urban Sketchers and how it's a big worldwide thing now.
The time just flew by and after saying our goodbyes I raced around taking photos of the gorgeous building and gardens of the Caumont Centre d'Art  (You did read Part I where I wrote about this magnificent place, didn't you?).
Quatrinaime
Art lessons: Tuesdays and Fridays 2-4:30pm (except school holidays)
Group lessons: 25€,  Private lessons: 70€ for one person, less for 2+ people
You'll need to bring your own art materials to the class.
GO – HOW TO GET AROUND AIX-EN-PROVENCE
Aix-en-Provence is located in the Provence area in the south of France, about 30 km (19 miles) north of Marseille. It is in the region of Provence-Alpes-Côte d'Azur and in the department of Bouches-du-Rhône.
You can easily reach it by train, bus or car.
Getting to Aix-en-Provence by train
If you take the TGV train (from Paris or Lyon or other cities) note that it stops in the Aix-en-Provence TGV station located about 16km (10 miles) south-west out of town. There is a free shuttle bus to take you between the two stations. Also you can buy your ticket for the town directly which will include the transfer.
Getting to Aix-en-Provence by bus

Take note! There are several different locations for the bus terminals depending on which lines you are taking. My friend and I learnt the hard way so don't make our mistake!
The Aix-en-Provence main bus terminal (gare routière d'Aix-en-Provence) is located in Avenue de l'Europe, between the Anour El Sadate and Place Jean-Michel Joret roundabouts (not at the station as you would expect).
The Aix-en-Provence Ouibus stop (SNCF bus) is located in Place Victor Hugo.
The budget bus terminal for Flixbus, Eurolines, etc is located in Avenue Henri-Mouret just after the La Legion d'honneur roundabout.
Getting to Aix-en-Provence by car
As Aix is a very old city with very narrow streets, finding parking can be a nightmare. The convenient Krypton Park and Ride (parking-relais) service is located in Avenue De l'Arc de Meyran about 2.5km (1.5 miles) south of the city centre. It offers spaces for 900 cars, 12 electric cars (with charging socket), 18 disabled spaces and 40 bikes.
Parking for 24 hours is €2.20 per car and a free shuttle bus (navette) ride (7 minutes) is included in the price.
The car park is open 7 days a week including public holidays from 6:30 am to 9pm.
If you need to hire a car it's easier to do it in the Aix-en-Provence TGV station rather than the city centre as there is more choice.
Local Transport
Aix is so small you don't really need to worry about transport. I walked everywhere. By the time you figure out how and where the buses work you would have arrived at your destination. Also, they don't service the old town so it's not that useful for tourists anyway.
WHEN SHOULD WE VISIT AIX-EN-PROVENCE?
I'm personally not a winter fan. I've visited nearby Arles and Avignon in winter and didn't like it that much. It's freezing and everything is grey, trees have no leaves, etc,  and you can't really enjoy the outdoors which is part of the greatness of the Provence area. I like summer but if you don't like heat nor crowds don't come in July-August. Overall, for most people, the best times to come would probably be spring (April-May) or autumn (September-October). If you want to see the Festival d'Aix you'd need to visit in July though.
HOW LONG SHOULD WE SPEND IN AIX-EN-PROVENCE?
Given the first time I only did a day trip, I would advise against this as you wouldn't do this wonderful little town justice. Given my second experience of spending 2 days here I don't think it was enough either. If you want to really explore Aix I would recommend a minimum of 3 days and 2 nights. It's fairly small (I just walked everywhere) but as you've just seen from my mammoth post there is actually a ton to do and see here!
STAY
I rented an Airbnb apartment of which there are a few in the city. If you'd like to try it and get 25-30 euros off your first Airbnb rental you can use my coupon code!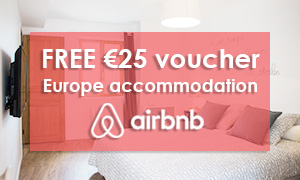 If you'd like to splurge I'd certainly recommend the brand new Marriott Renaissance Aix-en-Provence 5 star hotel. I walked past it and it looks absolutely amazing. It features furniture designed by Christian Ghion, the same guy who designed the Mur d'eau! It's located right next to the Mur d'eau (Water Wall) I mentioned above. I'm sure their restaurants are pretty good too!
The 4 star Hotel Aquabella also looks amazing. It is attached to the Thermes Sextius, its own thermal hot springs with water naturally heated to 33°C (91°F)!
SEE – THINGS TO SEE IN AIX-EN-PROVENCE

Summary:
La Fontaine de la Rotunde (Fountain of the Roundabout)
Cours Mirabeau
Fountains of Cours Mirabeau
Hotels Particuliers in Aix-en-Provence
Hôtel de Caumont Centre d'Art (Caumont Art Centre)
Fontaine de la Place d'Albertas (Albertas Square Fountain)
Église du Saint Esprit (Holy Spirit Church)
Il Porcellino (The Piglet) statue
Hôtel de Ville d'Aix-en-Provence (Town Hall)
Palais de l'Archevêché (Archbishop's Palace) / Musée des Tapisseries (Tapestry Museum)
L'Instutit d'études politiques / Sciences Po Aix (Political Science School of Aix)
Cathédrale Saint Sauveur (Aix Cathedral)
Atélier de Cézanne (Paul Cézanne's studio)
Thermes Sextius (Thermal Hot Springs)
Pavillon Vendôme (Vendôme Pavillion and gardens)
PART II : CONTEMPORARY AIX-EN-PROVENCE
Mur d'eau d'Aix-en-Provence (Water wall)
Conservatoire de Musique / Conservatoire Darius Milhau (Conservatory of Music)
Ballet Preljocaj / Centre chorégraphique national d'Aix-en-Provence AKA 'Pavillon Noir' (Choreography centre of Aix-en-Provence AKA the 'Black Pavillion')
Bibliothèque Méjanes / Cité du Livre (City of books Aix-en-Provence Library)
Le Grand Théâtre de Provence
DO
Summary:
Le grand marché – Textile, artisanat, brocante (Clothing and textile market in Aix-en-Provence)
Marché aux fruits et légumes d'Aix-en-Provence (The Produce Market of Aix-en-Provence)
Art lessons in Aix-en-Provence with Catherine Moullé of Quatrinaime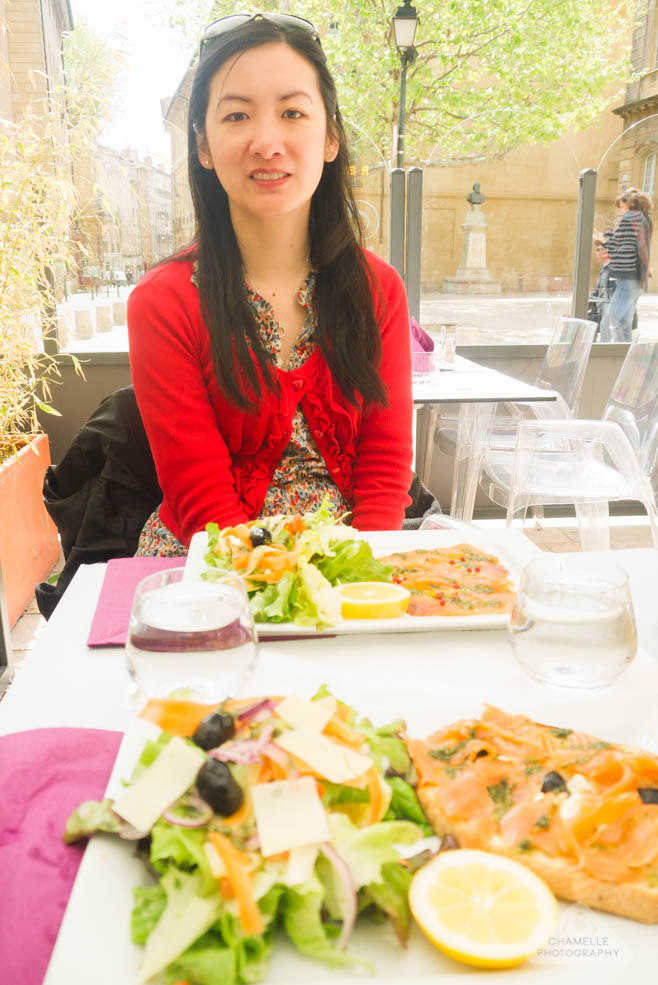 (photo taken by my friend Janny)
24  EAT
I stick by my rule that it's really hard to find a bad meal in Provence. Although it's getting more and more touristy it's still nowhere near as touristy as Paris and therefore you can easily find high quality restaurants with reasonable prices everywhere.
Eat fresh Provençal salads
The French cook and eat with the seasons and that's why I like to go in summer, so that I can enjoy the freshest produce in their delicious salads!
Eat Crepes
As eating out in France is a lengthy affair and we didn't have much time, during my second visit Janny and I ate at a crêperie which I can highly recommend. Their crêpes were delicious (and they had a huge range) and the staff were super friendly. We both chose the buckwheat variety to be healthier. It was lovely sitting by the street and soaking up the ambiance…
Address: 18 rue Bedarrides, 13100, Aix-en-Provence
Open: Tuesday – Saturday, 12-2pm and 7:30-11pm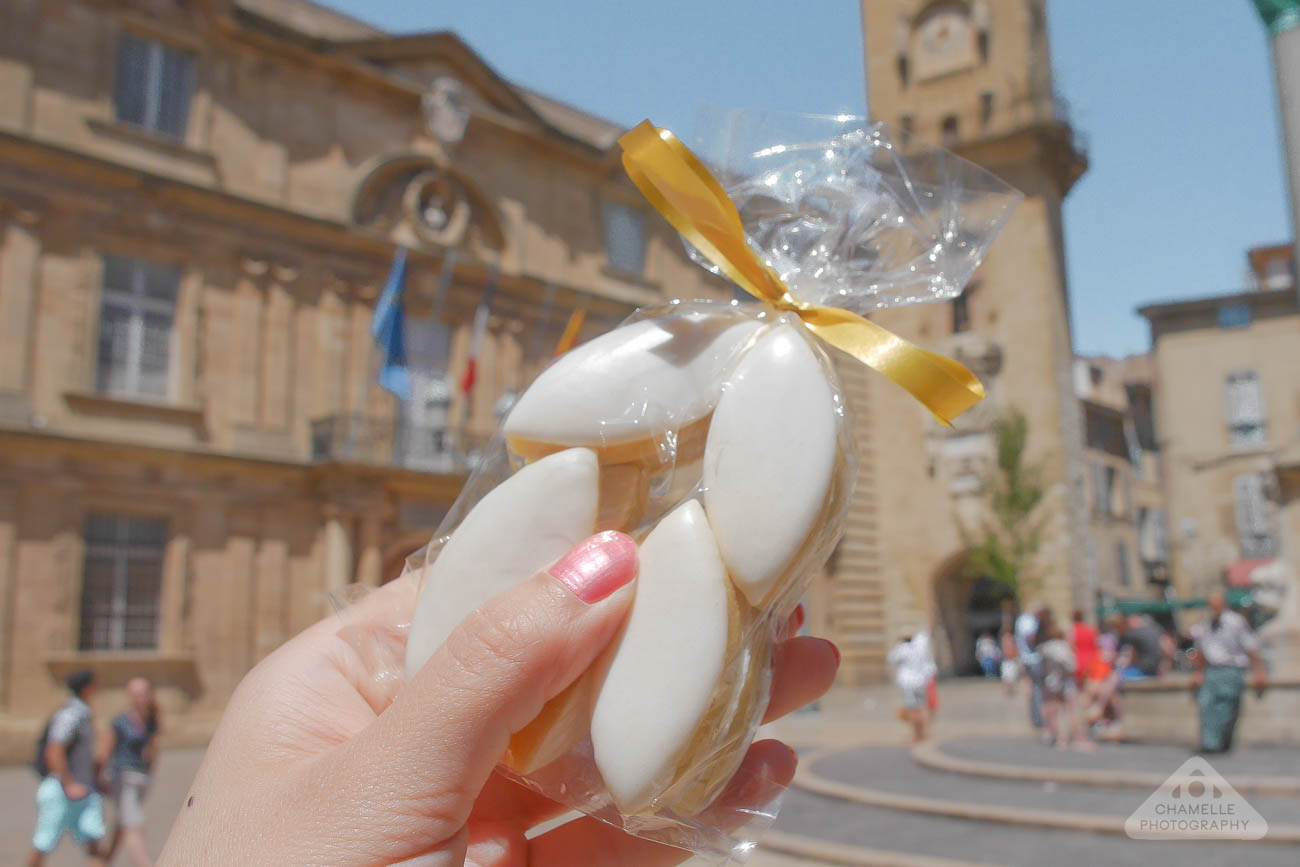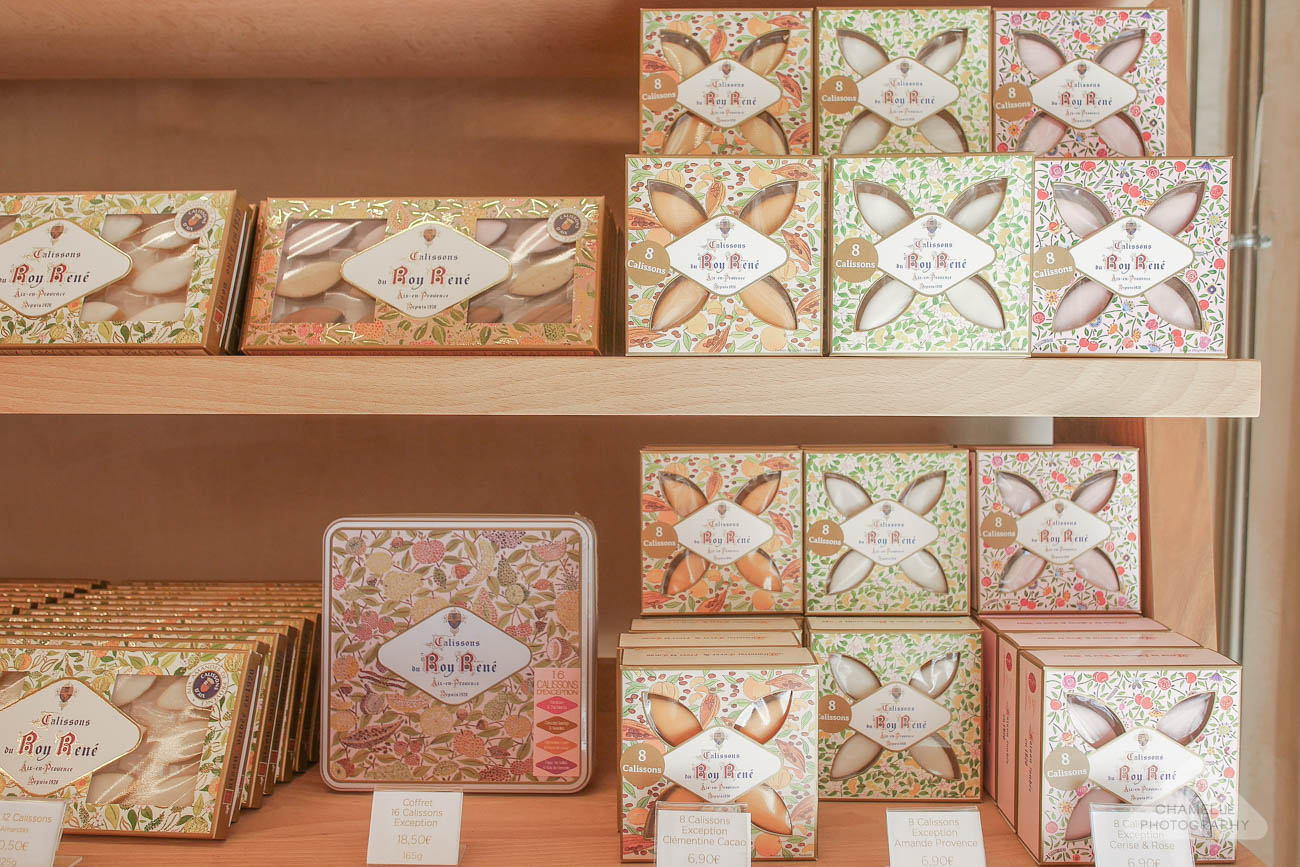 Eat Calissons d'Aix

One thing I must mention is the Calissons d'Aix. My friend mentioned that her friend had told her to get some as they are a speciality of Aix. I didn't know anything about them during my first trip but once I knew about them I started seeing them everywhere on my second trip! It turns out that they are sold in numerous places and Aix even holds an annual competition to see who can bake the best ones. It's a special treat made with melon and orange confit and almond paste topped with royal icing. I quite like the taste as it's not overly sweet and rather fruity however the texture is very chewy and sticky and it sticks to your teeth.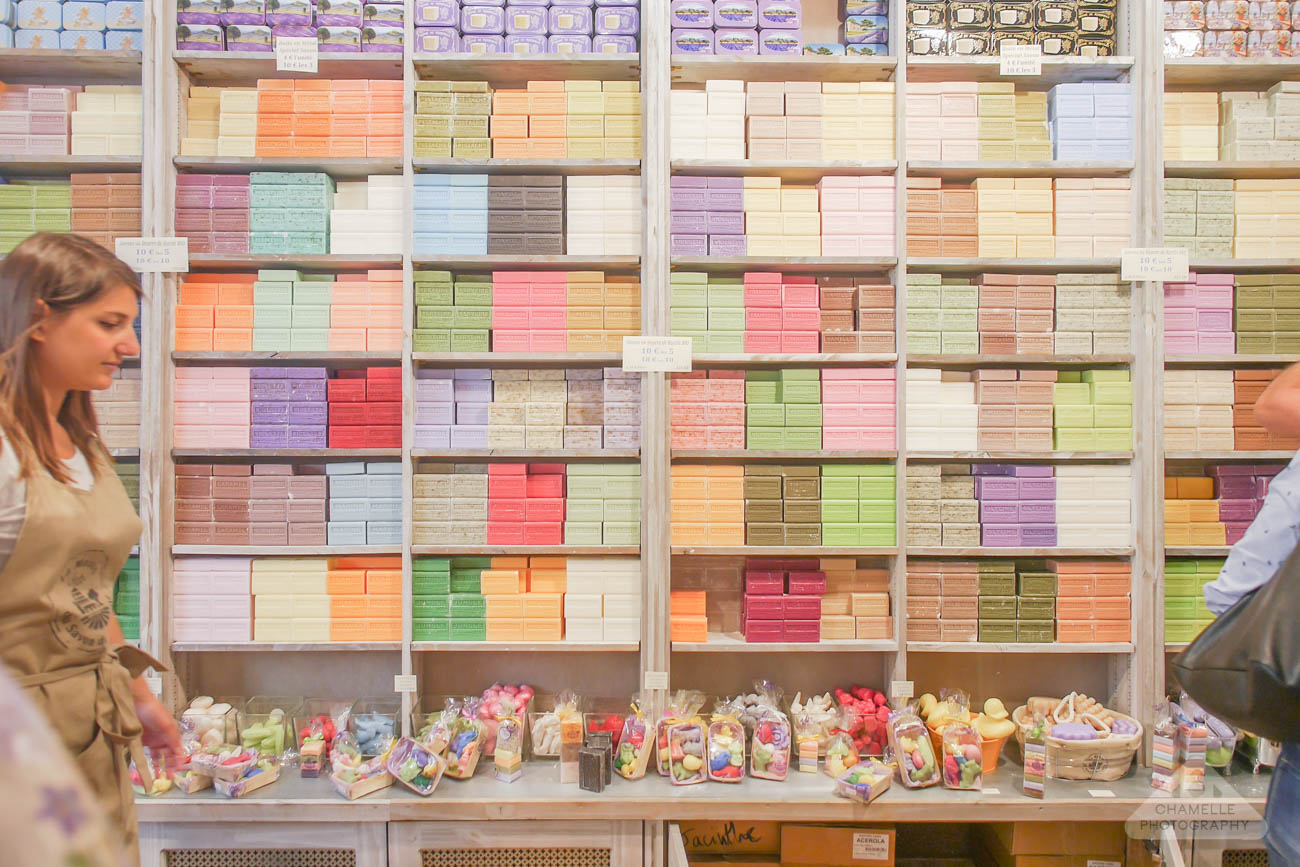 25   SHOP
Not sure if this fits in under 'eat' or 'shop', probably both! The Calissons d'Aix are a great souvenir to bring back as you can only buy it in Aix and nearby regions. There are many stores selling it. But be warned, they get crushed very easily.
Lavender products
As Aix-en-Provence is located in Provence (what, really? 😉 ) the souvenir stores sell beautiful lavender products (sachets, soaps, skincare, etc). As it's a rather touristy town and there are many such stores I found the prices here much better than in smaller towns nearby. These also make an excellent gift to bring back home as they are small and portable and they are so budget friendly you can buy many of them!
Items from the South of France

Apart from lavender, soaps are also big, notably the Savon de Marseille. Although that's the most well-known brand there are also many other brands and they all smell delicious. Why not get 2 in 1 and get lavender soaps!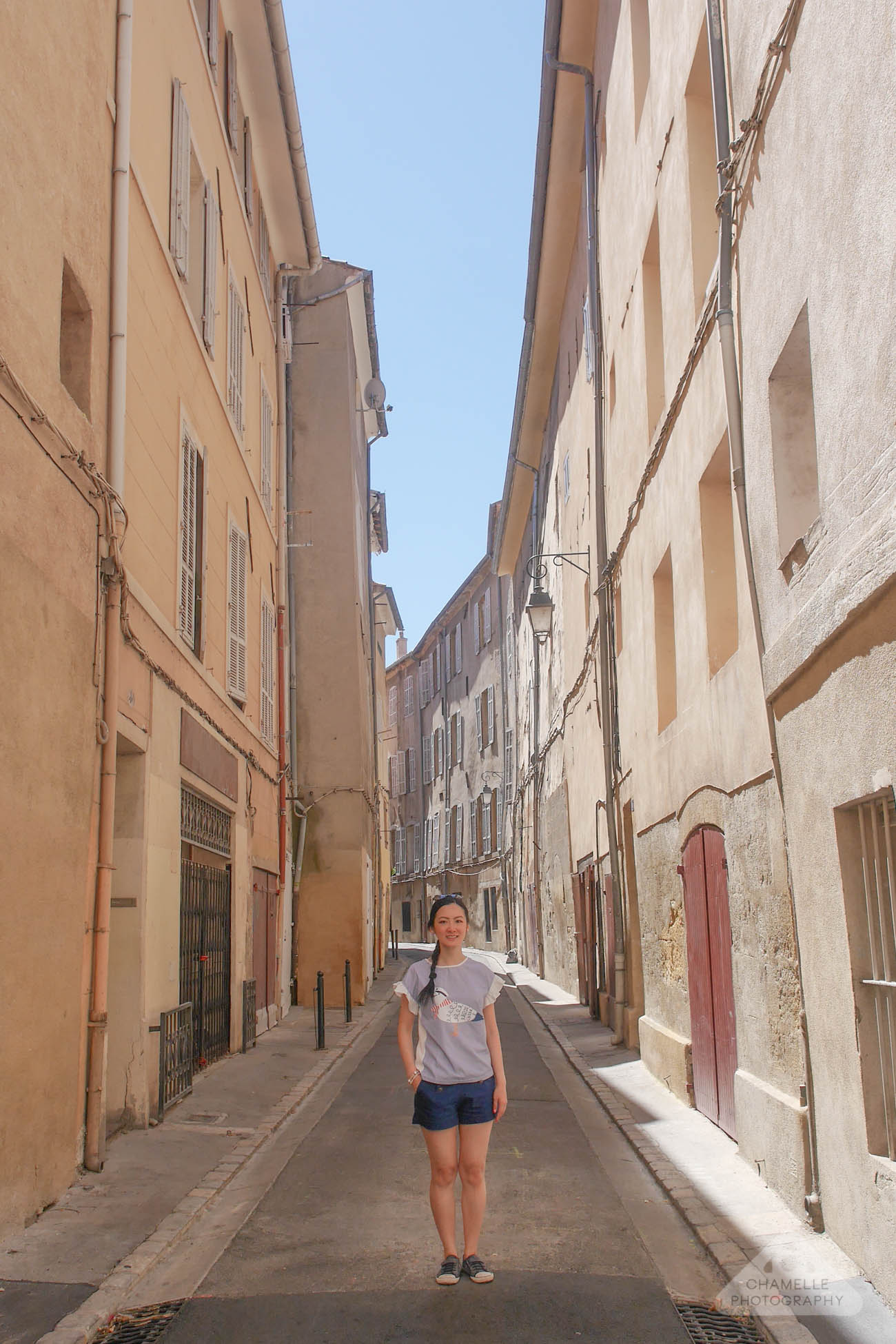 PHOTO TIPS
La Fontaine de la Rotunde
It's quite difficult as you cannot stand in the middle of the busy road (to get closer to it) and there are cars passing constantly. You just need to wait for a break in the traffic if you want a photo of it without cars.
In the Old Town it's pretty impossible to get photos without people in them unless you take them very early in the morning. Once you get a bit out of the old town you can have entire streets and monuments to yourself/ves as I did! (as above).
I don't know if you can tell but in the photos I took during April the light is lovely and soft whereas in July it was harsh and bright due to the seasonal differences. Looking back through my photos I could see a big difference. It was far more challenging taking photos in the harsh summer light. You'd either need to take them very early (before 9am) or very late (after 8pm) to avoid this but of course if you're out and about you can't.
So I hope this post has made you want to visit darling little Aix-en-Provence.
Tell me: What would you like to see most if you went there? If you have any further questions please leave them below, Thanks! 🙂
PIN THIS!