11

min read

Hôtel La Résidence du Vieux Port Marseille
The La Résidence du Vieux Port Marseille is a 4-star hotel that is situated in the Vieux Port (Old Port) area of Marseille.
It was designed and built in the 1950s by French architect André-Jacques Dunoyer de Segonzac, who comes from a noble family dating back to the 16th century. The interiors were designed by Franz Potisek who took inspiration from the 1950s particularly from Miro, Le Corbusier, Charlotte Perriand et Alexander Calder. The lounge room/library features funky Steiner "Chromatique" sofas designed by Hong Kong designer Kwok Hoi Chan. The current colourful, cheery design was completed in 2010.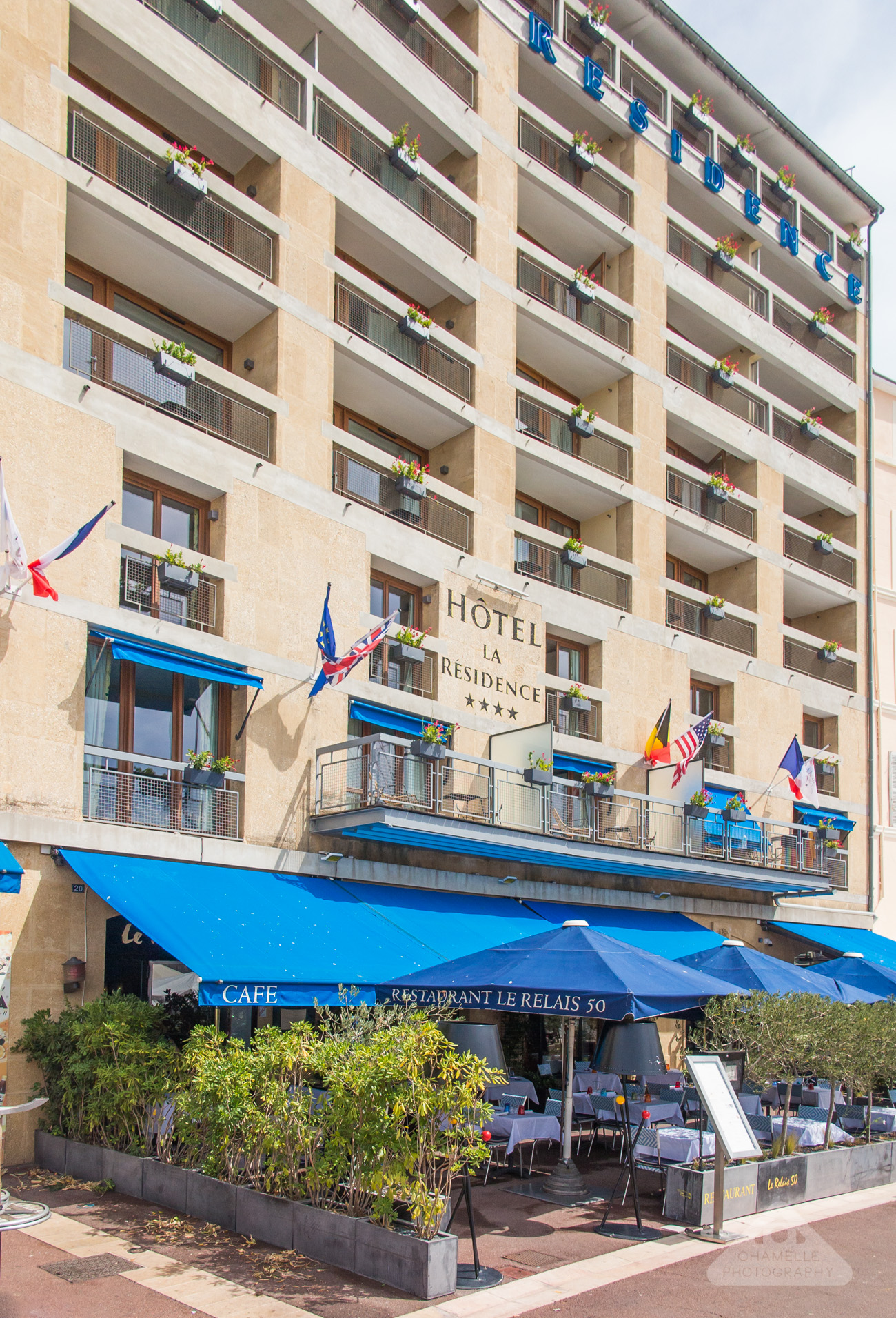 Location
This hotel is located in a super convenient location as almost everything is nearby and within walking distance. The centre of town, 'Le Panier' (old town) area, and the new MUCEM museum are all just a few minutes' walk way. The Notre Dame de la Garde Basilica is just a quick bus ride away too.
Check-In
Check-in time is 3pm. We arrived a few hours before this so we left our bags at reception. We then had a quick look around the port area before coming back their Relais 50 restaurant to have lunch at 12pm.
We finished lunch around 2.30pm and asked if we could have an early check-in which they kindly granted us, but it was the not the room that was assigned to me (that was on a higher floor) so I decided to wait a bit longer for that. While we were waiting they also gave us the code to use their wifi internet.
The staff were all very friendly and cheerful and spoke multiple languages between them. They were quick to help and respond to any needs we had.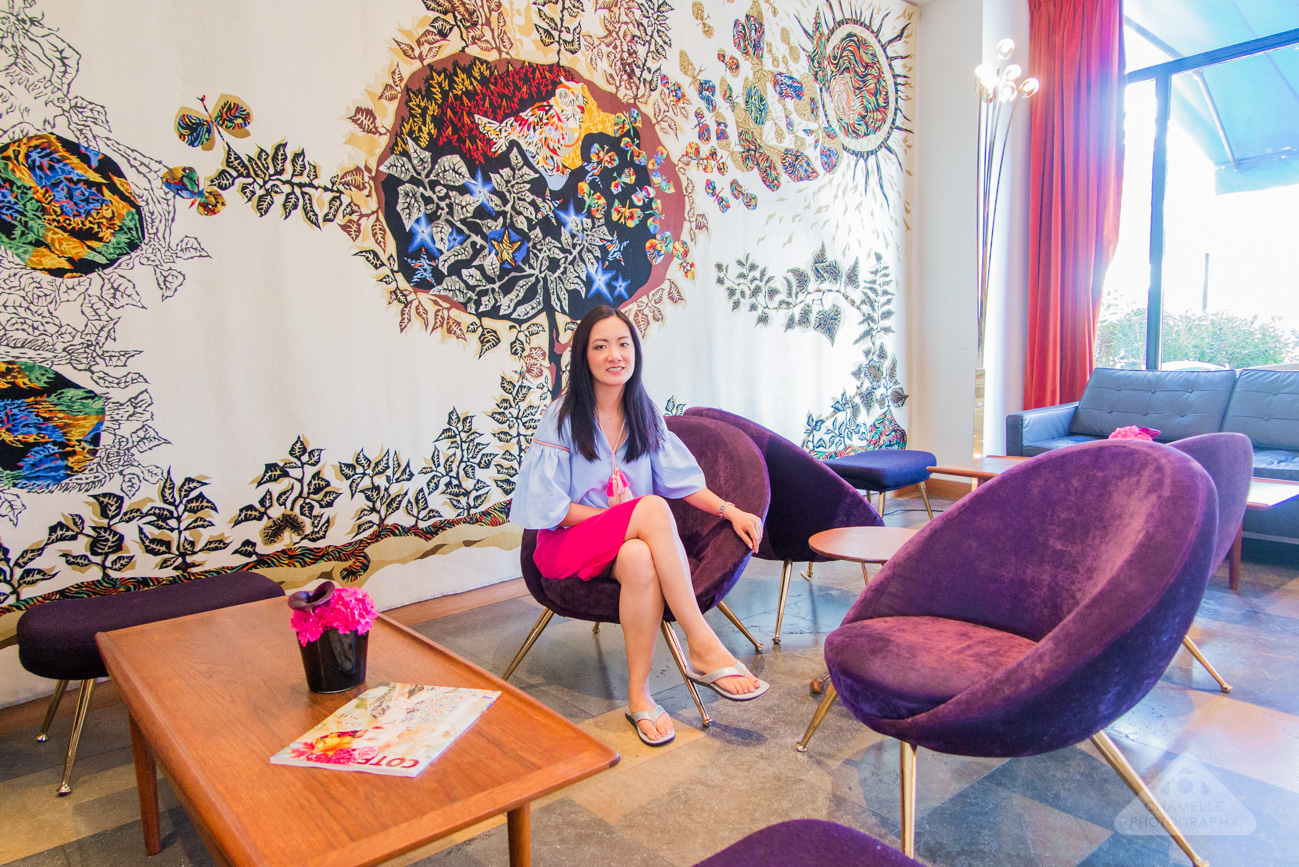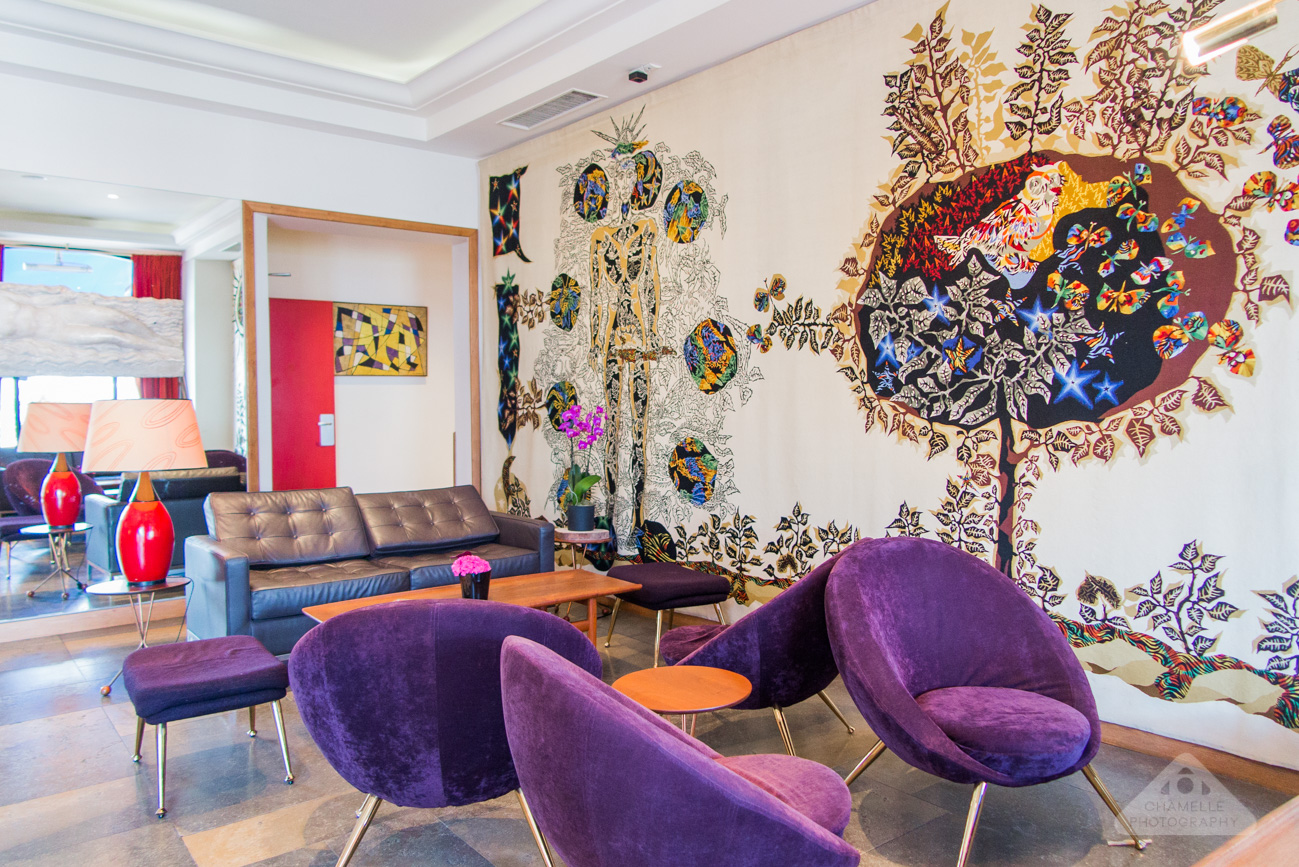 The Lobby
It's very colourful with purple hues and a giant tapestry on the wall and with plenty of seats.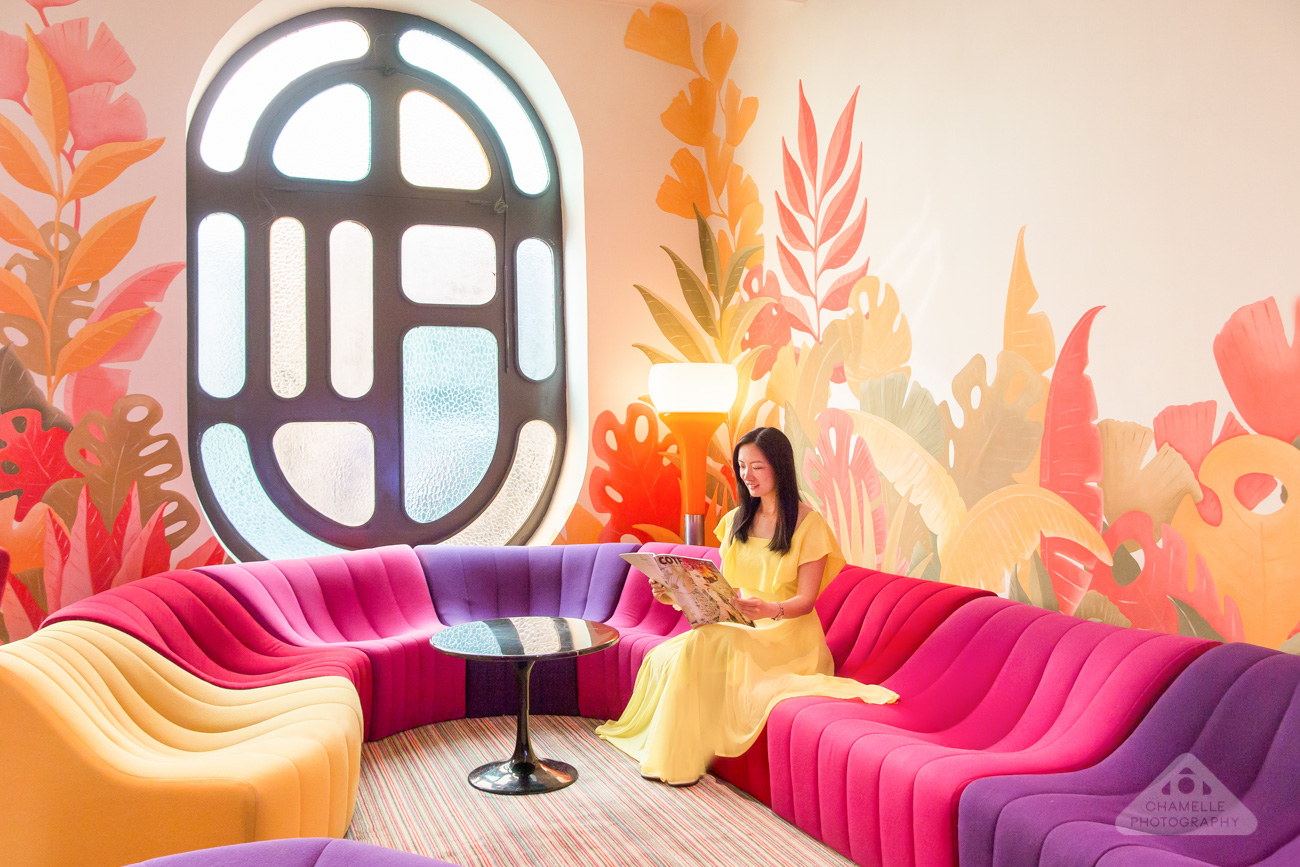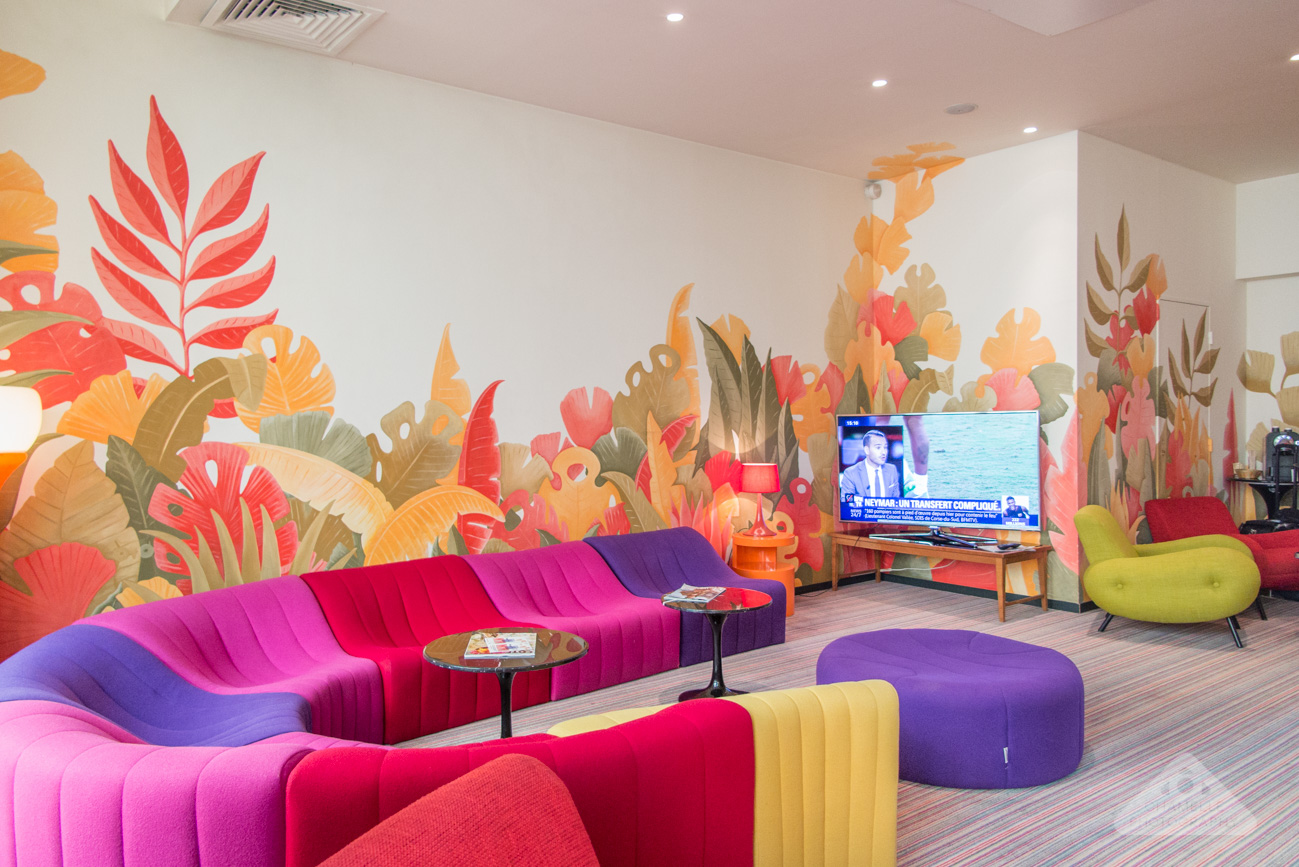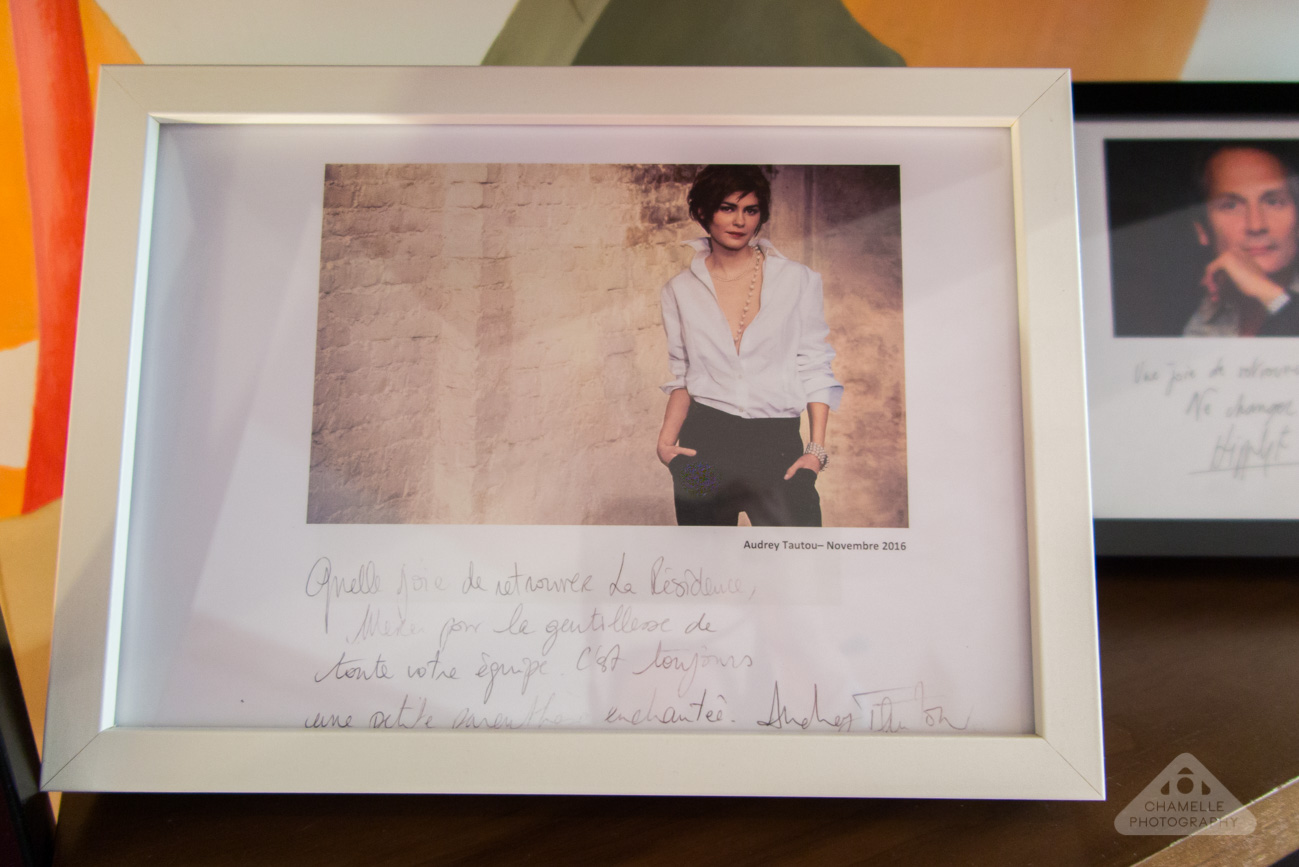 «Quelle joie de retrouver La Résidence. Merci pour la gentillesse de toute votre équipe. C'est toujours une petite parenthèse enchantée.» -Audrey Tautou. (What a joy it is to rediscover La Résidence. ("Thanks for the kindness of your whole team. It's always nice to have an enchanting little break here." -Audrey Tautou).
The Lounge
The lounge area has a large flat-screen tv and funky, bright, psychedelic comfy couches. There is also a coffee machine where you can make your own coffee. On the bookshelf were a variety of books and also photos and autographs of celebrities who had recently stayed in this hotel, including Audrey Tautou AKA "Amélie."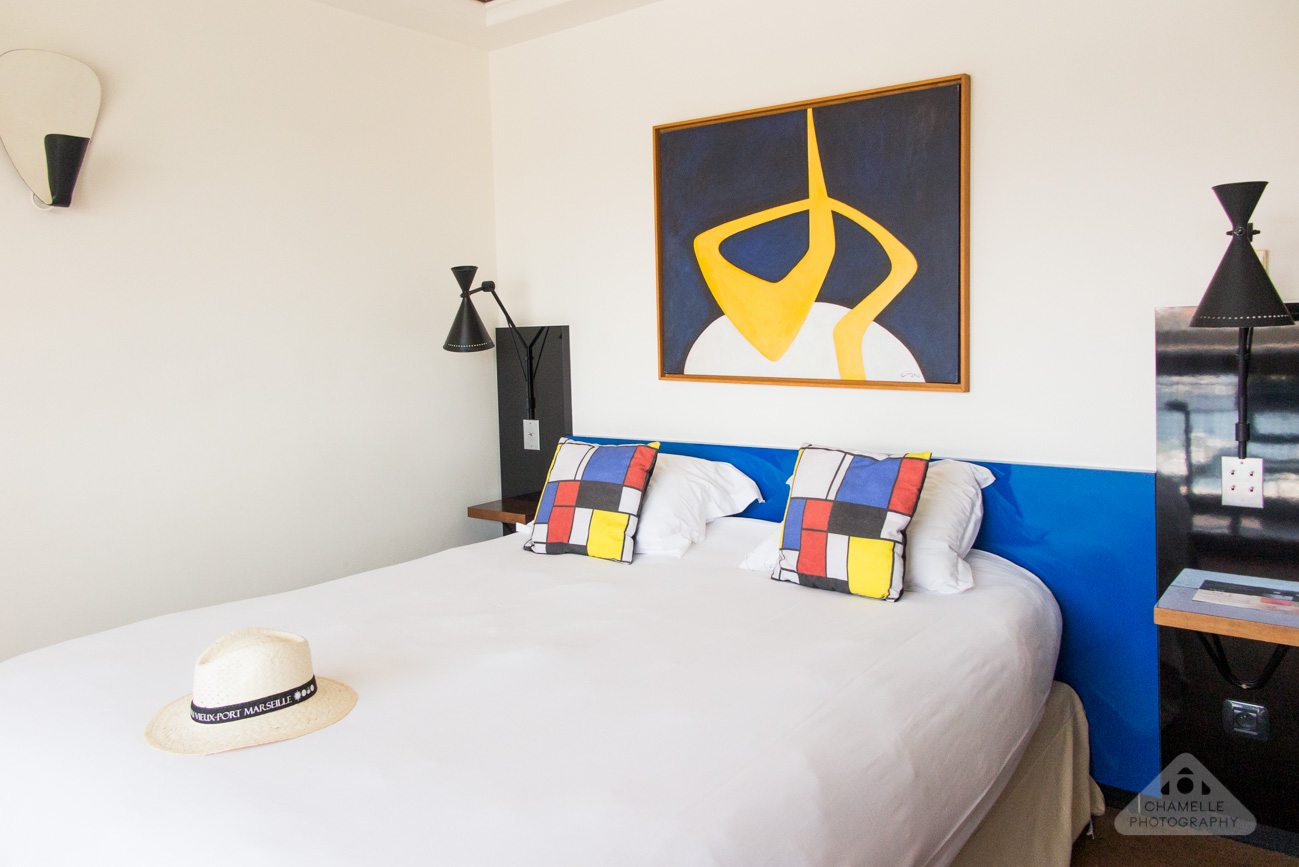 (above: first room we were given on 5th floor, decorated slightly differently but in the same style/colours)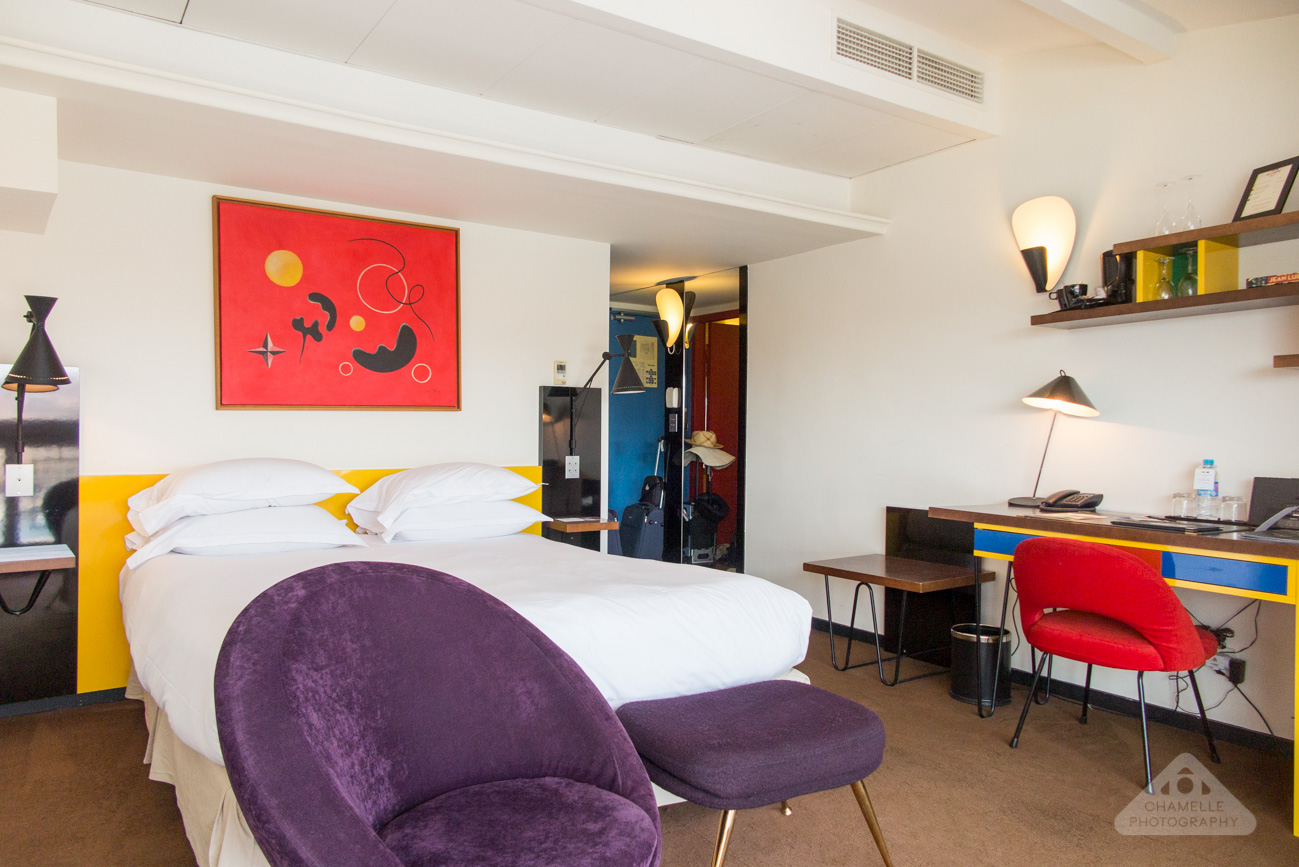 The Room
As I said, they'd given us a room on the 7th floor. They'd booked me a Deluxe Prestige room which is about 25 sqm. There are larger rooms and suites for families and executives.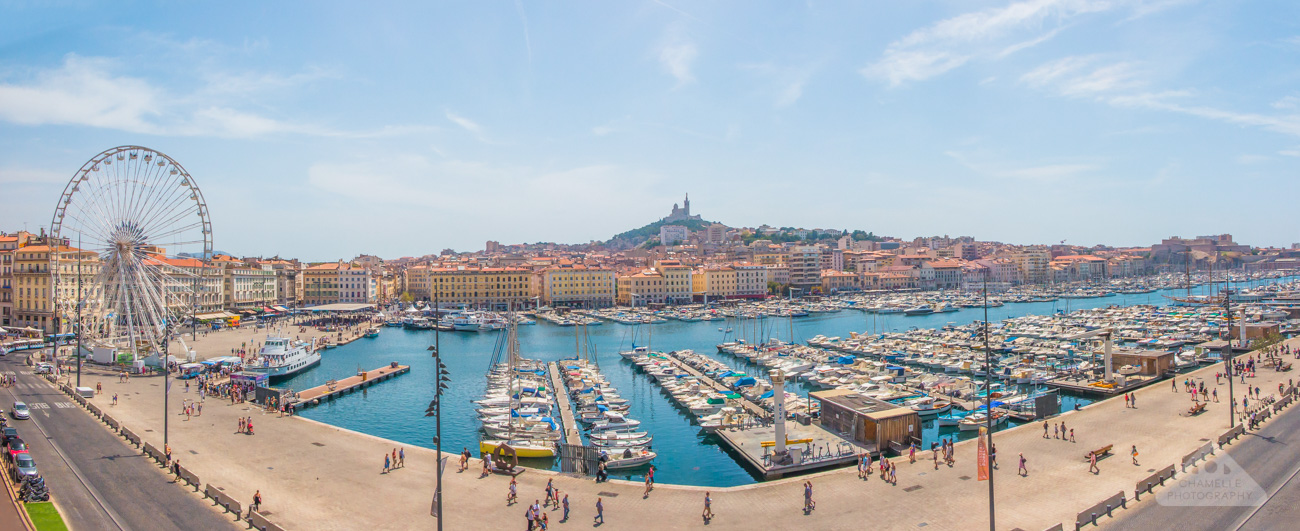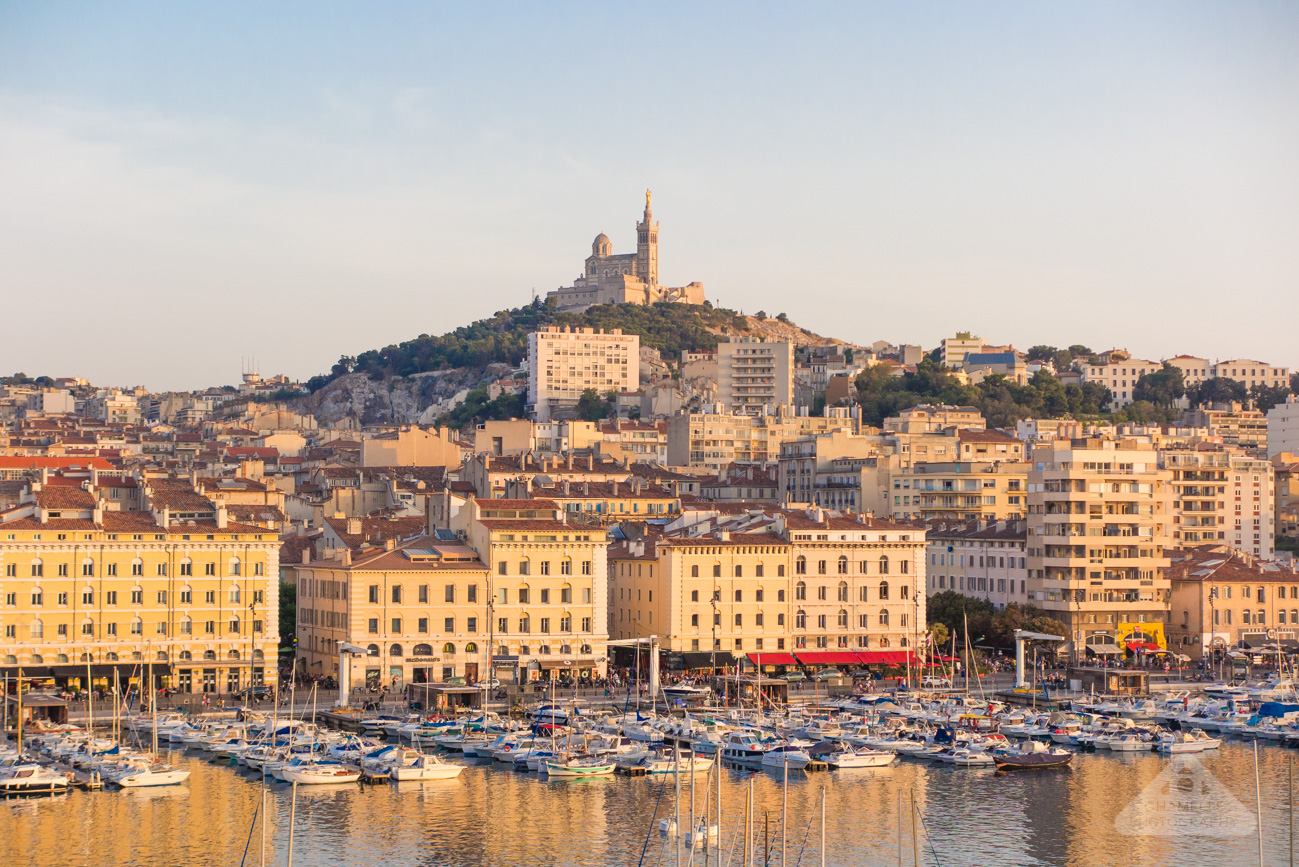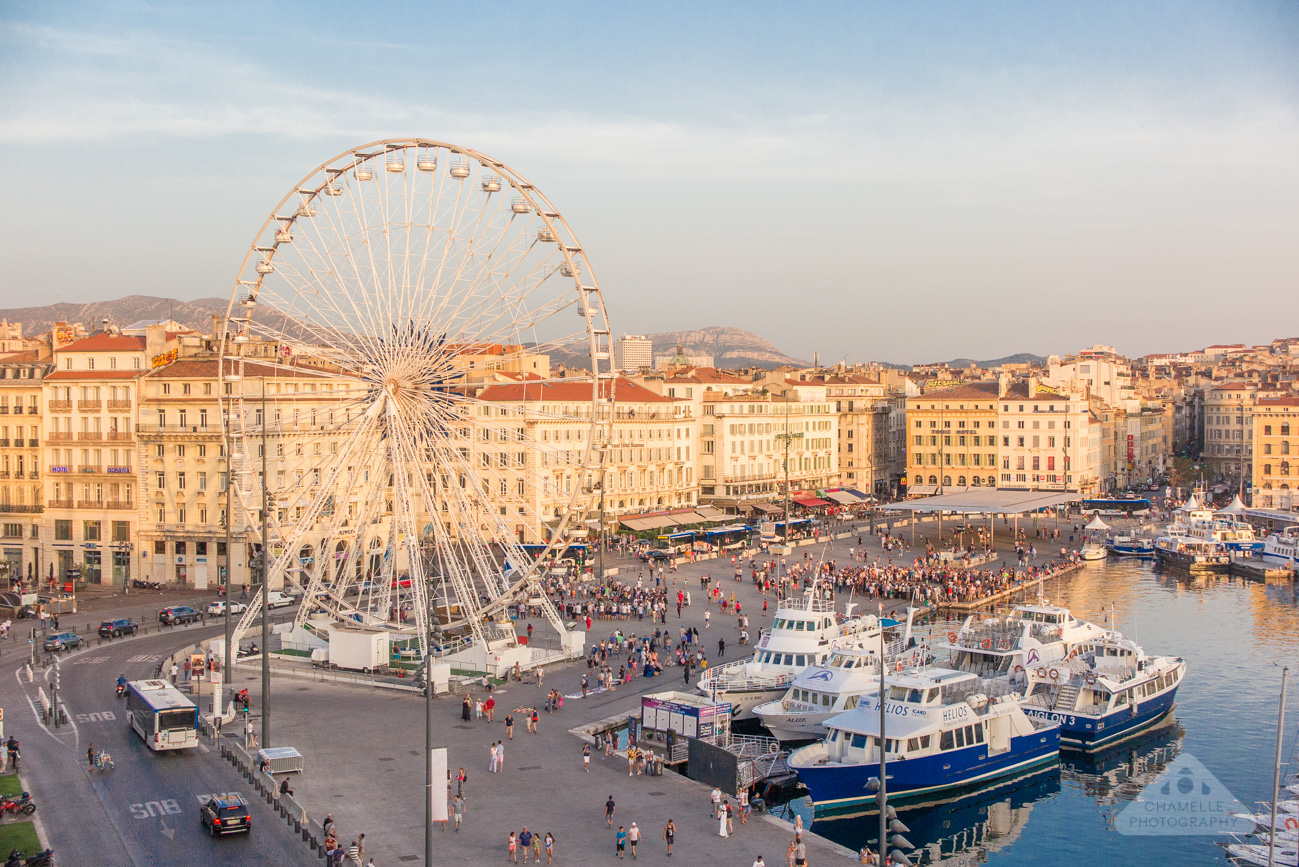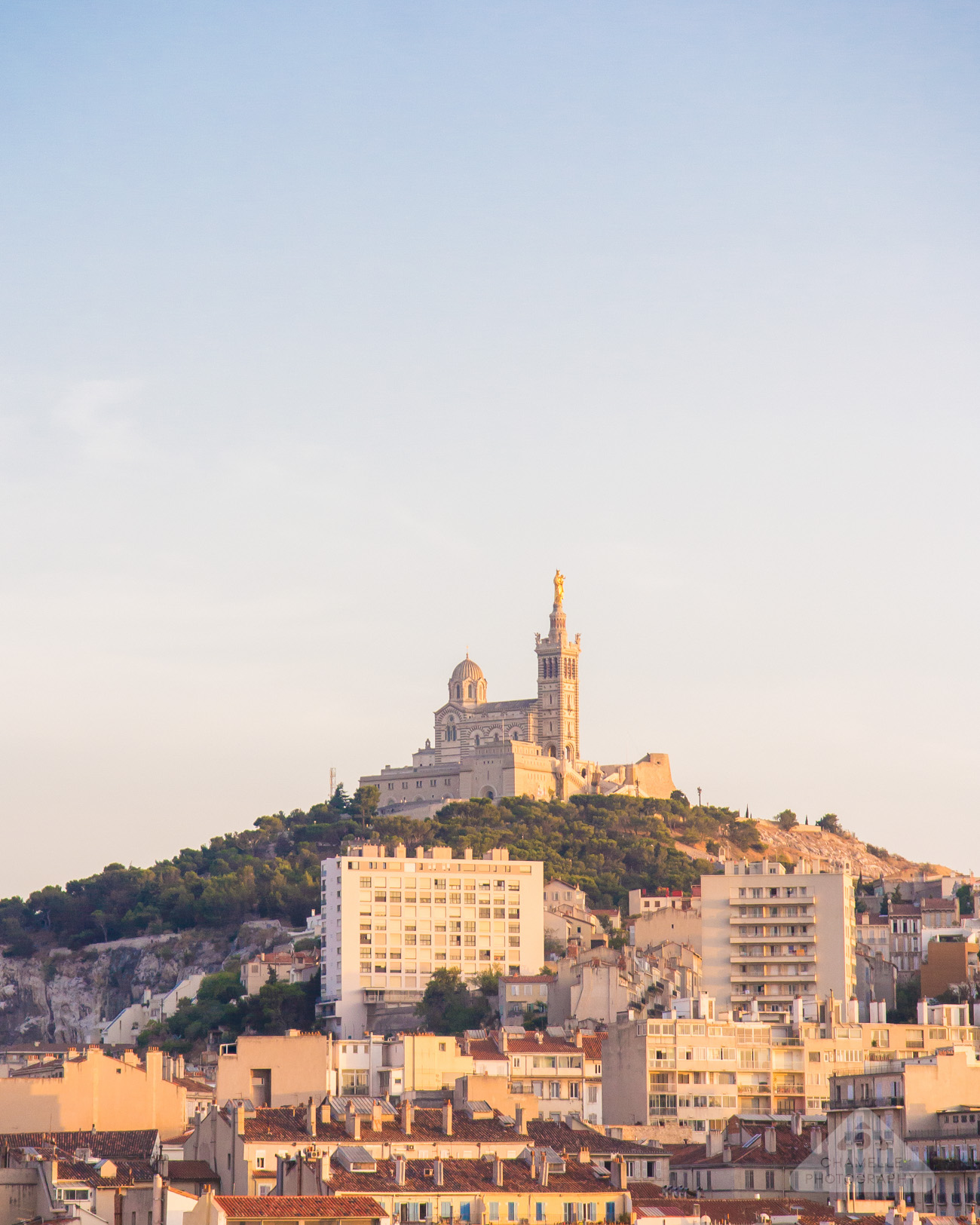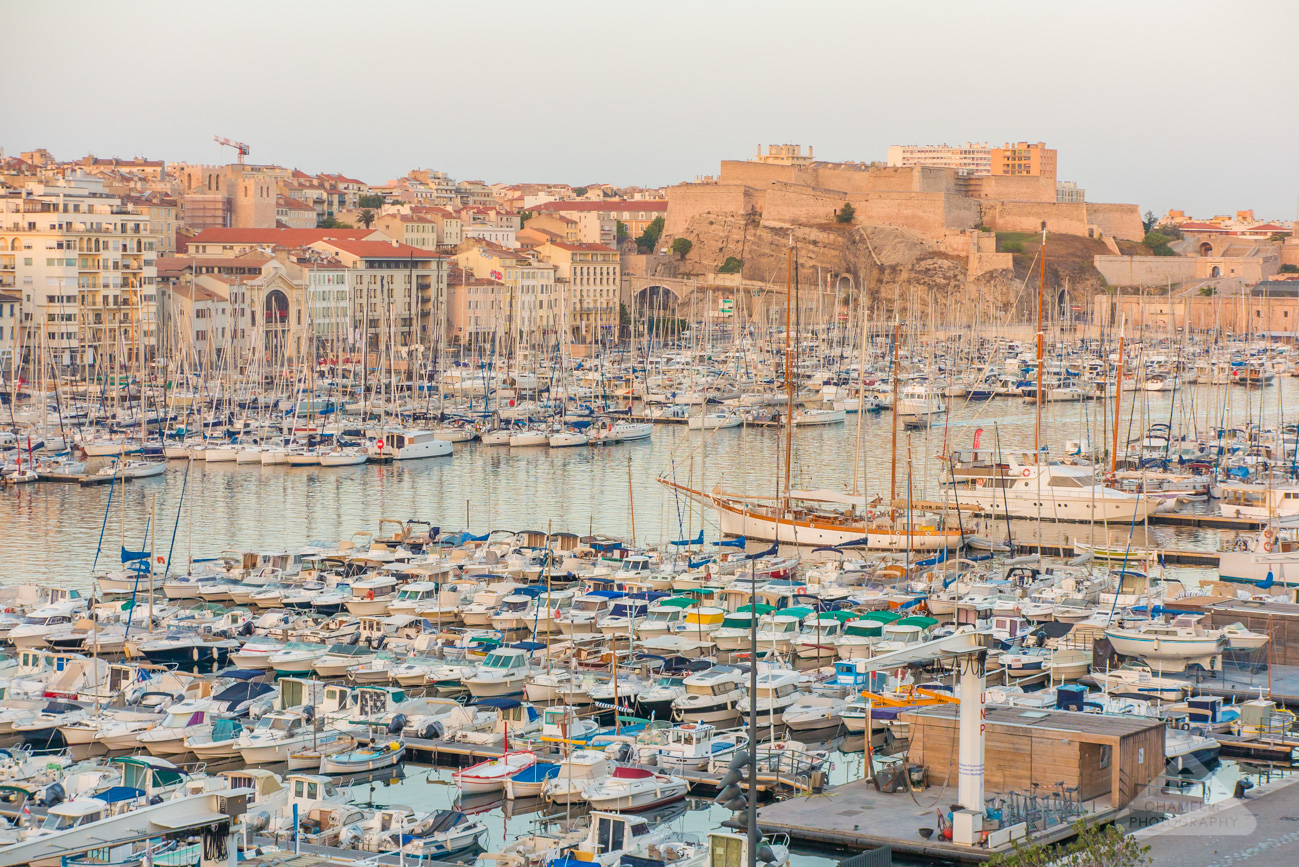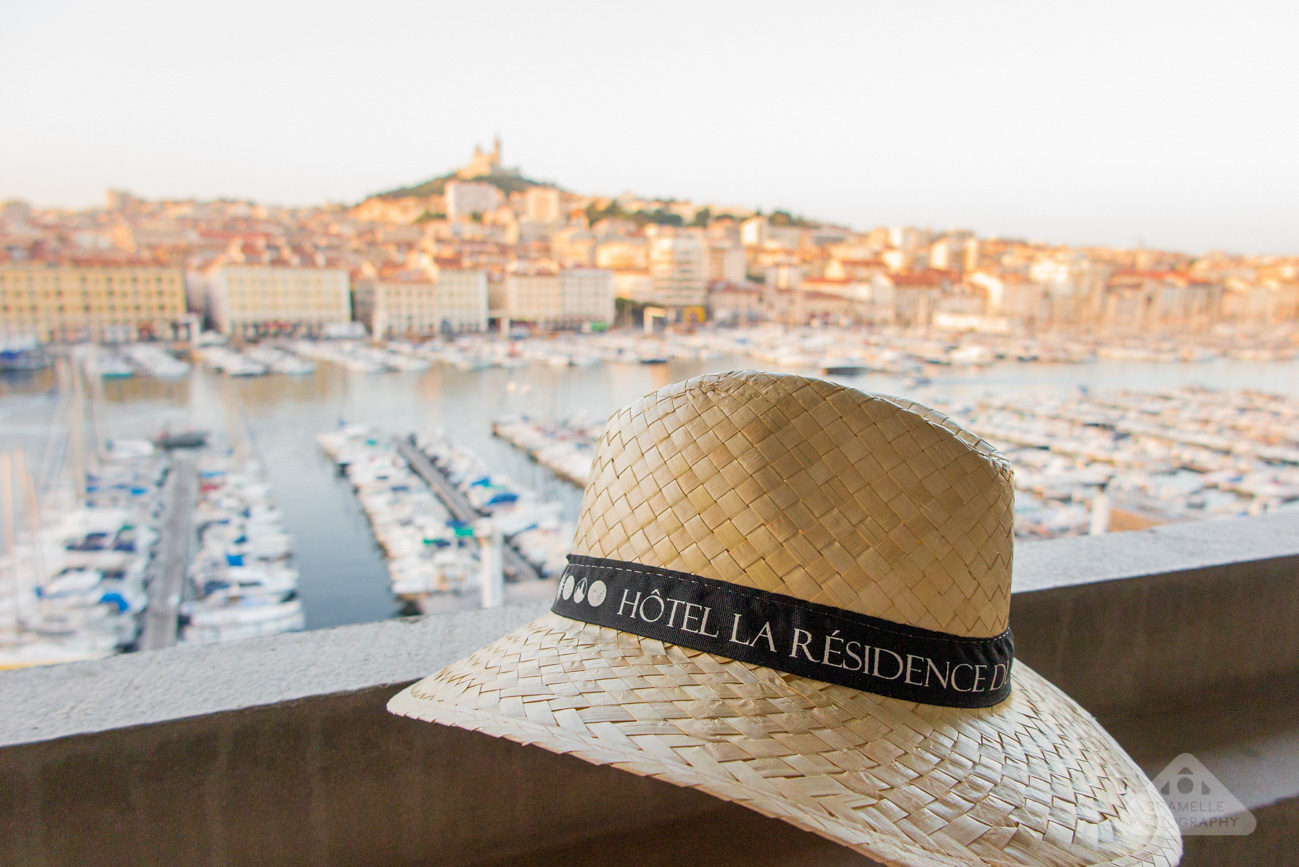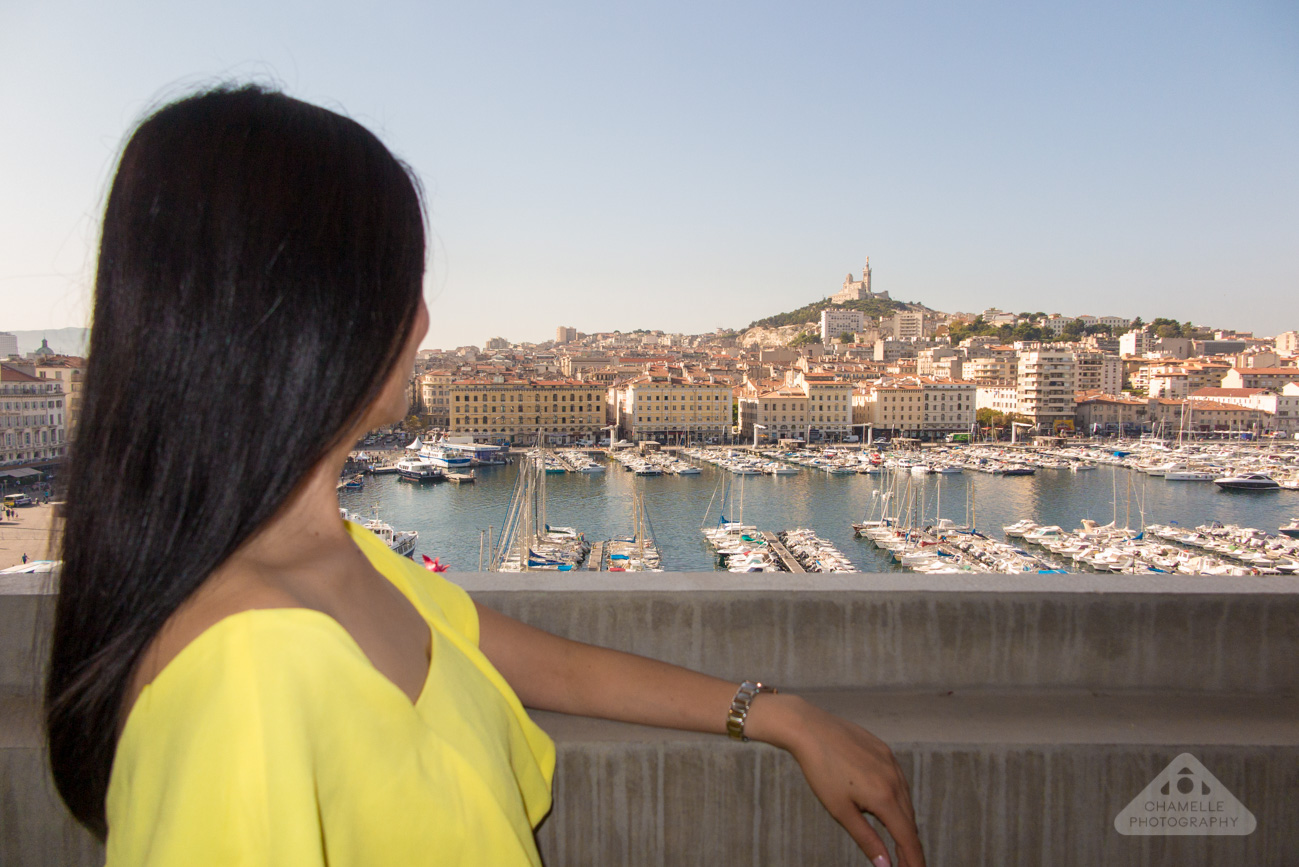 The View
This was – of course – my favourite part of the hotel. I could have just stared at it for hours watching the sun rise and the sun set. All their 51 rooms and suites have sunny balconies and a view facing these monuments/attractions:
Le Vieux-Port (Old Port), Notre-Dame de la Garde/la Bonne Mère (Basilica), L'Abbaye St Victor (Abbey), Le Fort Saint-Jean, Le Fort Saint-Nicolas, Le Théâtre de la Criée and La Grande Roue de Marseille (Giant ferris wheel).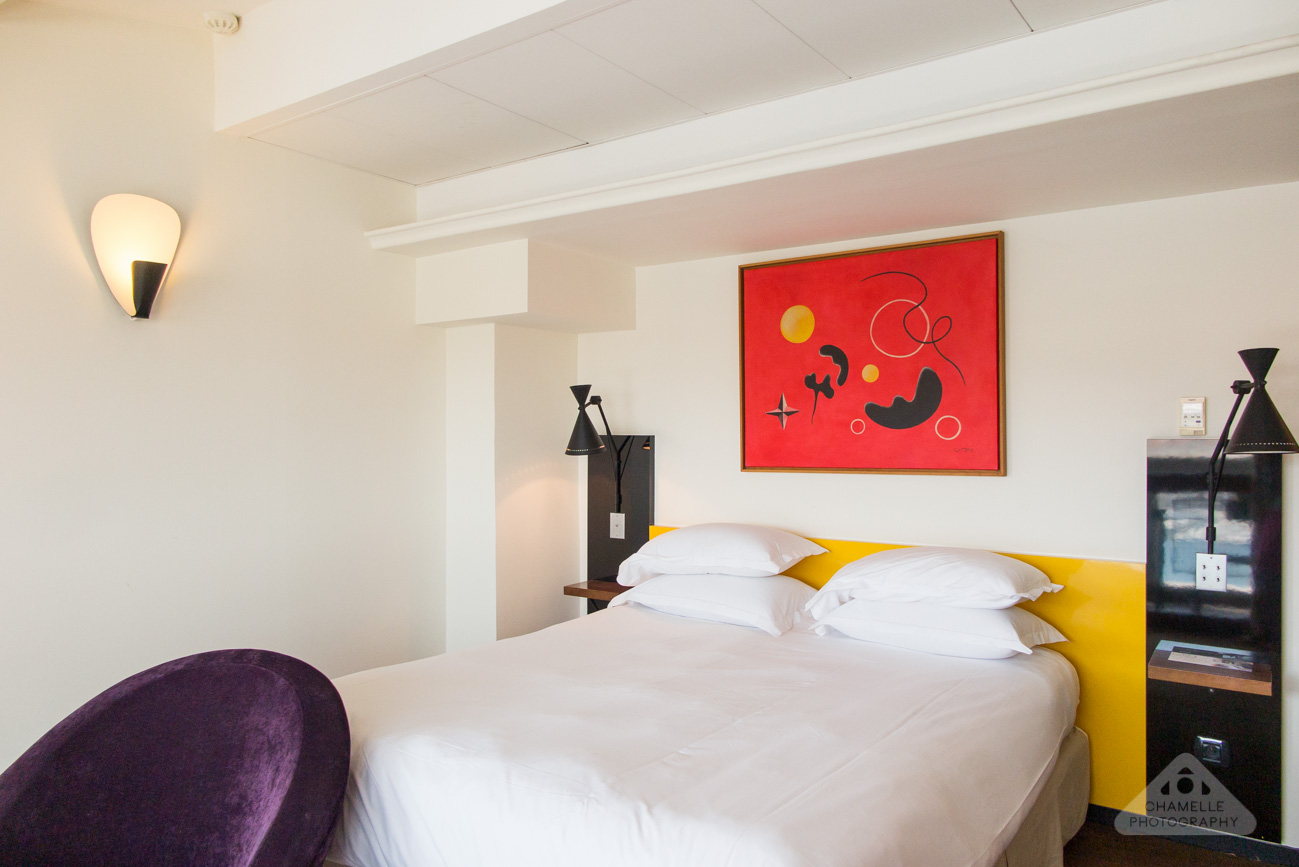 The Bed
The bed and pillows were all very comfortable. I personally would've preferred a firmer mattress but my partner said it was perfect.
Climate control
The air conditioning is easily adjustable and as we arrived on such a hot day we appreciated that the room was cool and fresh when we entered. I also like that the vents are not pointing directly at your head.
The room is also well insulated against the noise from outside.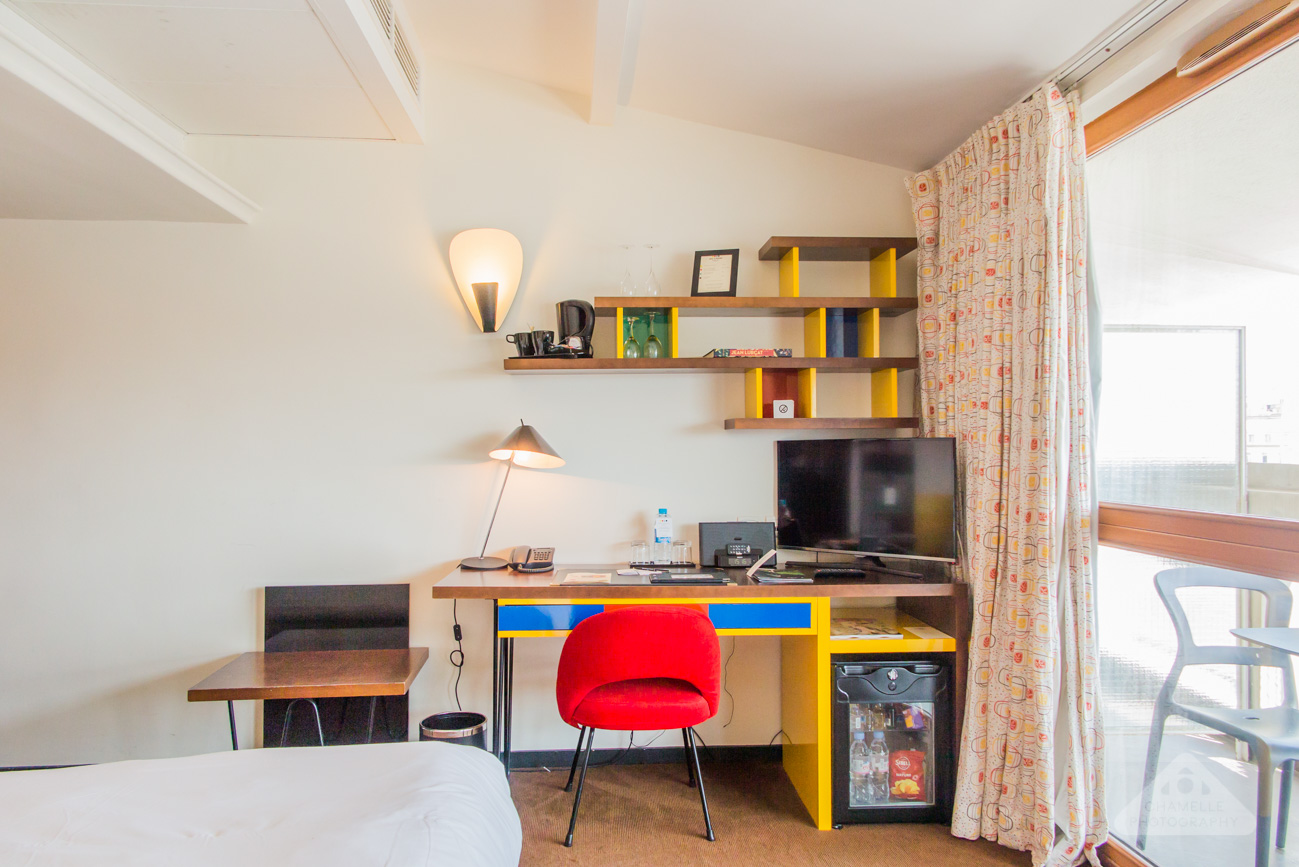 The Desk and Internet access
The desk has been designed in the style of Charlotte Perriand. I didn't really use the desk but it is comfortable and well set up to get any work done. I did use their internet and it was easy to log-on (on both my phone and laptop) and fast. They have free wifi internet for all guests.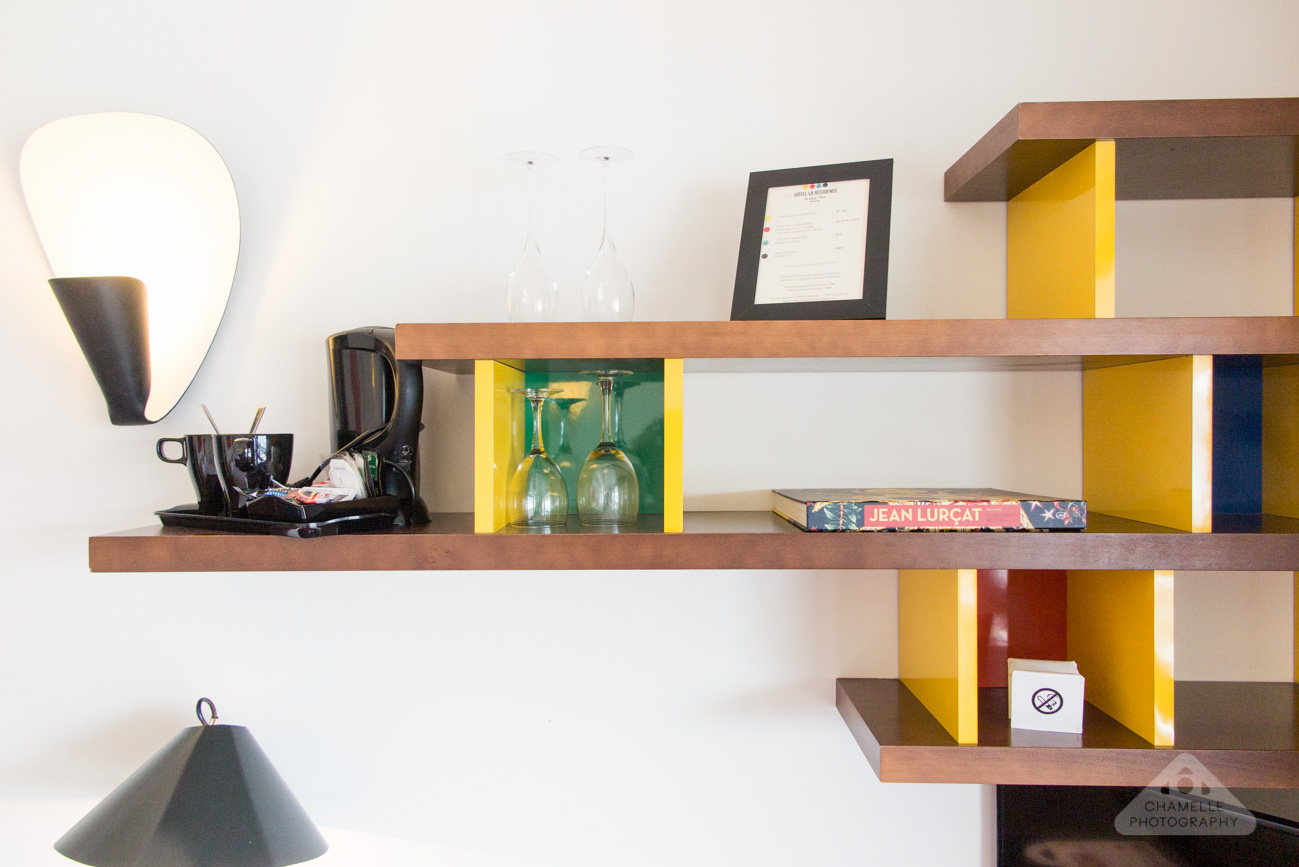 The Mini Bar
The mini bar comes stocked with all the essentials… including bottles of (Evian) water. They also provide tea and coffee making facilities. They also give you a free water bottle which was an absolute necessity on the day we arrived when it was nearly 40°C!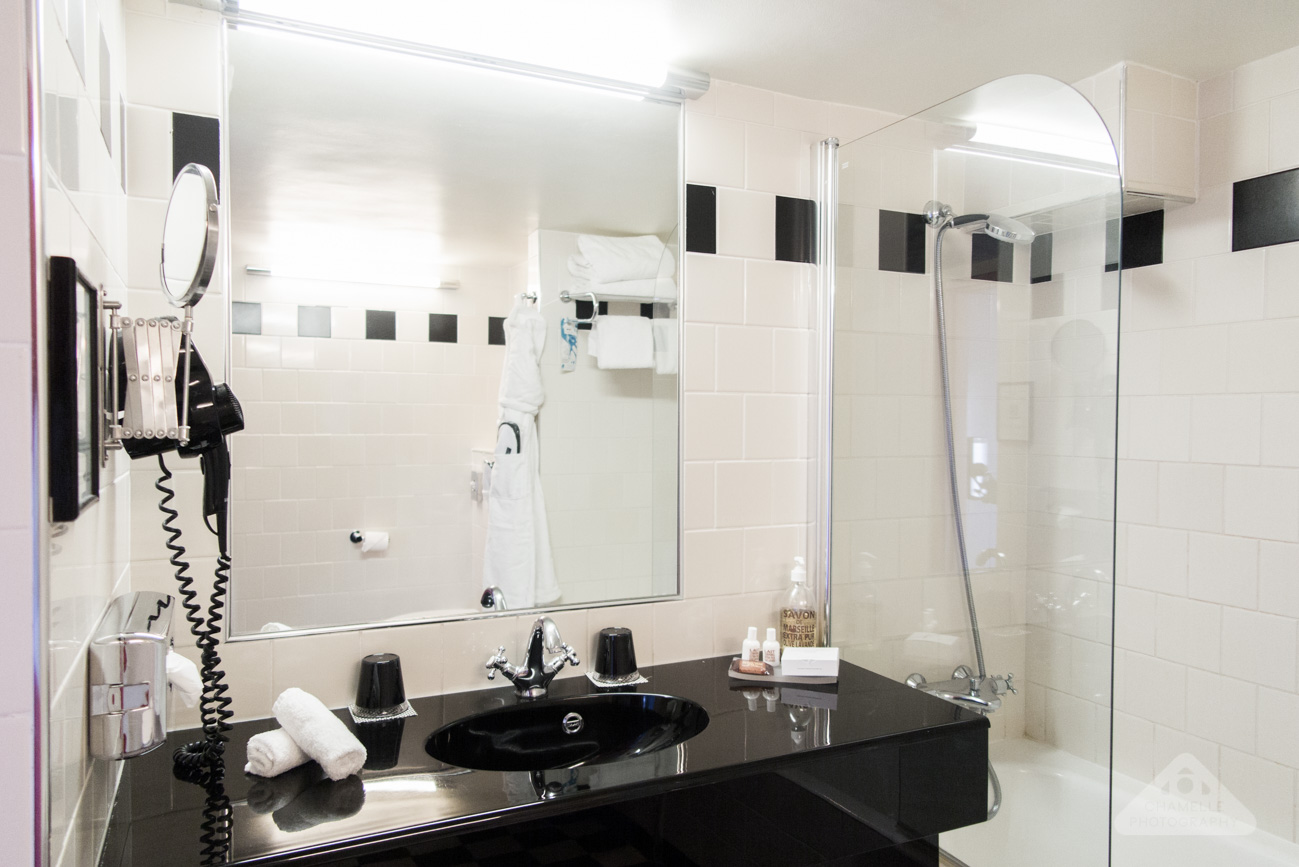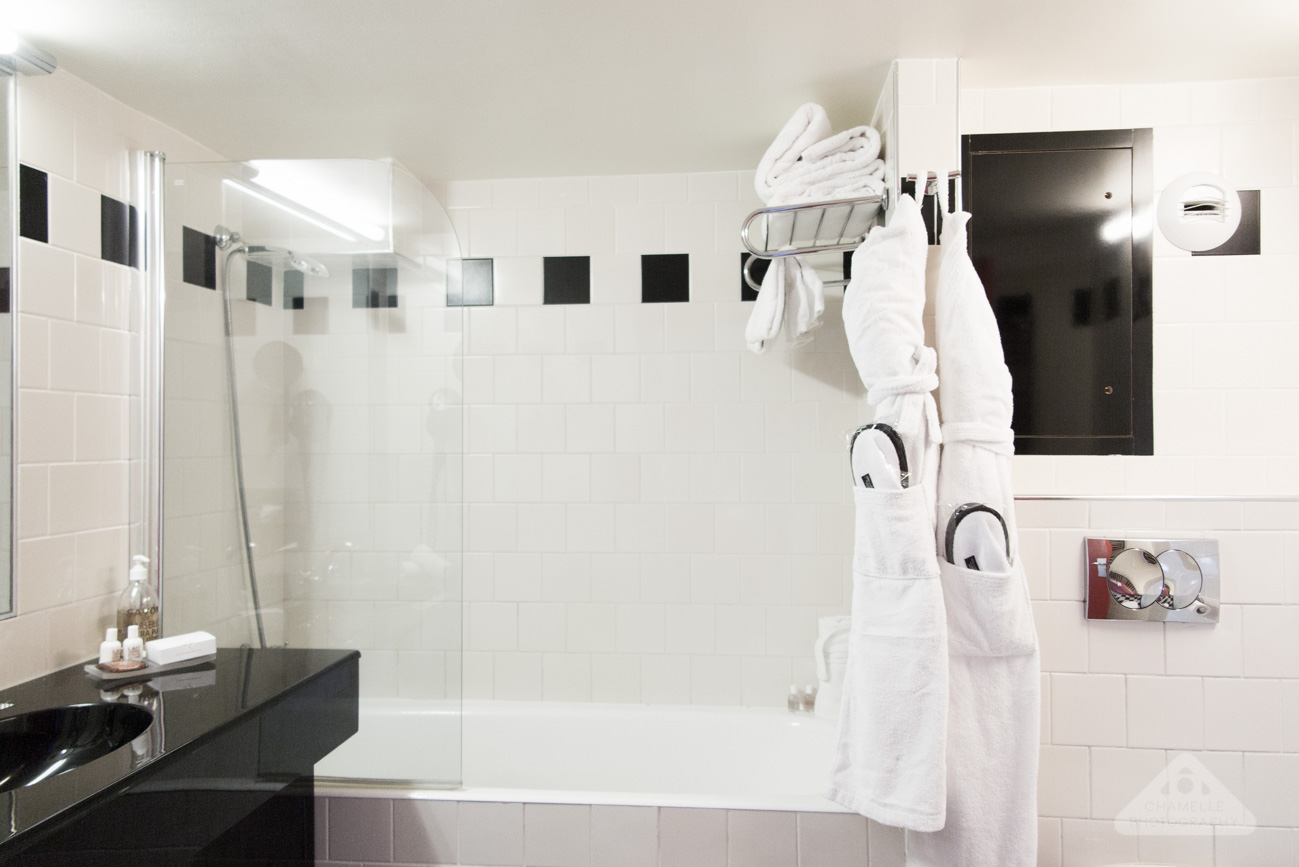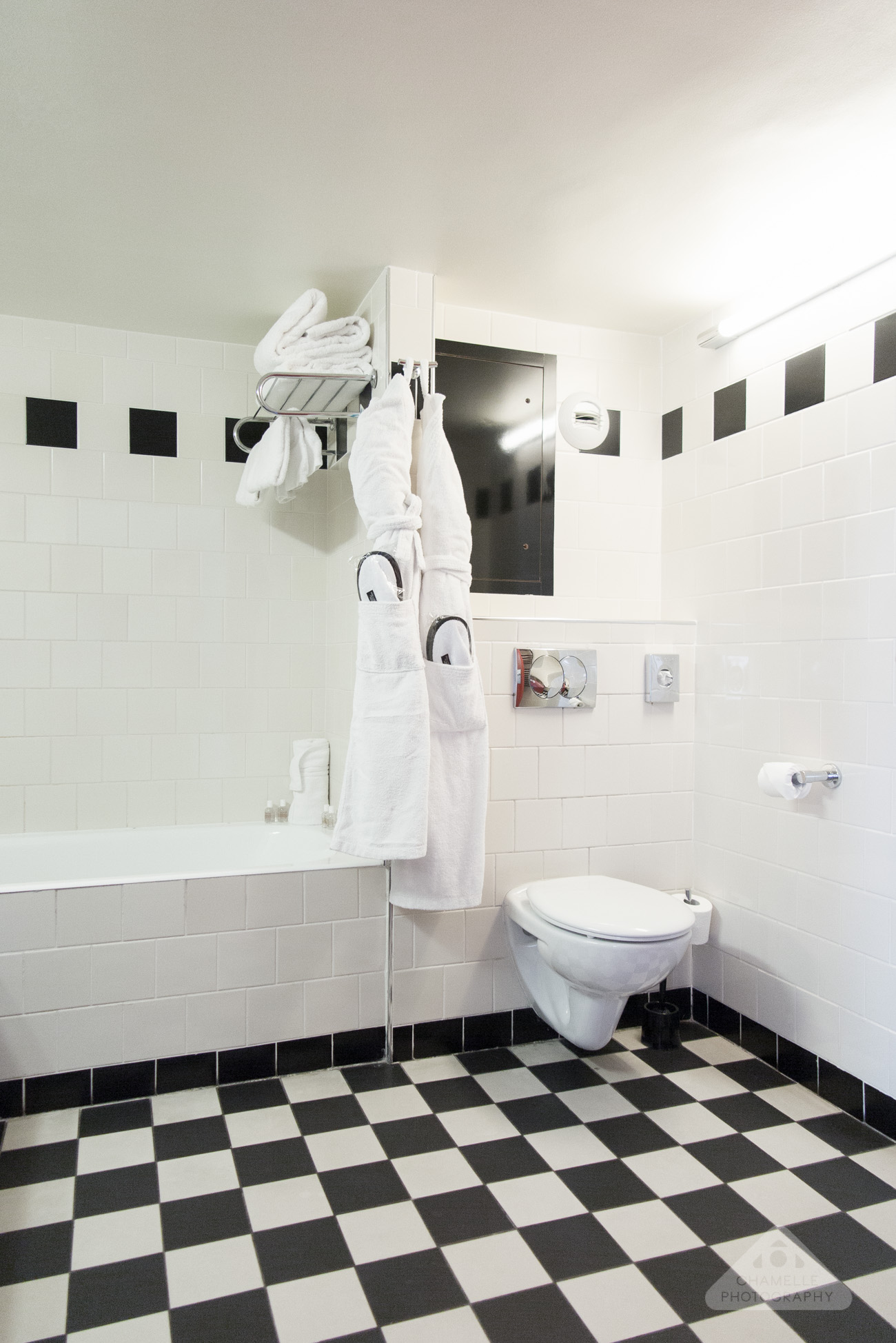 The Bathroom
In contrast to the rest of the room and hotel, the bathroom is decorated in a monochrome style, but still in the 50s theme. It has all the essentials and toiletries by La Compagnie de Provence a local Marseillaise skincare company. I liked that they provided liquid hand wash in a big bottle. I'm not a fan of soap and I always find it wasteful and not environmentally friendly that hotels have bars of soap which get thrown out after a few uses. However, if you prefer a bar of soap they have that as well!
I liked that it has a bathtub as many modern hotels seem to be doing away with them.
They also provide soft, fluffy bathrobes and slippers.
The Wardrobe
(not pictured) The wardrobe includes a safe inside.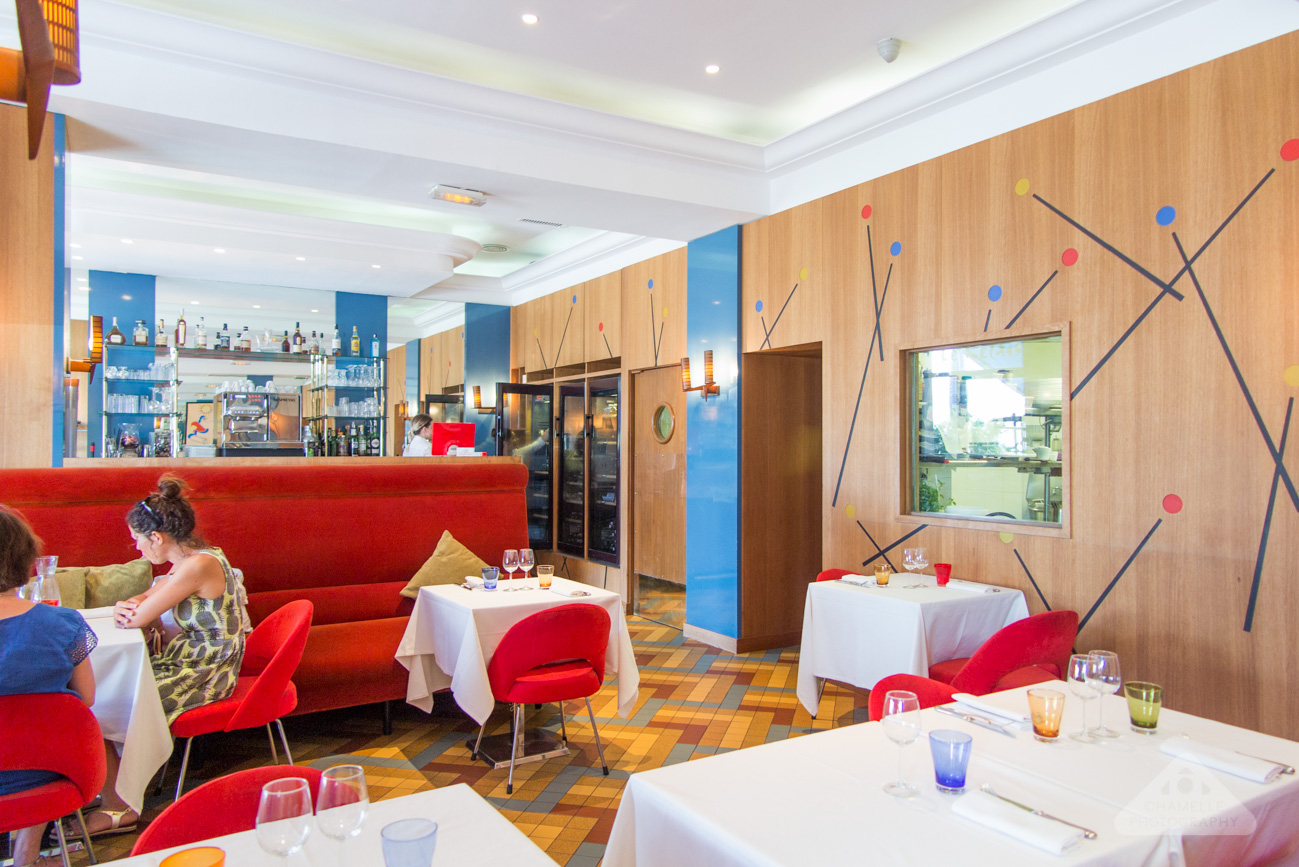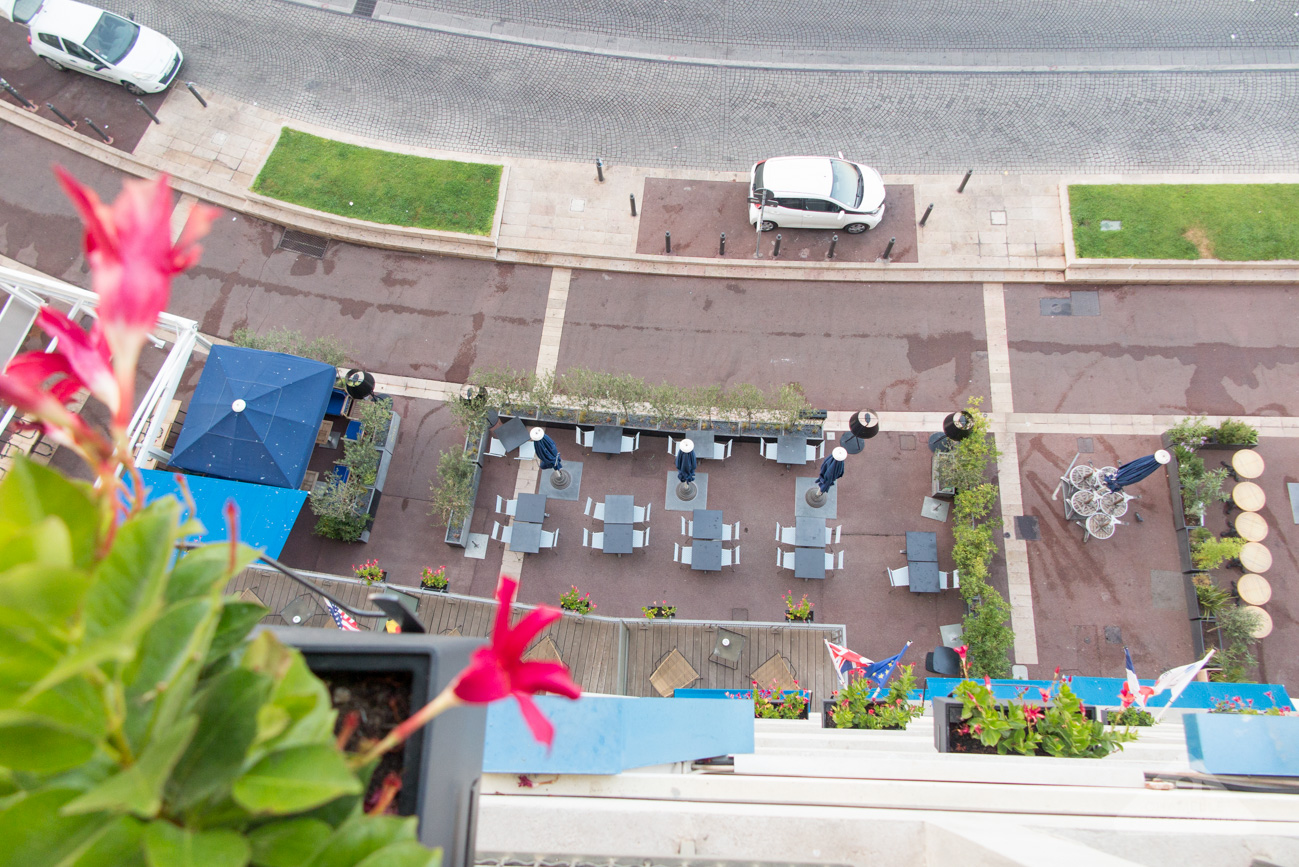 Le Relais 50 restaurant
Le Relais 50 restaurant appears in the Michelin Guide but does not have a Michelin star, but a new Michelin 'assiette' ('plate') rating which means that these restaurants that were subjected to the same scrutiny as all other restaurants but narrowly missed the mark in achieving a star. It also appears in the prestigious Gault & Millau French dining guide.
For those who are not familiar with Michelin restaurants in France, they don't need to have a star to be good! In fact, as long as they are in the guide they are bound to be good. I've never been disappointed by any of them and was definitely not disappointed by this one either.
The name of the restaurant comes from the theme they've decorated it in, just like the hotel, in the style of 50s primary colours and shapes reminiscent of Miro's and Mondrian's artworks.
The kitchen is headed by chef Noël Baudran who has created an imaginative menu with fresh, in season Mediterranean produce and flavours and he changes it up each month. I was particularly impressed with his Asian fusion dishes. He says he likes to create surprise in his dishes by mixing different combinations of colours, tastes and textures.
The Chef
Noël Baudrand grew up between Montepellier and Sète on the south-western coast and worked with great chefs such as Michel Bras, Jean-François Piège, Jean-Marie Amat and Michel Bras, his mentor. He arrived in Marseille in 2014 and took over the restaurant from Emmanuel Perrodin in 2015. He was named Jeune Talent (Best young talent) in the Gault & Millau guide in 2017.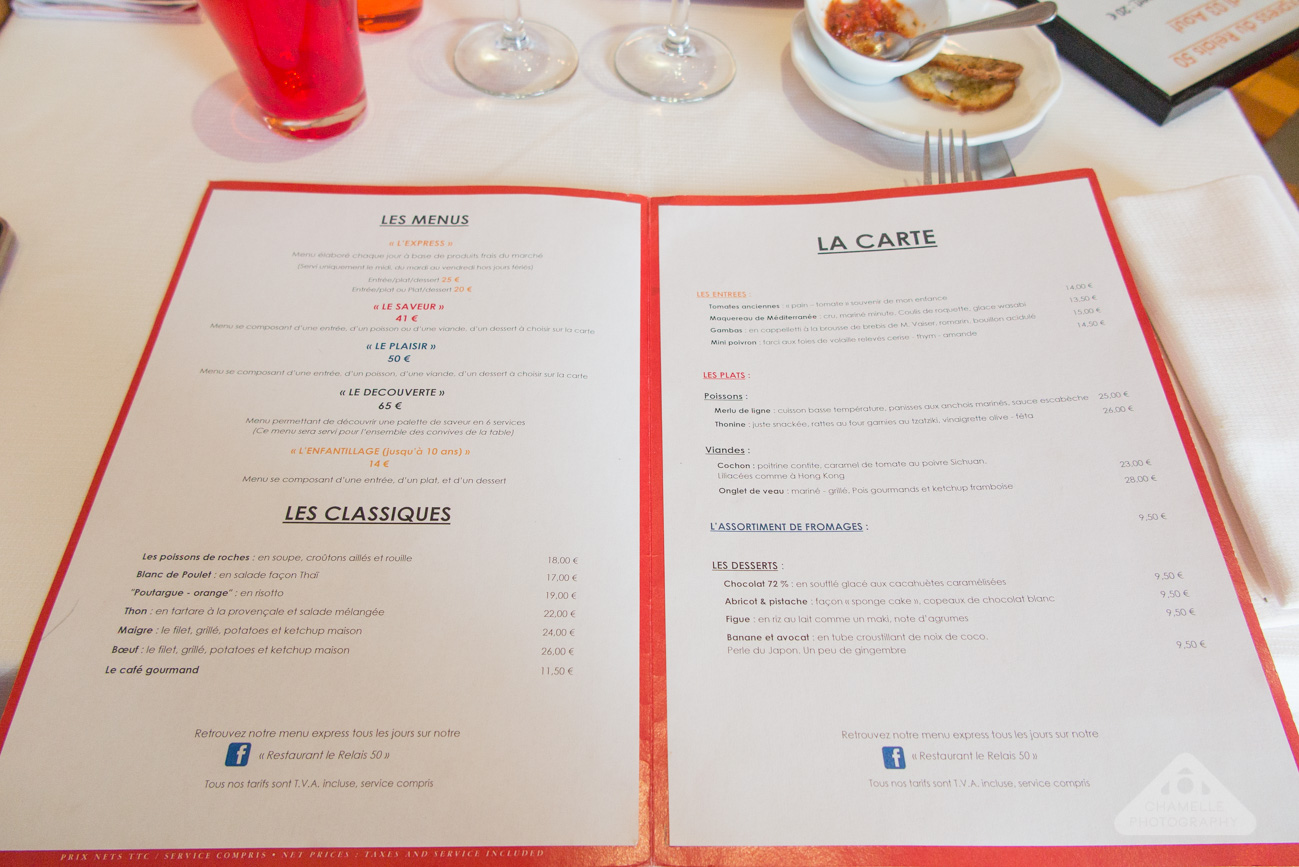 Our Menu
We chose the 3 course «Le Saveur» menu where you can choose any entrée, main and dessert. They have a good choice of menus to suit all tastes, budgets and appetites. NB: The English word menu is actually 'carte' in French  (as in the whole menu) and the French word 'menu' means set meals.
There were 2 complimentary 'amuse bouche' (appetisers) offered to us at the start of the meal which were both very tasty!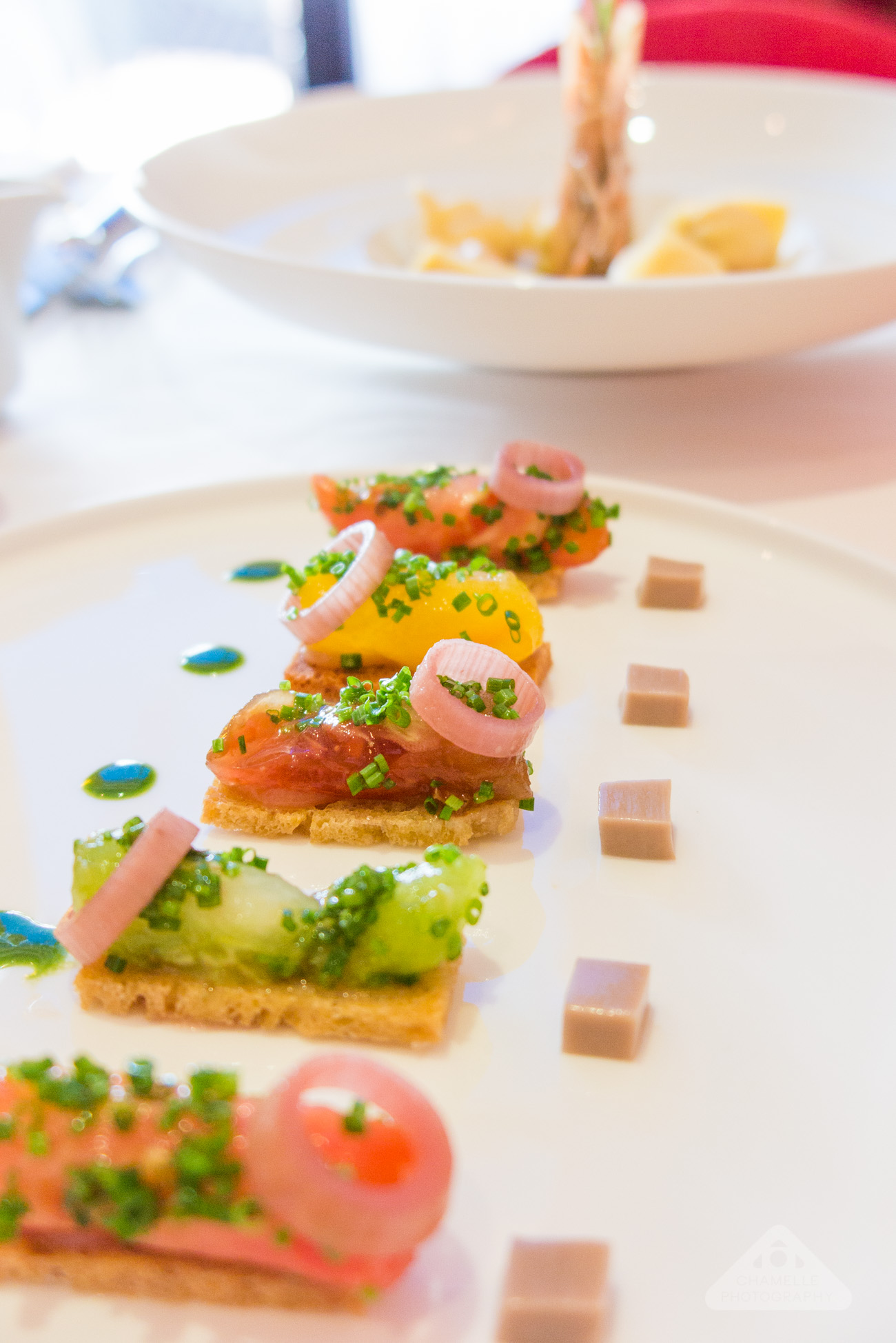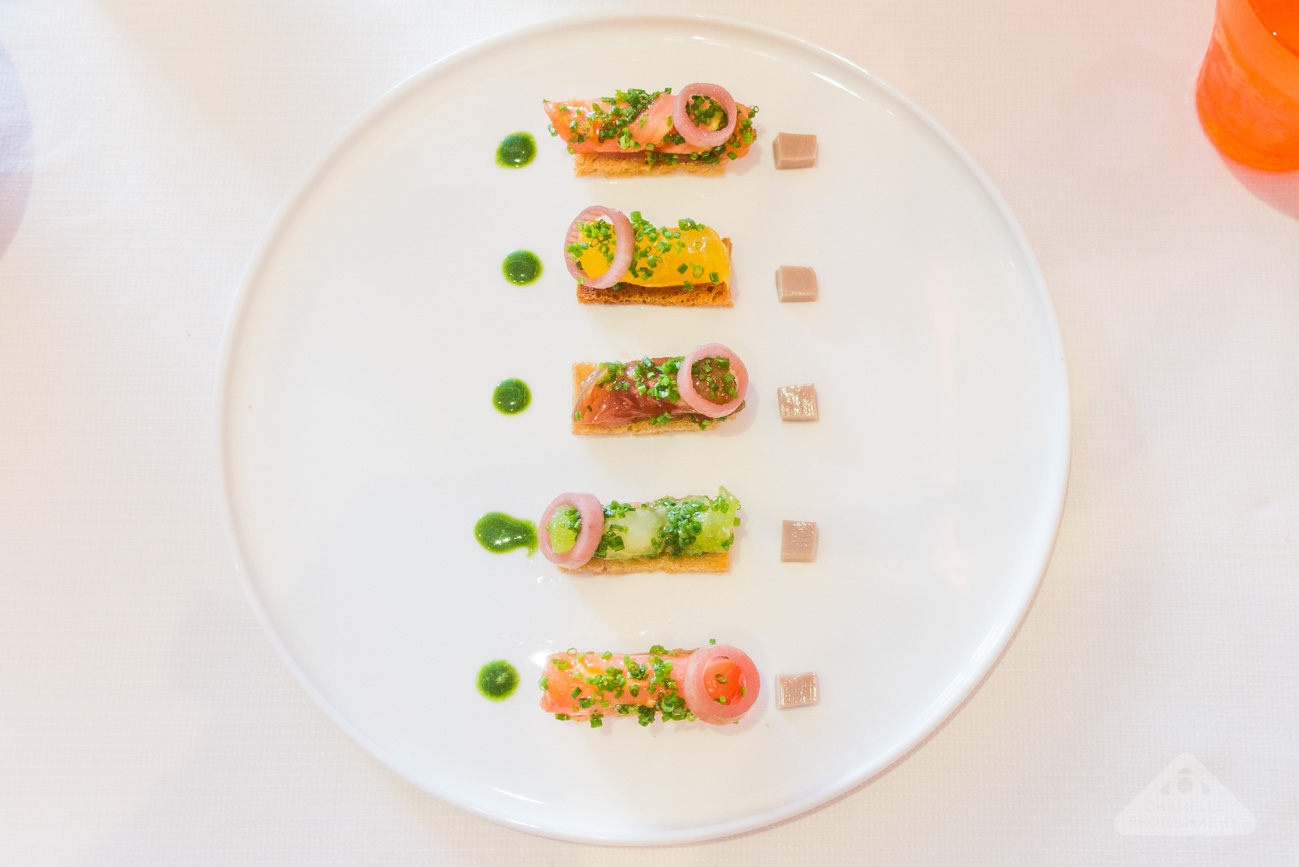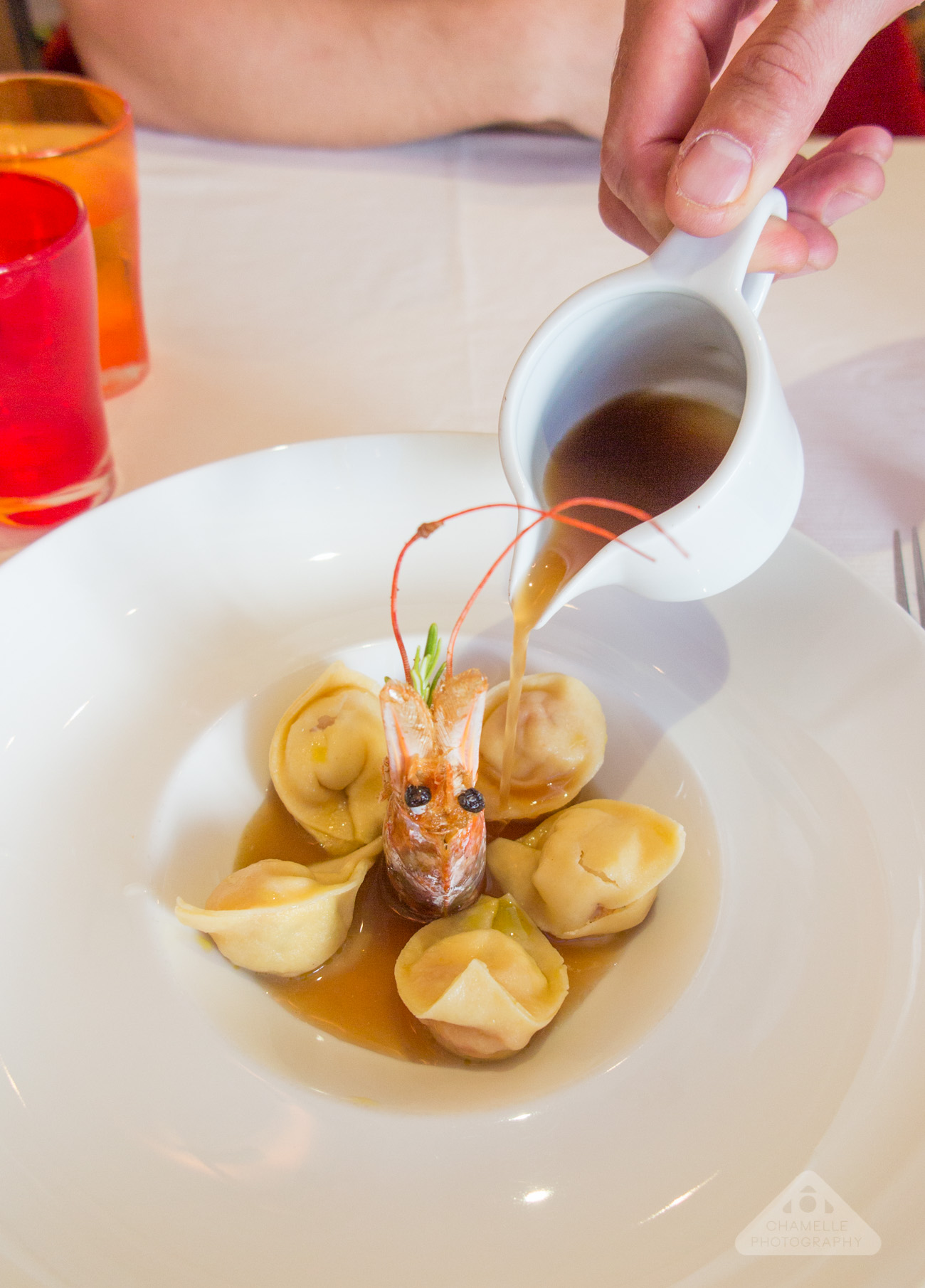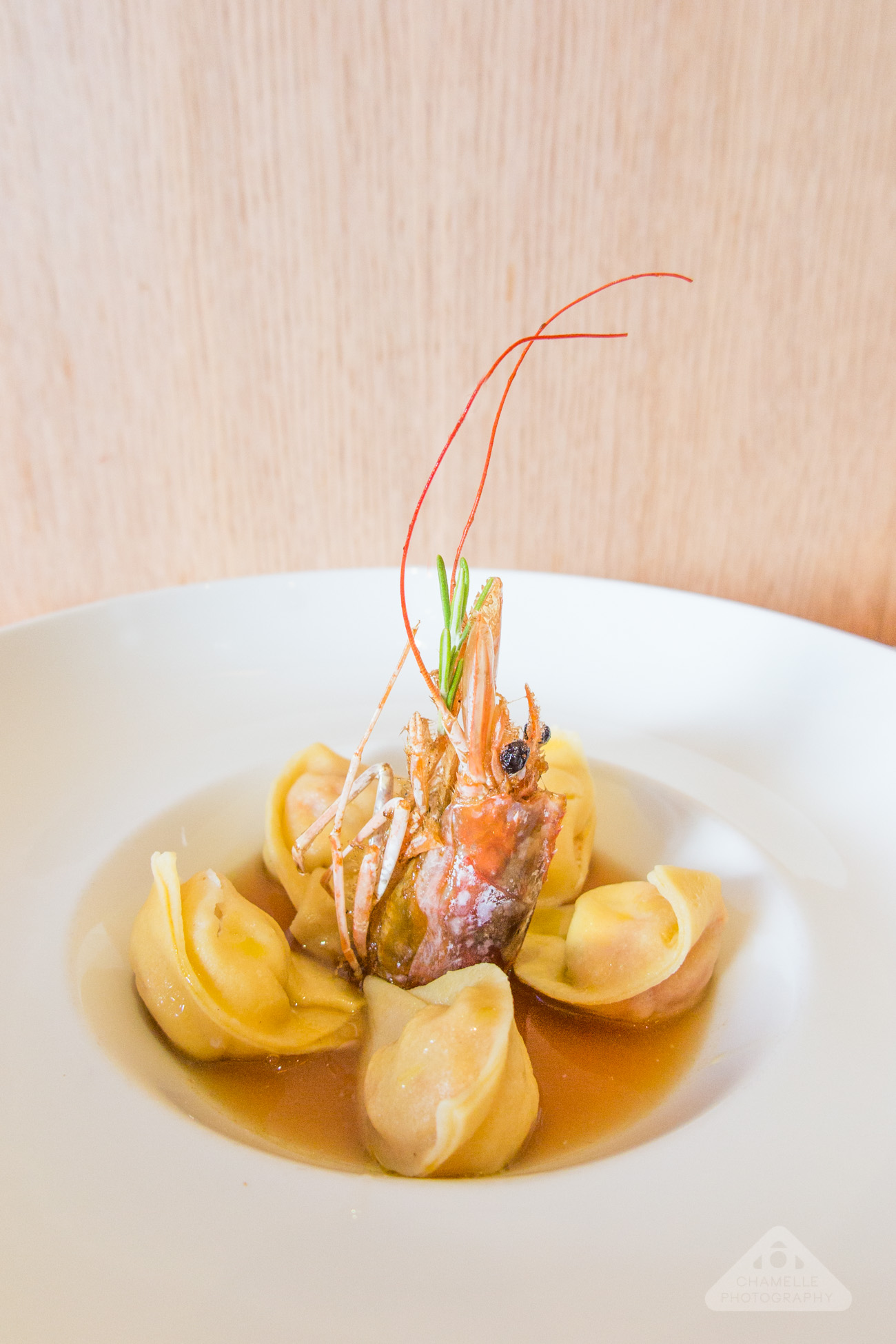 Entrées
My partner ordered the Tomates anciennes : « pain – tomate» souvenir de mon enfance (Variety of tomatoes, memories of my childhood) which was a true work of art and delicious to boot.
I ordered the Gambas : en cappelletti à la brousse de brebis de M. Vaiser, romarin, bouillon acidulé (Prawns and Marseillaise brousse cheese inside handmade cappelletti (meaning 'little caps' in Italian) pasta, with rosemary in a vinegary broth). Alas Mr Prawnhead was not meant to be eaten but all the delicious prawn meat was stuffed inside the pasta which are actually bigger than they appear in the photo. The broth was super tasty, sweet, sour and salty and the leftover made from a good dip for the bread.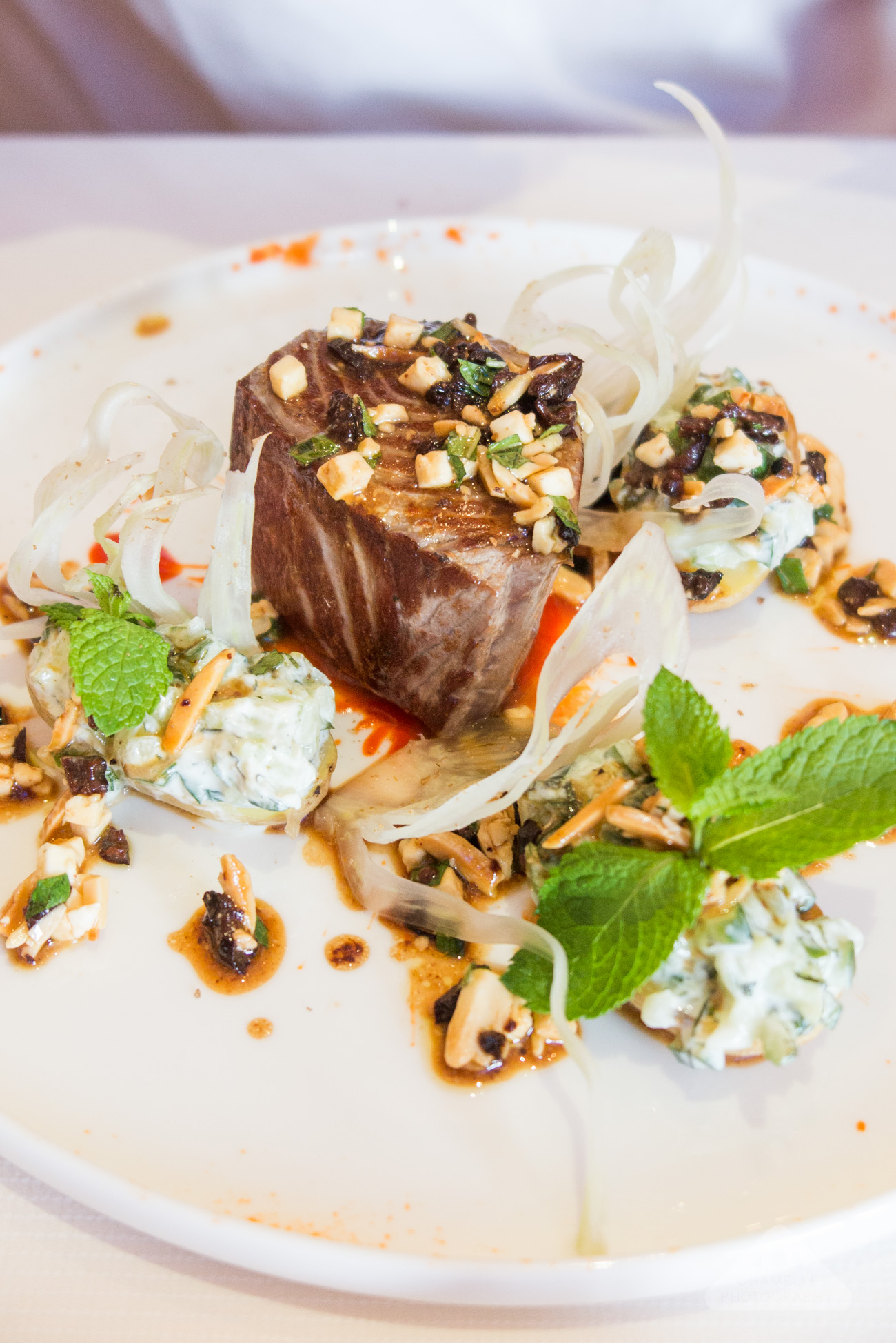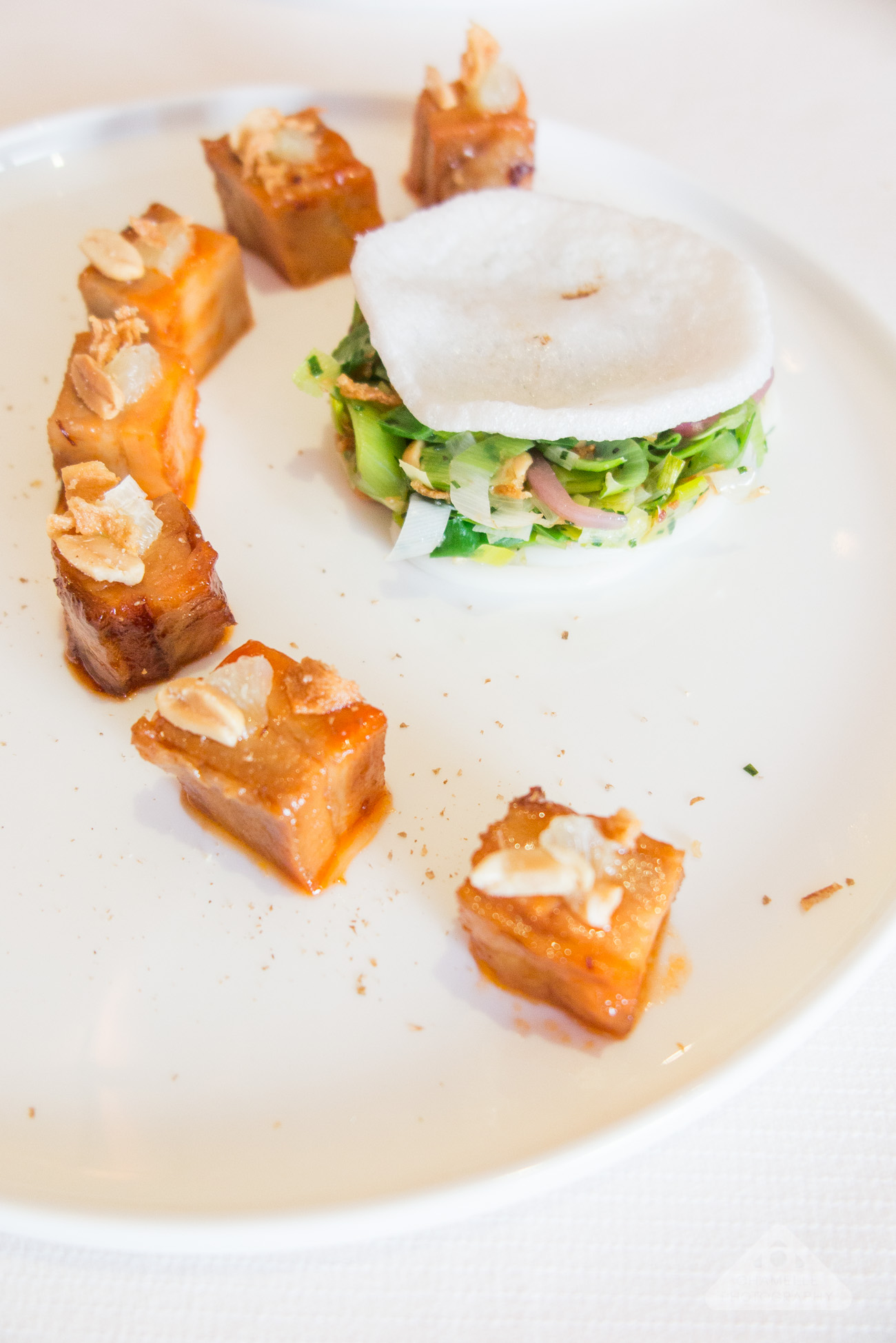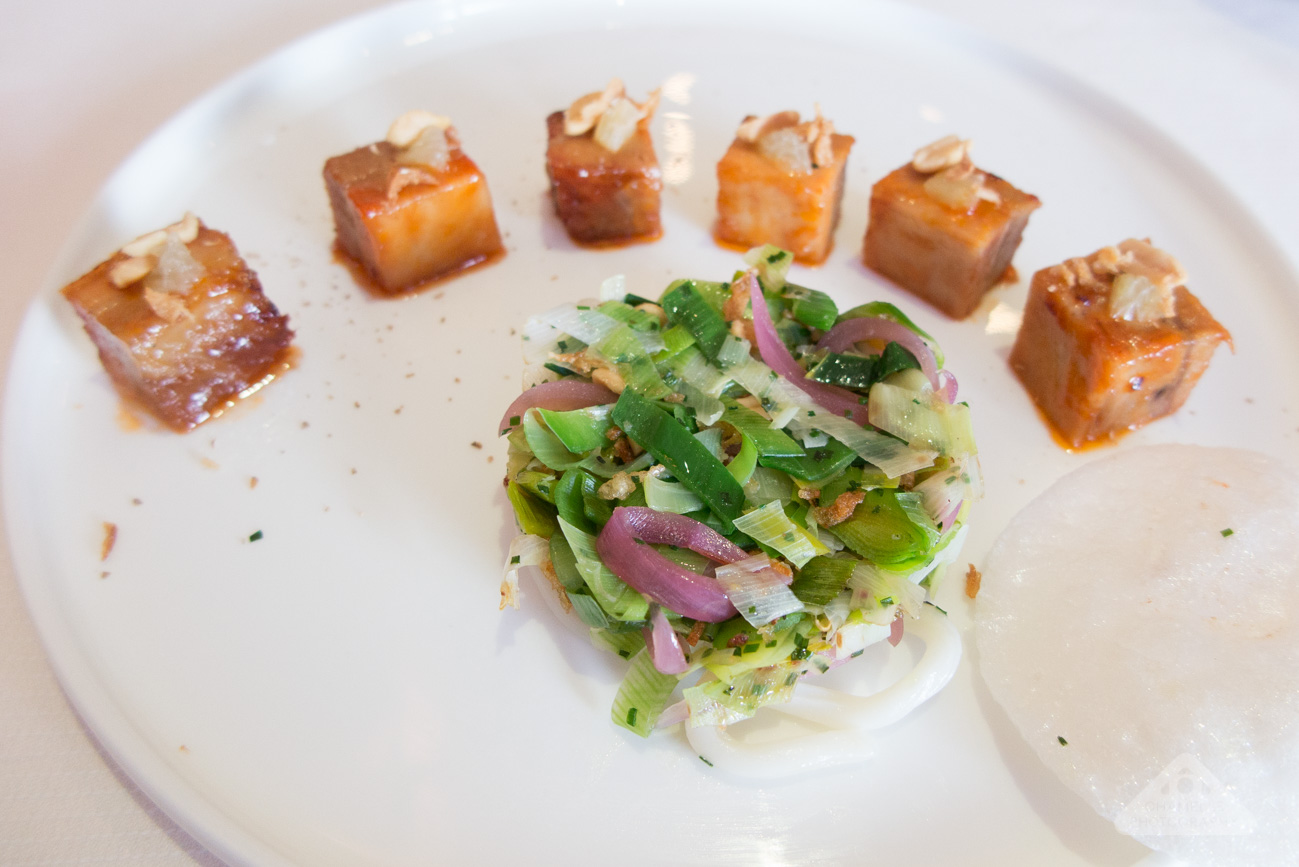 Mains
My partner ordered the Thonine : juste snackée, rattes au four garnies au tzatziki, vinaigrette olive – féta (Tuna, small baked potatoes garnished with tzatziki, olive vinaigrette and feta) which again, was a real piece of artwork. Jackson Pollock would have been proud! So many tastes and textures, I feel like I'm mouthwatering just looking at the photo again!
I ordered the Cochon : poitrine confite, caramel de tomate au poivre Sichuan. Liliacées comme à Hong Kong (Pork belly confit, caramelised tomato with Szechuan pepper, served with Asian vegetables and a prawn cracker over noodles) which I must admit was attracted to for its Asian flavours. The pork was juicy and perfectly cooked and everything was flavoursome.  I loved the French-Asian fusion of it all and it was interesting seeing a prawn cracker used in a main dish! Ha!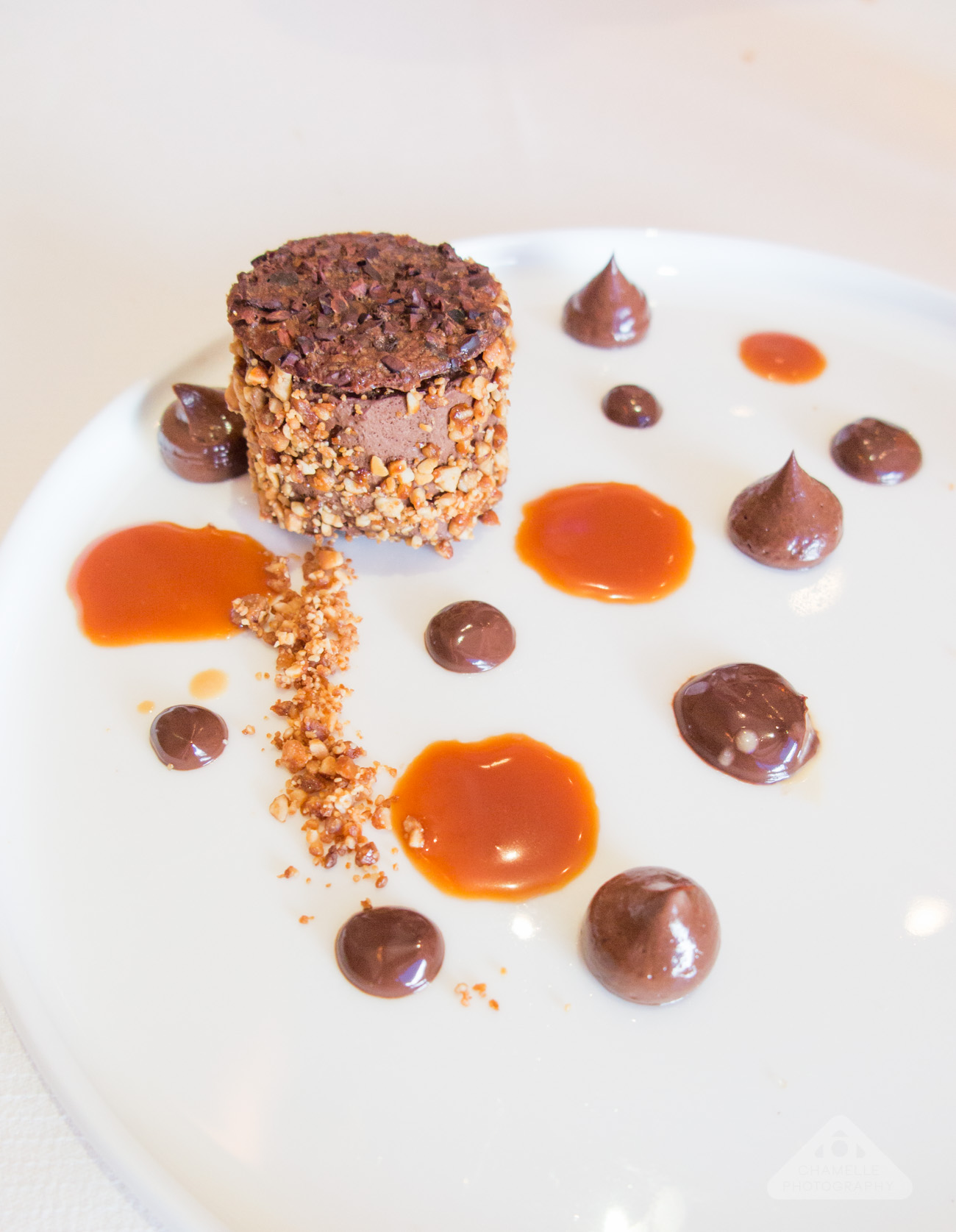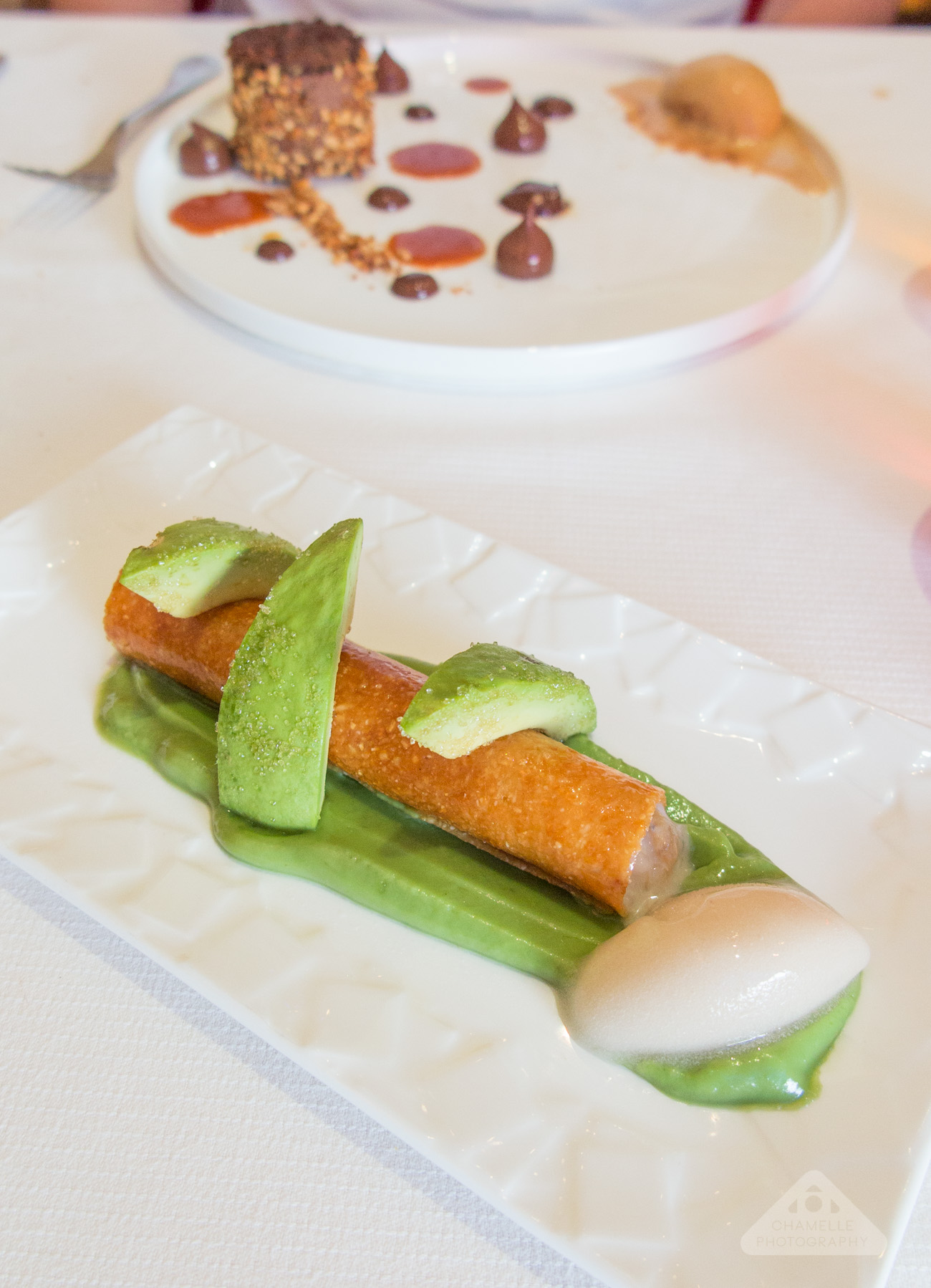 Desserts
My partner being a big chocoholic chose the Chocolate 72% : en soufflé glacé aux cacahuètes caramélisées (72% Iced chocolate soufflé with caramelised peanuts). It was way too much chocolate for me but he was just in chocolate and caramel heaven! I loved the playful plating of the dish.
Once again, I chose the Asian-inspired dessert. Banane et avocat : en tube croustillant de noix de coco. Perle du Japon. Un peu de gingembre (Banana and avocado with a crispy coconut roll, flavoured with a little ginger). This is probably the most unique dessert I've ever tasted in my life! I liked that it wasn't super sweet and definitely had an Asian feel. The softness of the avocado and iced banana against the crispy crunch of the roll was just heaven.
Restaurant Verdict
This was seriously one of the best meals I ever had. Fresh, tasty, and beautiful to look at. Apart from the view this is the one of the best things about the hotel. I would recommend this restaurant without hesitation! 🙂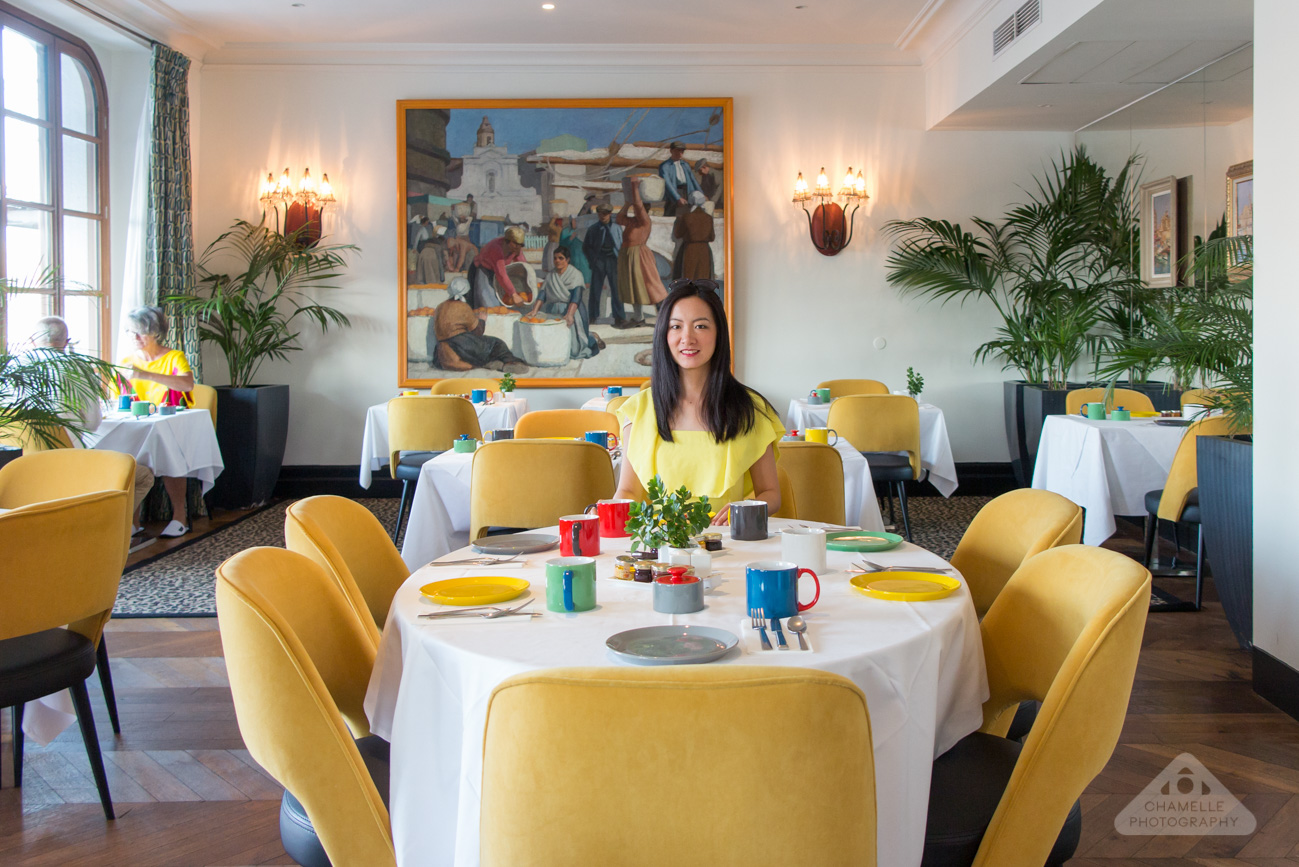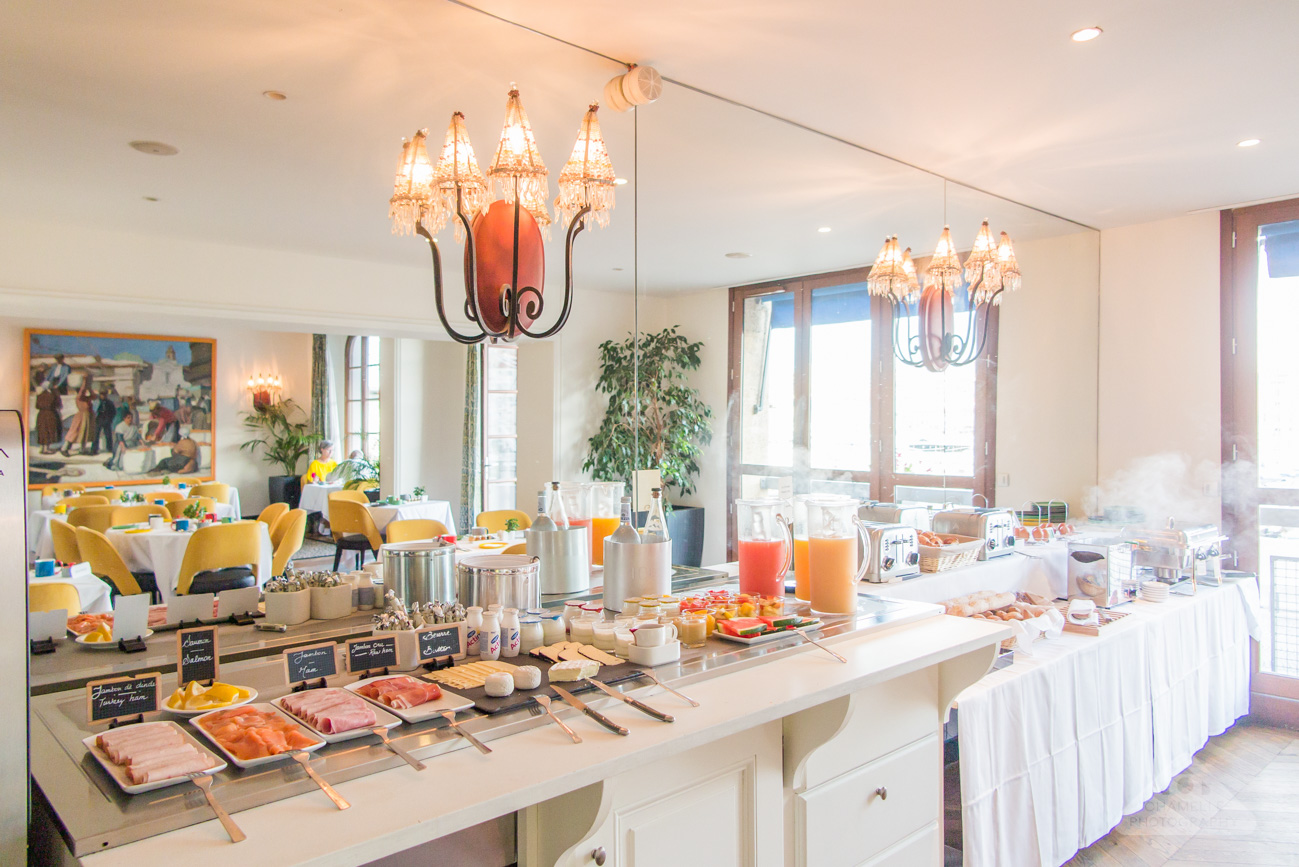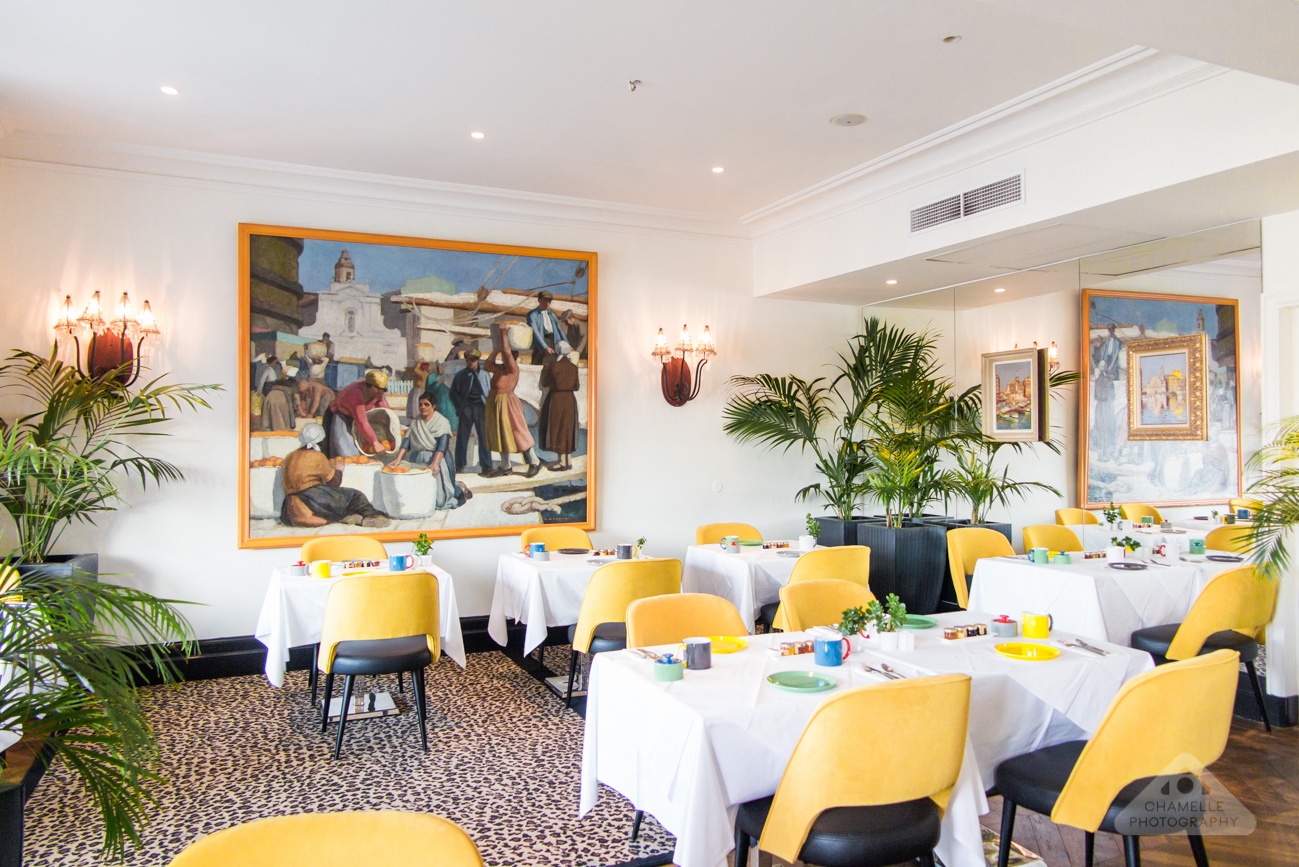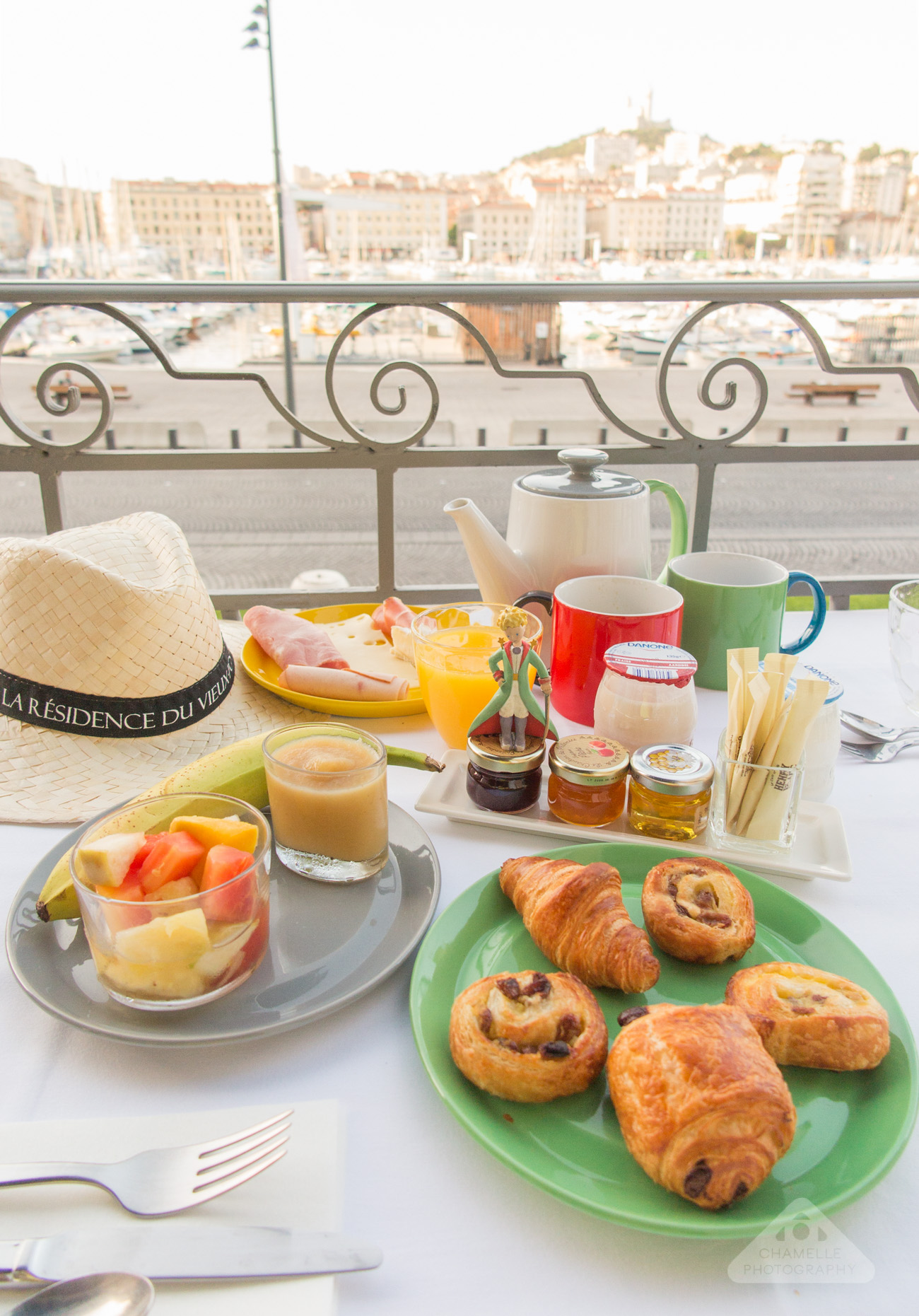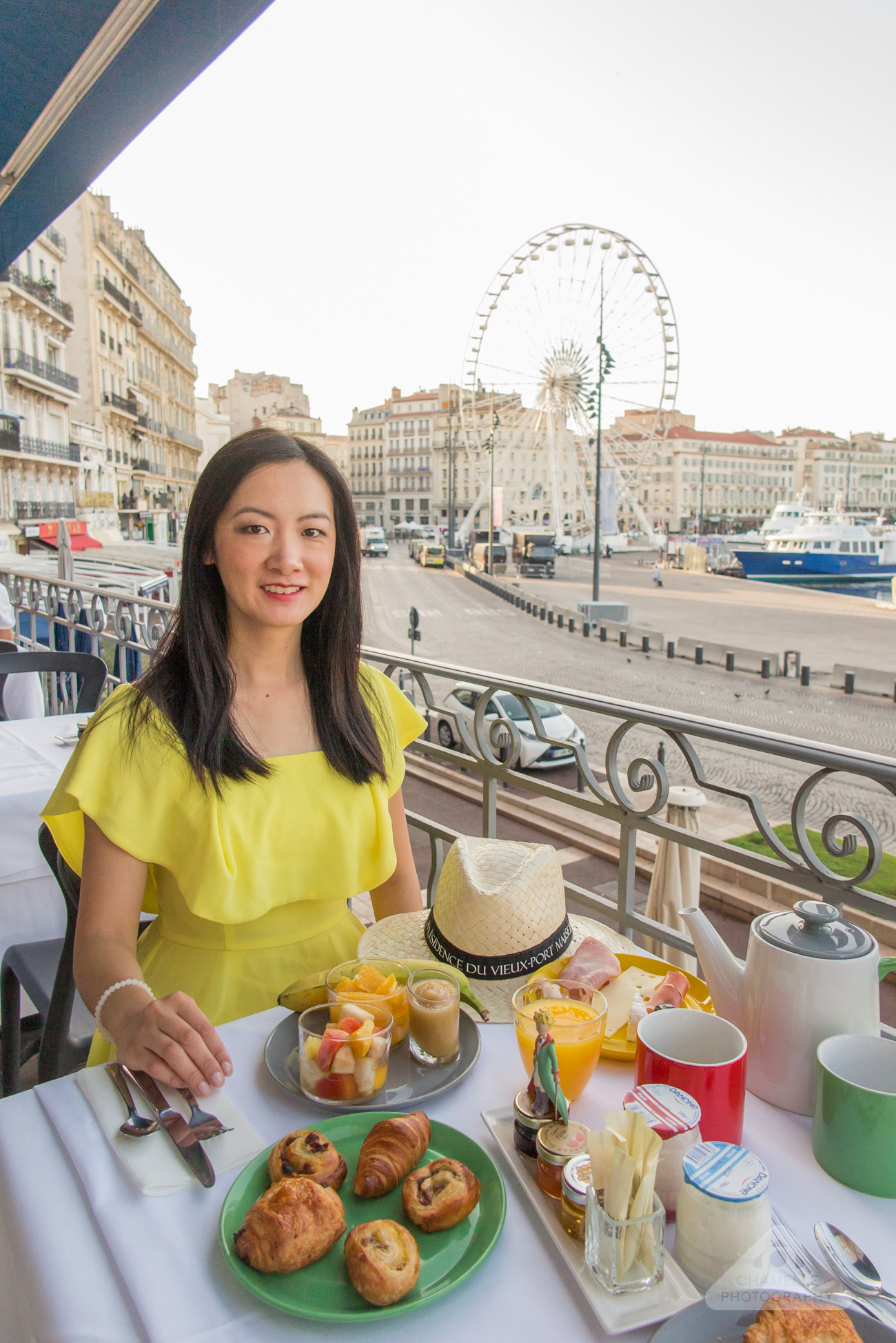 Buffet Breakfast
Everything on the buffet breakfast menu was healthy and fresh with a good selection of hot and cold foods. There were different pastries, cold meats including smoked salmon, cheeses, yoghurt, fresh fruit, eggs, sausages and bacon. There was a large choice of beverages and I particularly liked their freshly squeezed fruit juices and fruit salads.
We chose to sit outside on the balcony to see the lovely view. The dining room is located on the 1st floor so we were much closer to the 'action' than our room on the 7th. I'm not usually a morning person (the things one does as a photographer!) but it was nice and interesting watching the city wake up.
I loved the bright, happy colours of the dining room. Coincidentally, I chose to wear a yellow dress that day, and the only other lady who was there (because we got there super early) was also wearing a yellow dress and we both matched the yellow chairs!
Overall
I had a fantastic stay at La Résidence du Vieux Port Marseille. The location, the view and the friendly staff made it perfect. And don't forget the restaurant. That meal was to die for! 🙂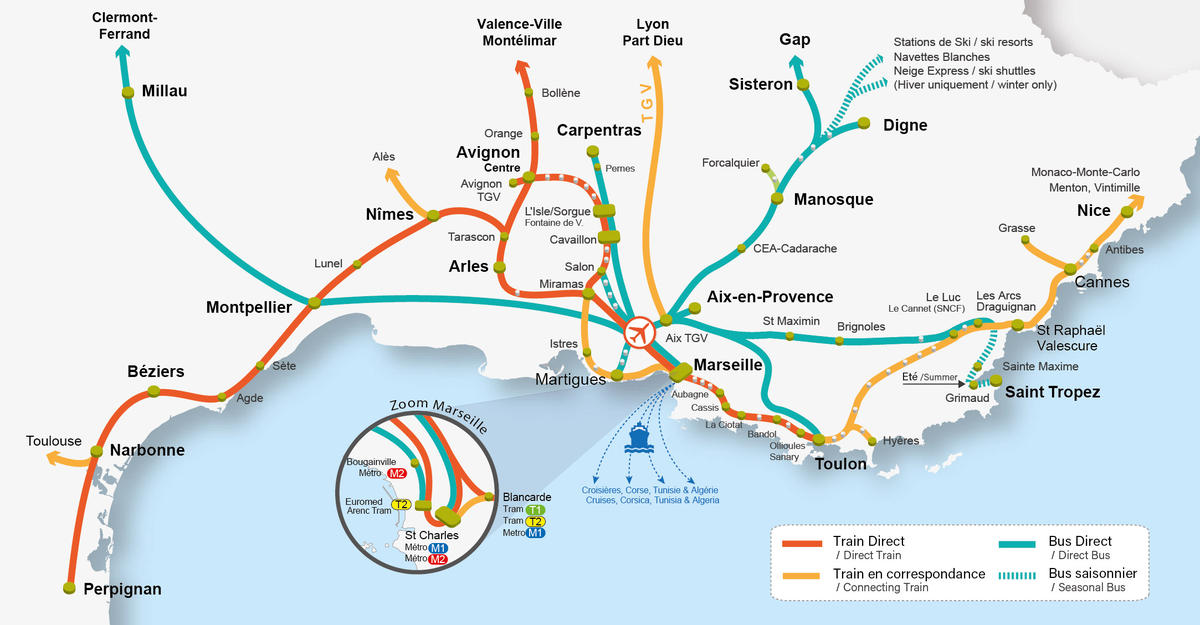 (image from Marseille Airport)
Getting there
The hotel is a 2 minute walk away from the Vieux Port metro station (which is 2 stops from Gare de Marseille Saint Charles). The trip costs 1.36-1.70€ and takes 2 minutes.
A taxi from Gare de Marseille Saint Charles to the hotel costs about 10€ and takes 4 minutes.
A taxi to/from Marseille airport costs approximately 50€ and takes about 25 minutes.
A shuttle bus (navette) from Marseille airport to Gare de Marseille Saint Charles costs 8.30€ and takes 25 minutes. There is one leaving every 15 minutes.
Aix-en-Provence is 15 minutes away, Avignon (TGV) is 40 minutes away, Lyon is 1 hour 40 minutes away, Cannes is 2 hours away, Nice is 2 hours 30 minutes away and Paris is 3 hours 20 minutes away by train.
Hôtel La Résidence du Vieux Port
Address: 18 quai du Port 13002 Marseille, France
Tel: +33 (0)491919122
Web: http://www.hotel-residence-marseille.com | Email: info@hrvpm.com
Many thanks to Hôtel La Résidence du Vieux Port Marseille for sponsoring our stay in a Deluxe Prestige room with Vieux Port view and breakfast, especially since it was peak holiday season (in exchange for this review). We paid for our own lunch in their Le Relais 50 restaurant. All hotel guests receive 10% off there. All opinions and photographs are my own.