16

min read
The Ultimate Guide to the Van Gogh Trail in Provence and Paris, France
Part II: Saint-Rémy-de-Provence (Saint-Paul-de-Mausole asylum) (here)  
Part III: Paris (The Louvre, Musée d'Orsay and Montmartre)  (this)
Part IV: Auvers-sur-Oise  (here)
In this post:
IIIa: The Louvre
IIIb: Musée d'Orsay
IIIc: Musée Rodin
IIId: Vincent and Theo Van Gogh's house: 54 Rue Lepic, Montmartre
IIIe: Vincent Van Gogh's biography plaques: Rue des Saules, Montmartre
… After Saint-Rémy-de-Provence we drove to Bonnieux, l'Isle sur la Sorgue and Avignon before heading back to Lyon. After not much rest we then took the TGV up north to Paris!  
Despite numerous visits to Paris I'd always avoided going to the Louvre and Musée d'Orsay due to the queues, crowds and cost… However as I already knew I wouldn't be living in France for much longer, I knew it was the right time and who better to see it with than the biggest Post-Impressionist art lover I know. By the time we arrived in Paris I'd already soaked up most of the background about Van Gogh's life and artworks through the other cities.. and then finally seeing the paintings in the flesh was just… unbelievable and breathtaking. I was close to crying.
Paris (and Montmartre)
The Louvre
As far as I know, Van Gogh doesn't currently have any paintings displayed in the Louvre. However, he used to visit a lot during the time he lived in Paris. The Louvre previously displayed paintings by Van Gogh but when the Musée d'Orsay opened to the public in 1986, it acquired all paintings from the Louvre which had been purchased after 1848.
Musée d'Orsay
The Musée d'Orsay has one of the largest collections of Van Gogh's works outside The Netherlands. I was really looking forward to seeing this museum as it was one of the few attractions/monuments in Paris I hadn't seen yet.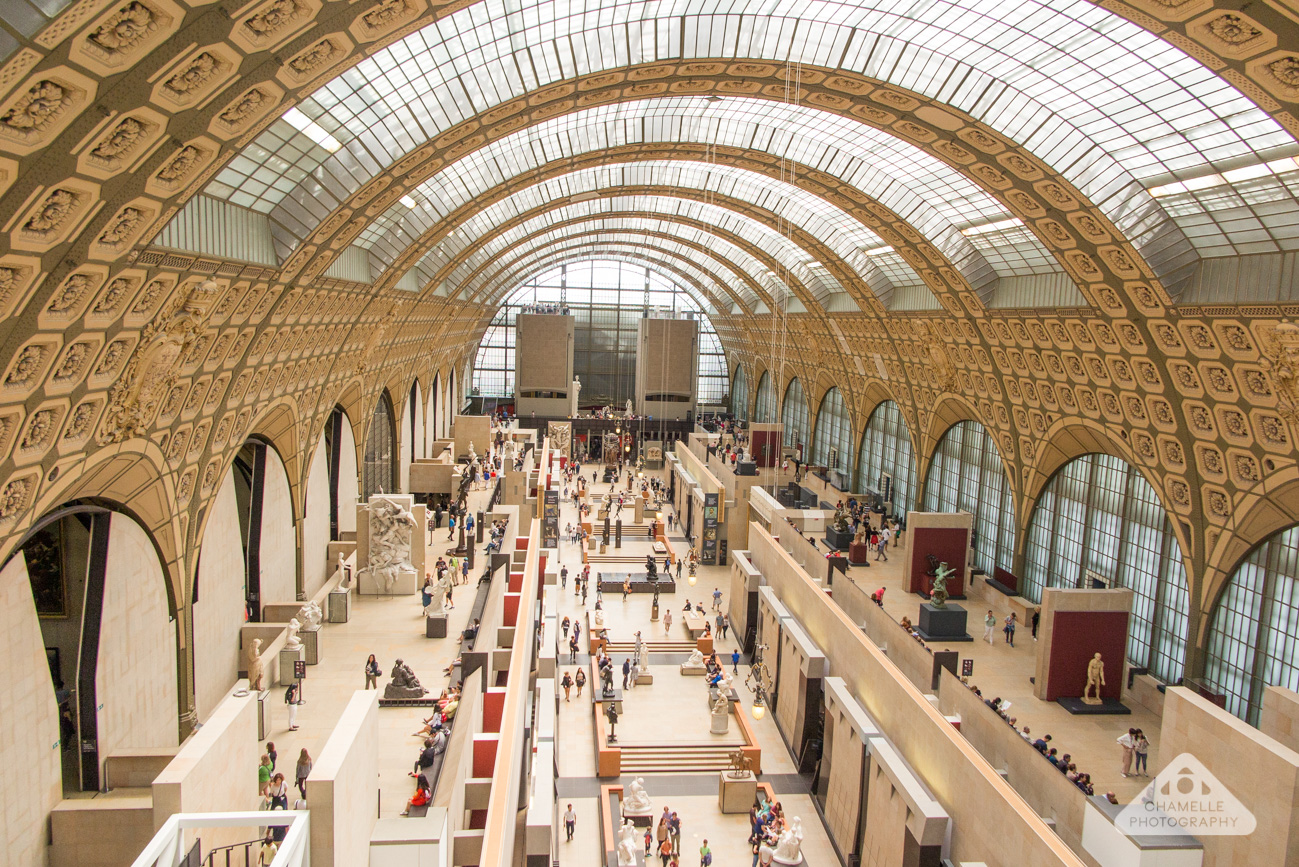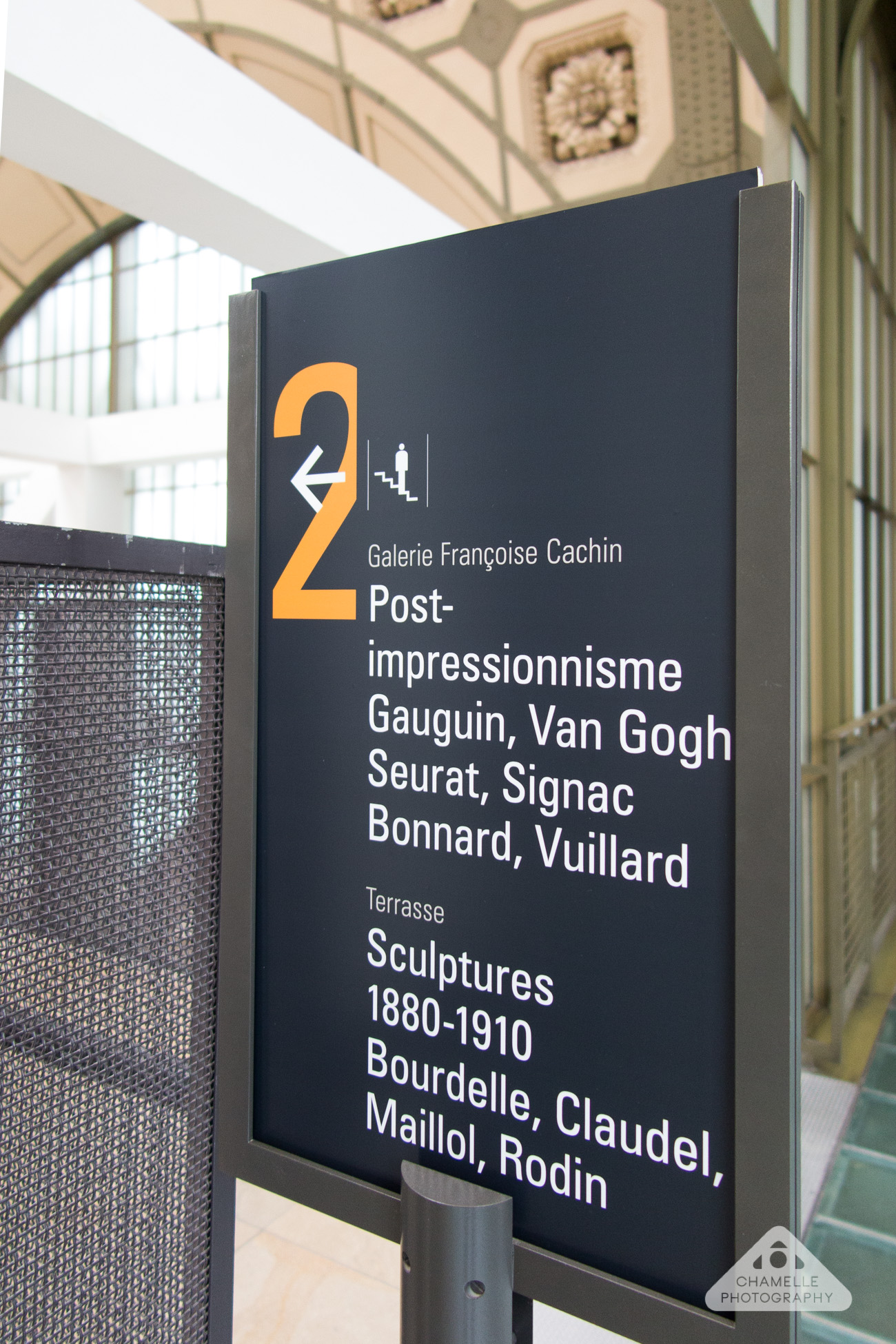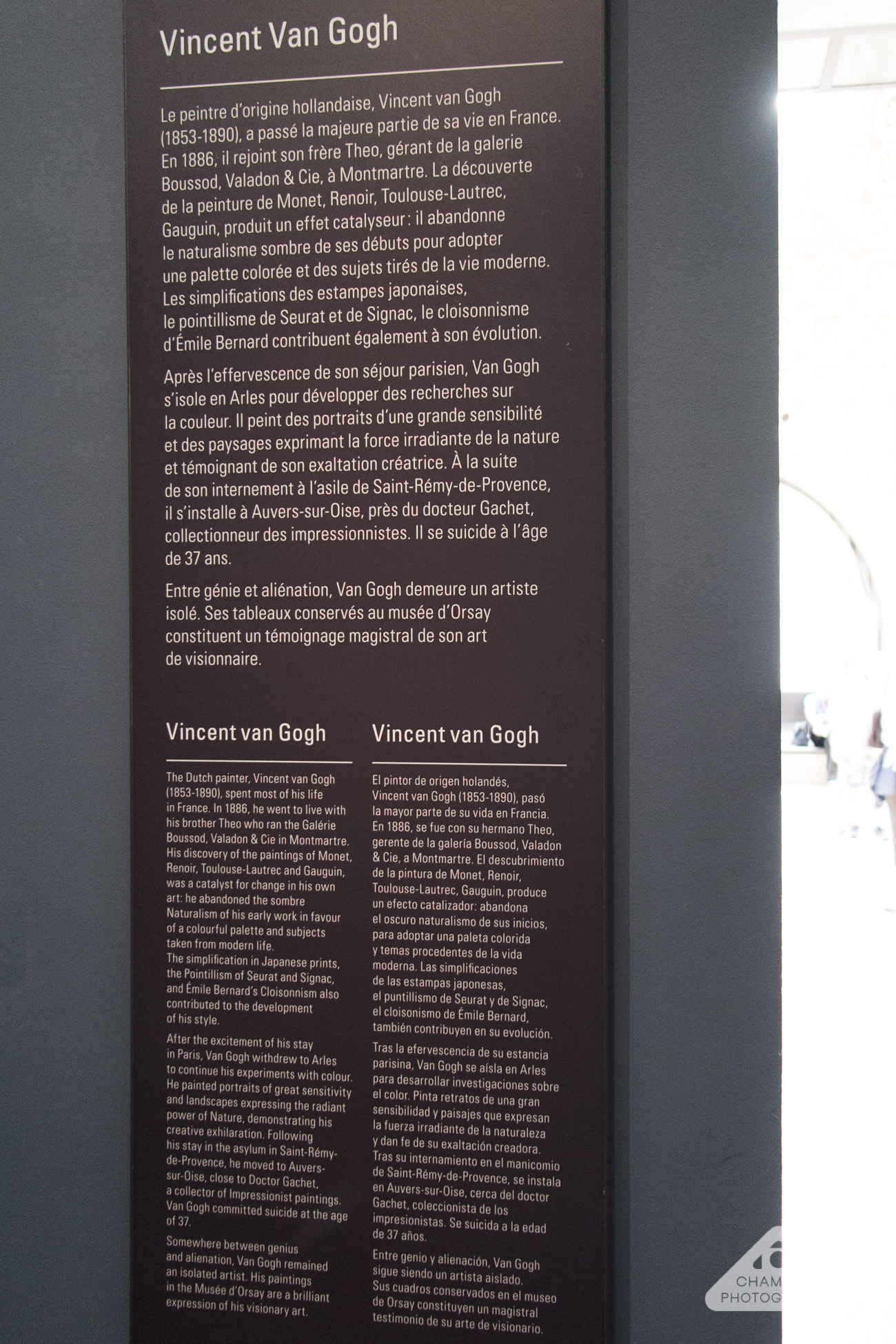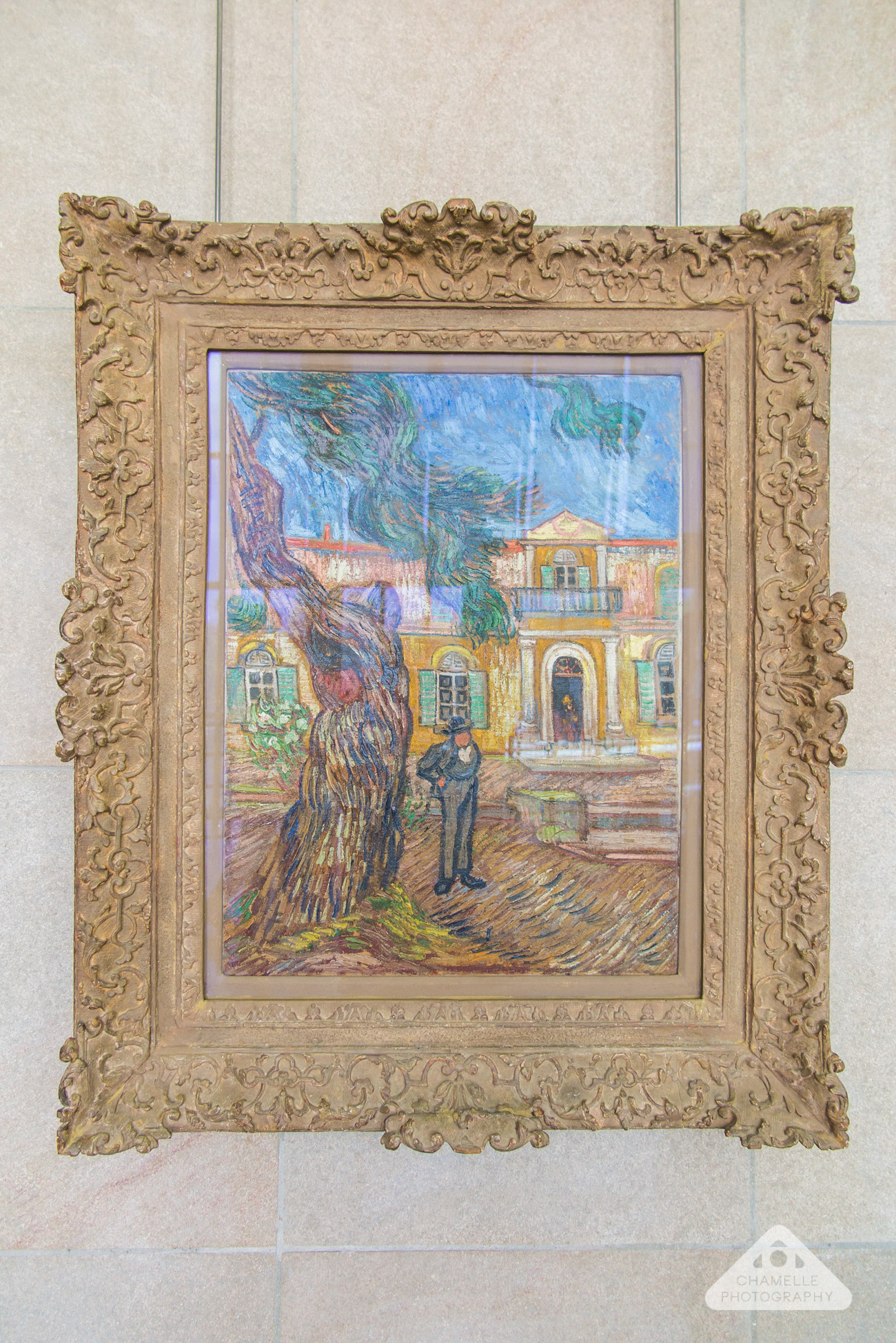 Pine Trees with Figure in the Garden of Saint-Paul Hospital (Hôpital Saint Paul à Saint-Rémy-de-Provence ) – Saint-Rémy – 1889
(note that this painting (above) is not displayed in the same room as other Van Gogh paintings. It's displayed on a wall in a big hall with some of Monet's, Seurat's and Renoir's works).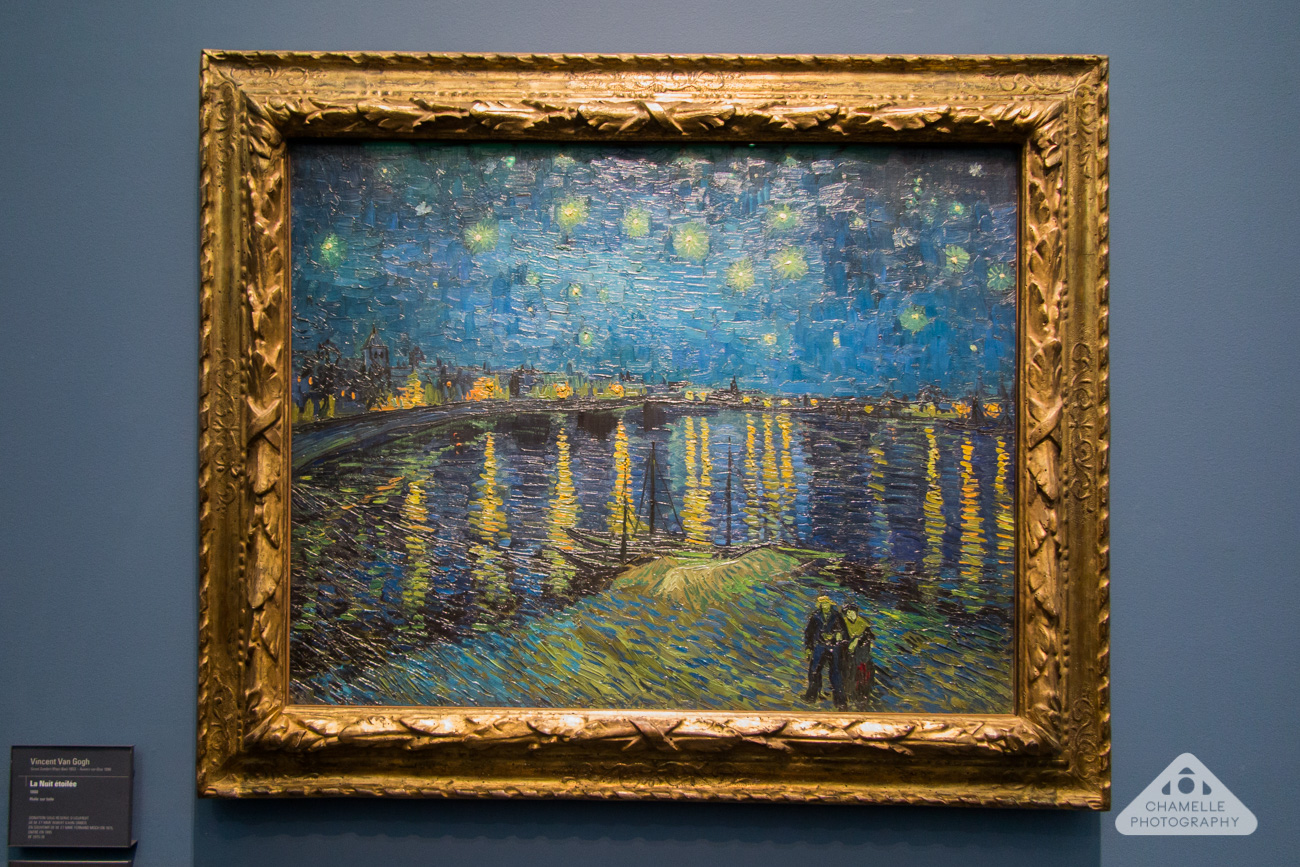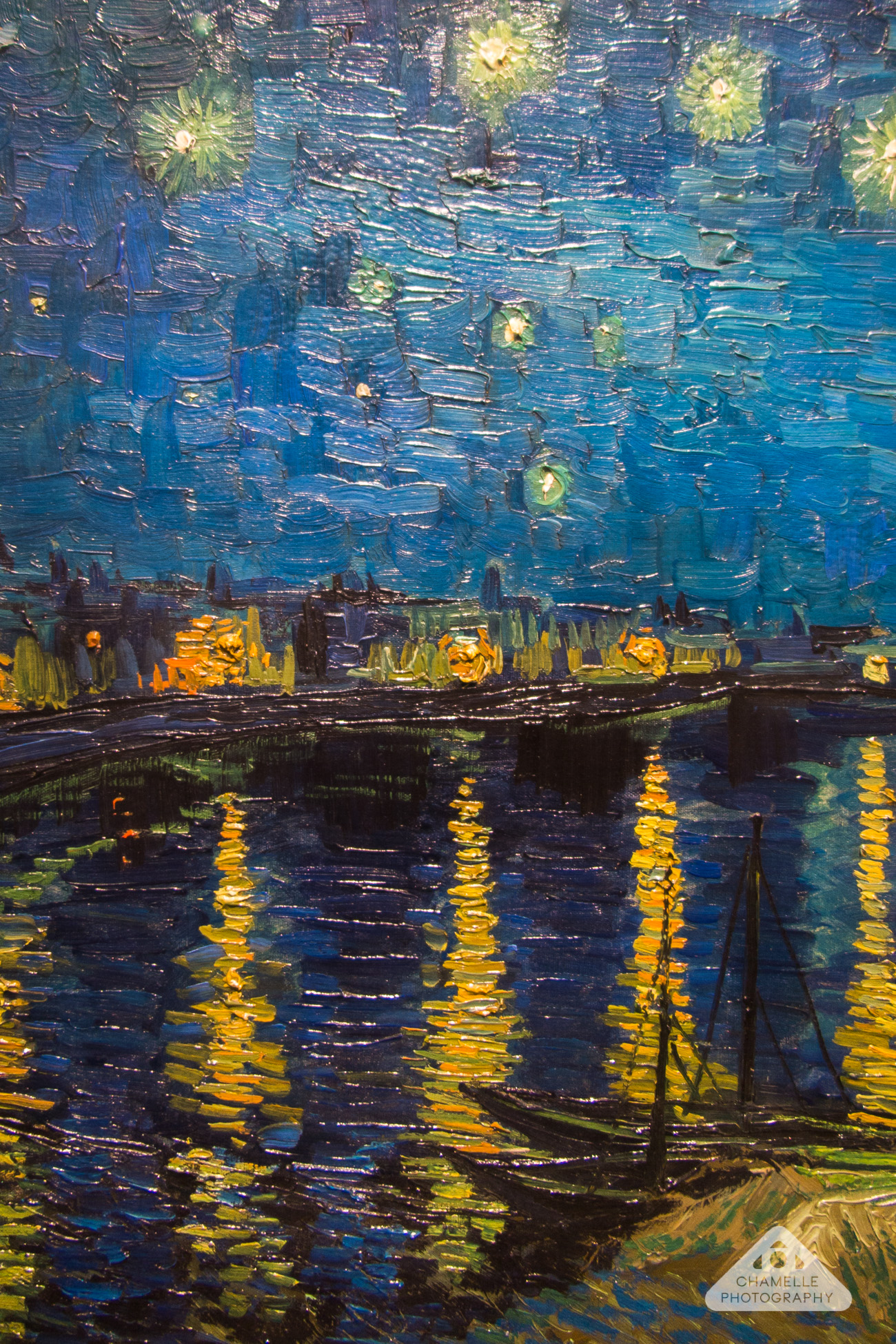 Starry Night Over the Rhone (La Nuit étoilée sur le Rhône) – Arles – September 1888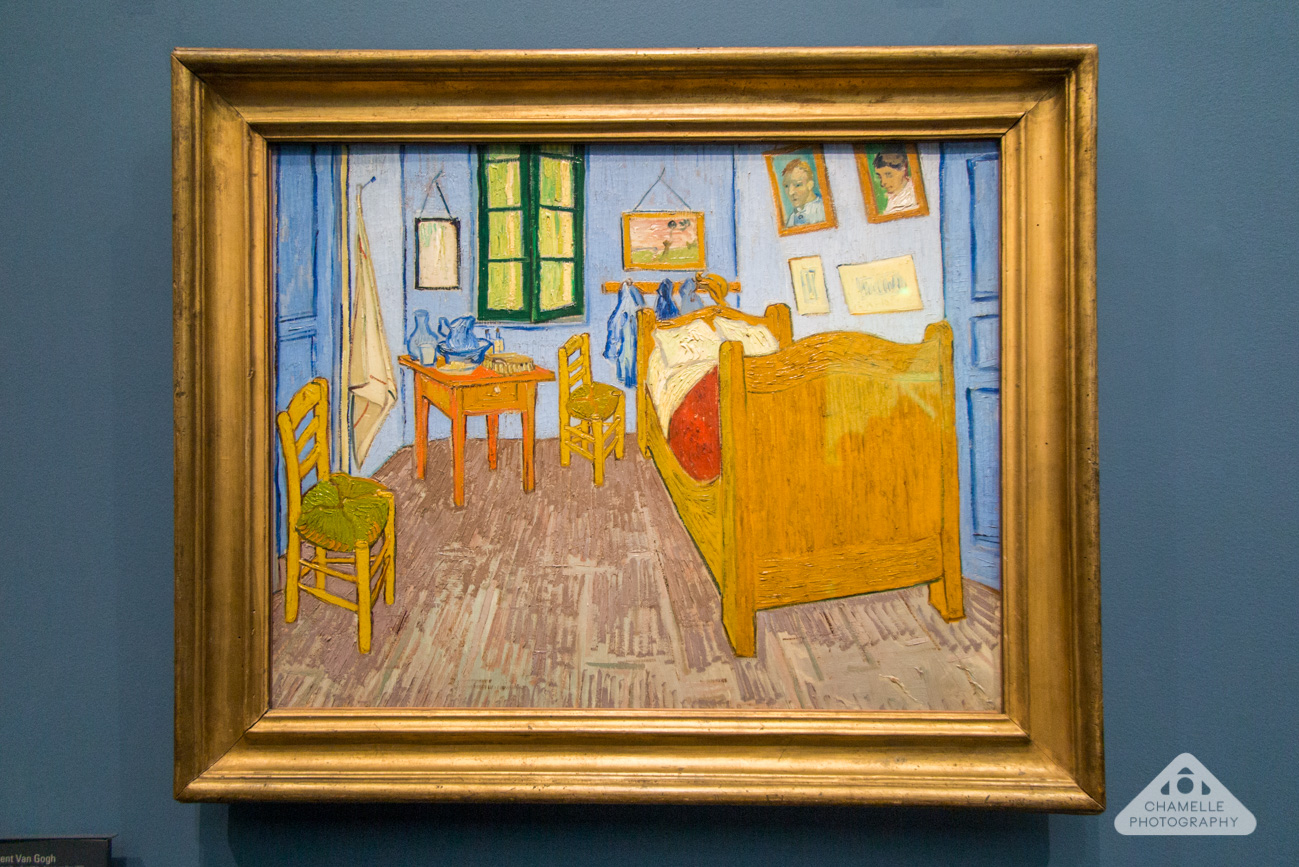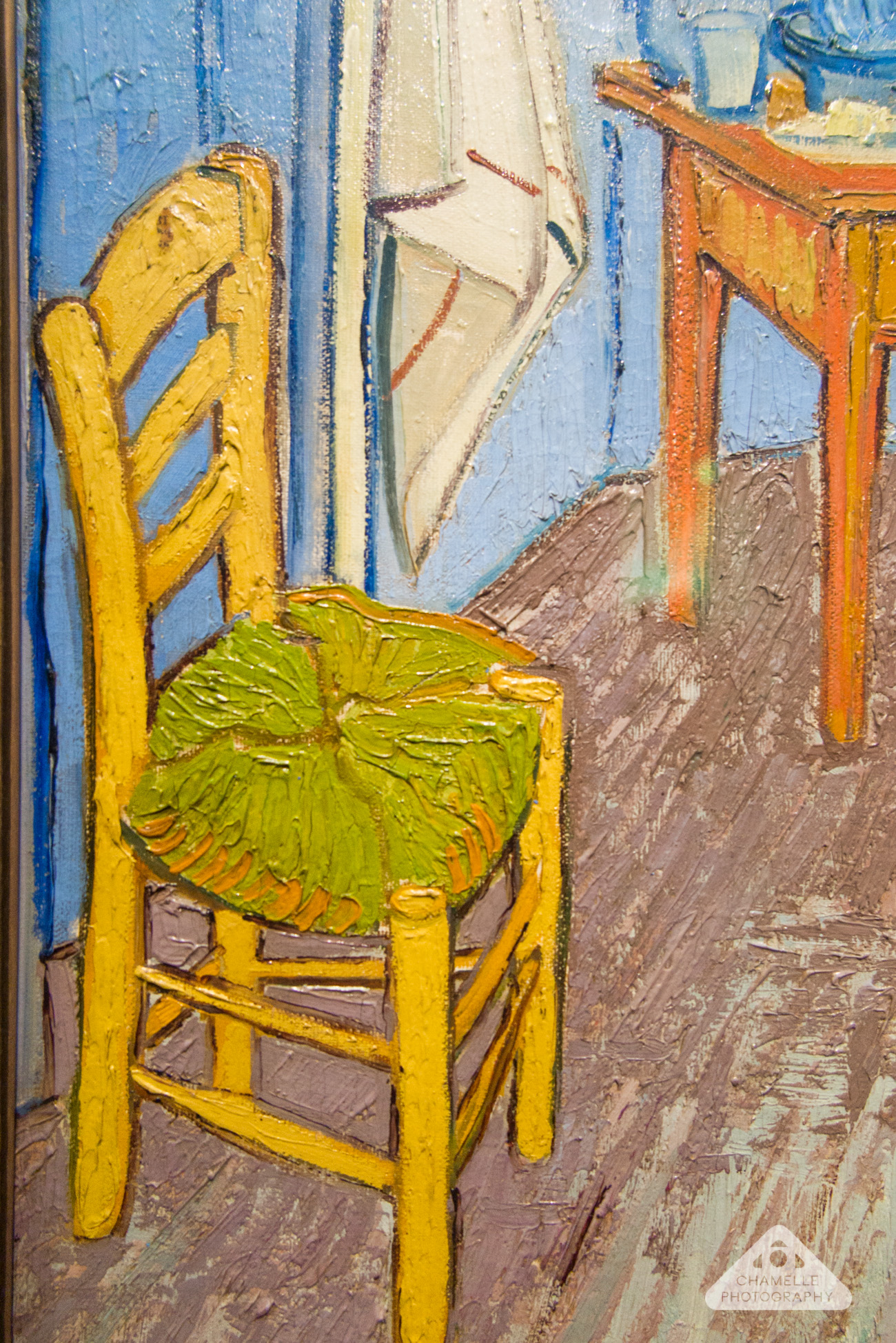 Vincent's Bedroom in Arles (Chambre de Van Gogh à Arles) – Saint-Rémy – September 1889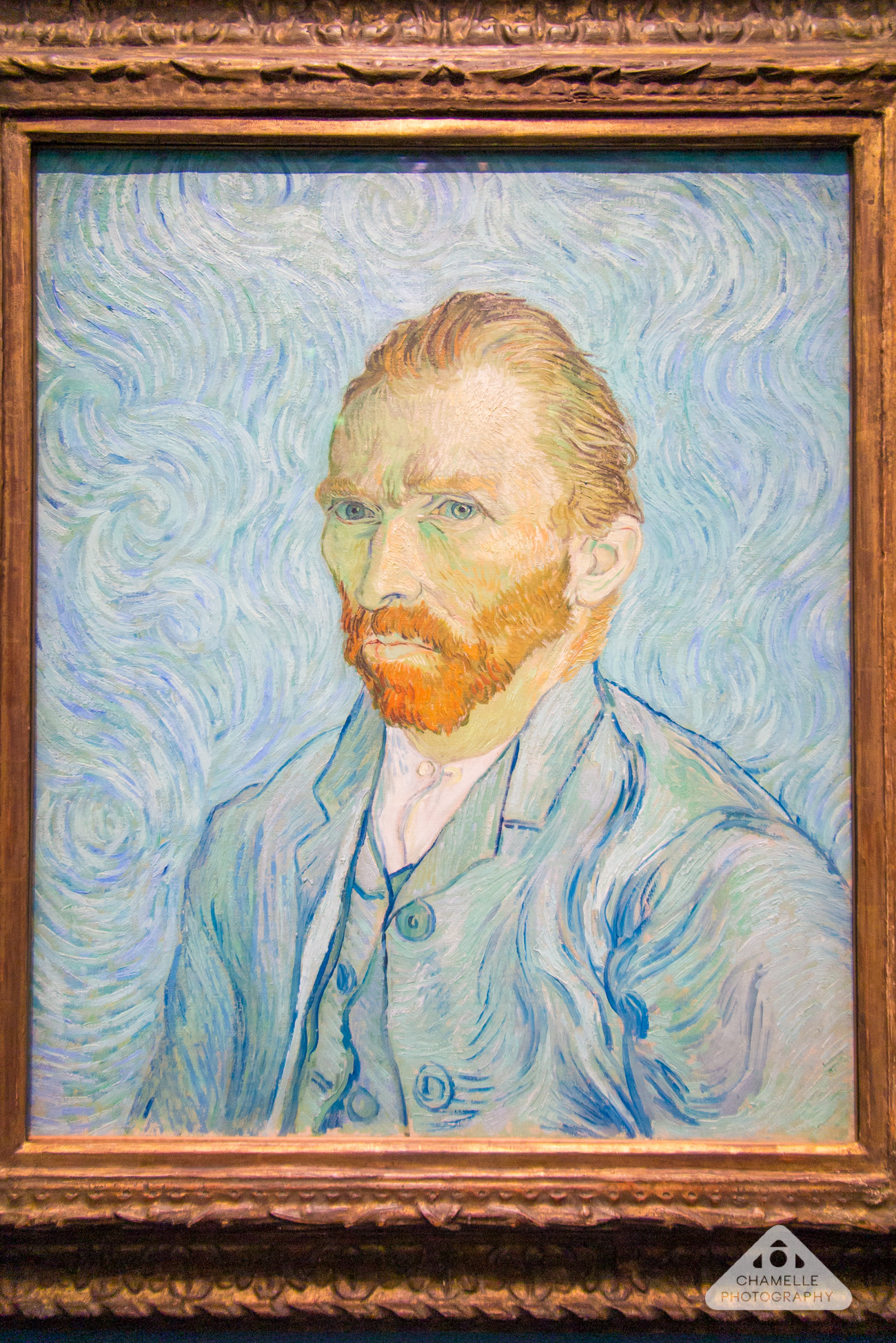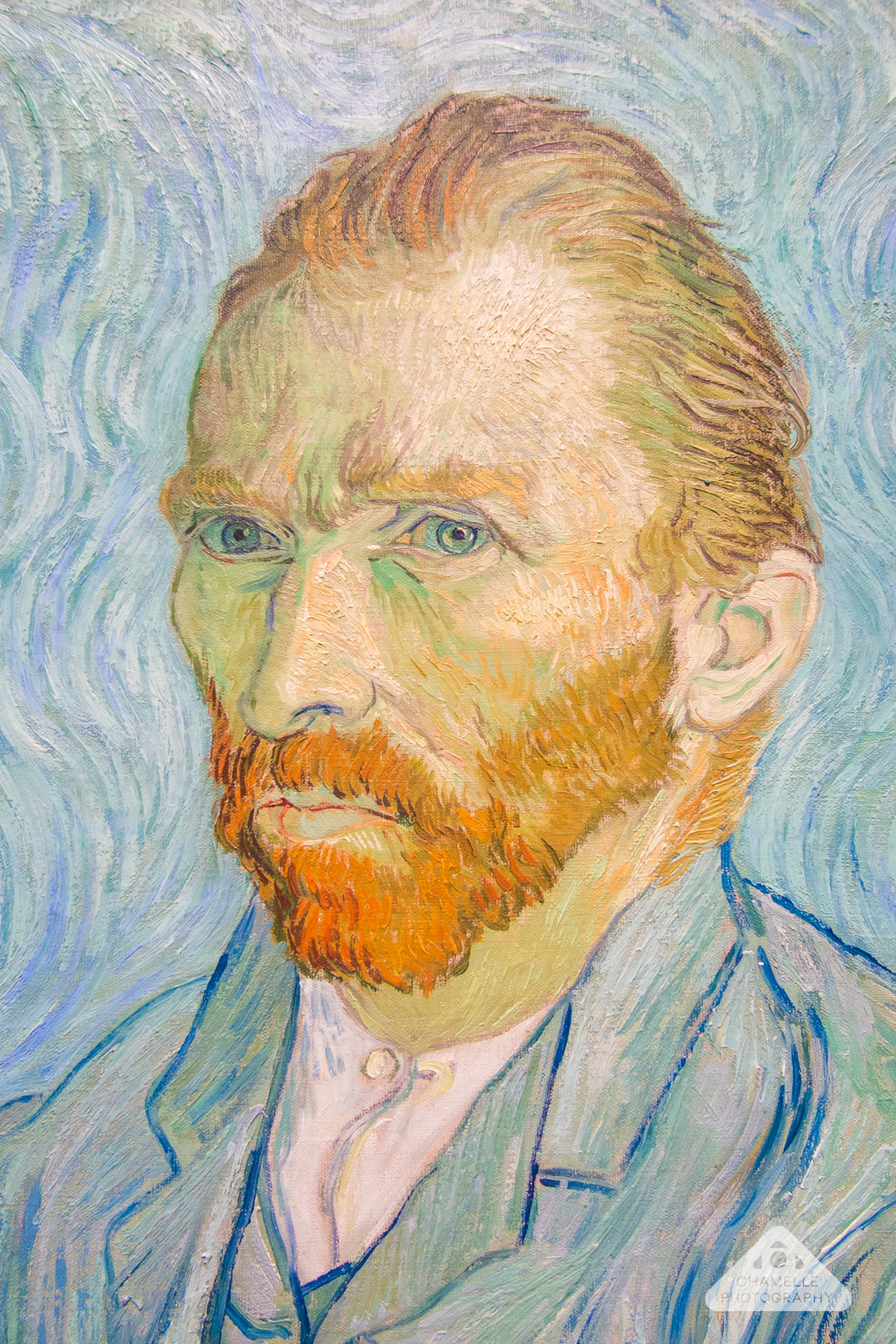 Van Gogh Self-Portrait (Portrait de l'artiste) – Saint-Rémy – September 1889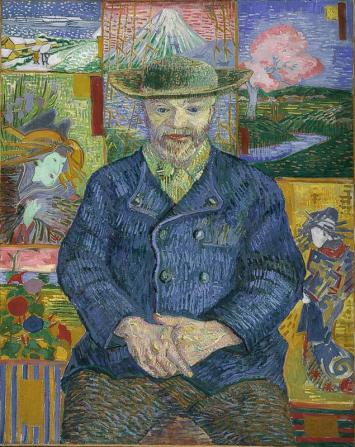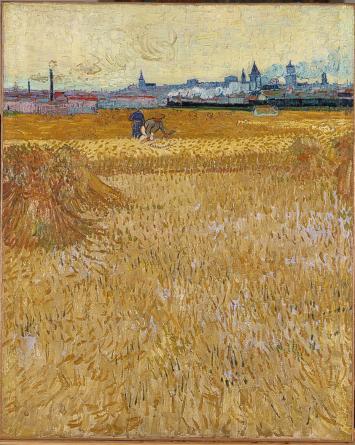 Musée Rodin
I didn't go to this museum but you can see two of Vincent's artworks here: Père Tanguy (Father Tanguy, painted in 1887 in Paris) and The Harvesters (painted in 1888 in Arles).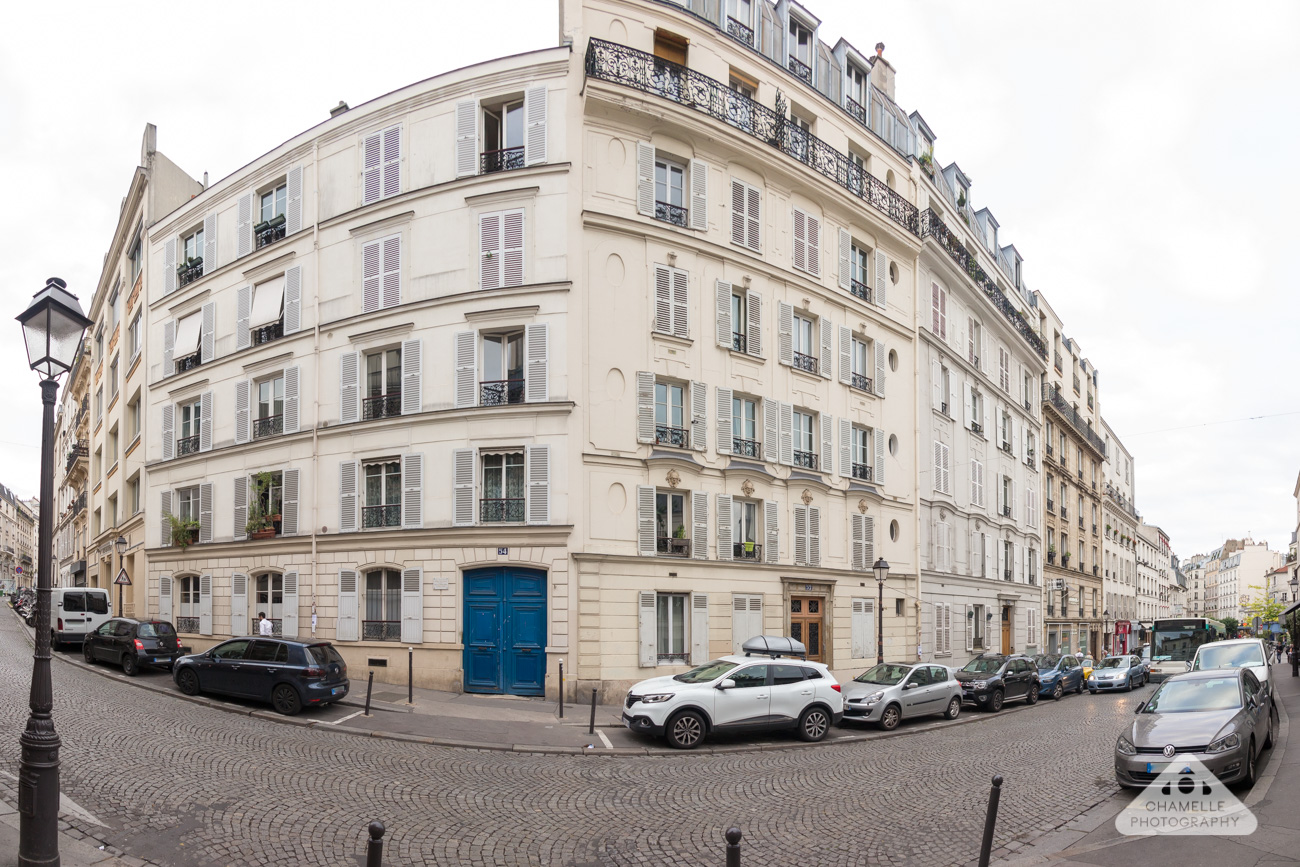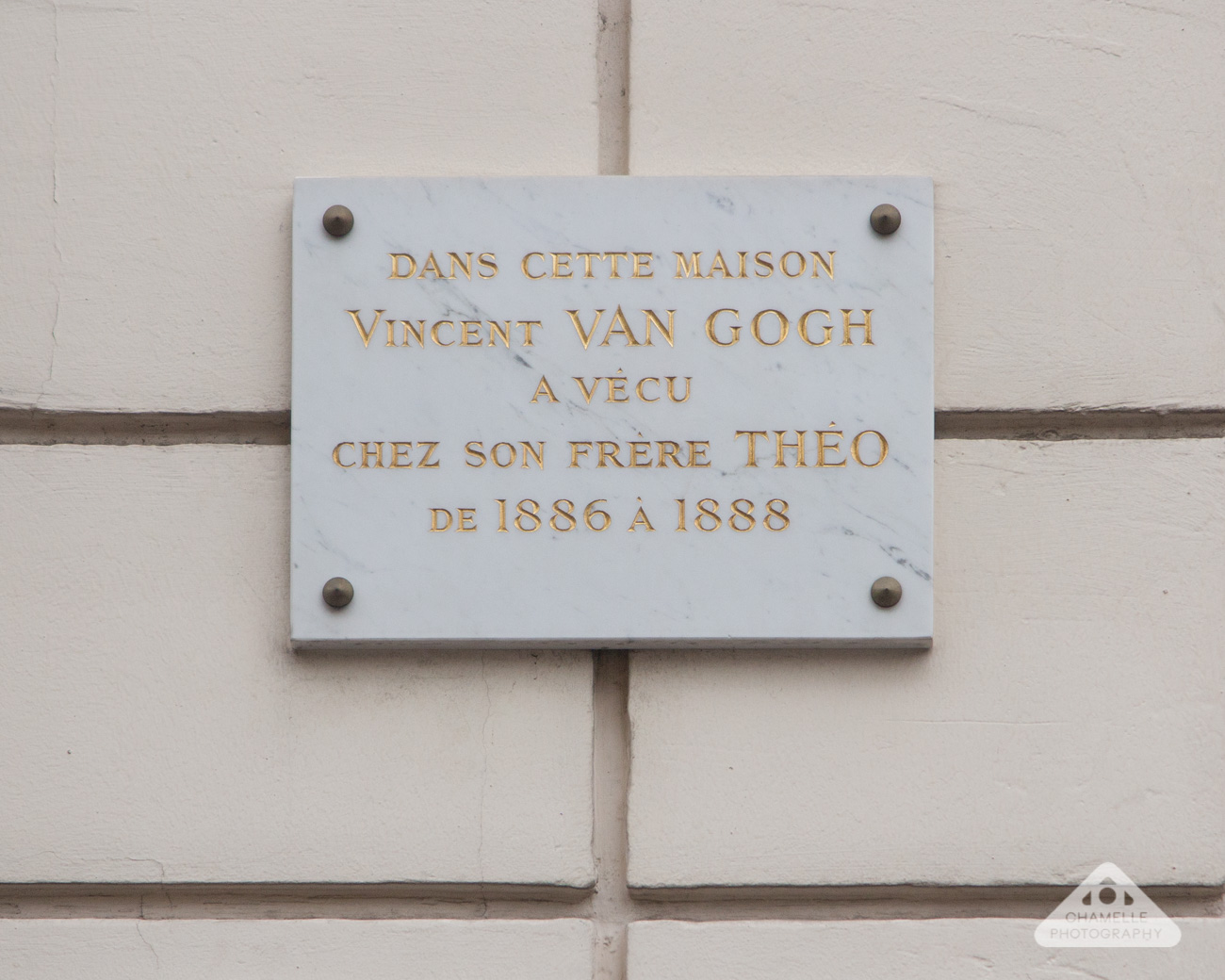 (Vincent Van Gogh lived in this house with his brother Theo from 1886 to 1888)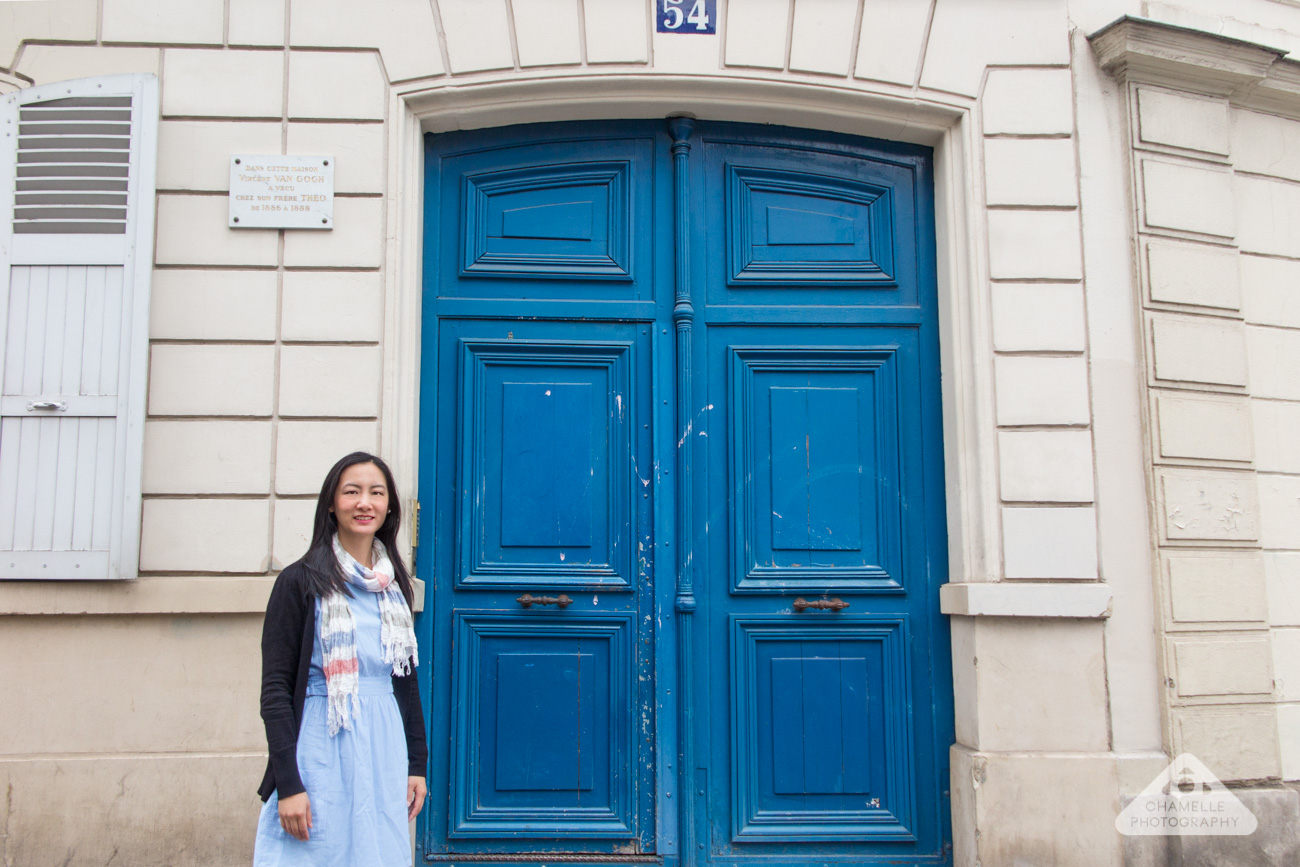 Montmartre
54 Rue Lepic 75018
While in Paris I did some more research about Van Gogh's life and realised he had spent some time in Paris too (although that's not when he did his best work as his career was only starting then). It so happened that I'd booked an Airbnb apartment for us in Montmartre (where else but the artistic quarter, to give my aunt the most authentic artistic Parisian experience possible?) and discovered the apartment where Vincent and his brother Theo had once lived was still there… so we walked to the other side of Montmartre and found it!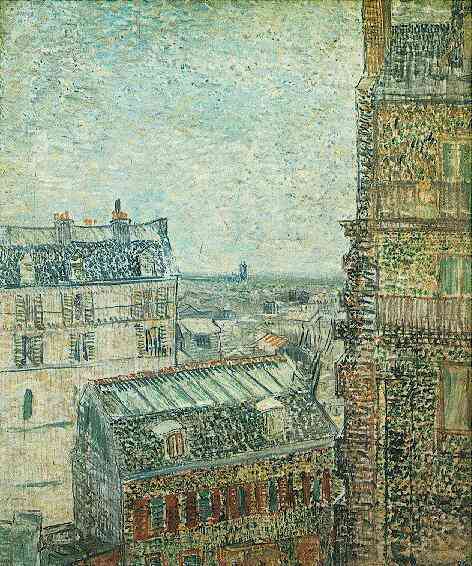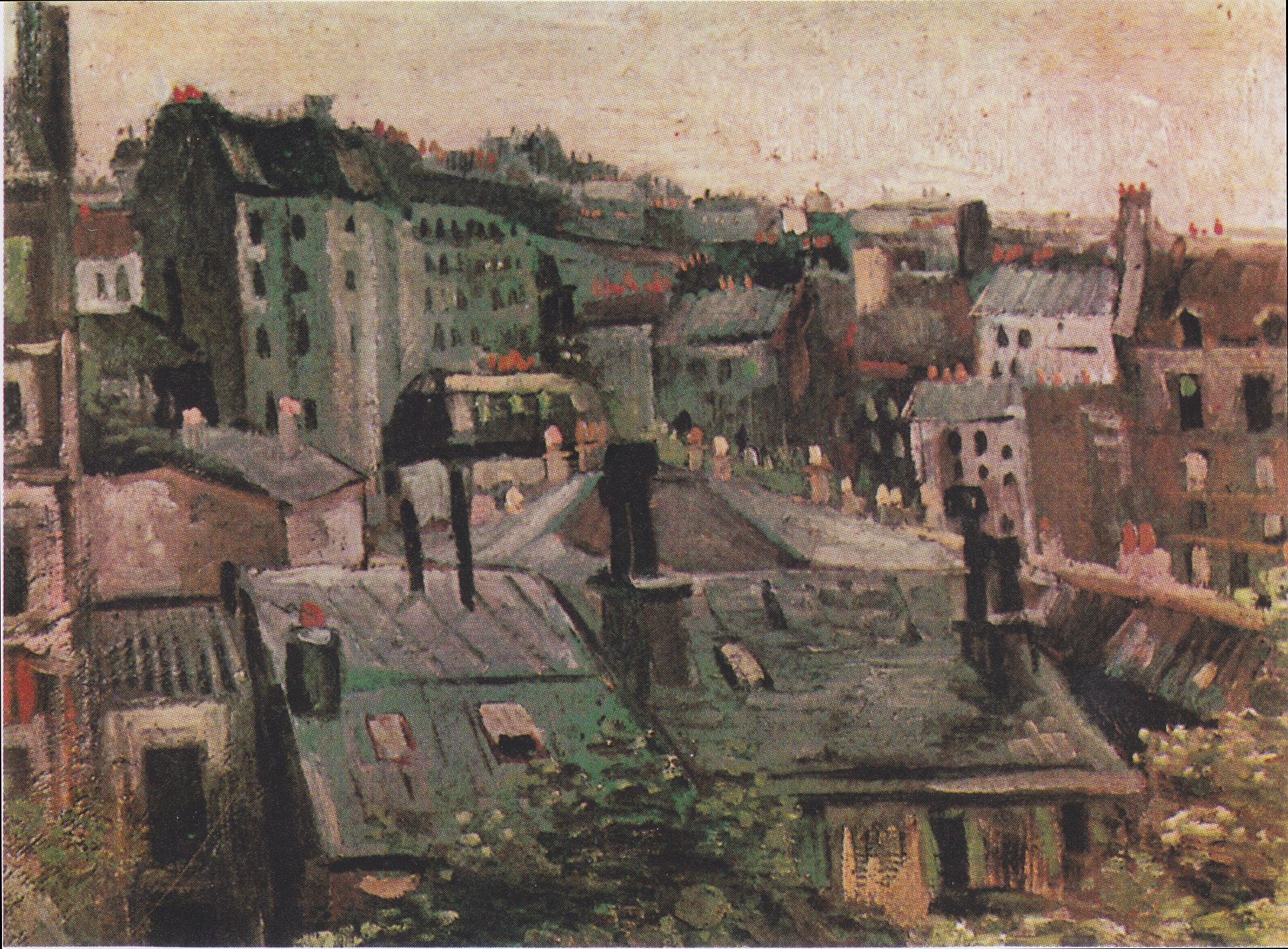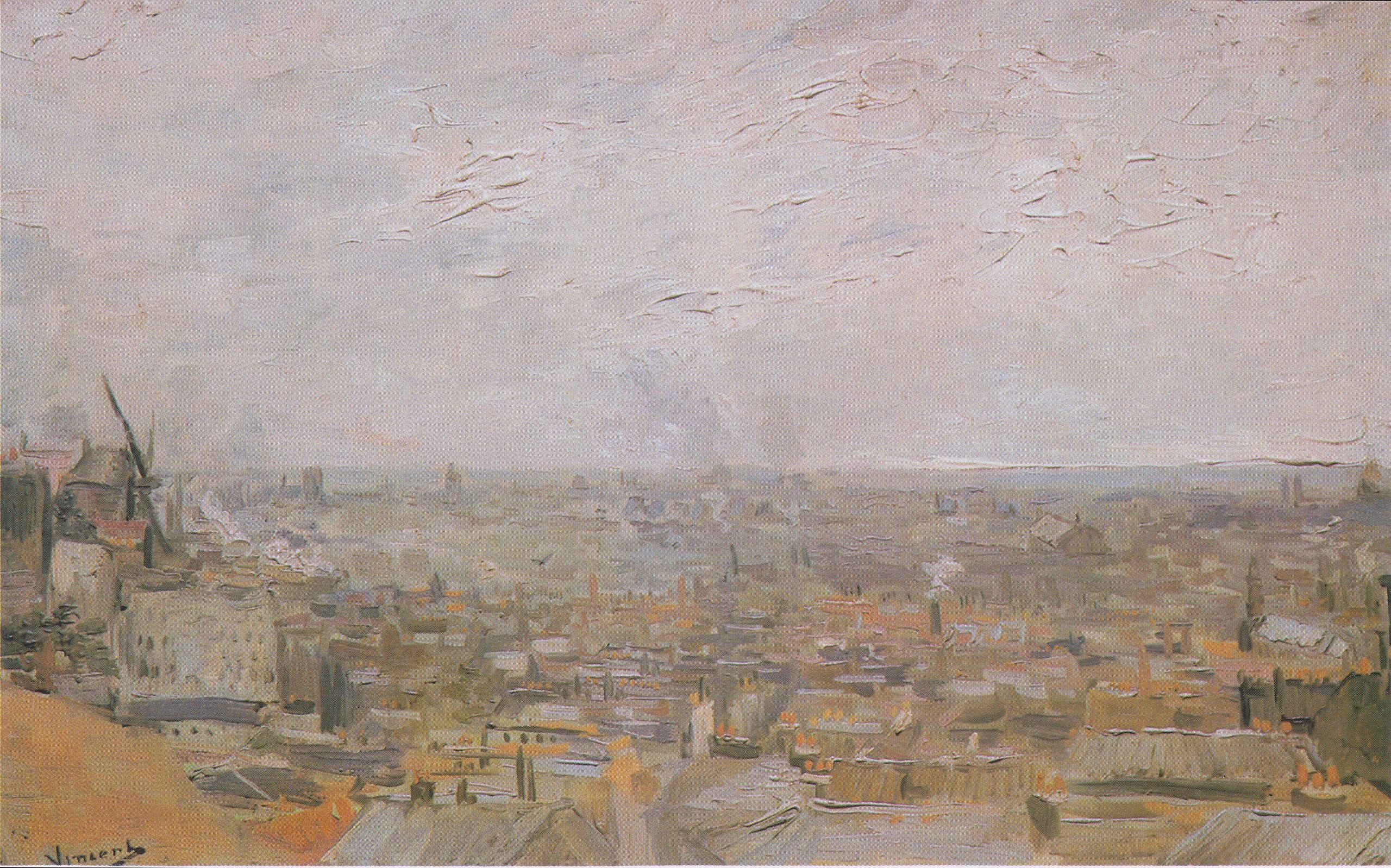 In February 1886 Vincent moved to Paris. This would be his fourth stint in Paris. He moved in with his brother Theo and in June they moved into a large apartment on the fourth floor of 54 Rue Lepic in Montmartre, coincidentally the artistic quarter. During his time in Paris he befriended other post-impressionist painters Émile Bernard, Paul Gauguin, Henri de Toulouse-Lautrec and Australian John Peter Russell.
While in Montmartre he painted View of Vincent's room on Rue Lepic, View of the Roofs of Paris and View of Paris from Montmartre. You'll note that his style was different and less colourful than his later pieces.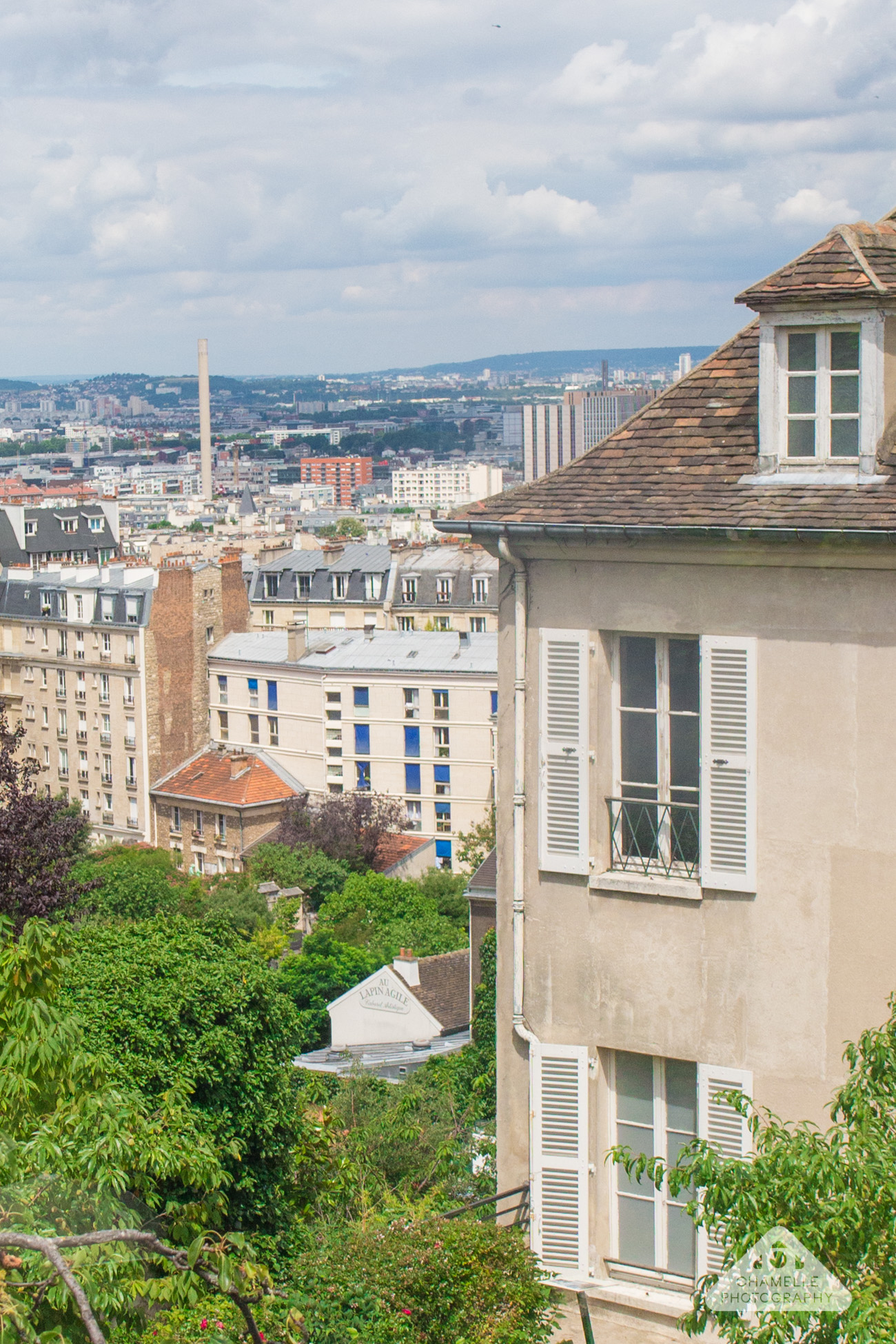 I took this picture of Montmartre's rooftops from the gardens of the Musée de Montmartre. They are really something!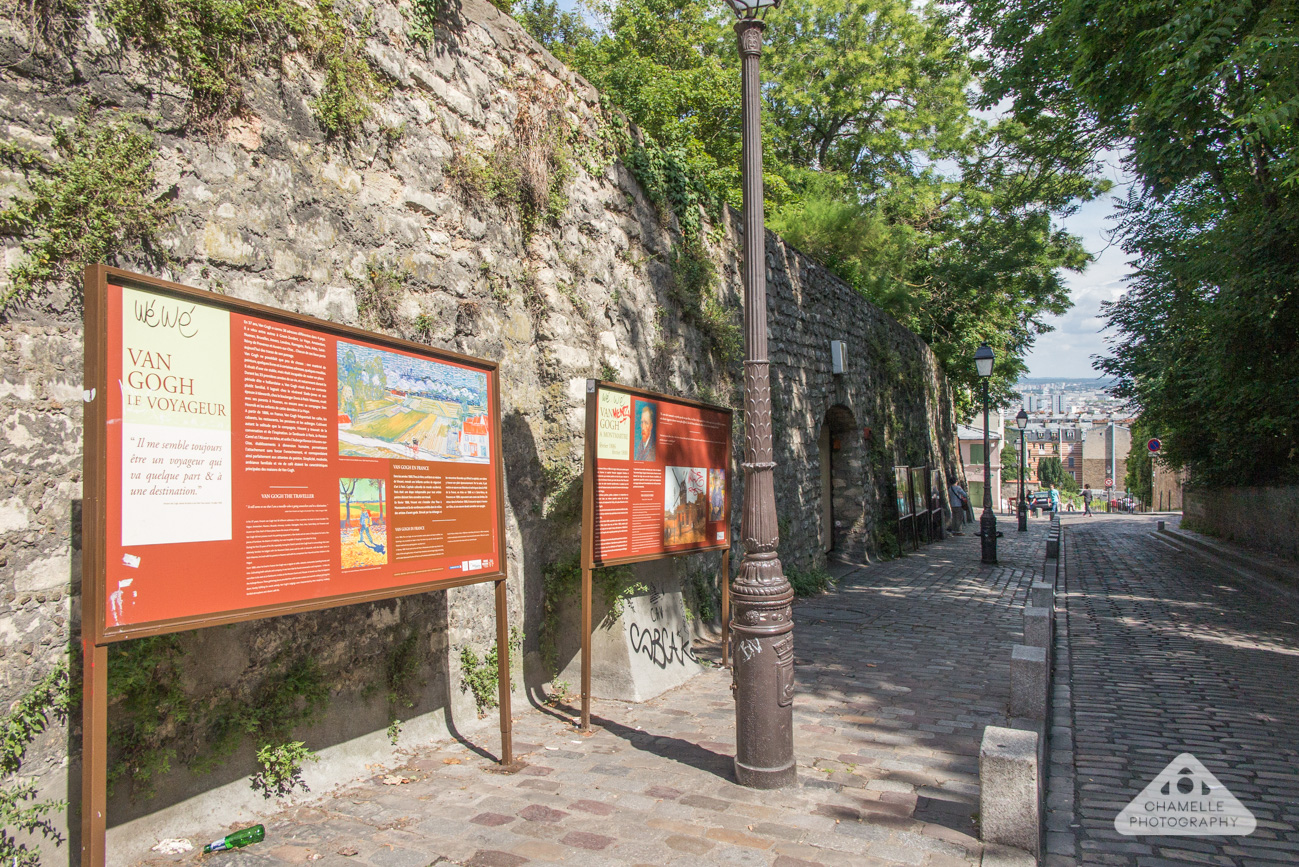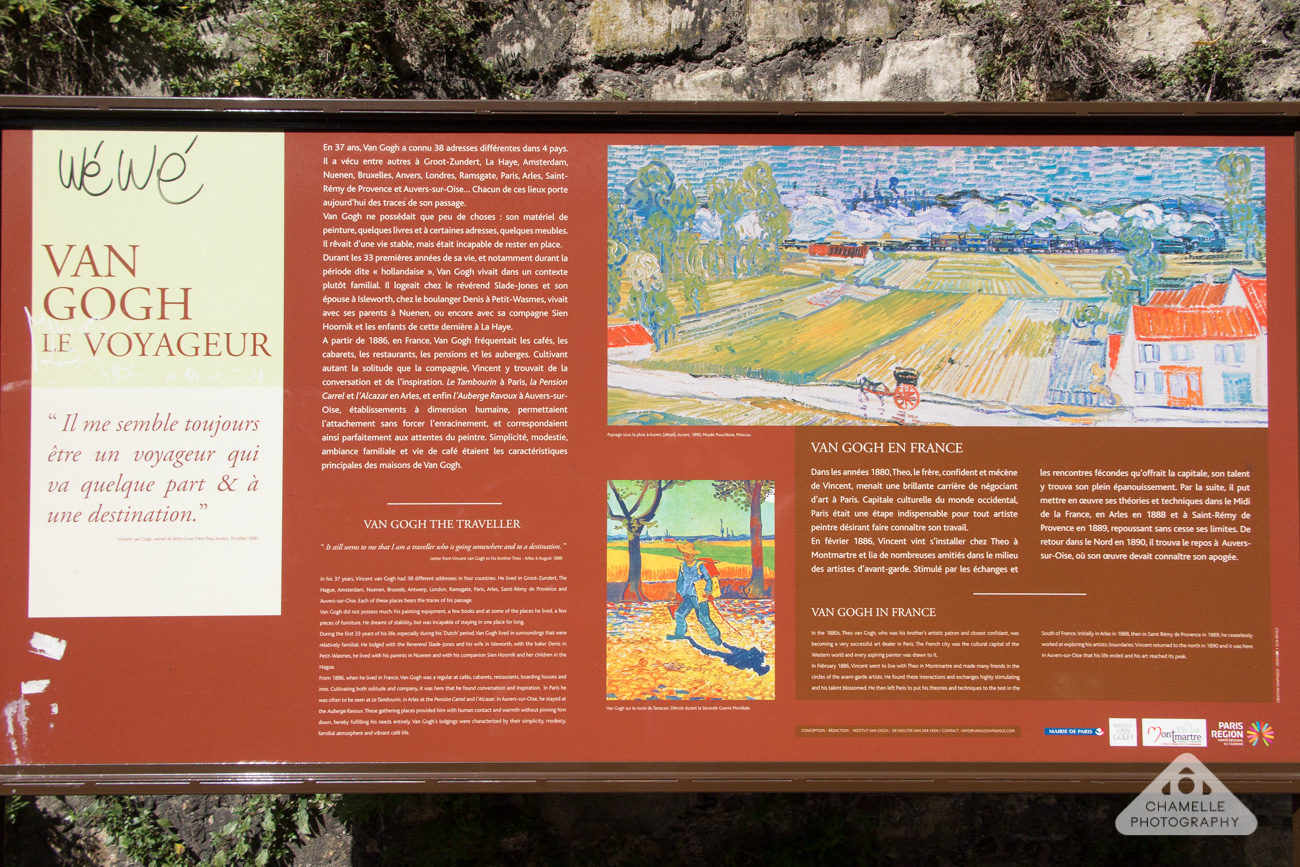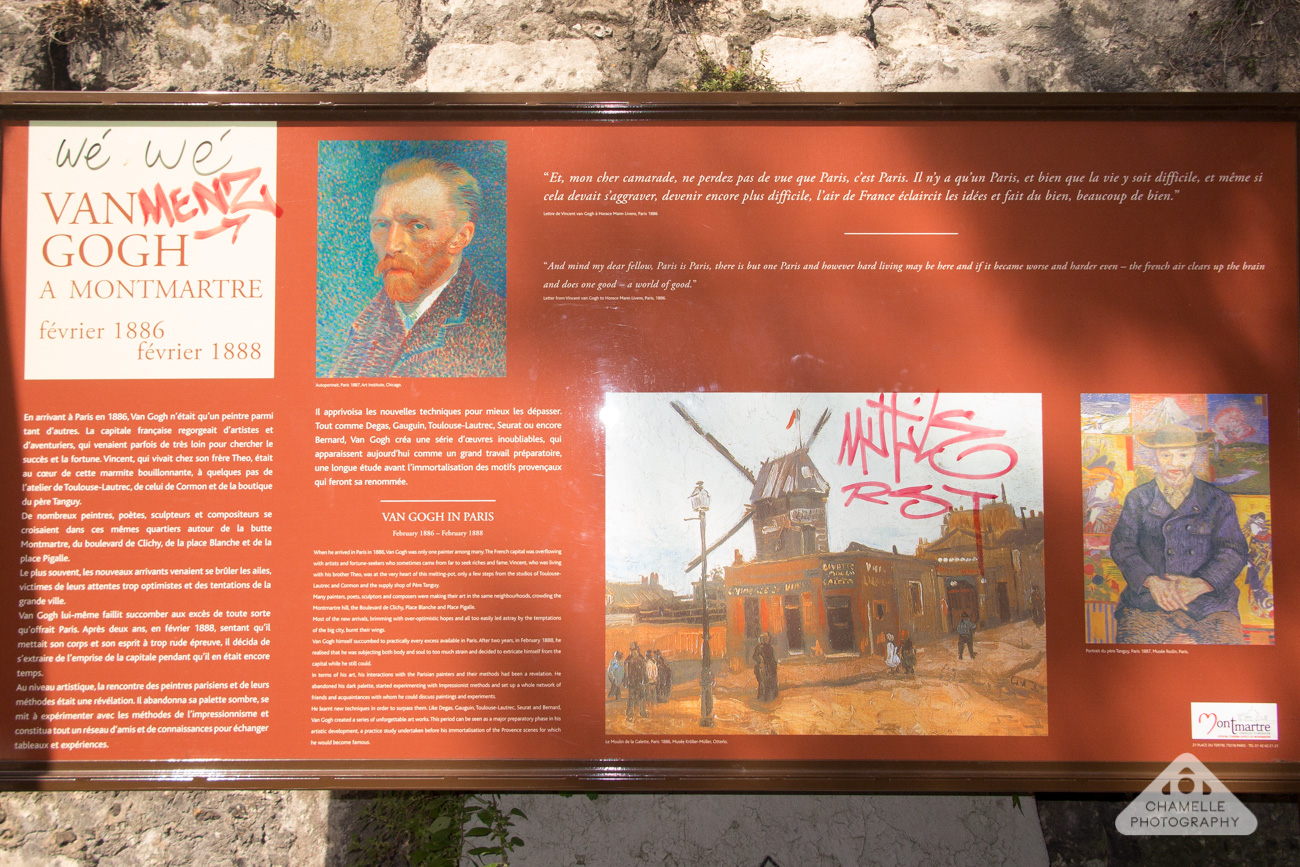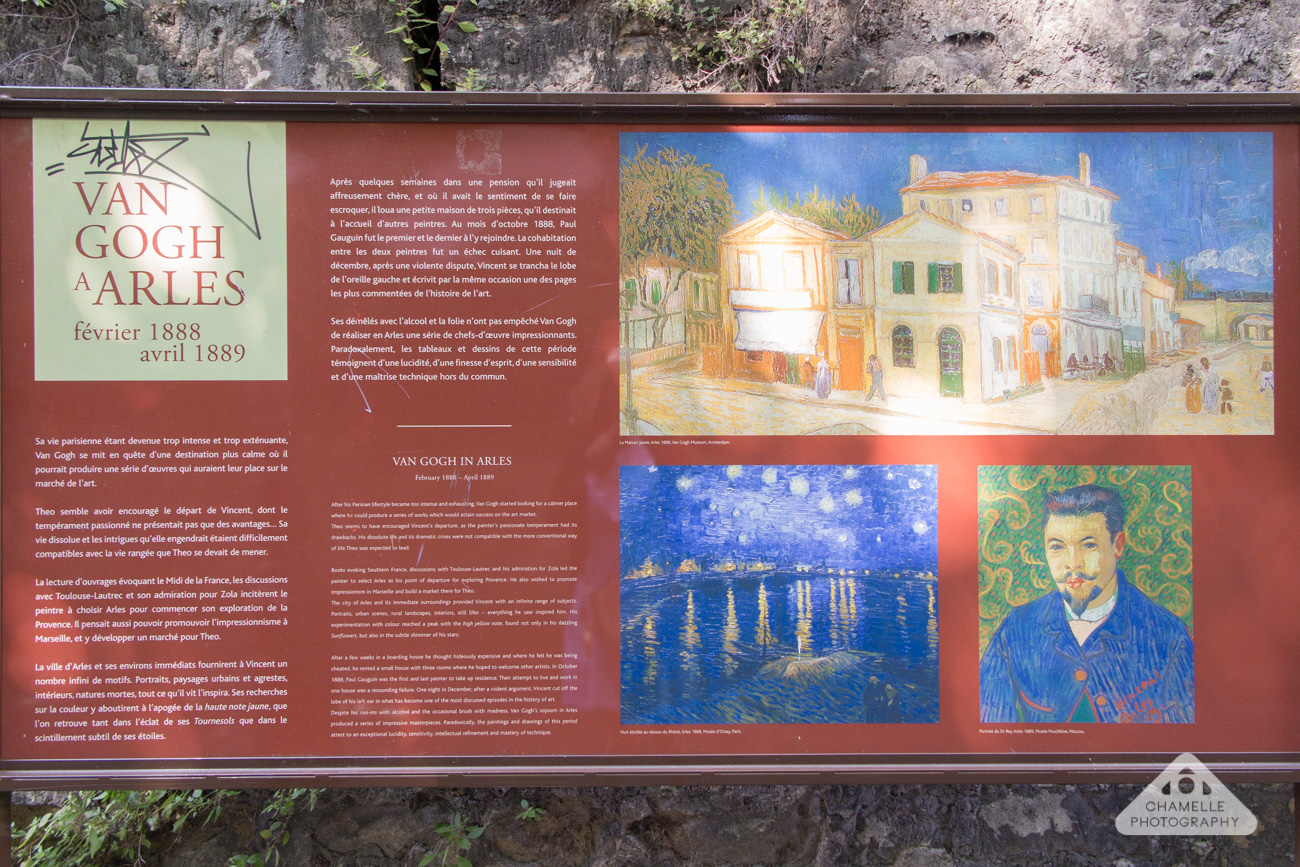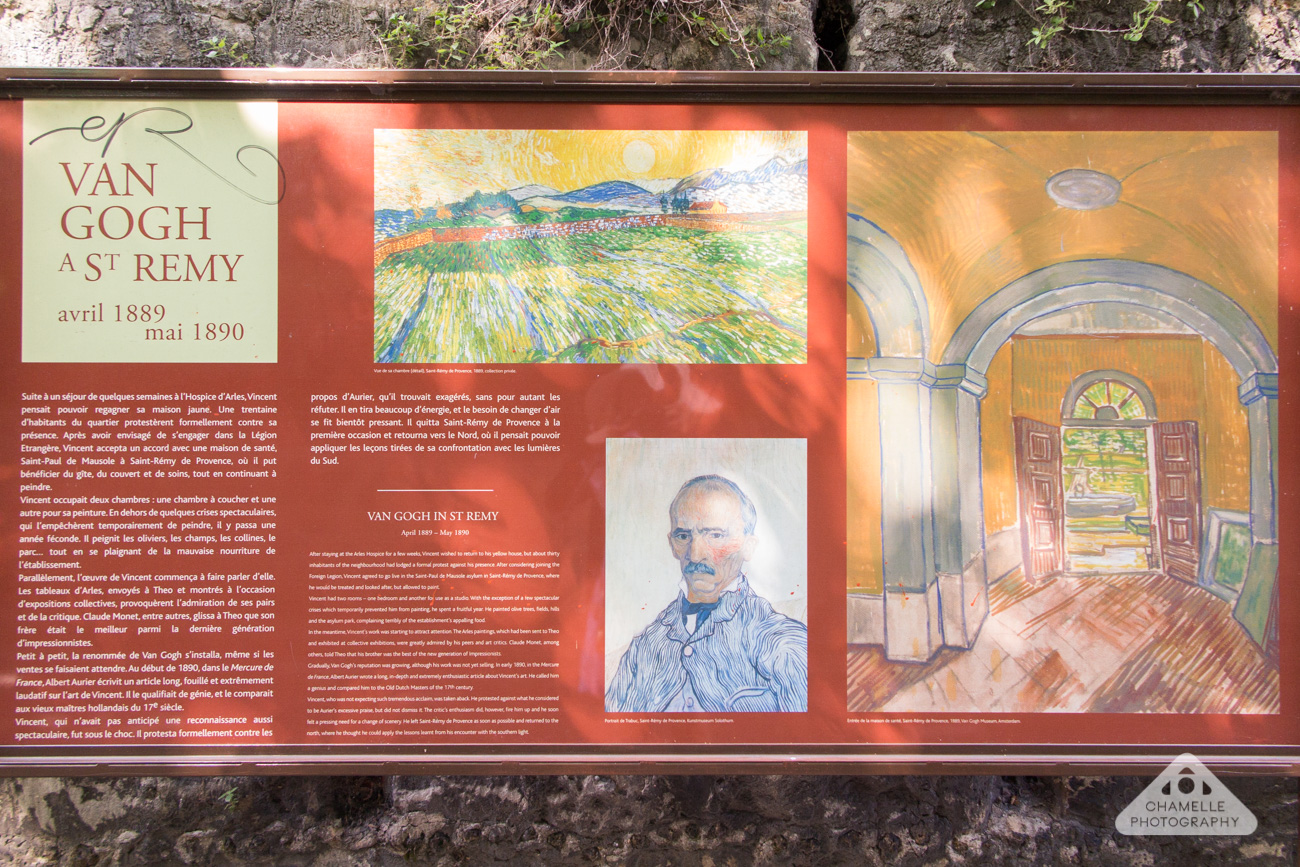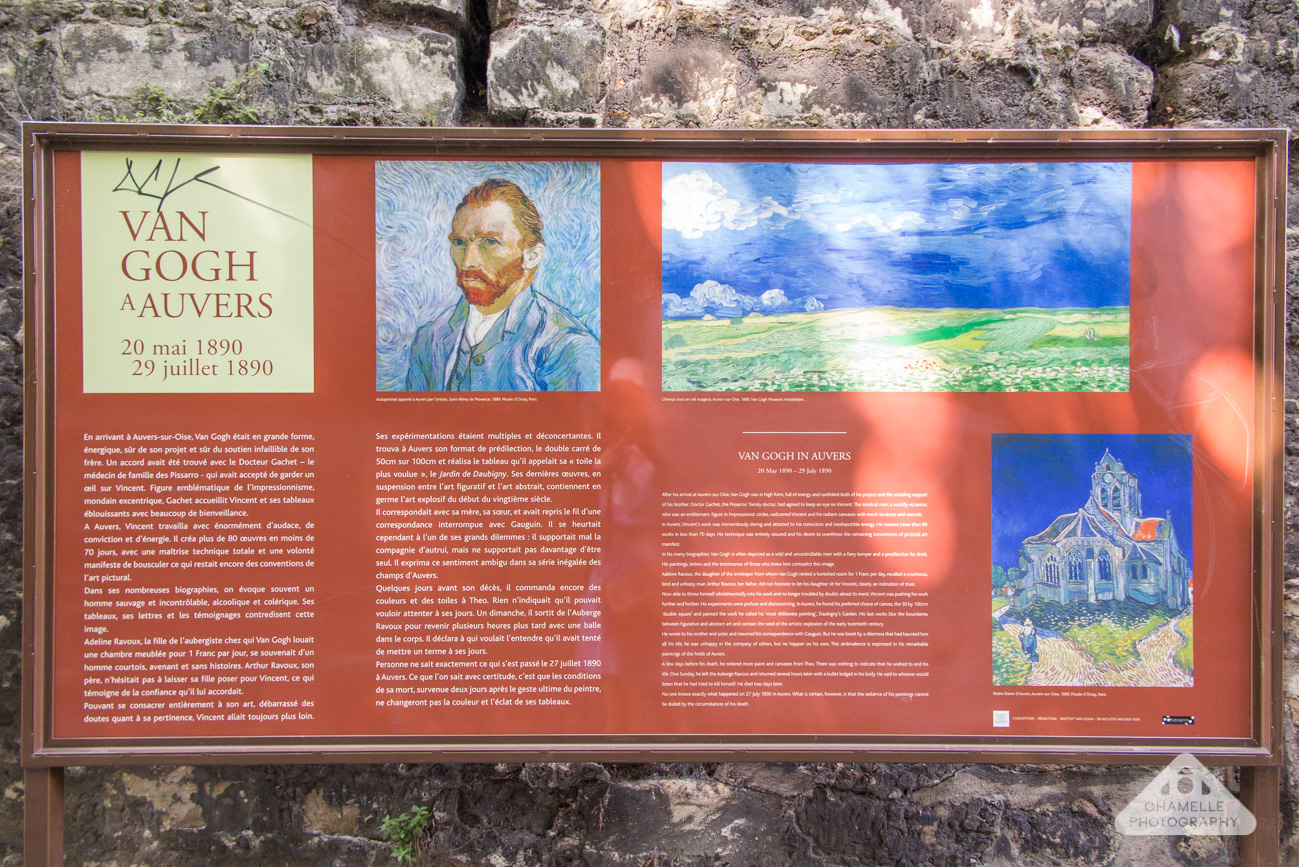 Rue des Saules – Vincent Van Gogh's biography plaques
As you wander through the backstreets of Montmartre (behind the Sacré Coeur) you'll inevitably stumble across the charming cobble-stoned Rue des Saules where there are a number of plaques explaining the chronology of Vincent's life, "Van Gogh the traveller."
While in Paris I suddenly decided that we should go to Auvers-sur-Oise. My aunt didn't want to come with me so I went alone but still had a great time. In fact, it was one of the most enjoyable and meaningful impromptu daytrips I ever took!
Be sure to come back and check out Part IV where I take you to the last town in Van Gogh's journey: peaceful Auvers-sur-Oise! 🙂
—
GO – HOW TO GET AROUND PARIS
Paris (pronounced Pah-ree) is located in the northern part of France. It is in the region of Ile de France (island of France) and the department of Paris.
Getting to Paris by car
I do not recommend going to Paris or driving around Paris by car at all. It is one of the worst places in the world to drive. If you insist on driving, don't say I didn't warn you. The one time I did drive it took 30mins to drive 3km… If you want to hire a car to drive somewhere else outside of Paris there are plenty of car hire agencies (Avis, Hertz, Europcar, Sixt) near the major train stations (Gare du Nord, Gare de Lyon, Gare Montparnasse, Gare de l'Est, etc) and the two major airports (Charles de Gaulle Roissy and Orly) but please check opening and closing times. If you need an automatic car or special supplies such as a baby/child seat, GPS, etc, I would book these in advance.
Getting to Paris by taxi
I assume you'll arrive either at Charles de Gaulle airport or one of the major train stations (called 'Grandes Lignes' (major lines)) listed above. Taxis are plentiful and easy to catch. However, if you arrive during peak hour be warned it may take a long time AND cost you a lot of money! Uber works really well in Paris however I don't think most drivers speak English. G7 taxis also work well in Paris (and can be booked days ahead) but be warned if you make them wait they will charge you by the minute! A taxi between CDG Roissy and the city costs around 50-60 euros.
Getting to Paris by bus
Le Bus Direct (formerly Les Cars Air France) is a shuttle bus that takes you from Charles de Gaulle (Roissy) airport or Orly airport into the city centre. It is the second most economical way but can be slow. However, I would still recommend it over the metro as you don't have to worry about lugging your luggage up/down stairs and you get to watch the view!  There are 4 routes:
Line 1: Orly to Gare Montparnasse, Eiffel Tower, Trocadéro, Paris Etoile (near the metro stop Charles de Gaulle Etoile on the Champs Elysées)
Line 2: CDG to Porte Maillot (pronounced My-yoh), Etoile, Trocadéro, Eiffel Tower
Line 3: CDG to Orly
Line 4: CDG to Gare de Lyon, Gare de Montparnasse
Tickets cost between 12-21€ per one-way ticket, and there is wifi and USB ports on board. They run 7 days a week 5.00am – 11.40pm.
Getting to Paris by metro (underground train/subway/u-bahn)
If you don't have much luggage the cheapest and quickest way to get into the city centre is by RER train then the metro. Note that the majority of metro stations do NOT have lifts or escalators so if you have a lot of luggage, are disabled or have a pram I would forget this idea and take a shuttle bus or taxi. If you have at least 2 people it's probably easier and quicker  to get a taxi, however a taxi may not fit 2 people and 2 people's luggage! so you'll have the figure out the best way based on the size of your group, amount of luggage and your budget.
When should we visit Paris?
I've visited Paris in every single season and almost every single month and here's my take:
Winter (December-January-February) – utterly freezing, especially February. However, December is super festive, fun and beautiful due to upcoming Christmas. It may be cheaper (and less crowded) to travel during January and February. January has the great 'soldes' (sales) which only happen twice/year.
Spring (March-April-May) – this is my favourite period to visit Paris. I have visited several times either in late April or early May and it really is the most wonderful time. The weather is starting to get warmer (although you'll still need a cardigan or trench coat or even umbrella) and the flowers are blooming everywhere and it's just beautiful…
Summer (June-July-August) – you'd think this would be the best time weather wise but it's not. I've been to Paris at least twice during July and it was just awful. Grey grey grey, really humid and the threat of rain all the time. Temperature wise it's nice – not too hot and not too cold but generally I think Spring and Autumn have much more sunnier days and stable weather. Summer is also not a good time to visit because many shop owners shut up shop and take a month or two-month long summer vacation and meanwhile, the city is flooded with European holidaymakers and uni students. June also has the summer 'soldes'.
Autumn (September-October-November) – I like Autumn. The autumn leaves colours all over town are just beautiful. If you want warm weather don't come in autumn but if you can put up with wearing layers it's really a nice time with many sunny and clear days. There are many festivals/exhibitions this time of year including Paris Photo photography trade fair/exibition.
How long should we spend in Paris?
This question is like, "How long is a piece of string?" As long as you can afford! Paris is a HUGE city so don't expect to see a great deal if you only come for 2-3 days. In saying that, my visits to Paris have been between 1-7 days with an average of about 3-4 days each time, but I was fortunate to be able to visit so many times (and yet, I've still barely scratched the surface!) I know most people can't take too much time off work or can't afford a long stay, in which case I would suggest at least 4 days to be able to see a variety of different things. Also, as the weather in Paris can be extremely unpredictable I've found that a 4-day trip will guarantee you'll have a sunny day for at least 1 of those days!
STAY
I've stayed in an Airbnb apartment for almost every single trip to Paris. The hotels are tiny and very expensive here and with an apartment you get so much more and you get to live and feel like a real local which I feel is awesome… Plus, a great way to save money is by eating at home sometimes and apartments have fully equipped kitchens. The internet connection in apartments is usually way faster too as you don't have to share it with anyone.
Want to try it?  Get 25-30 euros off your first Airbnb rental when you use my coupon code!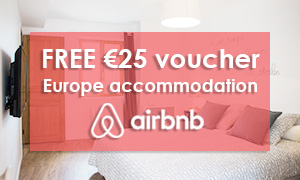 SEE
The Louvre museum
Address: Musée du Louvre, Rue de Rivoli 75001 Paris, France
Metro stop: Palais-Royal Musée du Louvre
Telephone: +33 (0)1 40 20 53 17
Hours: Open every day except Tuesdays, 1 January, 1 May and 25 December.
9.00am-6.00pm (last entry 5.30pm) /  (closing at 9.45pm Wednesdays and Fridays, last entry 9.30pm)
1 October – 31 March : 10.15am to 5.15pm (last entry 4.30pm)
1 Avril – 30 September : 9.30am to 6.45pm (last entry 6.30pm)
Admission: 17€  adults / Free: Under 18, Residents of the European Economic Area who are under 26, disabled people and their carers, unemployed people.
Site: http://www.louvre.fr/en/
Musée d'Orsay
Address: 1 Rue de la Légion d'Honneur, 75007 Paris, France
Metro stop: Solférino / RER: Musée d'Orsay (line C)
Telephone: +33 (0)1 40 49 48 14
Hours: Open every day except Mondays, 1 May and 25 December.
9.30am-5.15pm (last entry 5.00pm) /  (closing at 9.15pm Thursdays, last entry 9.00pm)
Group visits: pre-booked only: Tuesday to Saturday, 9.30am to 4pm (Thursdays until 8pm)
Admission: 12€  adults / Concession: 9€ (Under 26 and not residents of the EEA, everyone after 4.30pm, everyone Thursdays after 6.00pm  / Free: Everyone on the first Sunday of the month, Everyone under 18, Residents of the European Economic Area who are under 26, Paris museum pass or Carte Blanche pass holders, disabled people and their carers, unemployed people, Members of the Louvre Abu Dhabi and Members of the Société des Amis du Musée d'Orsay or of American Friends of the Musée d'Orsay.
Site: http://www.musee-orsay.fr/en/
Musée Rodin
Address: Musée Rodin, 77 rue de Varenne, 75007 Paris, France
Metro stop: Varenne or Invalides / RER: Invalides (line C)
Telephone: +33 (0)1 44 18 61 10
Hours:  Open every day except Mondays, 1 January, 1 May and 25 December.
Museum, garden and shop: 10.00am-5.45pm (last entry 5.15pm) /  (closing at 4.45pm on 24 and 31 December (last entry 4.15pm))
Admission: 11,30€  adults / Concession: 8,30€ (Under 26 and not residents of the EEA, everyone after 3.00pm Wednesdays), Concession: 4€ (Under 26 and EEA resident, Paris museum pass holder, First Sunday of the month from October to March)
Garden (Jardin de Sculptures) only: 5,30€, Concession 3,30€
Site: http://www.musee-rodin.fr/en/
Montmartre
Address: Montmartre is the 18th arrondissement (quartier/quarter) of Paris situated in northern part.
Theo and Vincent Van Gogh's former house is located at 54 Rue Lepic, 75018 Paris
Vincent's biography plaques can be found at Rue des Saules, 75018 Paris
Metro stops: Abbesses (if you get off here take the lift!), Lamarck-Caulaincourt, Blanche, Pigalle, Anvers
Sites: Sites worth a visit are: The Sacré Coeur Basilica, The Moulin Rouge, Moulin de la Galette, and the one must see is the Musée de Montmartre.
You can read my 2 blogposts for extensive information about Montmartre and about the Musée de Montmartre.
Amélie Poulain Film locations map: Montmartre Paris, Walking tour, Amélie inspired photoshoot and more!
10 reasons why you should visit Montmartre Museum and Amélie exhibition
MUSEUM TIPS
I would highly recommend buying the tickets online. Note that if you are a spontaneous kind of person this won't work as you need to choose the date and time. Buying tickets online ensures you'll be able to go when you want and also has less of a wait time. I would recommend the first slot (or earliest available slot) and arrive before they open so that you can be first to go in. Please do not bring in large bags, suitcases, tripods, etc as they won't be allowed in.
EAT
There are really far too many good places in Paris to eat to list but while in Montmartre my aunt and I stumbled across this little gem. It serves great, traditional French cuisine with fast and friendly service at a great price. My aunt tried snails (escargots) here for the first time and both the dishes we ordered were delicious.
Le Relais Gascon
Cuisine: South-western French
Address: 6 rue des Abbesses, 75018 Paris, France
Telephone: +33 (0)1 42 58 58 22
Site: http://www.lerelaisgascon.fr/
SHOP
There is too much to mention here in a post that's not specifically about Paris but while you are visiting Montmartre I can recommend the BEST place to buy Parisian souvenirs: All along Rue de Steinkerque (just up from Anvers métro station). They are the same souvenirs you'll find in other places (notably near the Notre Dame cathedral) but this street has the biggest choice and the lowest prices. If you want higher quality and more unique Parisian souvenirs/gifts I would recommend the gift department in Galeries Lafayette.
PHOTO TIPS
As Paris is always crowded no matter when you visit, the best tip I can give is to get up early or stay up really late. Or shoot when it's raining or just been raining (when everyone is hiding inside). It's the only way to get decent photos without tons of crowds/other people in them. Another great time to photograph is during sunset or the blue hour. You'll still get crowds but the light during this time is just gorgeous.
Tell me: What would you like to see most if you went there? If you have any further questions please leave them below, Thanks! 🙂
Don't forget to come back and check out Part IV where I take you to the last town in Van Gogh's journey: peaceful Auvers-sur-Oise! 🙂
PIN THIS!