12

min read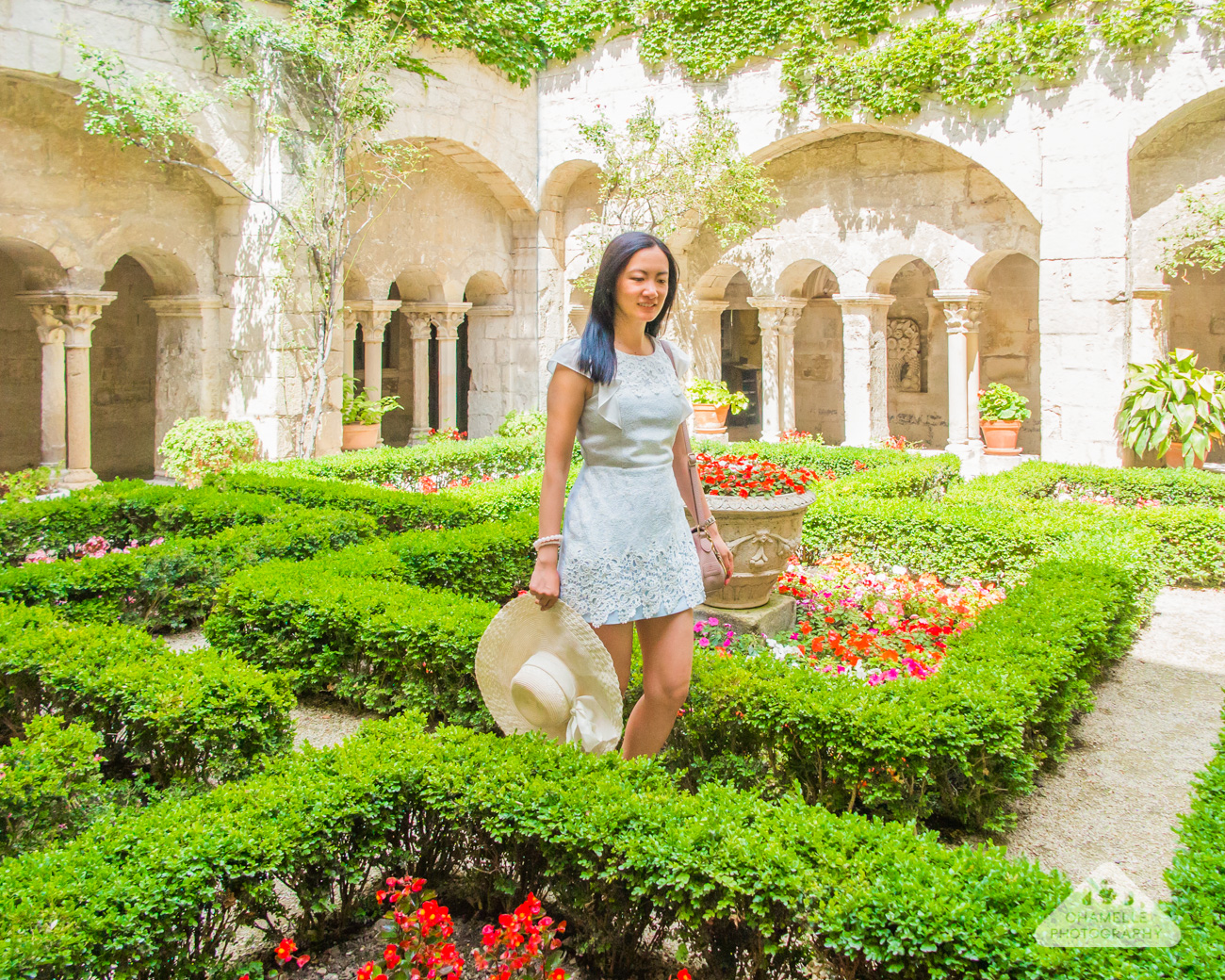 The Ultimate Guide to the Van Gogh Trail in Provence and Paris, France
Part II: Saint-Rémy-de-Provence (Saint-Paul-de-Mausole asylum) (this)  
Part III: Paris (The Louvre, Musée d'Orsay and Montmartre)  (here)
Part IV: Auvers-sur-Oise  (here)
… After Arles we headed to Aix-en-Provence    —> Read my mammoth Aix blogpost here <—
then hubby came down from Lyon and met up with us there and the next afternoon we drove to Saint-Rémy de Provence.
This was one of the places I was most looking forward to visiting as I had planned to see Saint Paul the year before but we ran out of time while my friends and I visited the cute little town of Saint-Rémy. This year we were just going to go to the asylum where Van Gogh lived between 8 May 1889 and 16 May 1890.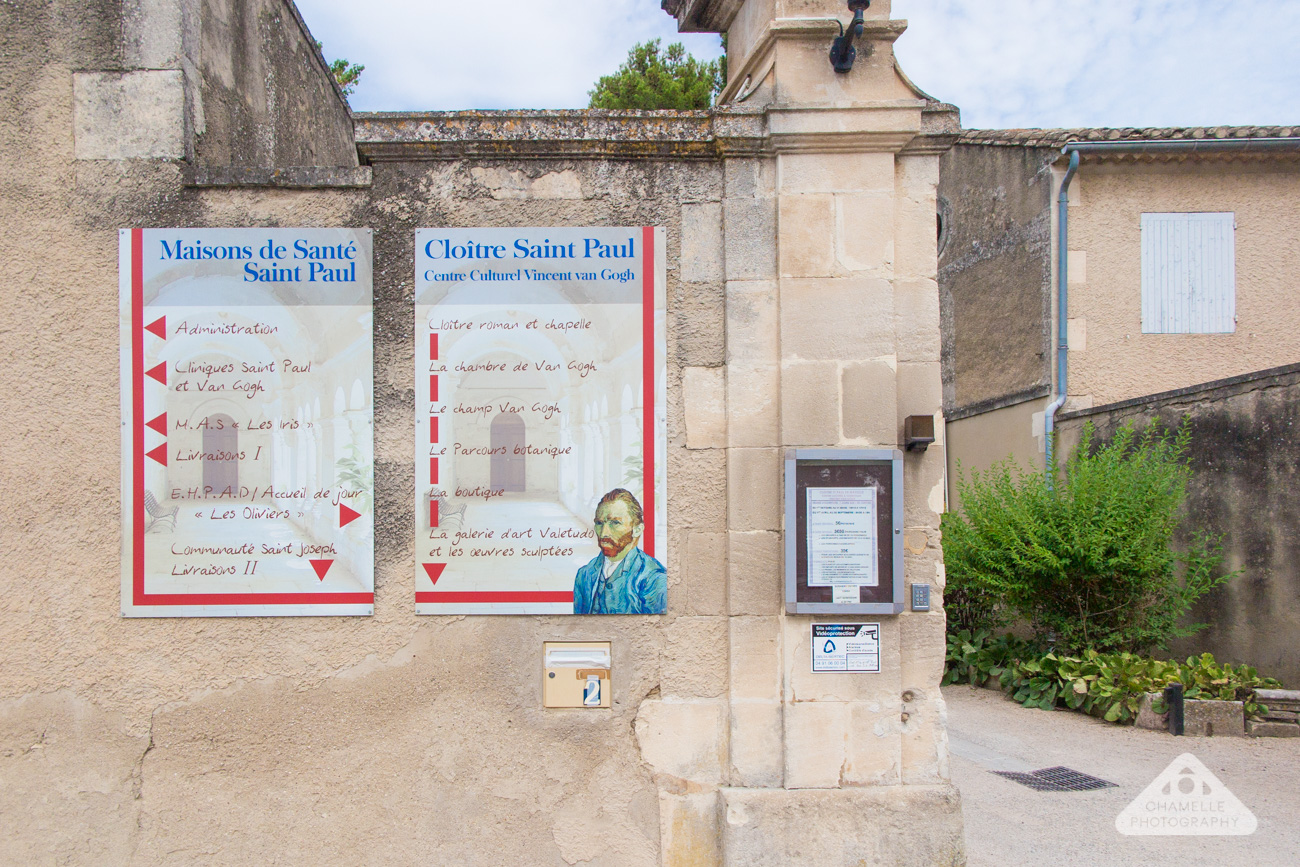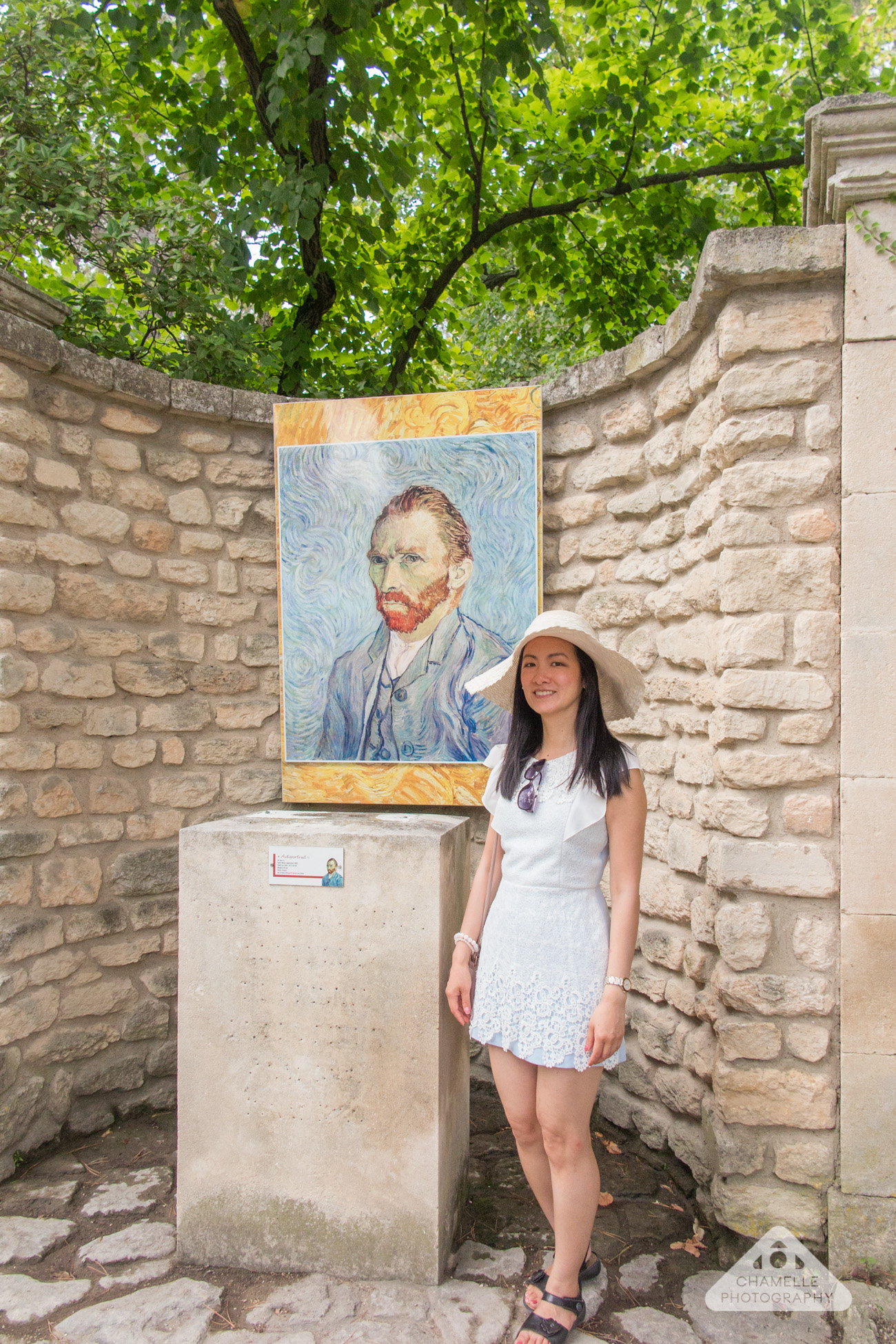 (the day we went there was a wedding so we didn't see every part of the complex such as the church so I haven't shown everything in my photos)
Saint-Paul-de-Mausole Monastery
This magnificent monastery was built around 982 (remember, this is the oldest part of France and is as old as many parts of Italy) during the Gallo-Roman era, with the stunning centrepiece, the Roman cloister, dating back to 1140-1150. It is topped by a belltower. Both the cloister and belltower have been listed as a monument historique since 1883. The façade of the church was renovated in the 18th century.
The monastery was run by monks who wanted to help the mentally ill, thus, in 1789, it became an official psychiatric asylum. It was used as a hospital up until 2014. Today it is owned and managed by "The Friends of Saint Paul" association and open to the public as a 'museum' or cultural centre, not just for Van Gogh but also to explain the history of psychiatric care in France.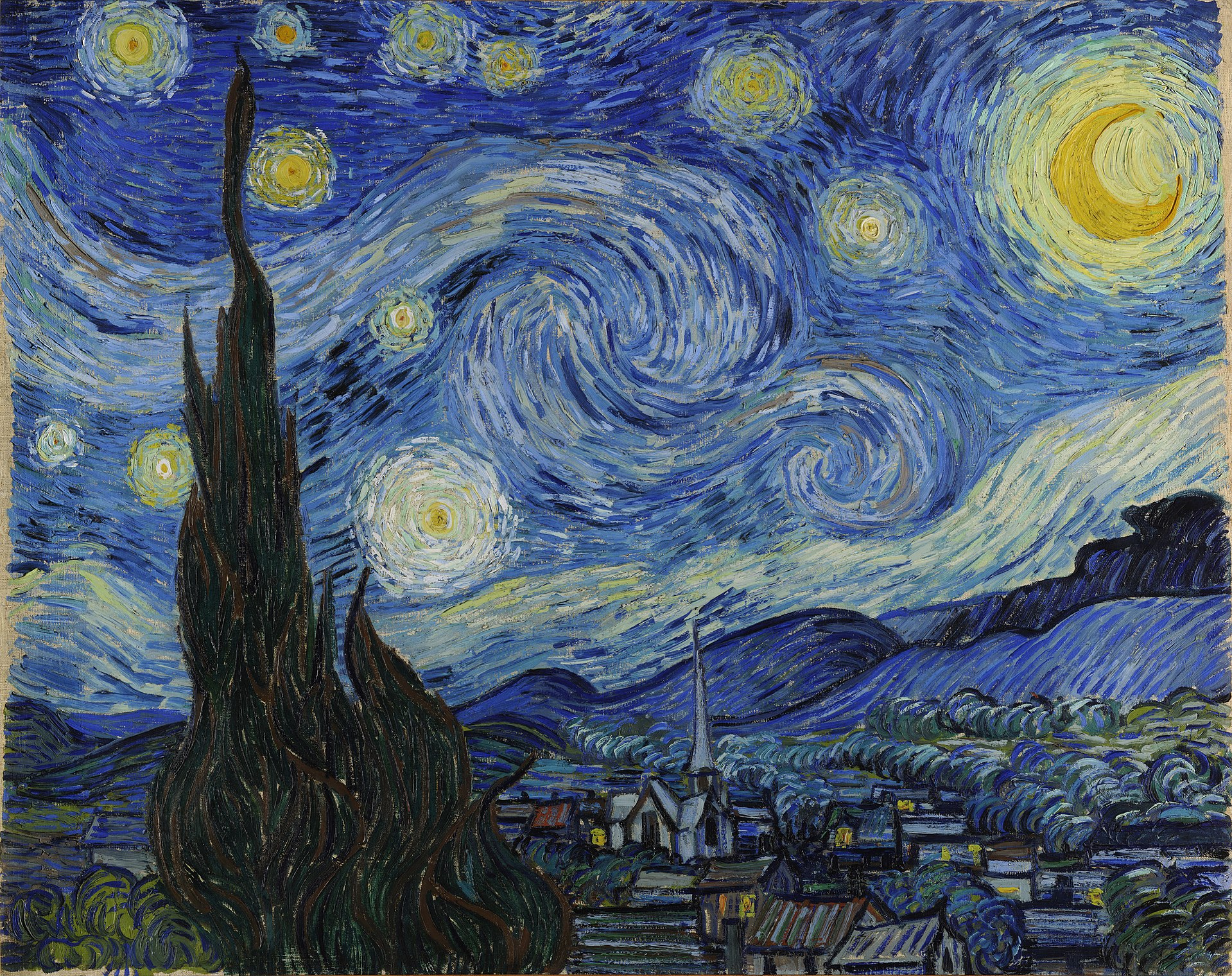 In 1889 Van Gogh arrived in Saint-Rémy-de-Provence from Arles and checked himself into Saint-Paul. He was so inspired by his new, beautiful surrounding landscapes that he made 143 paintings here, even while he was sick and being cared for. The most notable of these paintings is Starry Night (La Nuit Etoilée), which is now displayed in the MoMA in New York.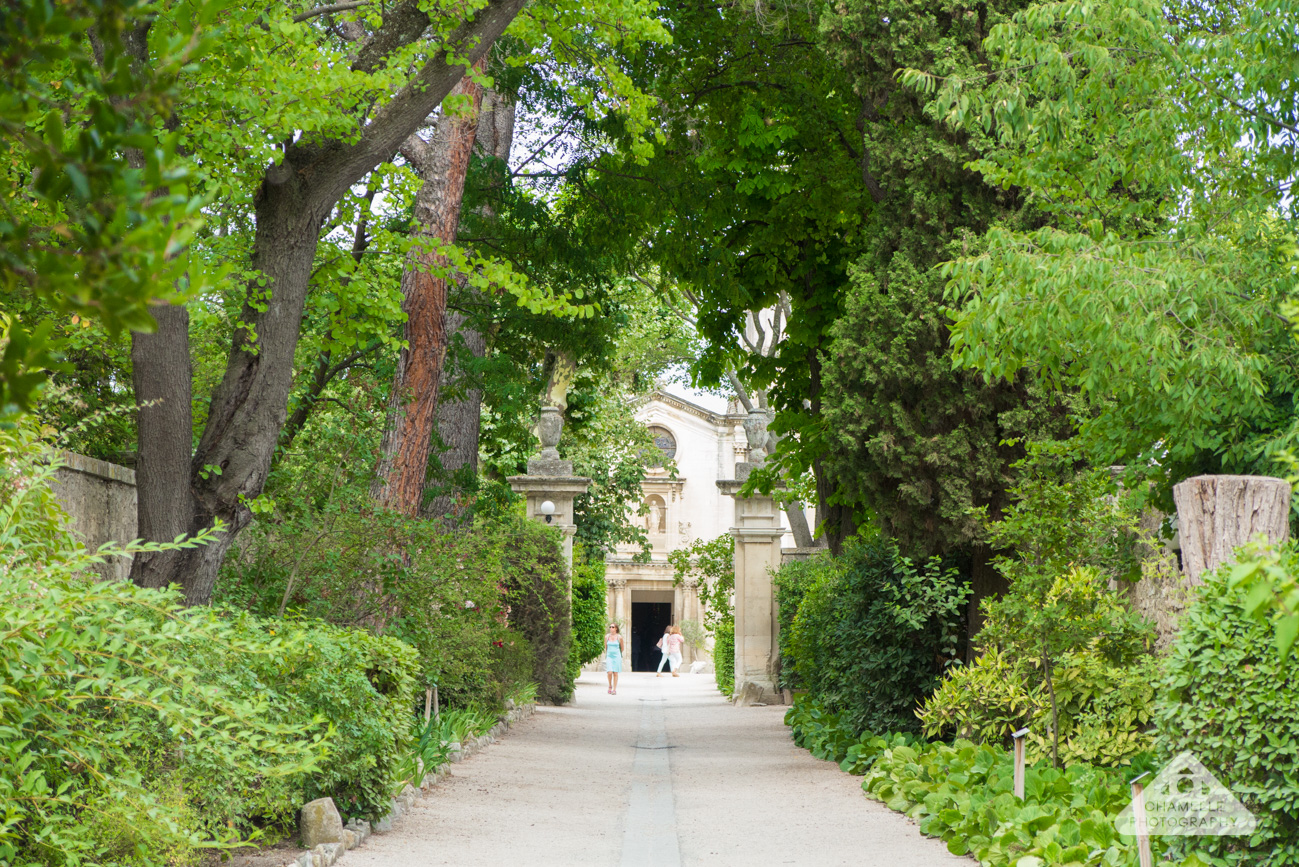 This was a super super emotional visit and my aunt, hubby and I were all moved by what we were reading and seeing. Actually it was quite emotional and given the subject matter I wouldn't recommend as a place for kids at all, even though the garden is beautiful.
The Psychiatric Asylum
In 1852, the prefecture of Bouches-du-Rhône instituted an order by which "the establishment of Saint-Paul will remain as a private asylum, only devoted to the mentally ill, for 50 men and 50 women." From 1866 various doctors and laymen associated with the Sisters of Saint-Vincent de Paul and Saint-Joseph de Vesseaux  took charge of the establishment. They protected and renovated the building from
(this period forward and continued the ancestral mission of reception and care of the mentally ill.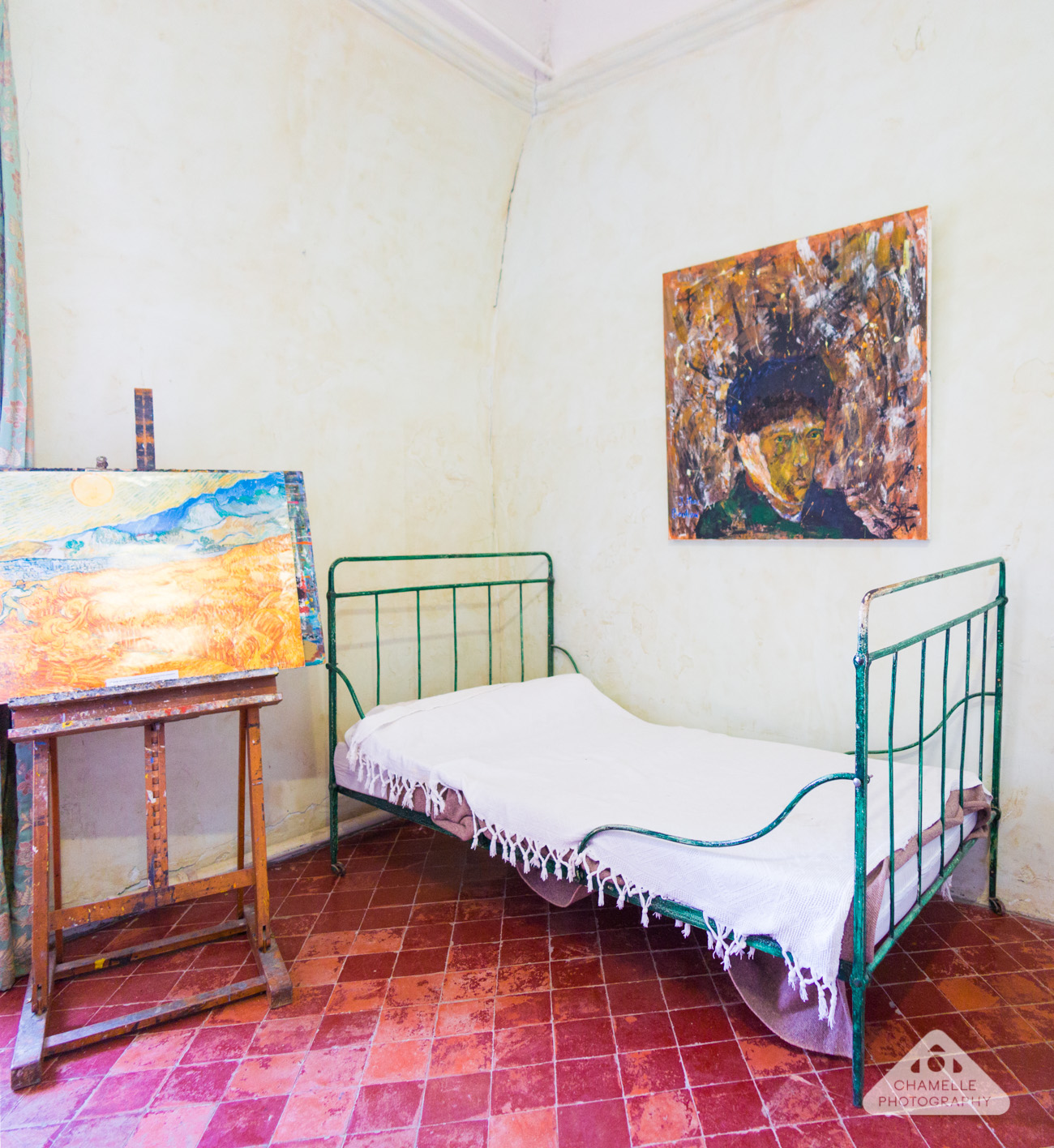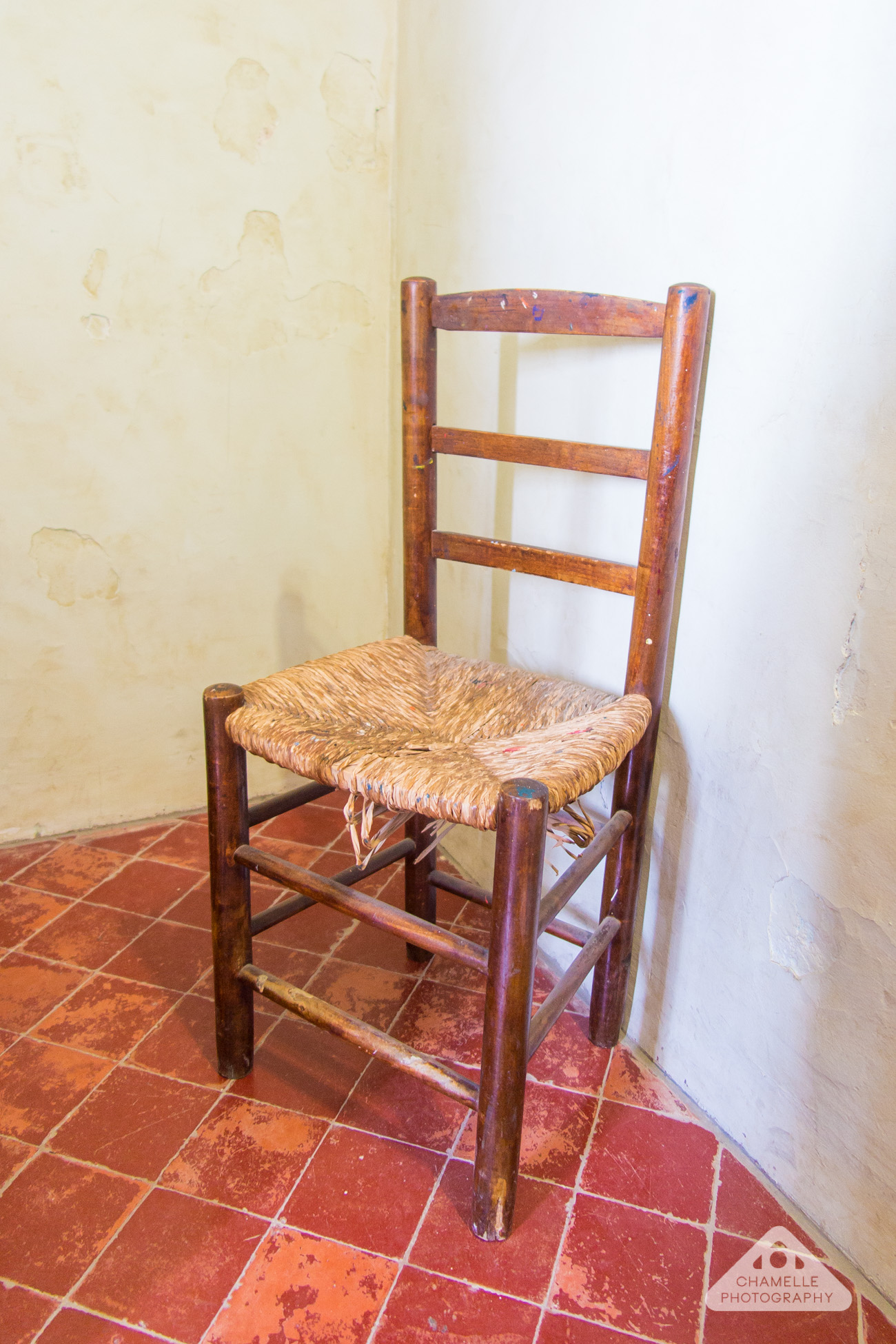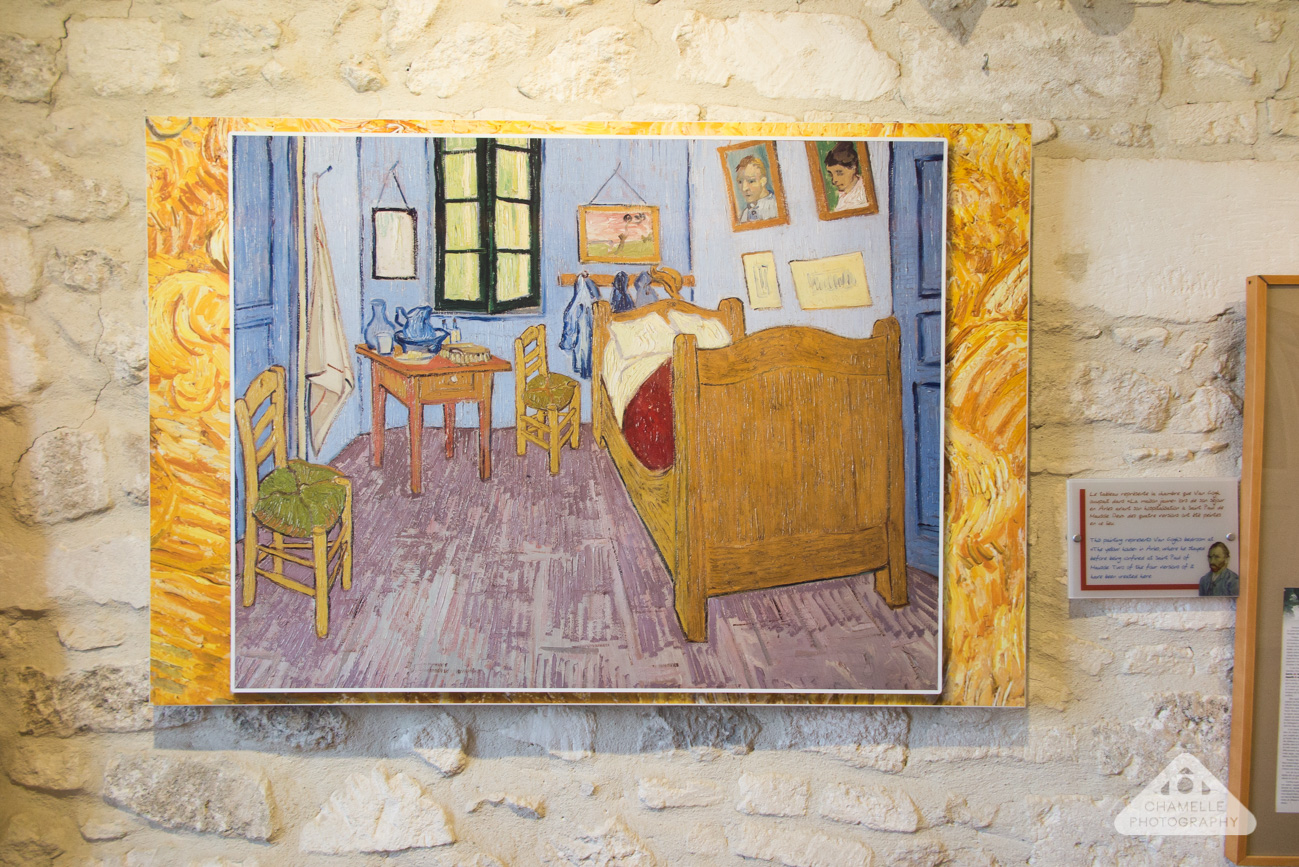 (his painting of Bedroom at Arles)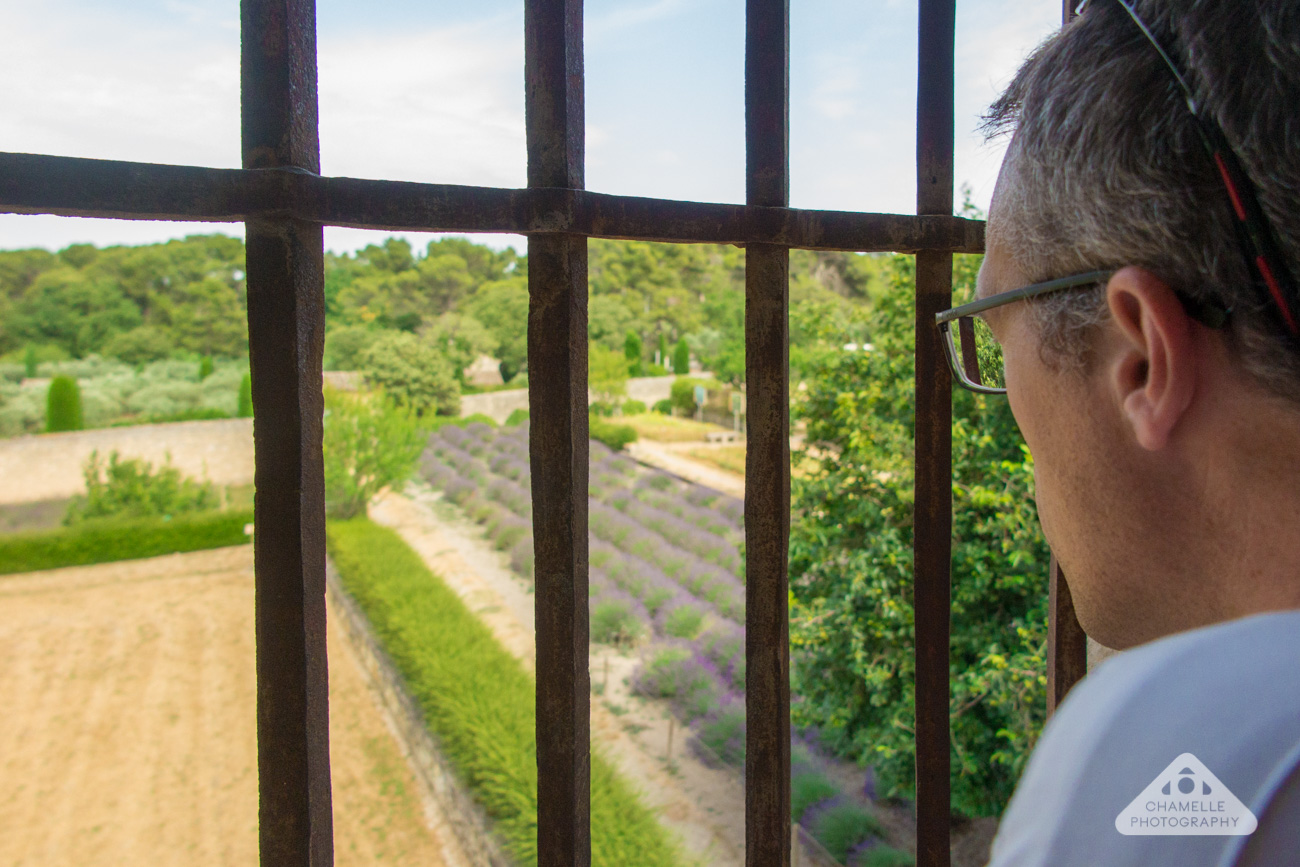 (the exact view outside his bedroom window)
Van Gogh's room
Vincent Van Gogh occupied a small, sparse room in the 'men's pavilion' for 53 weeks. He was later able to benefit from a second room which served as a studio, and a third to store his paintings. He occupied them until his departure on May 16, 1890.
There seemed to be a contrast with the tiny, depressing bedroom (with bars over the windows) and and the beautiful surroundings… It was indeed a sad time for Van Gogh and sometimes he was too ill to paint.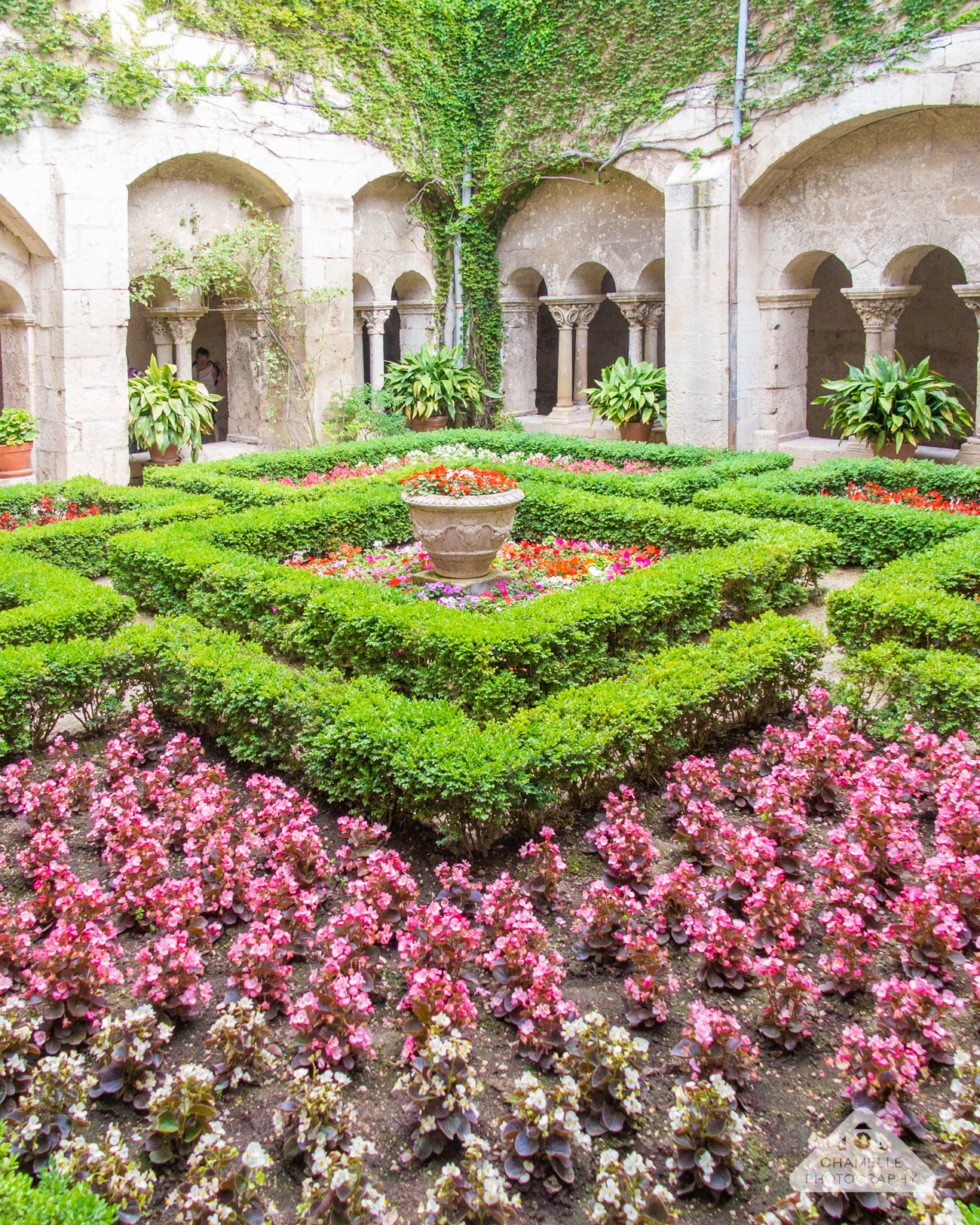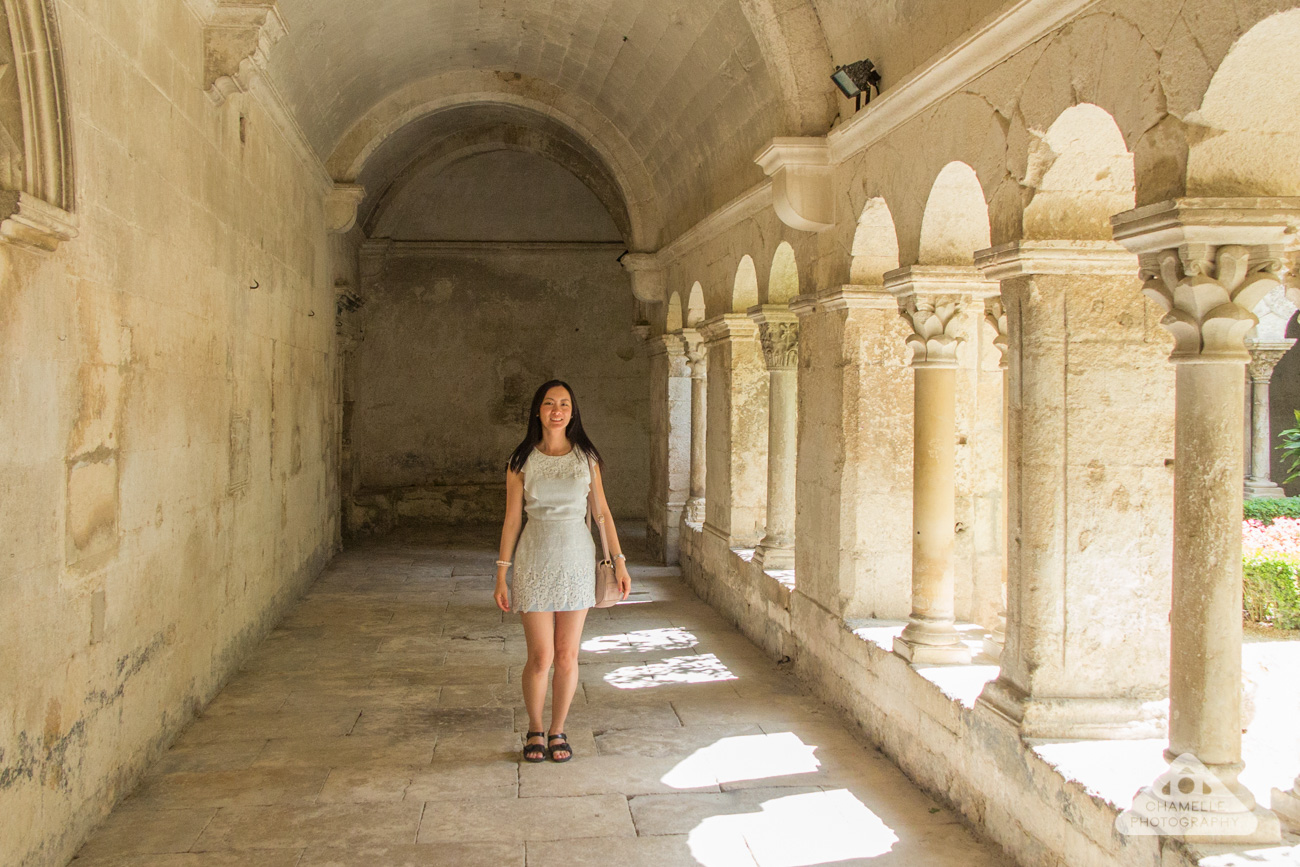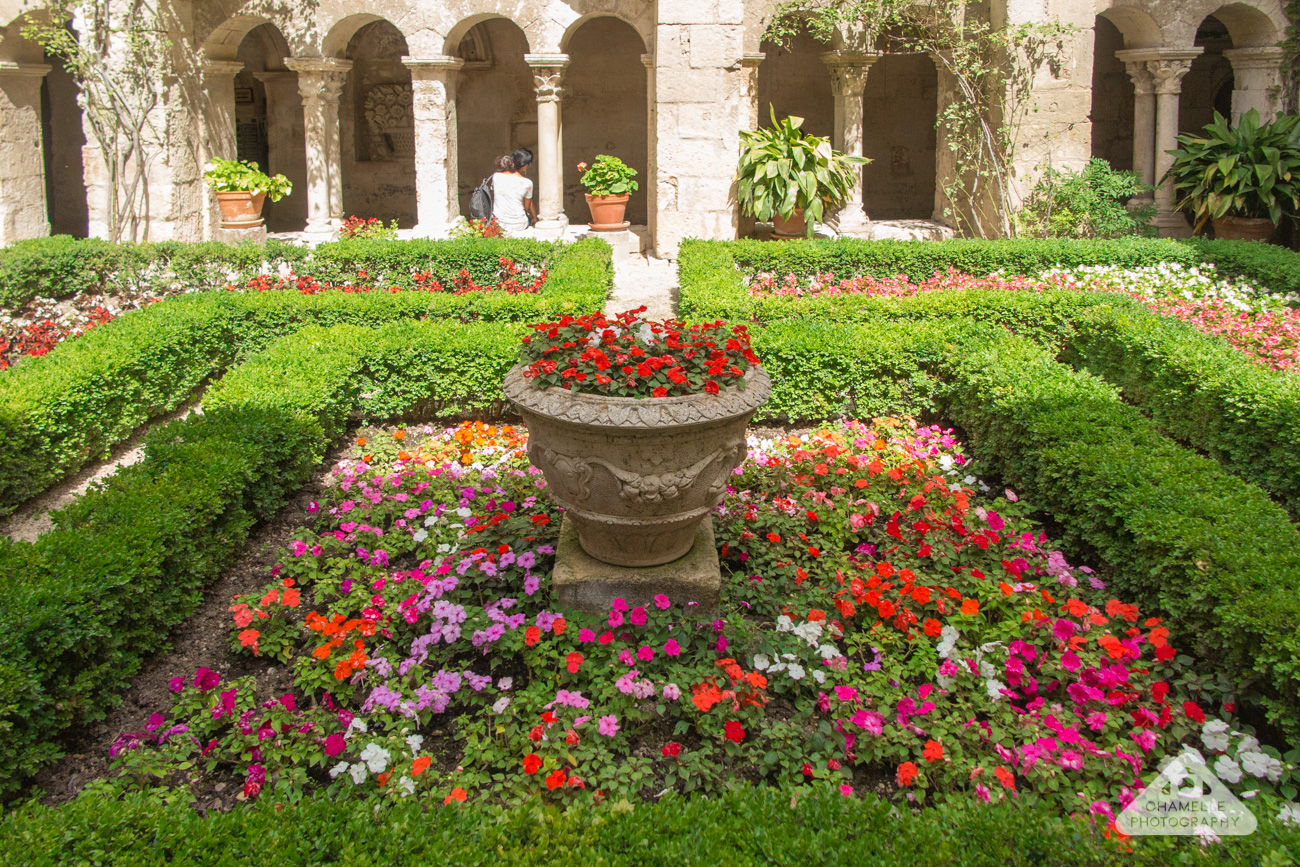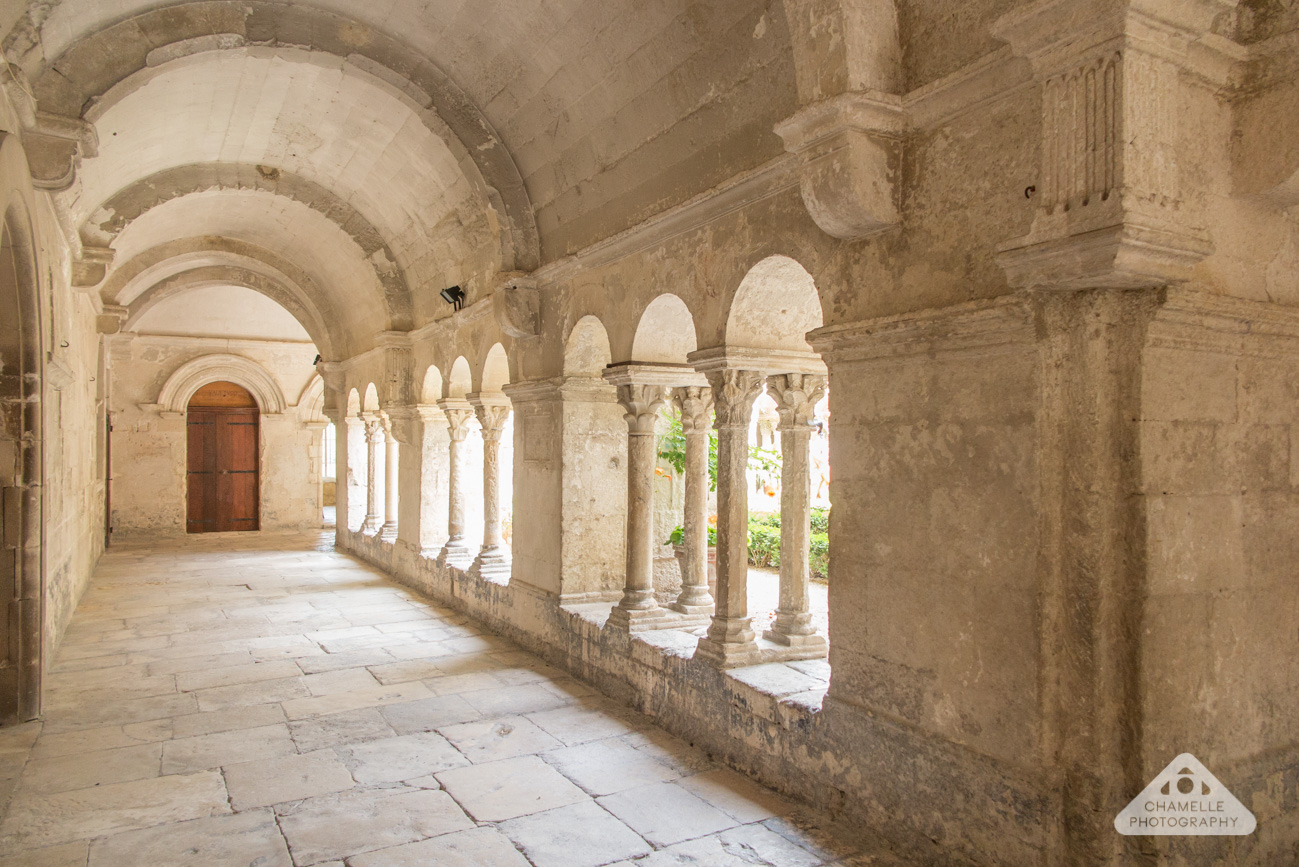 The Romanesque Cloister
The cloister garden just took my breath away. It was just gorgeous! It was small and simple but the square shapes contrasted nicely with the arched walkways around and it was so peaceful to walk around.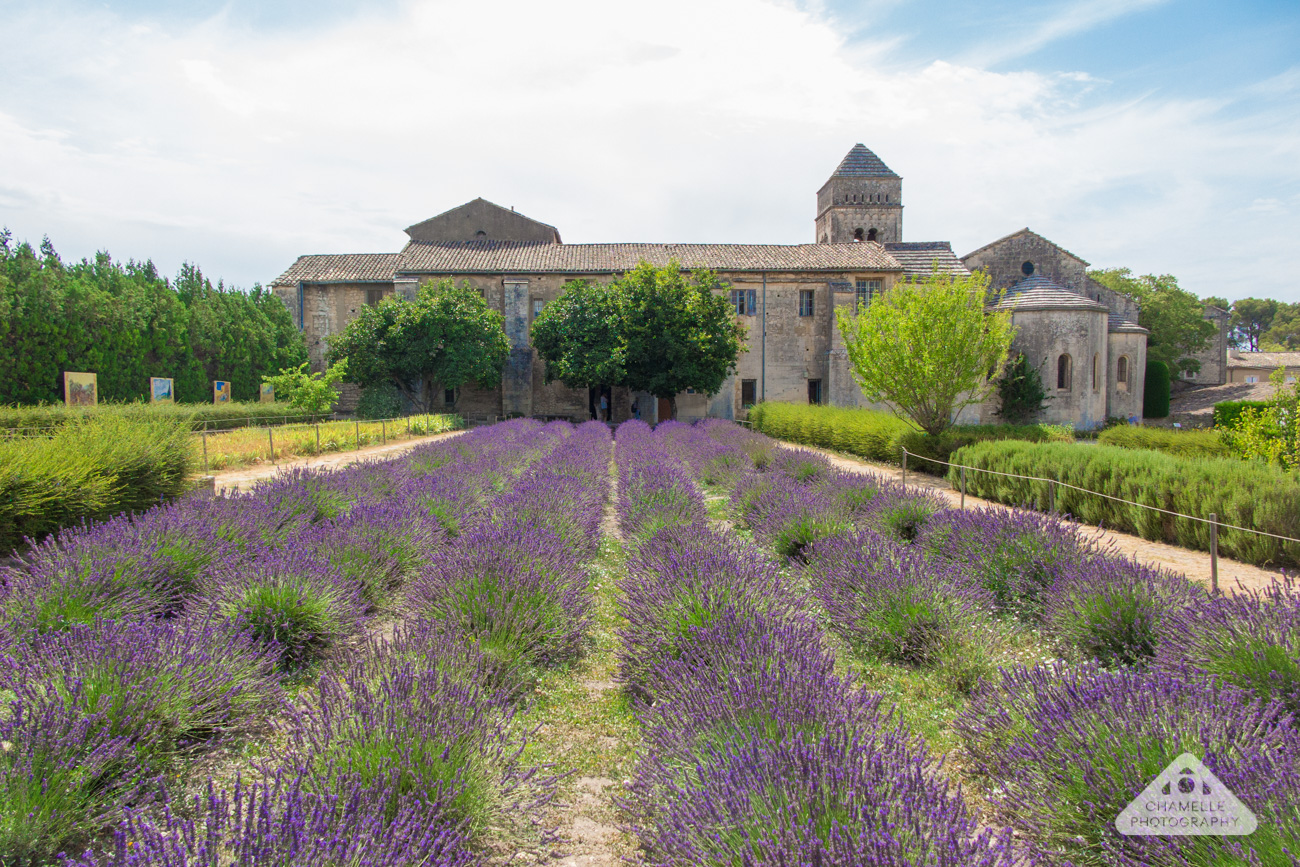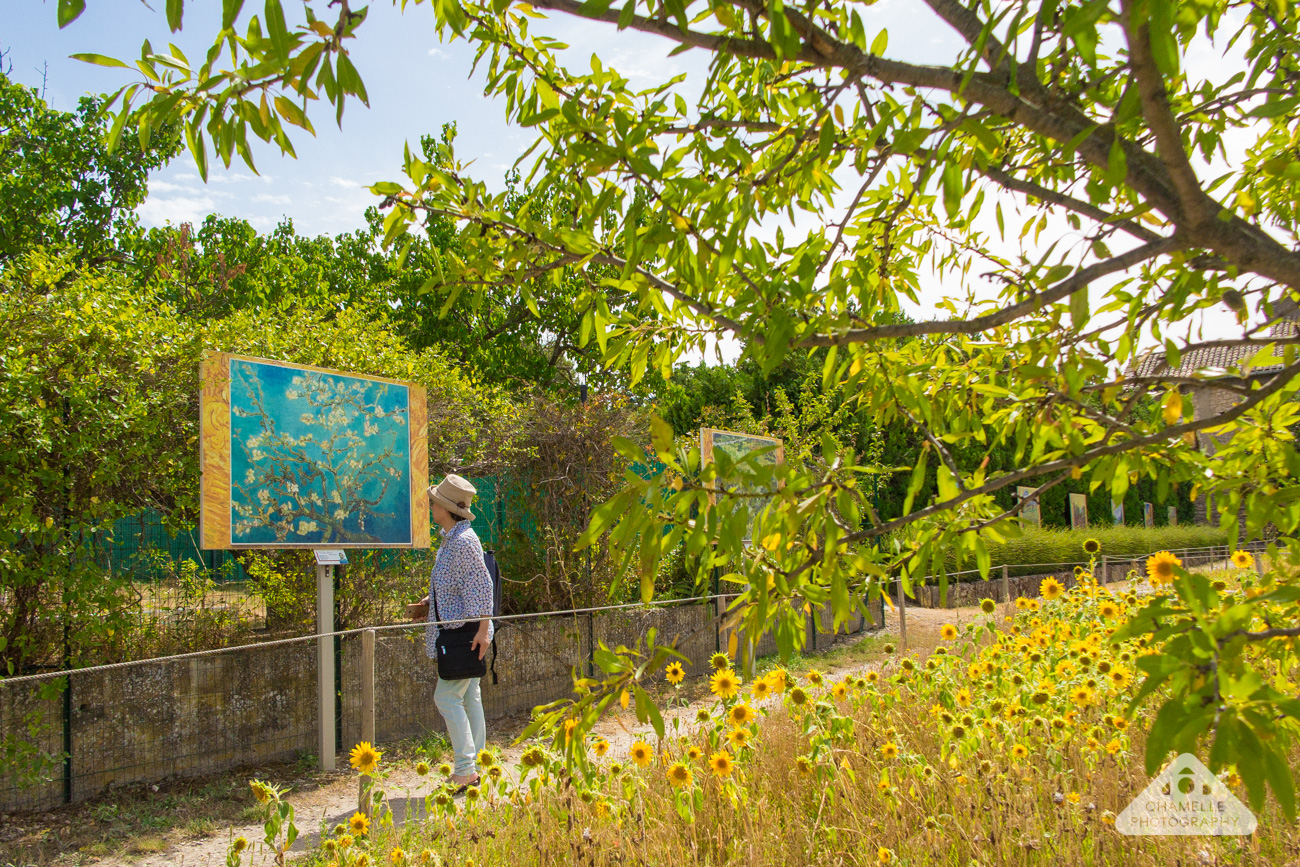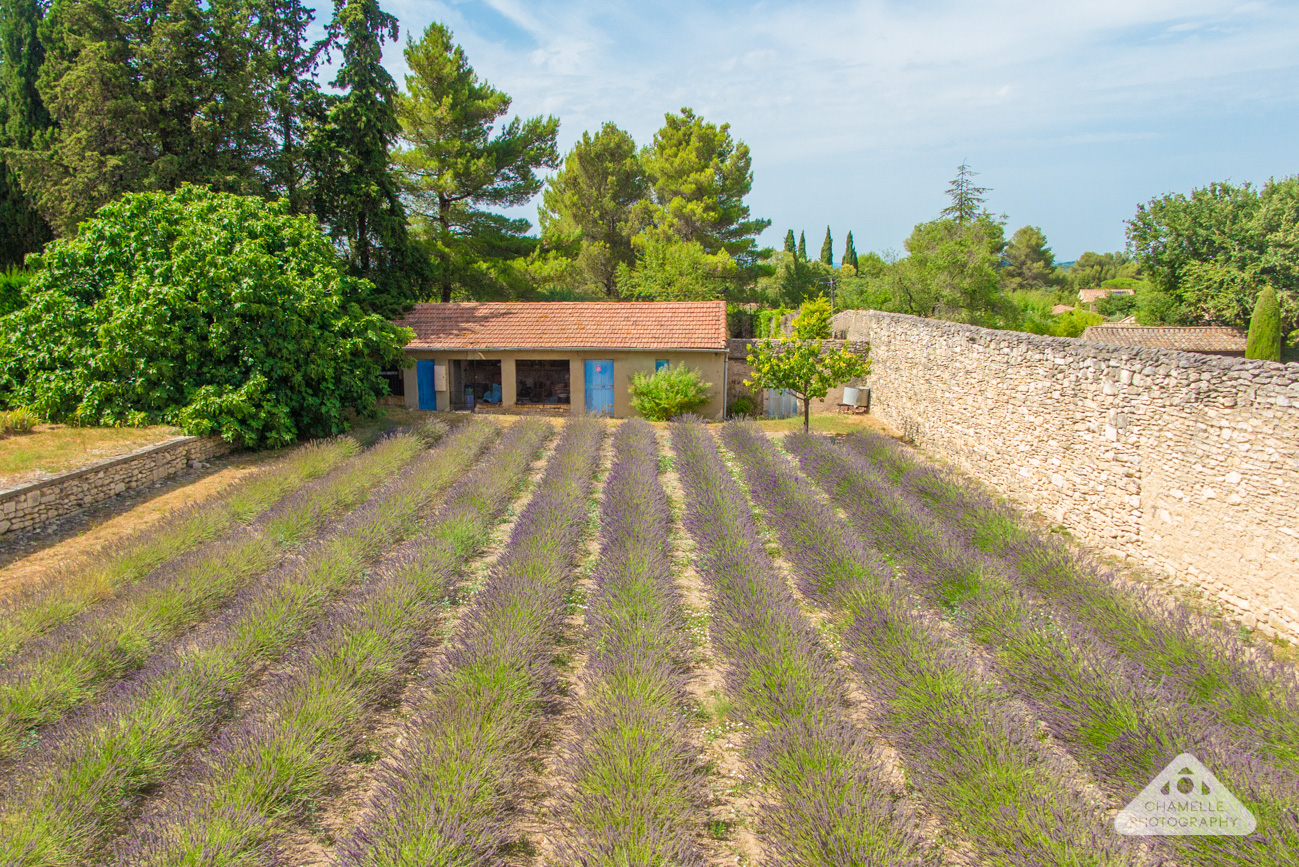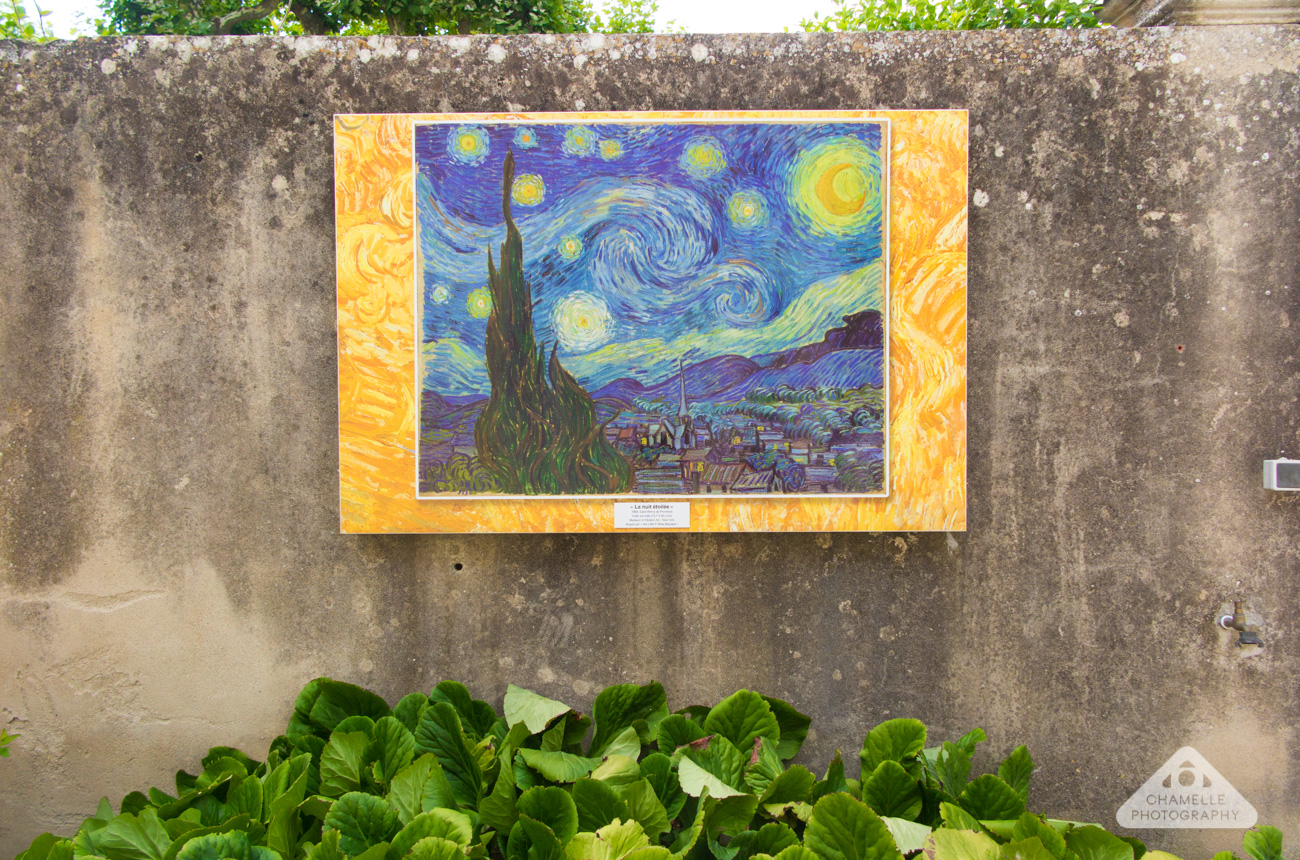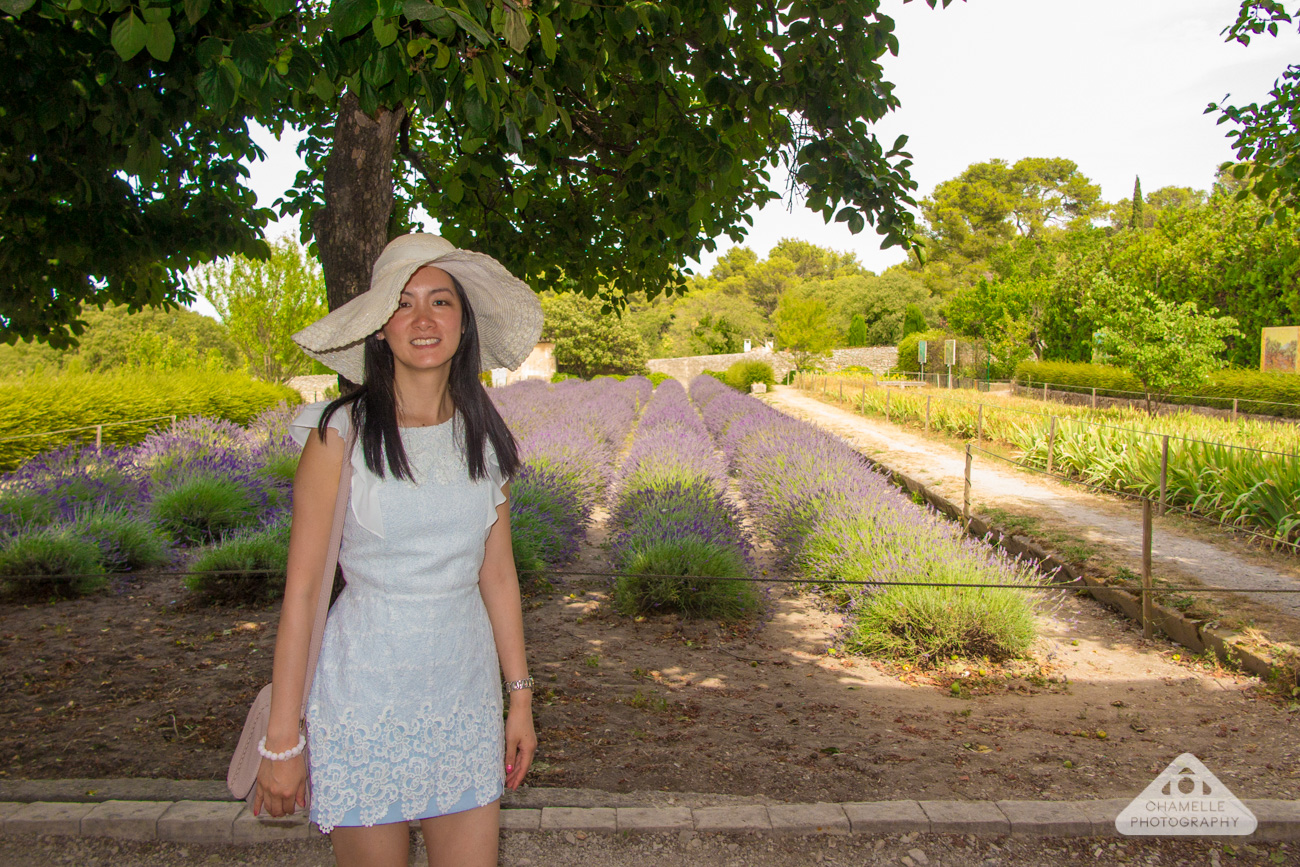 The Lavender Garden
What's Provence in the summertime without blooming lavender gardens? —> Read my Top 10 tips on planning a lavender field spotting trip in France
Now named the Van Gogh field, it has been transformed into a beautiful garden with not 1 but 3 fields of flowers, fruits and wheat. Throughout the seasons, the many colours of the vegetation, shrubs and tree species change. These were the field which he saw out his window and which fascinated him. He painted them fourteen times.
The Botanical and Artistic Trail
Along the sides of these fields are tree-lined paths featuring reproductions of Van Gogh's most well-known paintings in their place of execution, including the famous "Irises", "The Starry Night", "Oliveraie", "Champ de wheat with cypresses","The first steps","Wheat field reaper","Garden of the Saint-Paul asylum" and "Self-portrait", etc….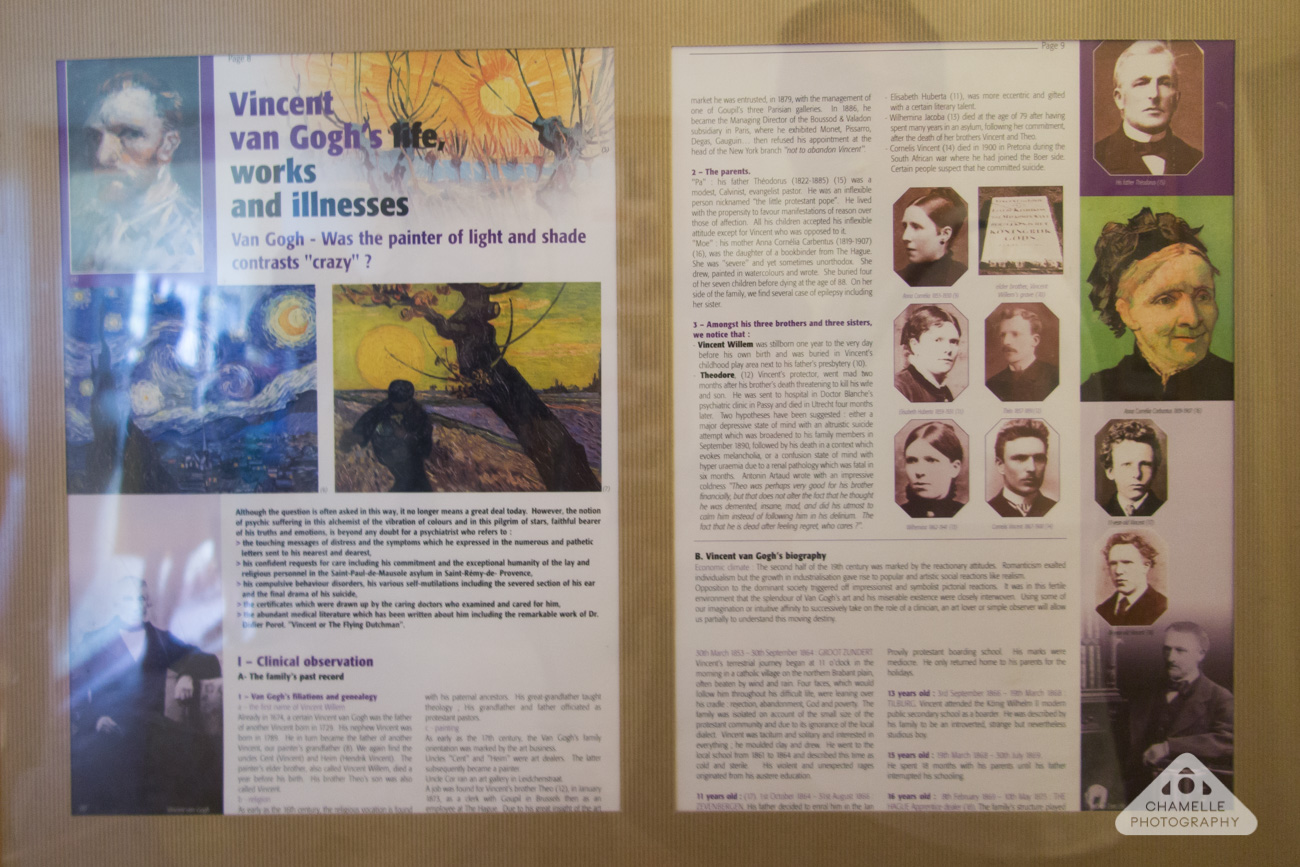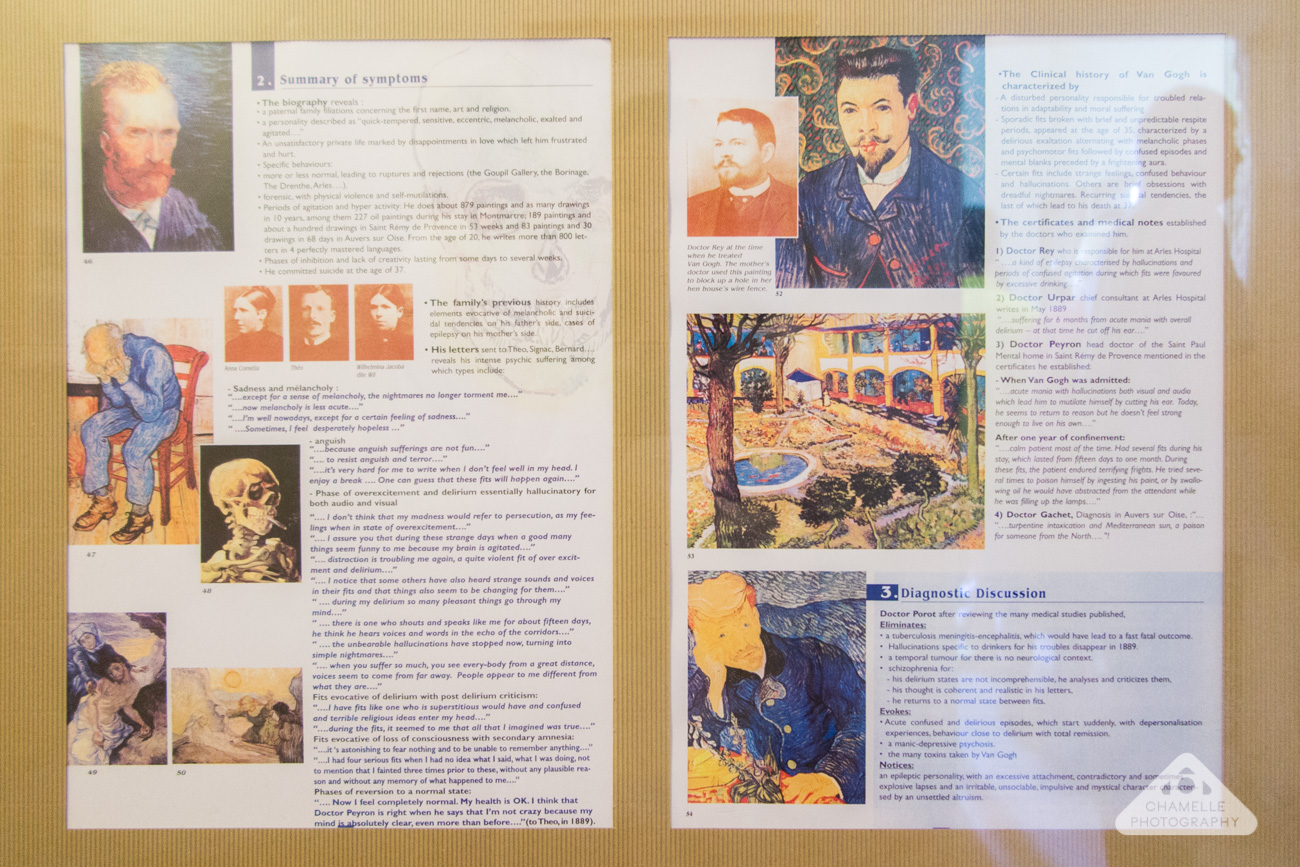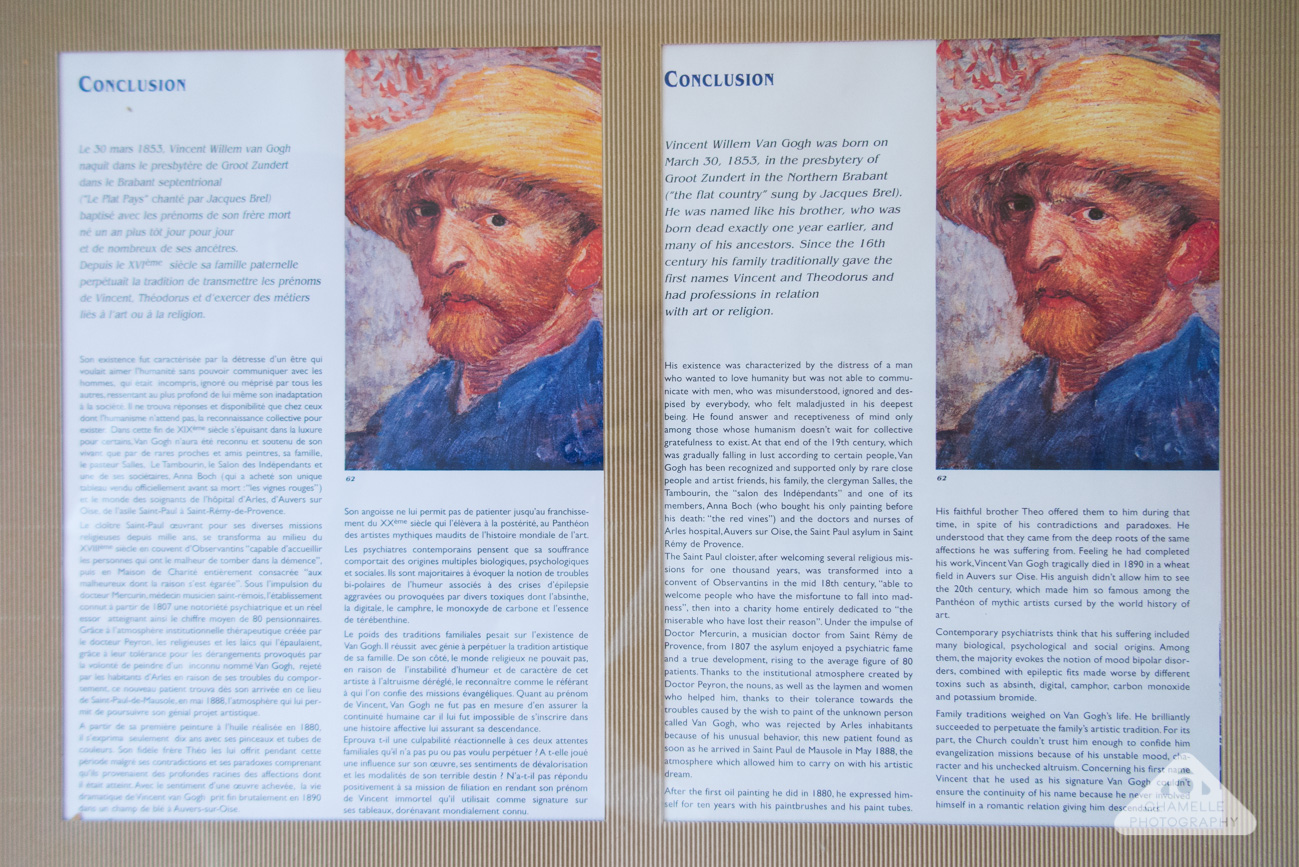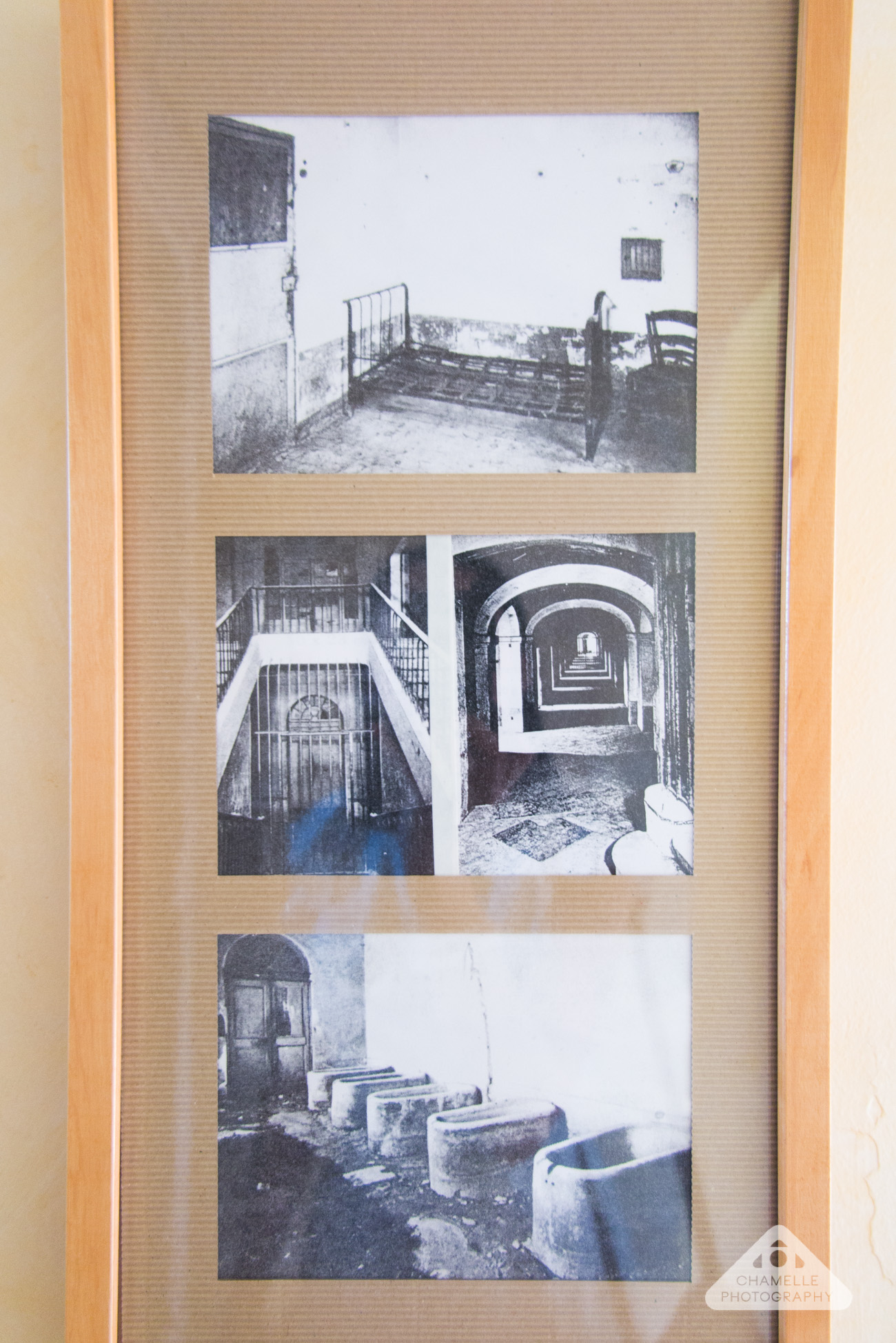 The History of Psychiatric Care in France
There were many fact sheets to read (in both French and English) not only about Van Gogh's stay here but also about the history of psychiatric care from that period up until the present day. It's actually quite sad and scary to read how the mentally ill used to be treated.. luckily times have changed!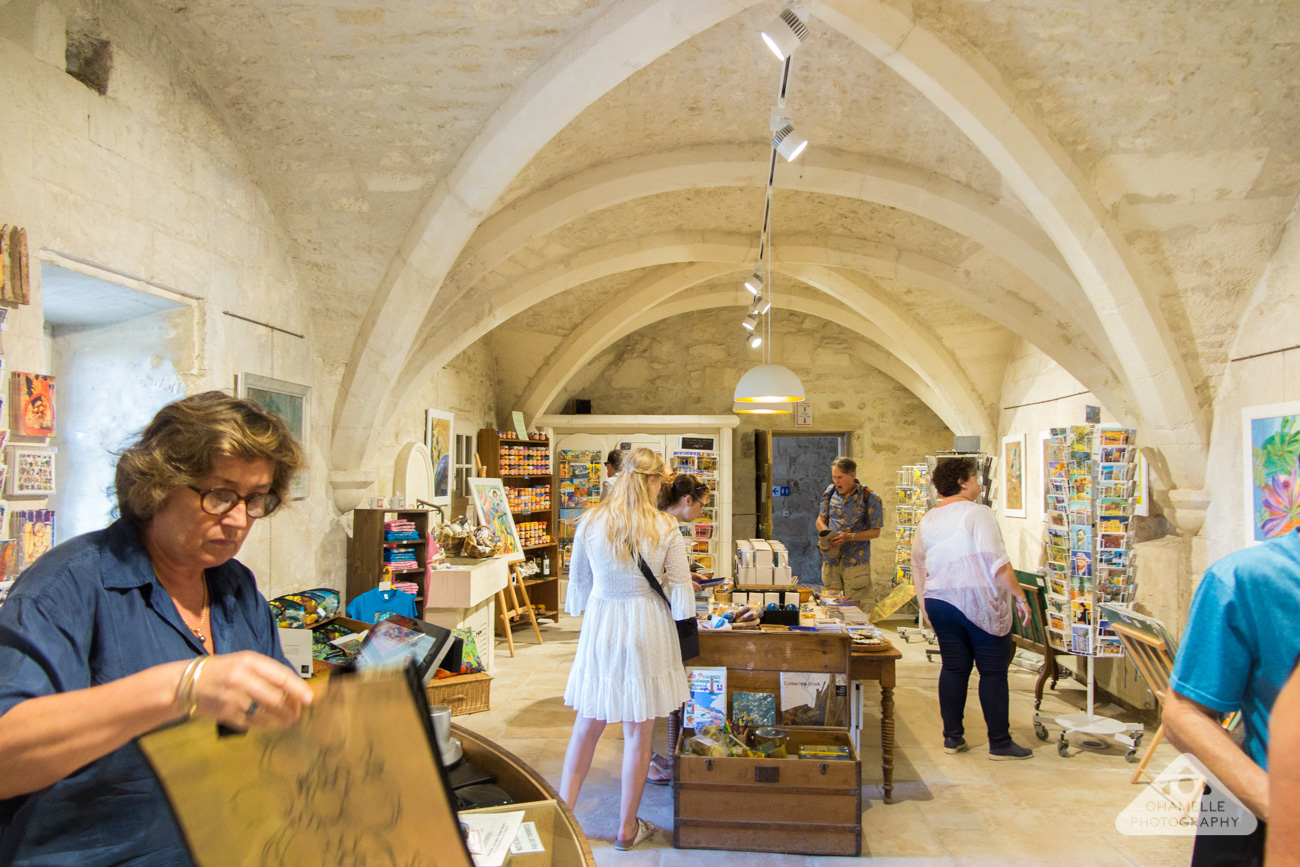 The Gift Store
In addition to the works of the patients, the shop offers a wide range of souvenirs as well as a selection of works paying homage to Van Gogh, and the care workers who helped the sick.
In order to realise Van Gogh's dream of creating an artists' association in the south of France, the Valetudo Art Therapy Association, its workshops and gallery were set up in 1995 within the cloister. This project combines art, research and care. The result is the creation of particularly expressive work expressing the inner journey of patients in care in Saint-Paul. Their works are exhibited and then put out sale near the gift store.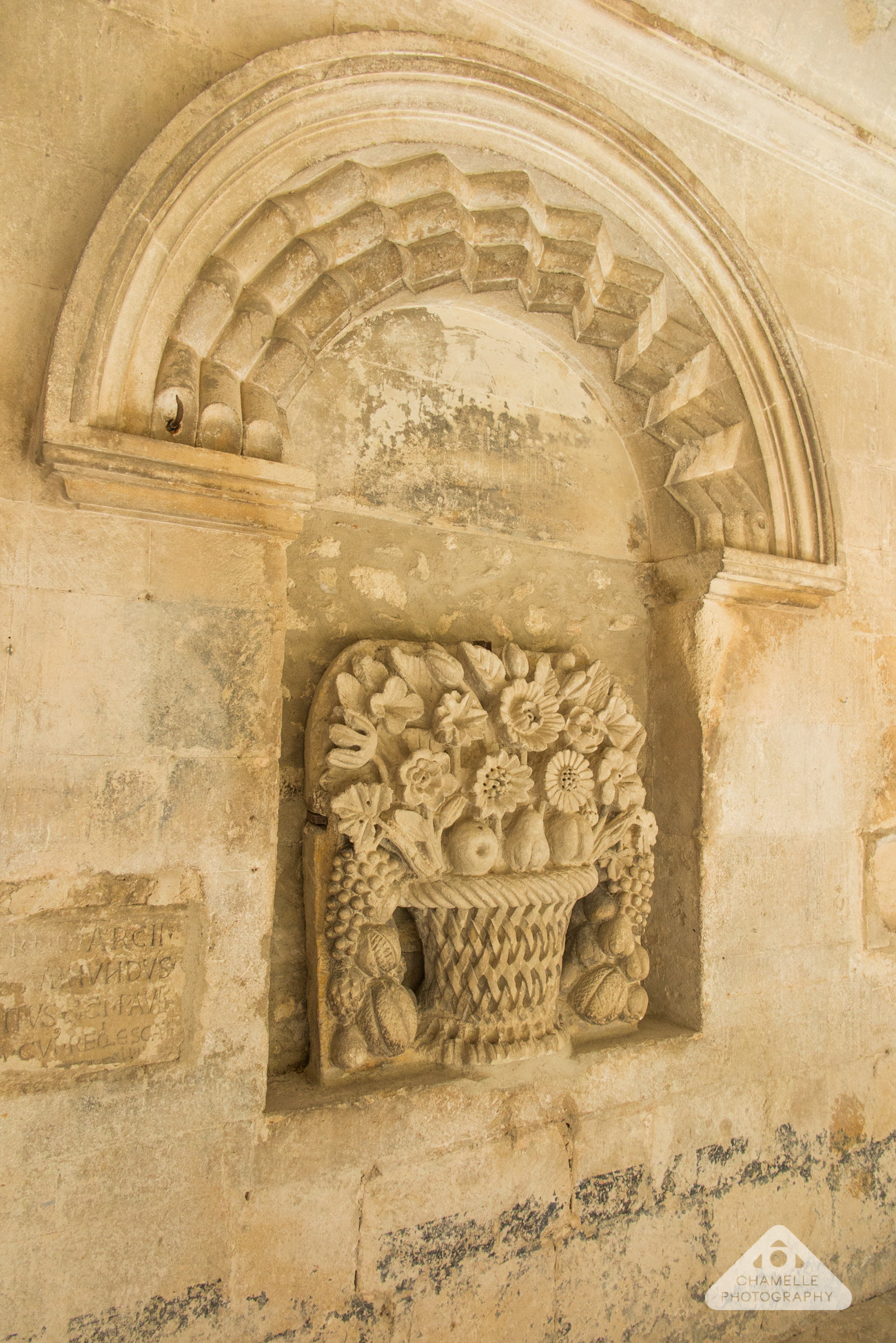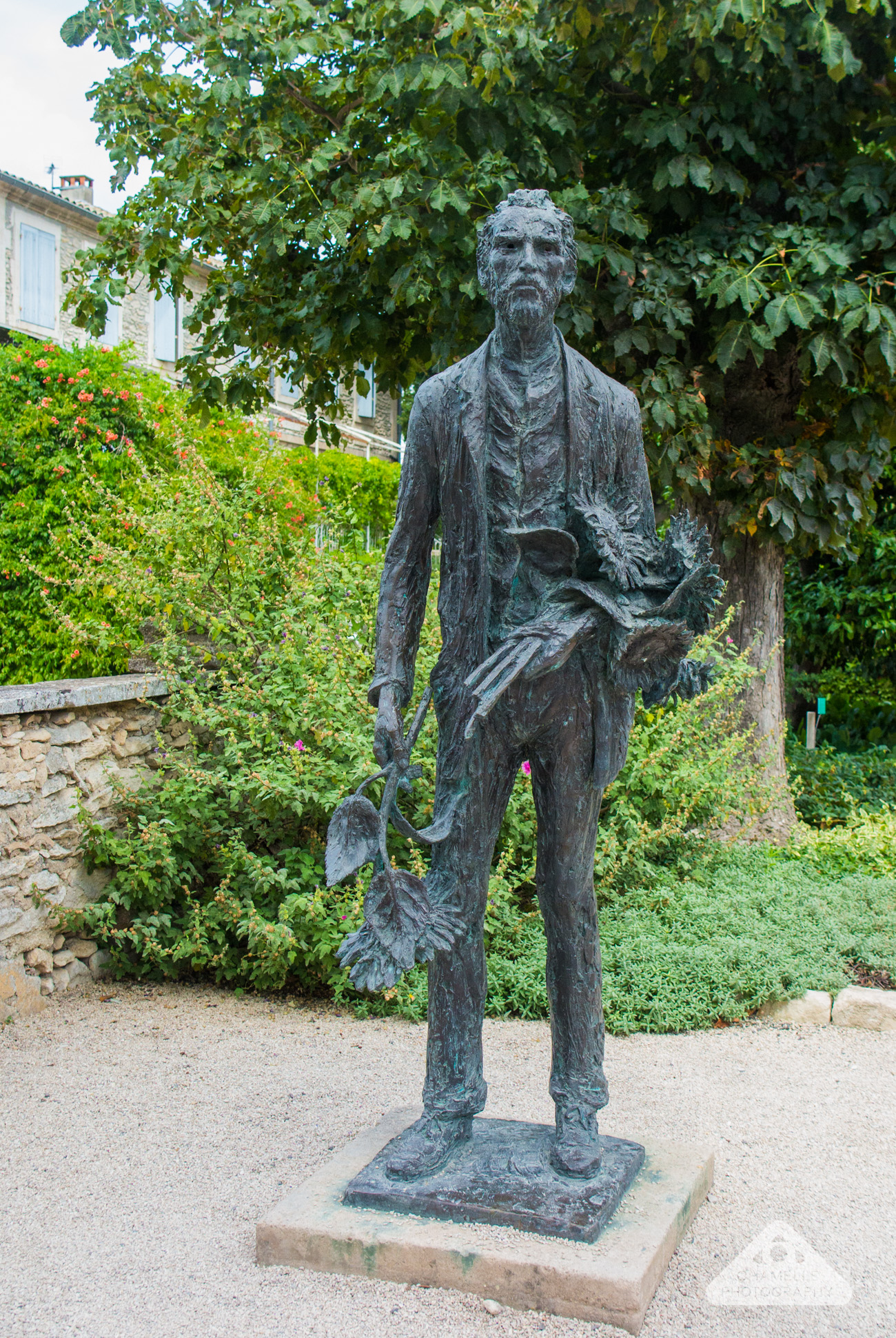 Saint-Rémy-en-Provence
While you're visiting Saint-Paul-de-Mausole you should also visit Saint-Rémy the town! (but don't forget, you'll need a car). The year before we did a quick whirlwind tour of the (very small) town right after having lunch. I was totally in love! Like everywhere in Provence it's as charming as heck with its pastel coloured buildings and cobblestone paths. I did not realise till later that Saint-Rémy is known as the birthplace of Nostradamus (real name: Michel de Nostredame), who was born here in 1503. He is well known for his prophecies. There are buildings, a street and a fountain named after him.
Even if you aren't interested in Van Gogh stuff (in which case, why are you reading this blogpost? 😀 ) Saint-Rémy is a must IMHO and it can easily be 'done' or seen as it's such a small town.
Be sure to come back and check out Part III where I take you to everyone's favourite city: amazing Paris! 🙂
—
GO – HOW TO GET AROUND SAINT-RÉMY
Getting to Saint-Rémy by car
Saint-Rémy (pronounced Sahn-Ray-mee) is located in the Provence area in the south of France, about 90km (56 miles) NW of Marseille. and 20km (12 miles) south of Avignon. It is in the region of Provence-Alpes-Côte d'Azur and in the department of Bouches-du-Rhône.
There is really only one way to get there: by car. You could also cycle but to do this in summer would be insanity. Put it this way: it is crazy hot and sunny like you wouldn't believe.
Getting to Saint-Rémy by bus/taxi
There is no train station in Saint-Rémy. If your only option is public transport you can take a train to Avignon TGV (NB: Avignon and Avignon TGV are two different stations) or Arles station then take a taxi which would take about 25-35 minutes. Note, however, that the town of Saint-Rémy and the Saint-Paul mausole are not located in the same place. They are not walkable to each other so if you want to see both you'd need to get a taxi again and they may be hard to get so if you want to come here I'd highly recommend hiring a car for maximum convenience and flexibility. The town is very small but not nearly as touristy as many of the surrounding ones so parking is quite easy to find.
Saint-Rémy the town is so small you don't really need to worry about transport within the town. Just walk everywhere.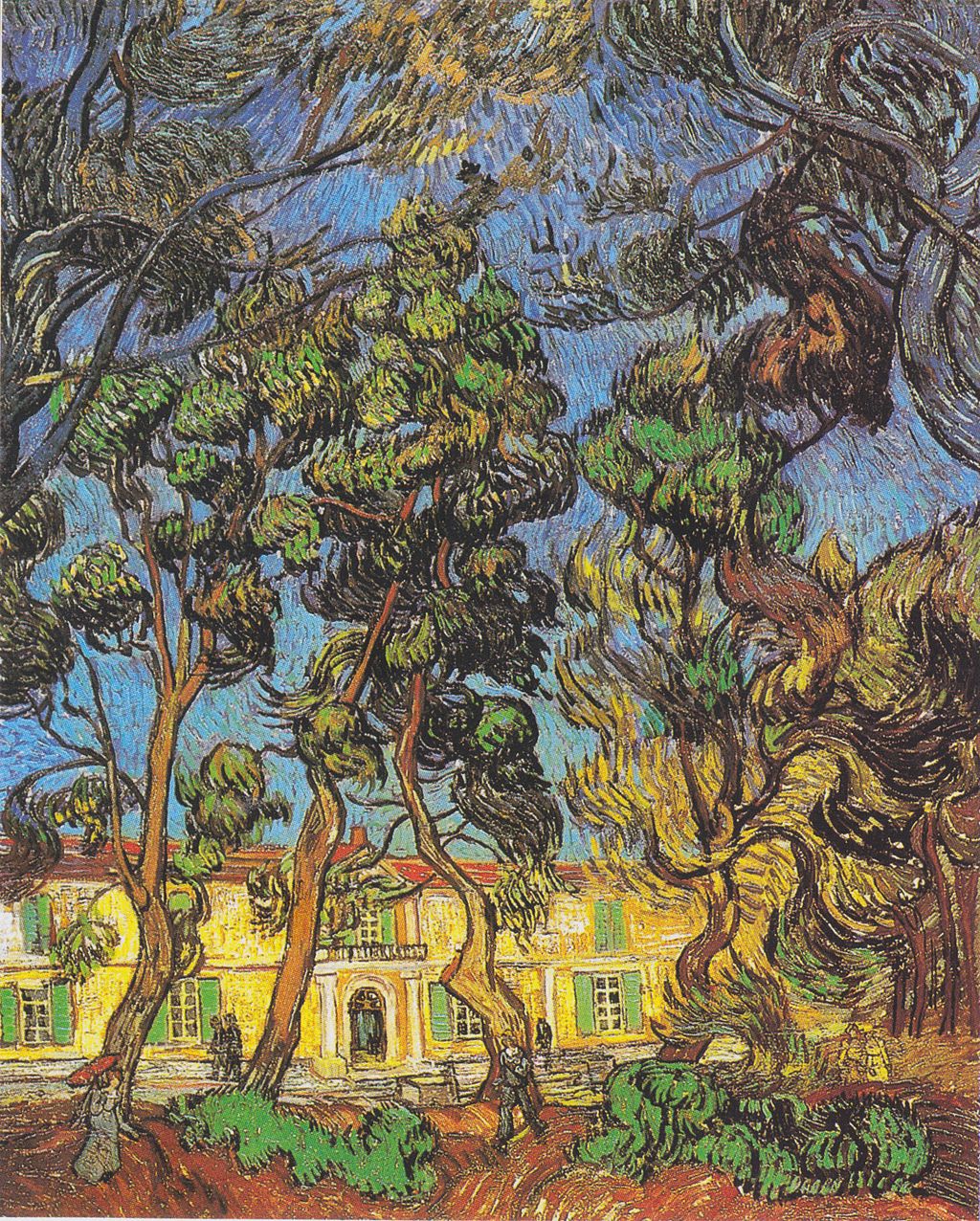 When should we visit Saint-Rémy?
I'm personally not a winter fan. As I previously mentioned in many blogposts the Provence area is best experienced in summer. I like summer but if you cannot tolerate extreme heat nor crowds do not come in July-August. Just don't. The heat is relentless and there isn't a sea breeze. Overall, for most people, the best times to come would probably be spring (April-May) or autumn (September-October).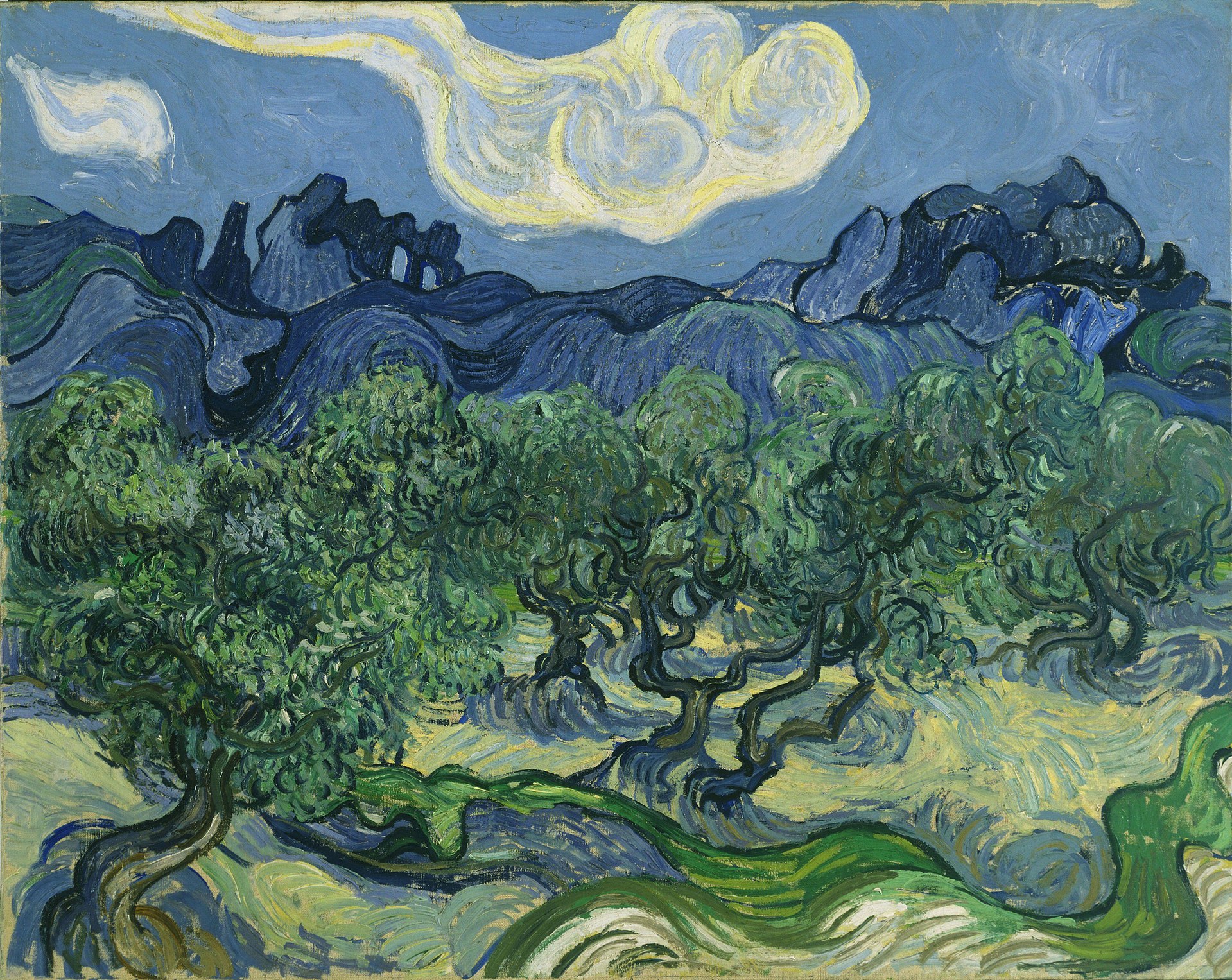 How long should we spend in Saint-Rémy?
It's a really small town so you really only need a few hours here but if you had more time you could stay overnight to experience the true beauty and charm of this little gem. If you are just passing through make sure you have lunch here!
STAY
As I did not stay here during either of my two visits, I don't have any personal hotel recommendations. As it's such a small town I don't imagine there'd be much choice so if you can't get anything within the town you could try somewhere else and just drive in (another reason why you need a car to explore this area of France!)
If you'd like to rent an Airbnb apartment and get 25-30 euros off your first Airbnb rental you can use my coupon code!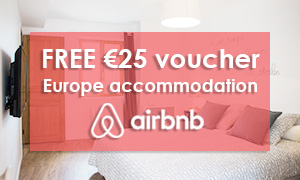 SEE
Saint-Paul-de-Mausole
Address: Chemin Saint-Paul – 13210 Saint-Rémy de Provence, France
Telephone: +33 (0)4 90 92 77 00
Hours: Open every day except during winter between 30 December – 7 February
1 October – 31 March : 10.15am to 5.15pm (last entry 4.30pm)
1 Avril – 30 September : 9.30am to 6.45pm (last entry 6.30pm)
Admission: 5 euros / Concession: groups,  Saint-Rémy Pass: 3.50 euros
Site: http://www.saintpauldemausole.fr/Accueil.html
Maison Nostradamus (Nostradamus' Childhood Home)
Address: 6 Rue Hoche, 13210 Saint-Rémy-de-Provence, France
Musée Estrine
This museum features modern and contemporary art which shows the influence that Van Gogh has had on numerous artists from the 20th century onwards.
Address: Hôtel Estrine, 8 rue Estrine 13210, Saint Rémy de Provence, France
Telephone: +33 (0)4 90 92 34 72
Hours: Open every day (except Mondays) March and November: 2 pm to 5.30pm
April and October: 10 am to 12pm,  2pm to 6pm (Wednesdays 10am to 6pm)
May, June and September: 10am to 6pm
July and August: from 10 am to 6:30 pm
Annual Closure: December, January and February
Admission: Adults : 7€, Concession (Groups, Children under the age of 12, Museum staff, artists (map of the artists' house), journalists (press card), unemployed and accompanying persons (one per group of 10 people), Card Heritage Ambassadors: free
Site: http://musee-estrine.fr/en/
Musée des Alpilles (Alpilles Museum) 
The Alpilles museum (Alpilles being the name of the nearby mountain range and pronounced al-pee) is located inside a former Renaissance mansion , the Hotel Mistral de Mondragon. It has been classed as a Monument historique since 1862. The museum was created in 1919 and entirely renovated between 2002-2005.
Its collections are divided into four sections in order to help us understand the current Provençal landscape between the Rhône, the Durance and the southern limit of the Alpilles: archaeology, natural sciences, ethnology and graphic, typographic and photographic arts.
Address: Place Favier 13210 Saint-Rémy-de-Provence
Telephone: +33 (0)4 90 92 68 24 , 04 90 92 05 22
Hours: 2 May – 30 September: Tuesday – Sunday, 10.00am – 6.00pm
Additional night hours in July and August, Tuesdays : 7.00 – 10.00pm (night only entry: 2€)
1 October – 30 April: Tuesday – Saturday 1.00-5.30pm
Closed: 1 January, 1 May and 25 December.
Admission: Adult: 5€, Concession (groups of more than 10 people, students, unemployed, teachers and handicapped persons): 3.50€,
Site:  https://www.facebook.com/MuseedesAlpilles/  ,  http://www.mairie-saintremydeprovence.fr/la-vie-culturelle-en-marche/le-musee-des-alpilles/
 NB: Saint-Rémy Pass
Visit the major sites of Saint-Rémy-de-Provence with one ticket on sale at the Tourism Office.
EAT
When my friends and I turned up in town famished we just settled for pretty much the first restaurant we found. As it turned out, the food was delicious and the service excellent and super friendly. However I'm sure there are plenty of other great restaurants here too.
Bar Tabac des Alpilles
Cuisine: Provençal
Address: Place Favier 13210 Saint-Rémy-de-Provence
Telephone: +33 (0)4 90 92 68 24 , 04 90 92 05 22
Site: https://www.facebook.com/Bar-Tabac-des-Alpilles
SHOP
There are the usual Provençal specialties here such as their fabrics/tablecloths and children's clothes, lavender sachets and soaps etc. There are loads of cute gift stores where you can go crazy 😉
PHOTO TIPS
I don't have any particular tips as I didn't spend very long here. But if you come in summer it would be better to take photos in the early morning or in the evening when it's cooler and the lighting (sun) isn't so harsh.
Tell me: What would you like to see most if you went there? If you have any further questions please leave them below, Thanks! 🙂
PIN THIS!