17

min read
10 Top Tips for seeing the Nice Carnival in France
Part I: Corso Carnavalesque (Day Carnival Parade)
Part II: Corso Carnavalesque Illuminé (Night Light Parade)
Ahhh.. Carnival, the glitz, the glamour, the stunning costumes and the amazing floats… what could be more exciting to welcome the end (hopefully!) of the long, dark, cold winter?  You know, I lived in Shanghai (between 2007 and 2008) and for the first time in my life I became acutely aware of the seasons… the 4 seasons in Shanghai are so distinct, you'll know when one season is ending and the next is starting. You'll see it and you'll feel it. What a novelty for this Australian who comes from temperate Sydney.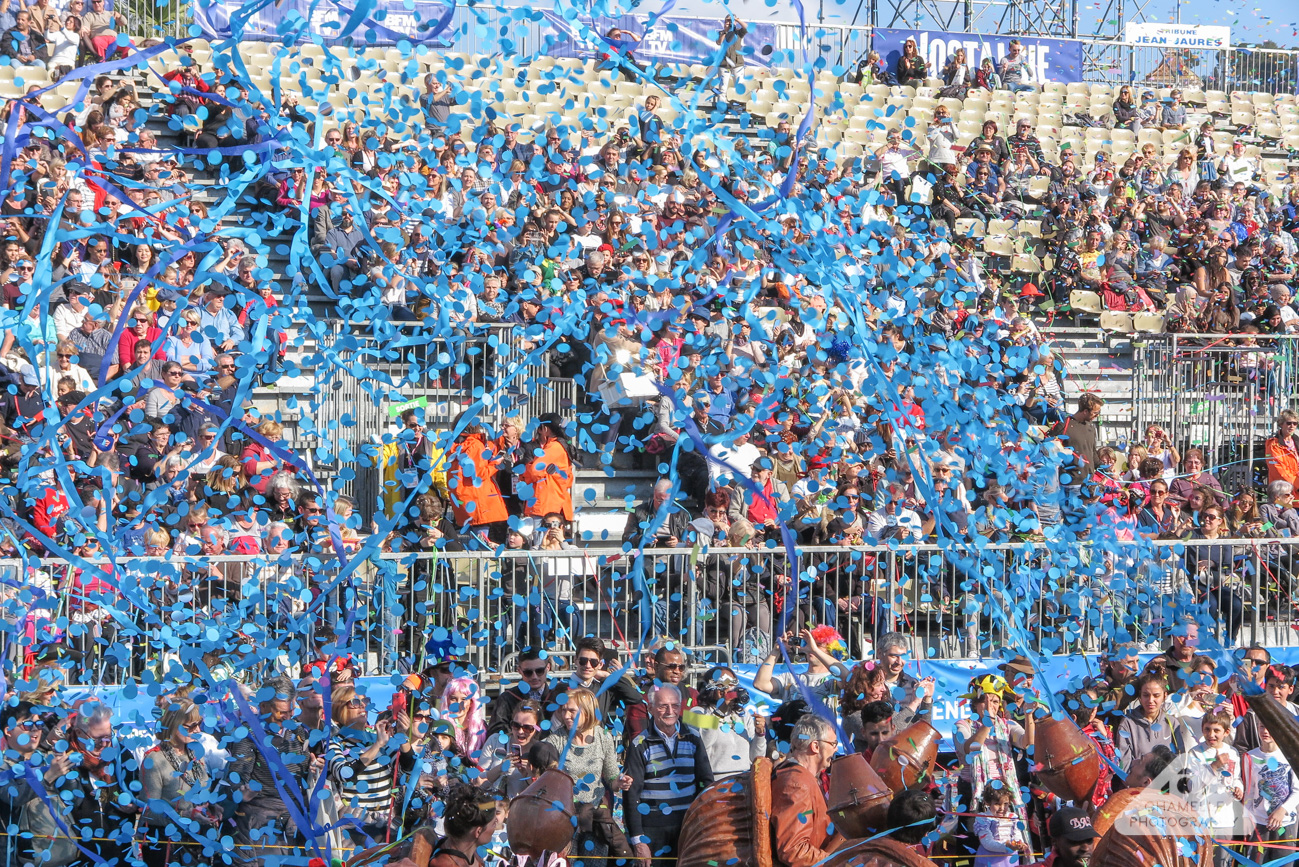 During my time there I was also able to celebrate Chinese New Year in the country that started it all for the first time in my life…  Why do I mention this in a post about France? Well, actually there are many many similarities between these two events/festivals: Chinese New Year (AKA Spring Festival 春节) and the Nice Carnival. Carnival is a tradition that started as a Pagan Festival in Europe and is now celebrated all over the world, notably in Spain, Italy and South America. Both Carnival and the Chinese Spring Festival are meant to signify the end of the long, cold (northern hemisphere) winter and the beginning of spring, the beginning of a new year, new life, new hopes, dreams and aspirations as we transition from darkness to light. It's all about renewal and regeneration.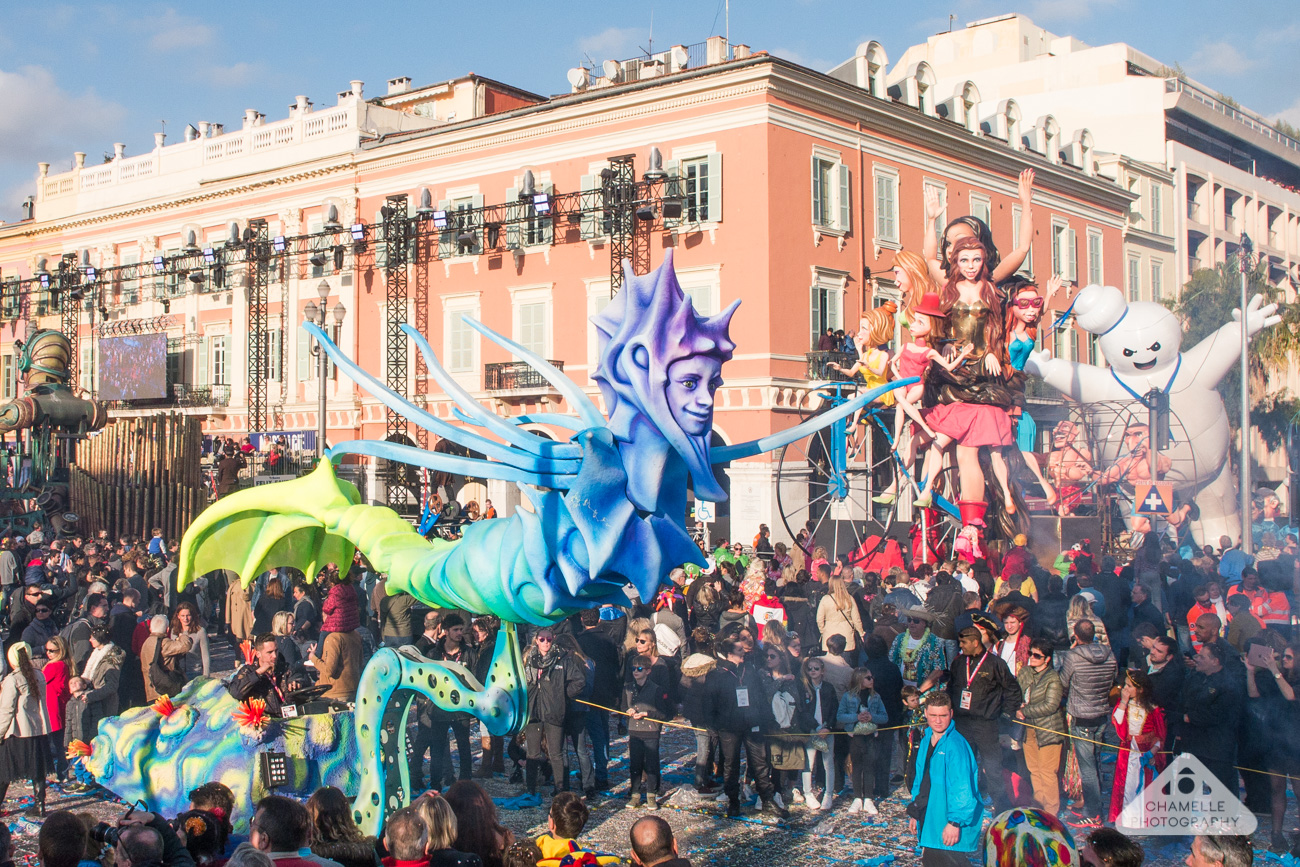 I just love the meaning behind that! As I have now experienced many many long and painful European winters, there's nothing more I look forward to than Spring. Now, I gotta be honest with you: although it can start to feel a bit like spring in the South of France (ie Nice) it will still feel like winter in the north of France (ie Paris) until mid-April or so, so please don't visit Paris in February and say that it didn't feel like spring, because February is in fact the coldest month of the year! As I write this France is having the coldest and snowiest winter its had in 30 years…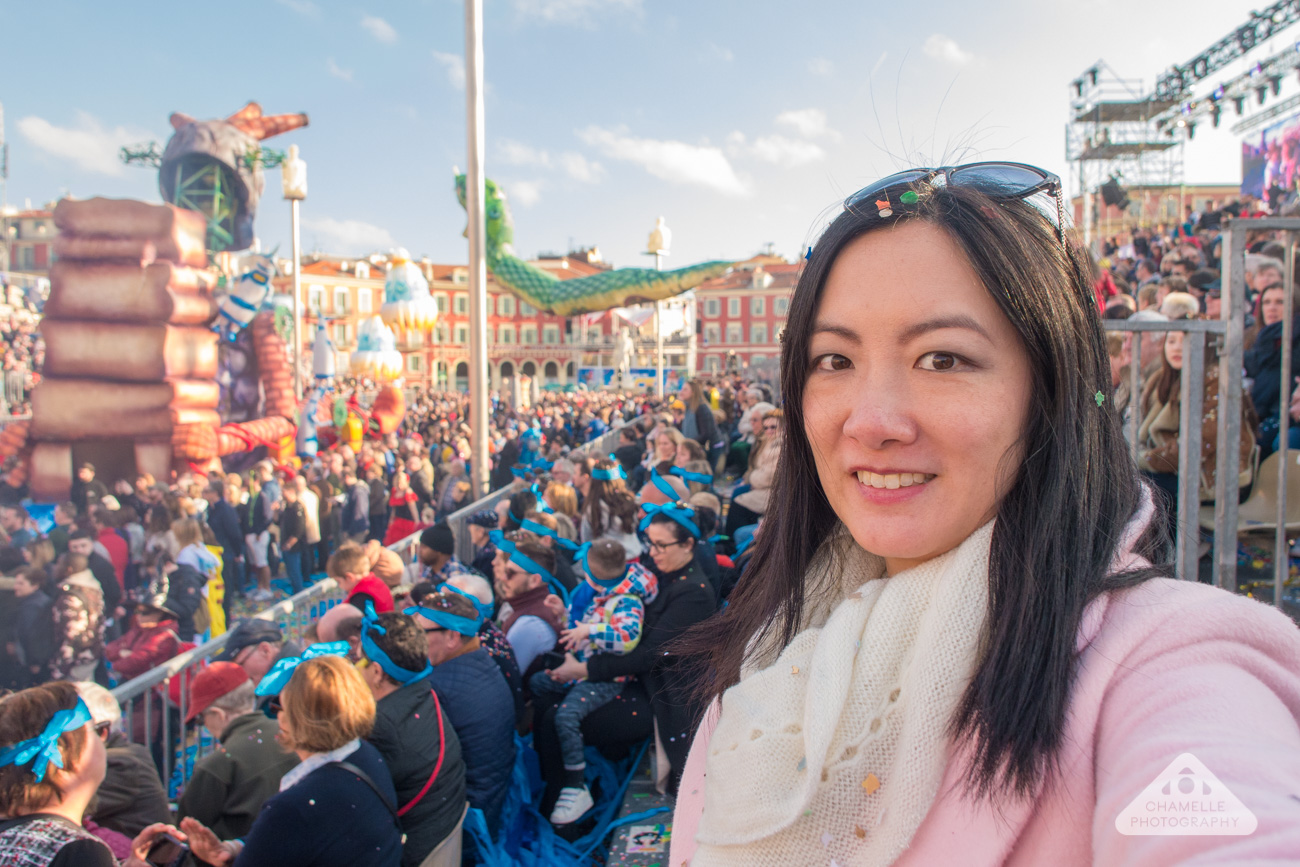 So, onto the show!… I mean Carnival!
I intended to go to the Nice Carnival the year before but something came up so I cancelled that trip. I had to wait a whole year again before I was able to go. It was something I had been meaning to do for a few years so I thought it was now or never… I'll admit I had left it quite late to book tickets. Although I didn't have any trouble booking accommodation in Nice (as there is so much choice!) there wasn't that much choice for seats in the parades. Scroll to the bottom to find out how I chose and booked the best seats.
When it comes to photography I have to do meticulous planning to ensure I get the best possible shots: date, time, place, rules… there are so many things to consider. As I had left it rather late in the game I didn't have a huge amount of seats to choose from but the ones I got were pretty good.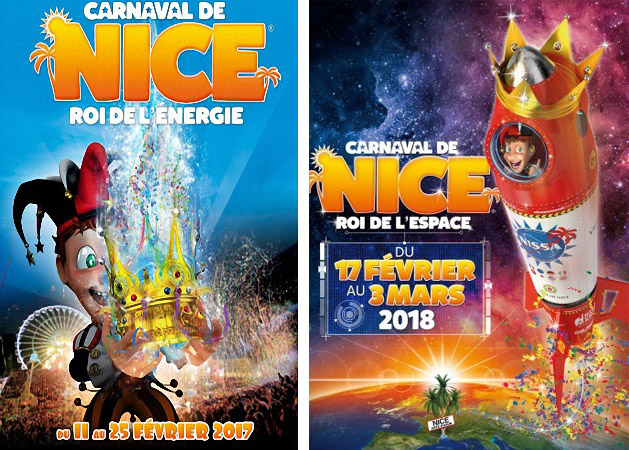 The Nice Carnival is one of the oldest in the world and the biggest one in France. It dates back to 1294 (The Middle Ages)! During the Renaissance the Carnival was influenced by the Venetian Carnival and that's when the masks and costumes came out. During the late 19th Century Nice became known as the winter holiday destination in France. To attract wealthy Parisians to the south, beginning in 1873, a huge, over-the-top carnival was held (slightly different to the ones in the past) and this became the mardi gras.
Basically, the Carnival has always existed, but over the centuries has evolved into what it is today. During the first and second world wars, the King (at the time) could not leave the city… from then on it became kind of a joke and now every year, the King of (something) is the theme, with some kind of deep meaning behind it but with humorous undertones…
It takes place during two weeks in February every year (the exact dates change from year to year – see below).
Today the event attracts over a million visitors to Nice every year.
The theme in 2017 was Roi de l'Energie (King of Energy).  It was talking about different energies: electric, fossil fuel, wind, solar, hydraulic, renewable… which is a very serious topic indeed, but they use humour and over the top floats to make a serious topic fun(ny) which I loved!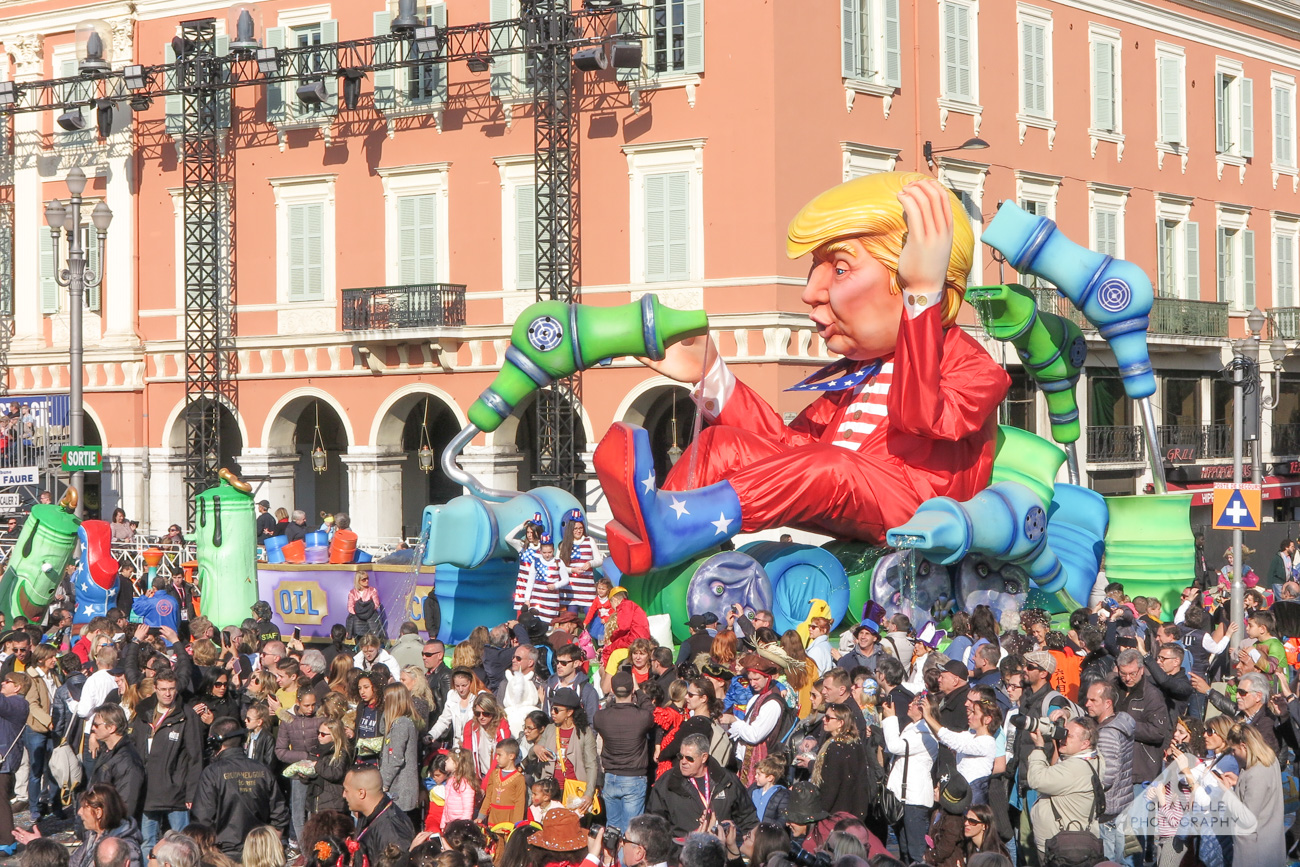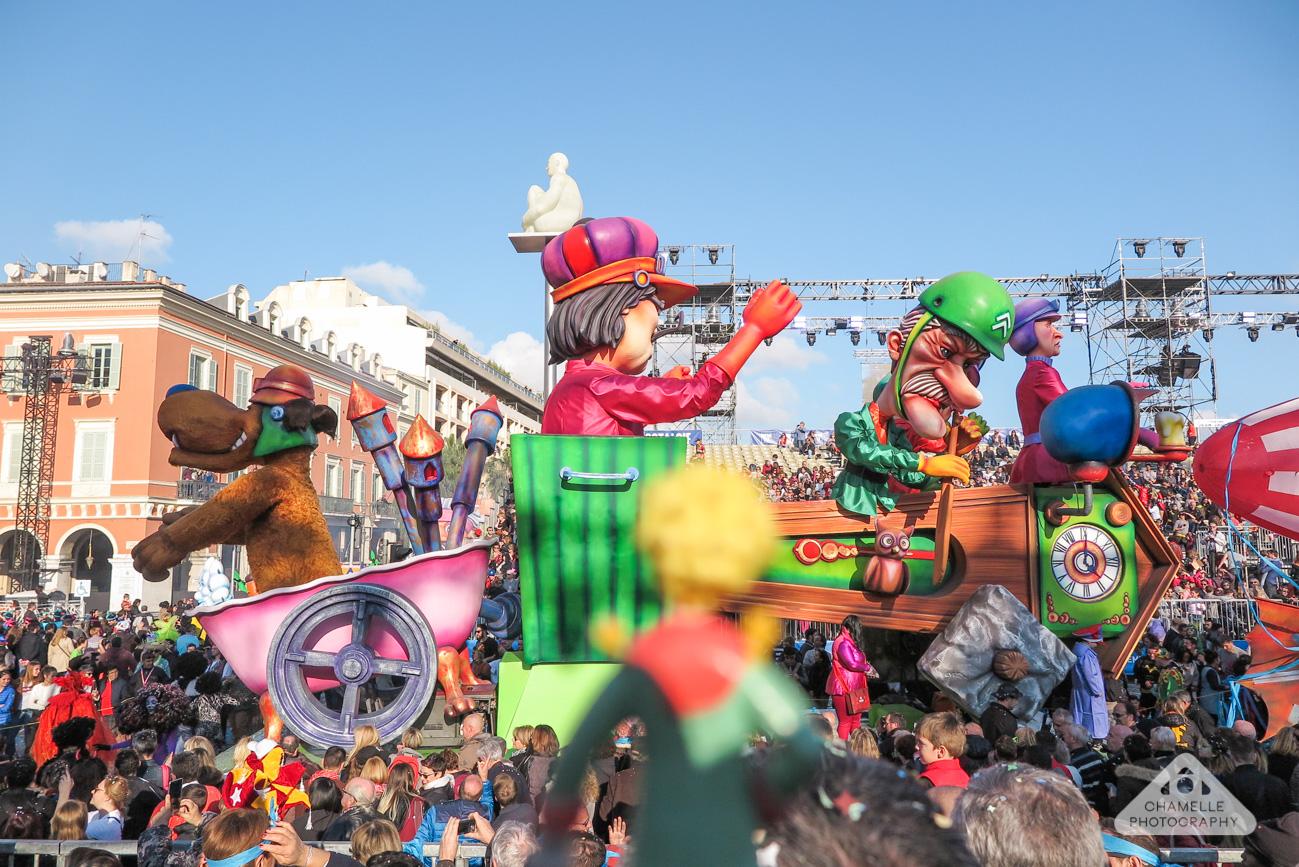 The parades also feature well known characters from pop culture and the media.. I (and The Little Prince) recognised Donald Trump and Dastardly and Muttley (from the cartoon series)! Hilarious!
2018 marks the 134th edition (of the current version) and the theme this year is Roi de l'Espace (King of Space).
Facts and figures of the Nice Carnival (per year):
30-35M Euros: the amount of tourism euros brought in due to the Nice Carnival
1-1.5M visitors (Nice gets 5M visitors total/year so you can see how big the Carnival is)
20,000 kg of confetti thrown
5,000-8,000 fresh flowers thrown out during the Flower Parade/Flower Battle (Bataille de Fleurs)
4,000: Number of hours of work gone into organising it (over 6 months)
1000 dancers/performers
724: Number of  years it has been running
300 members of the press (from 19 countries)
200 private agents
120 police and gendarmes
60 troupes
50 security/surveillance cameras
36 secured entrances
15-20 floats and giant papier-mâché heads or "Kings"
15 countries represented
12x3m: the size of the giant heads/Kings
The Nice Carnival (Carnaval in French) was one of the coolest things I'd ever seen. If you've been following me for a while you'll know that I love costumes. I'm just crazy about costumes, any kind! At the Nice Carnival I got to see hundreds of incredible costumes.. actually I shouldn't even call them that as they were more like enormous floats… but the people accompanying them were wearing amazing, colourful and elaborate costumes.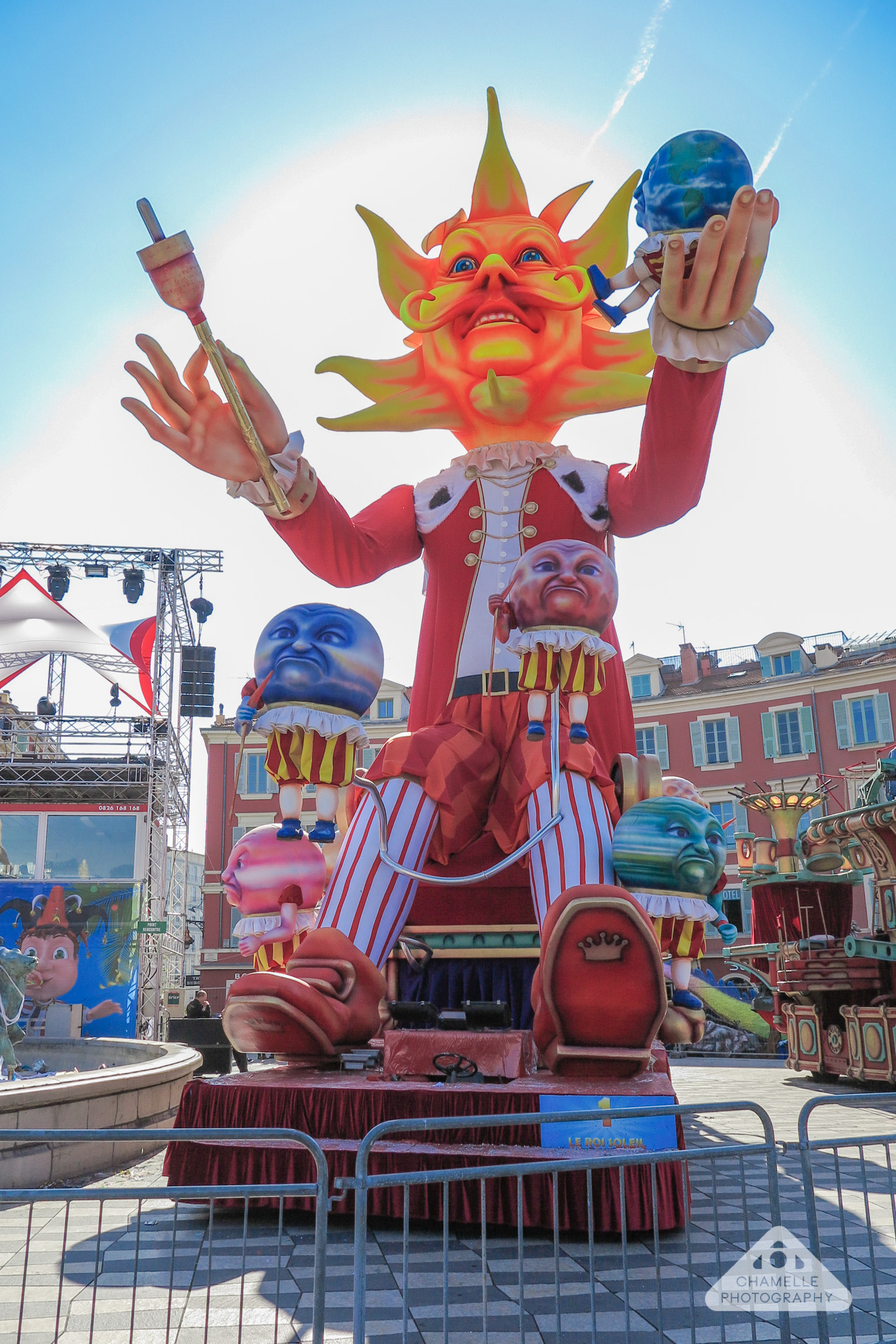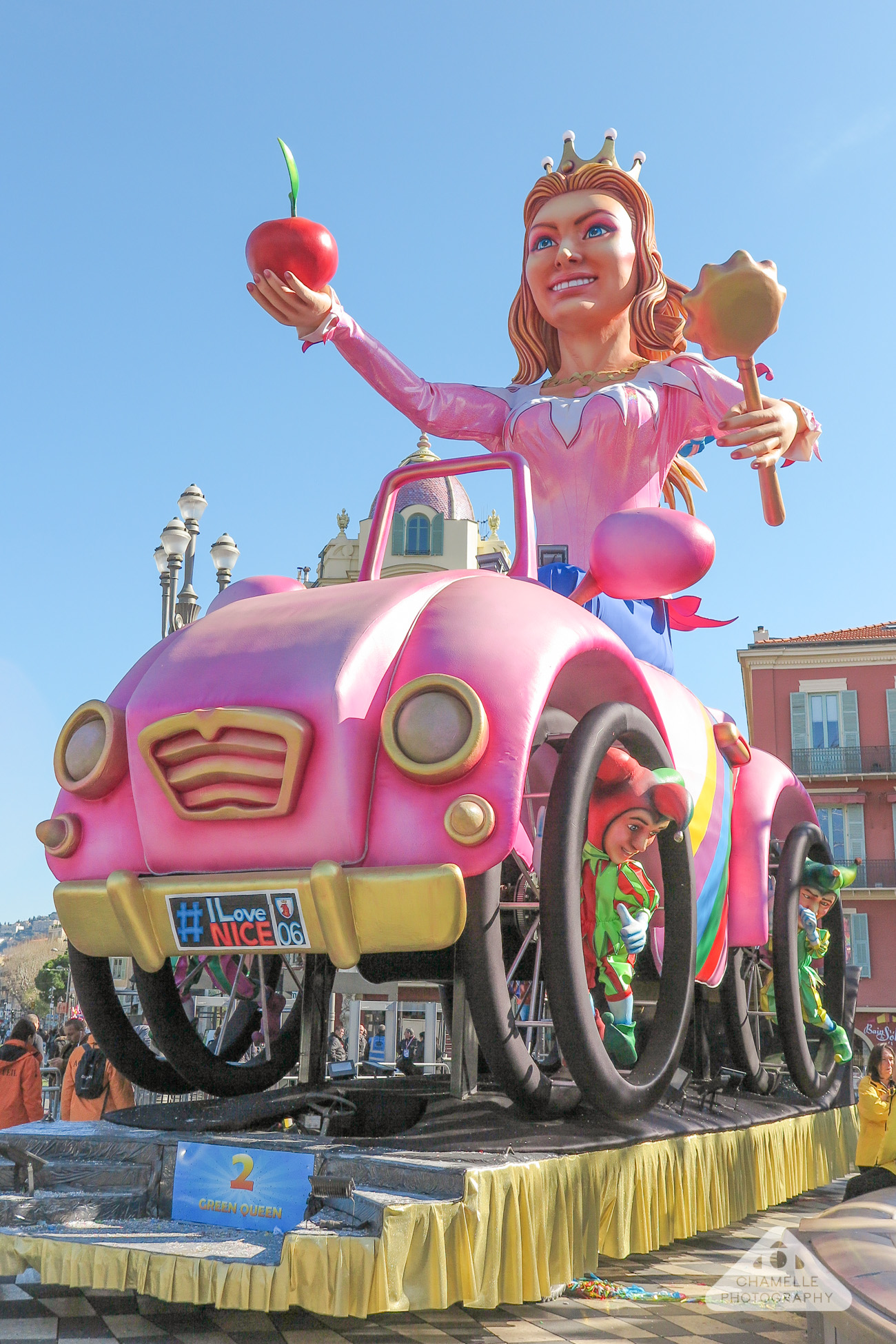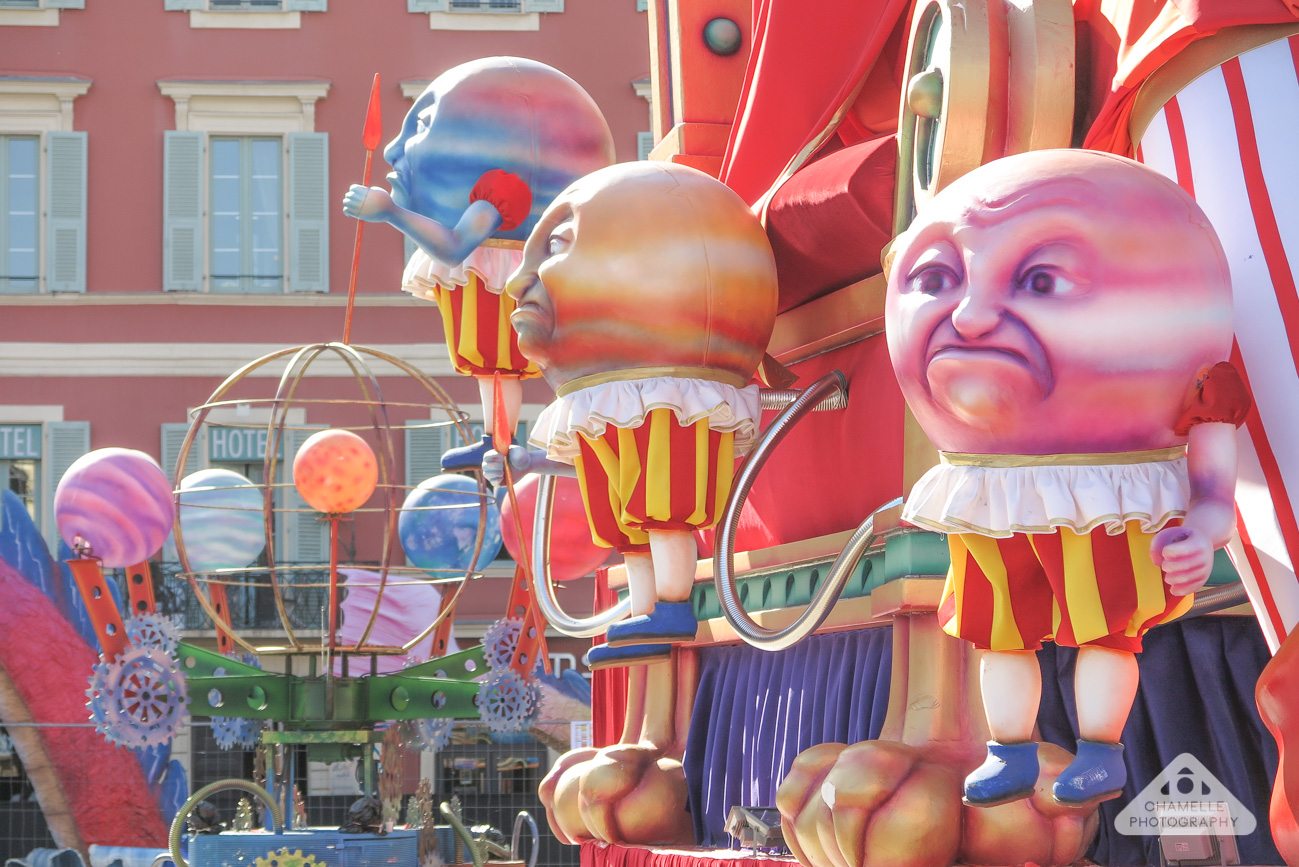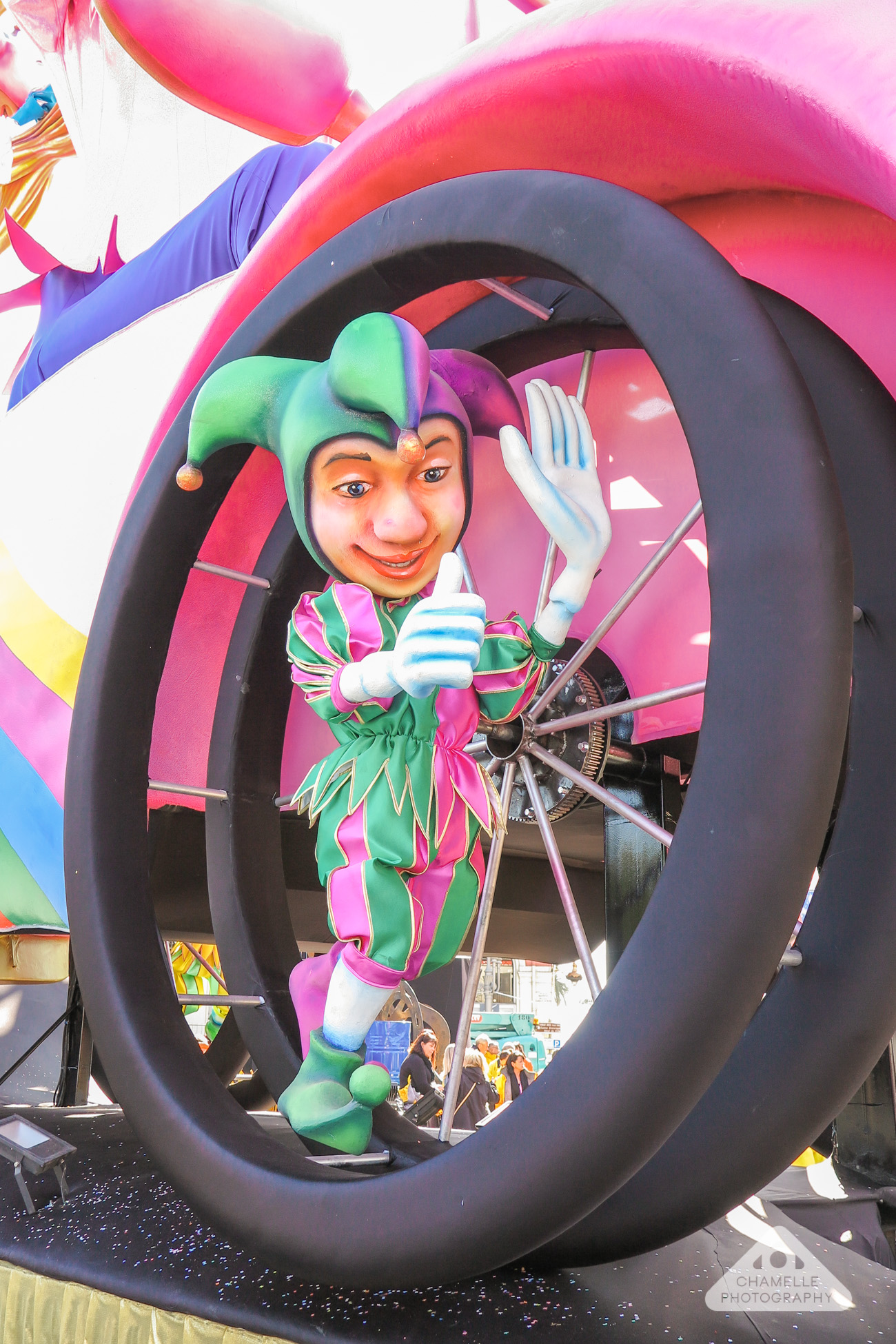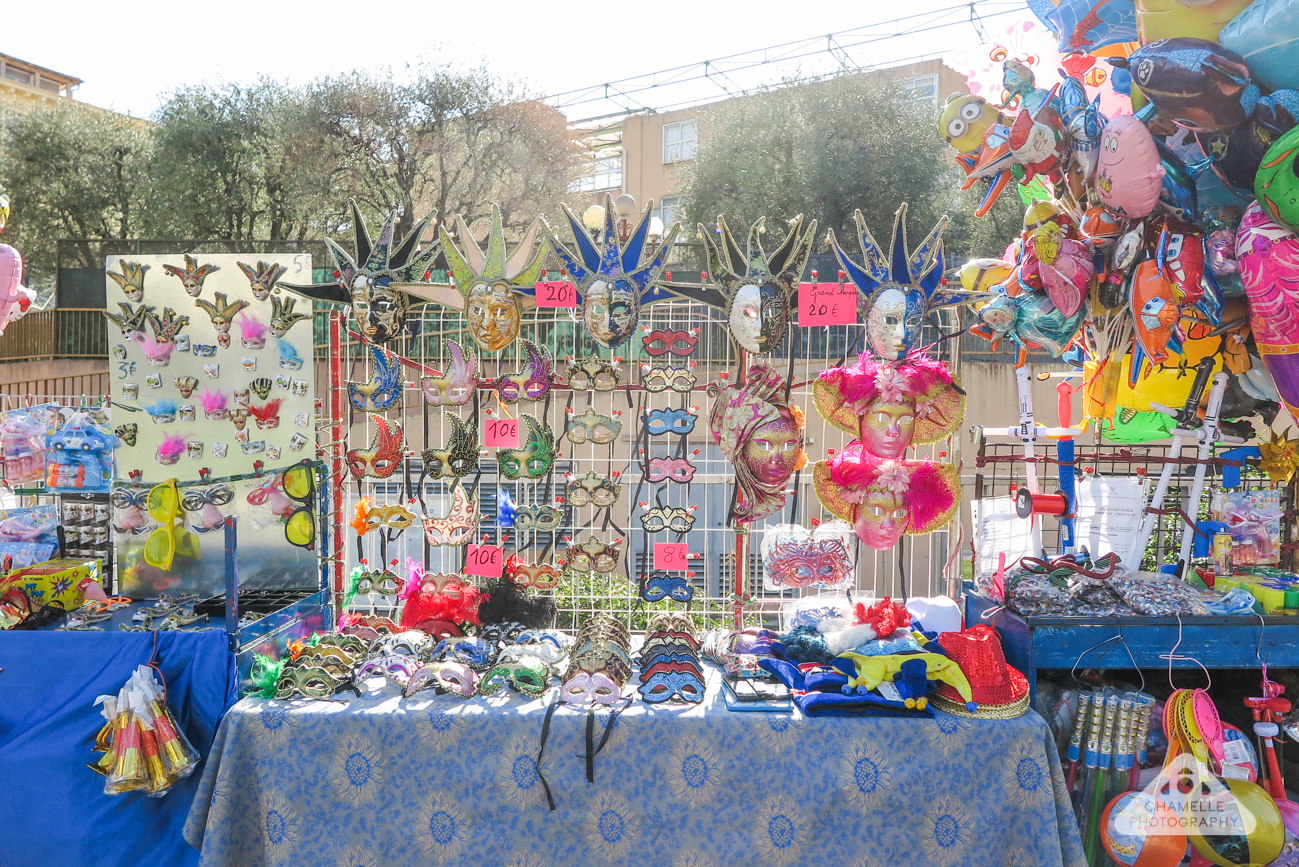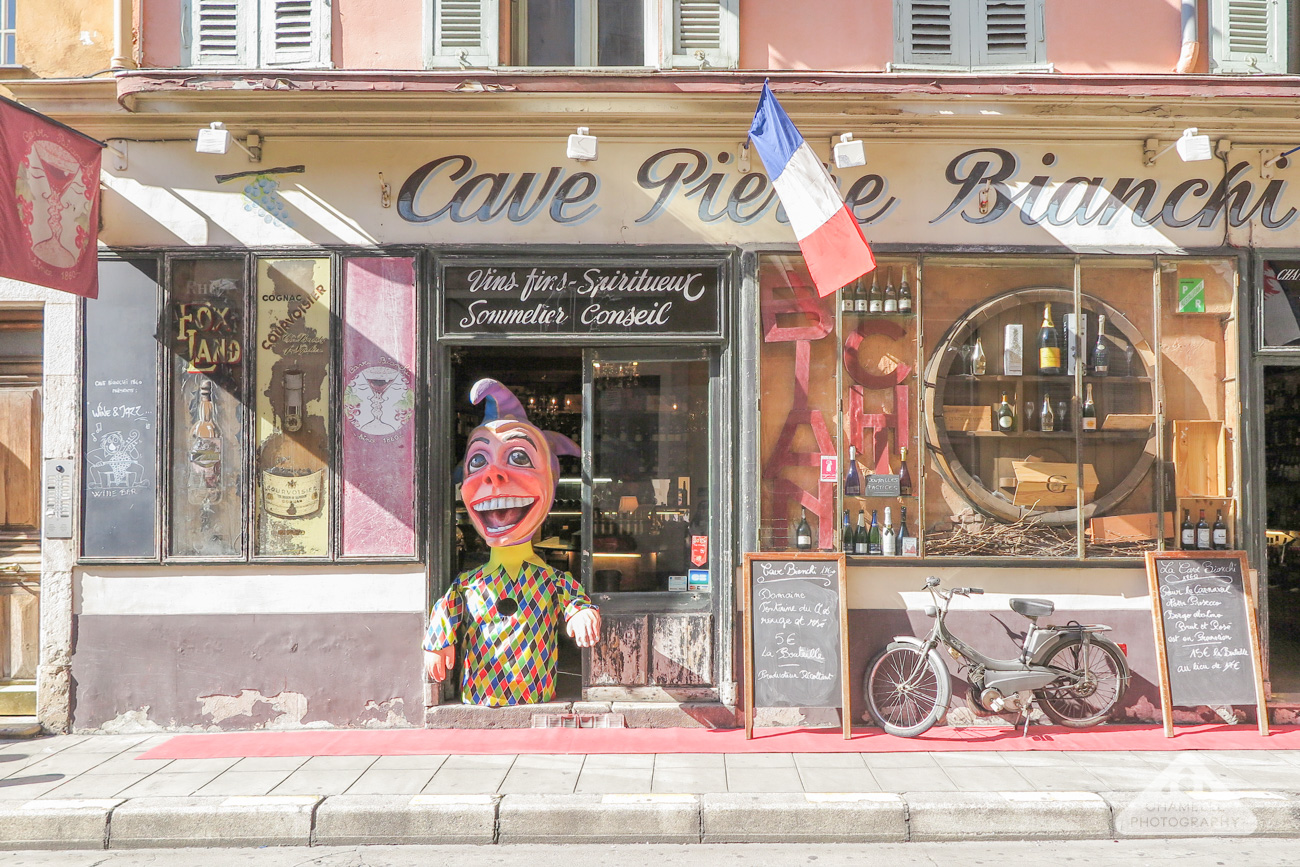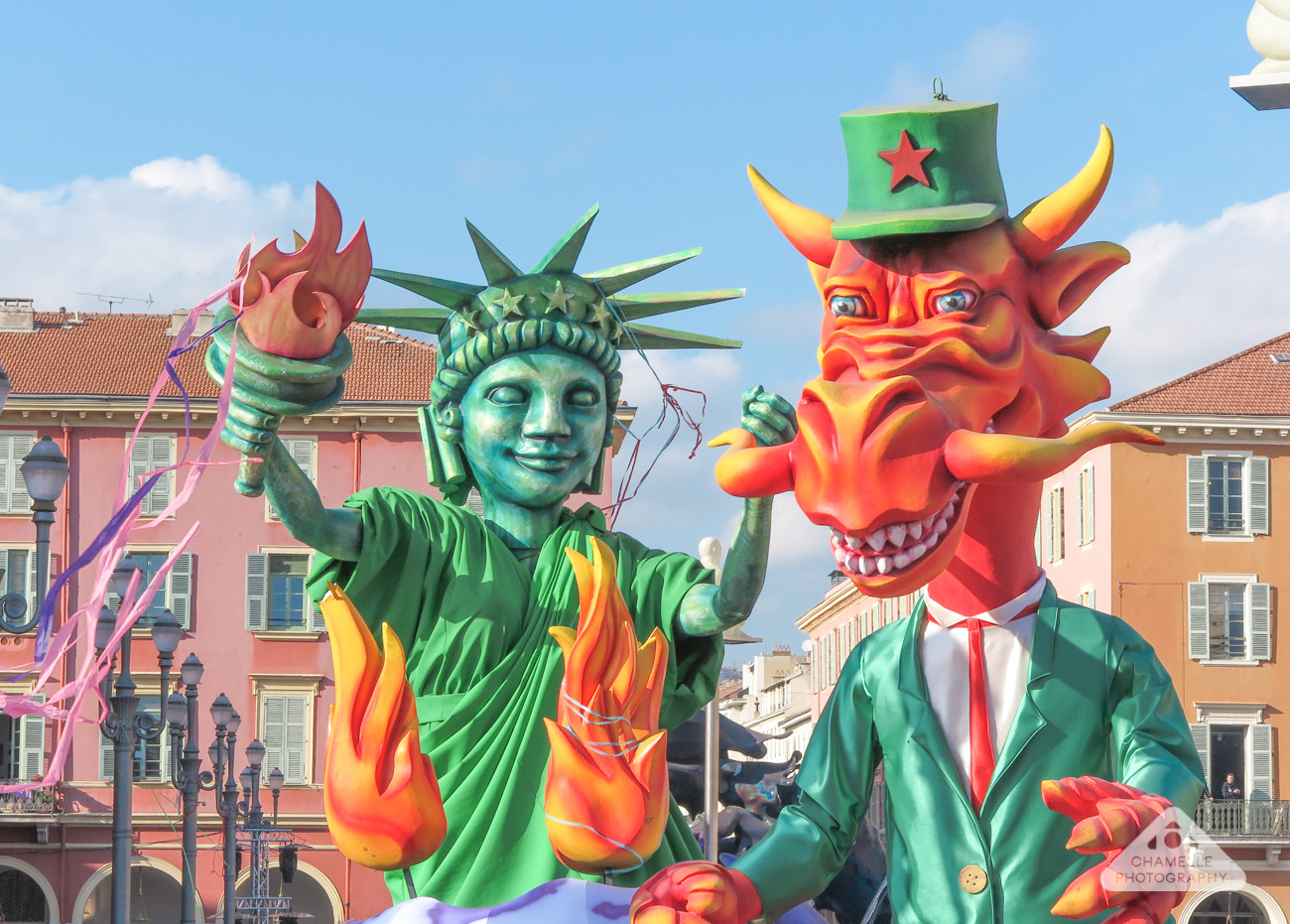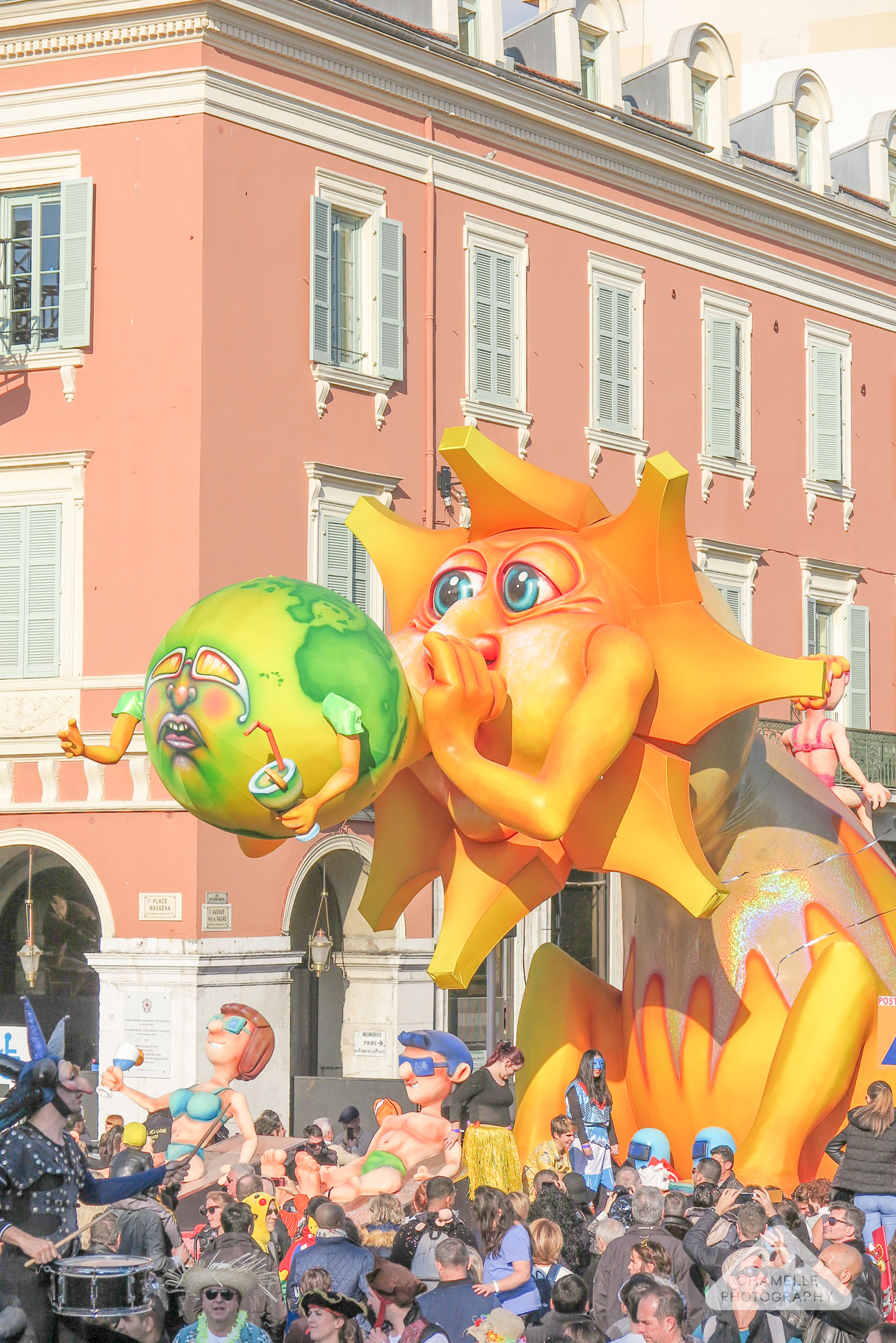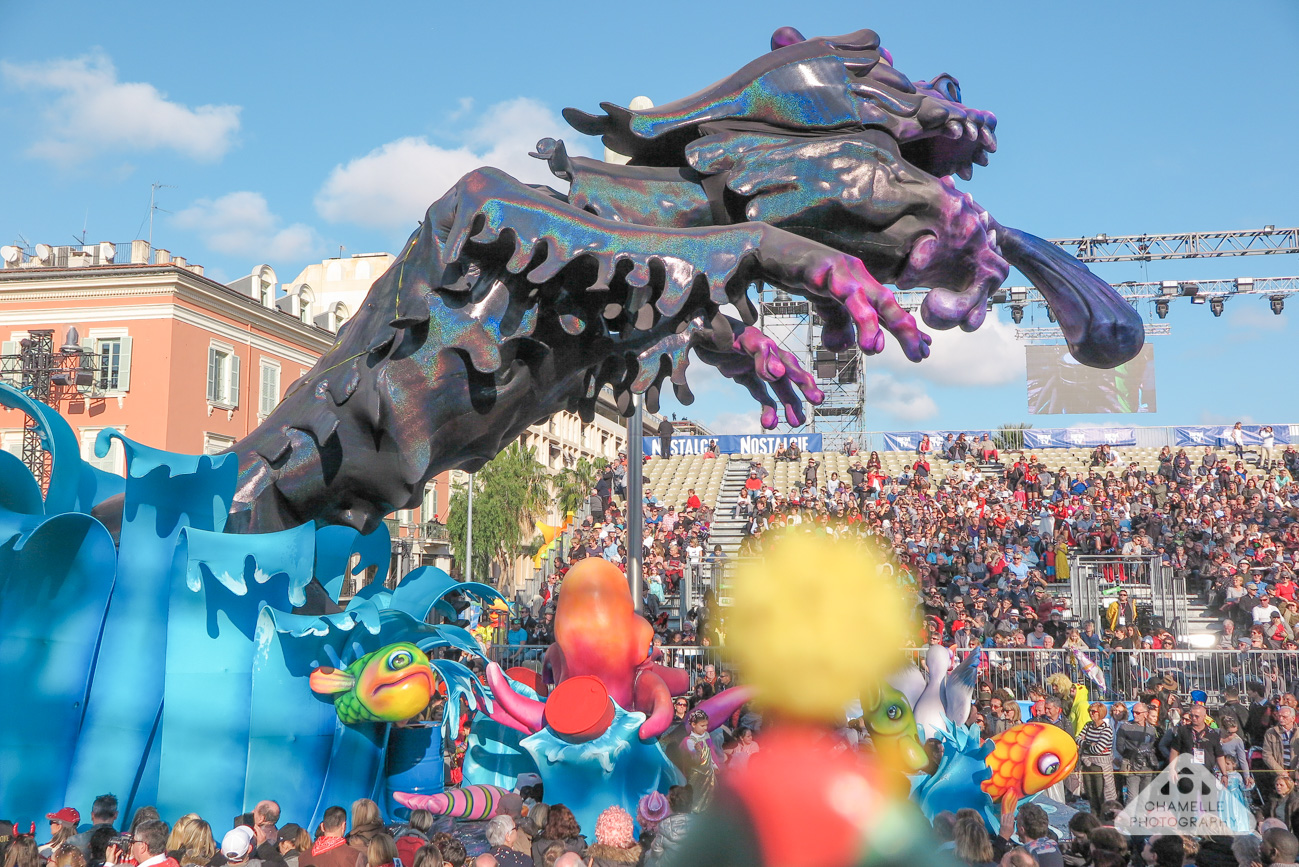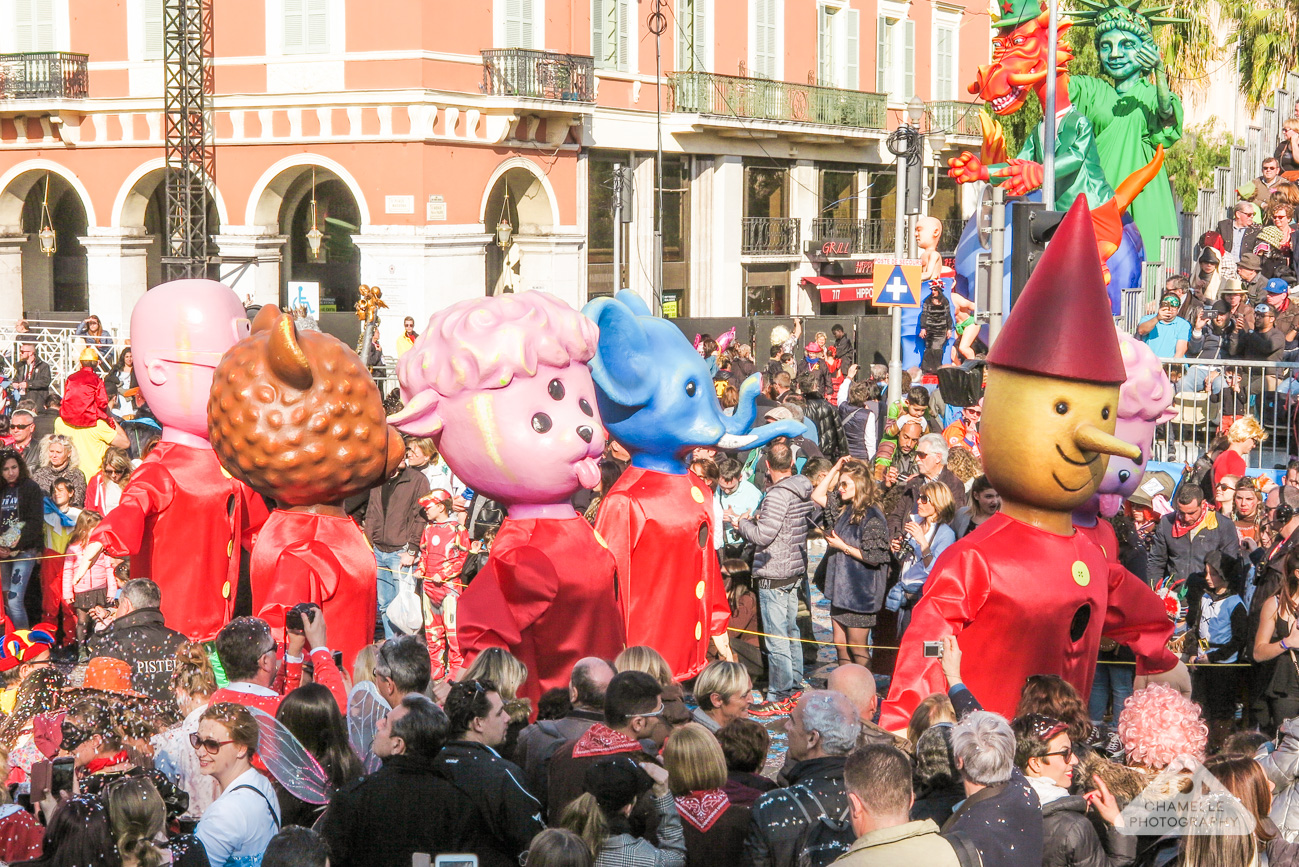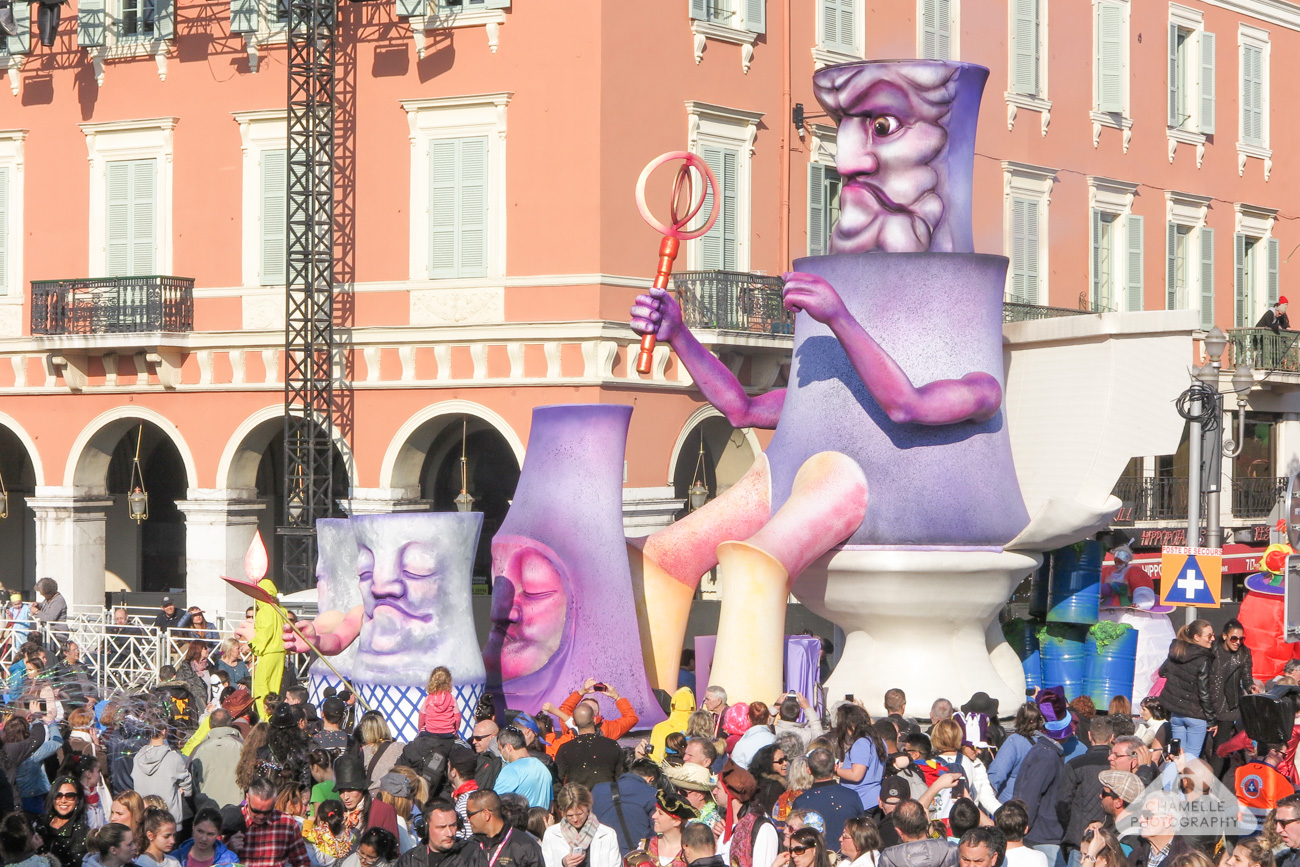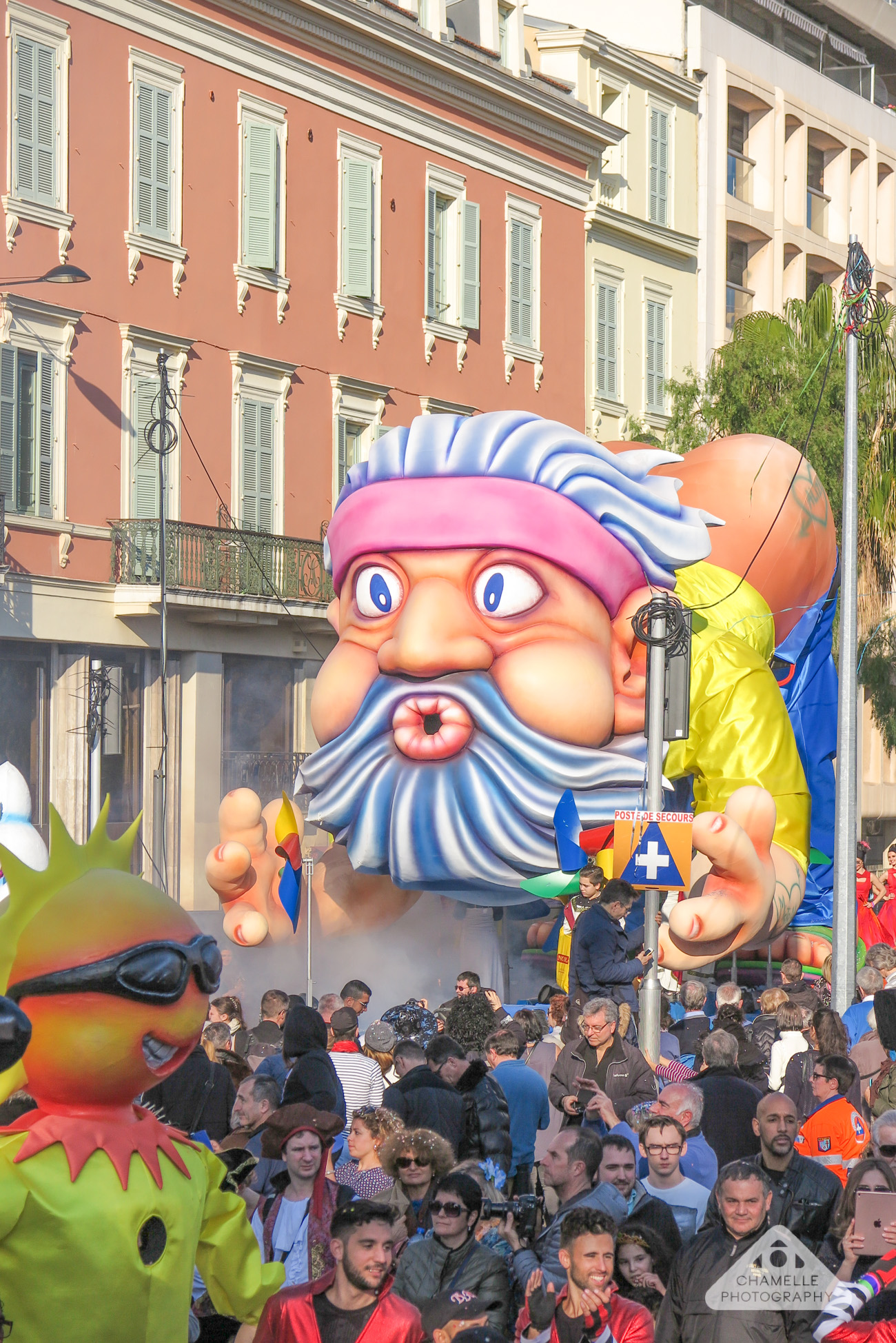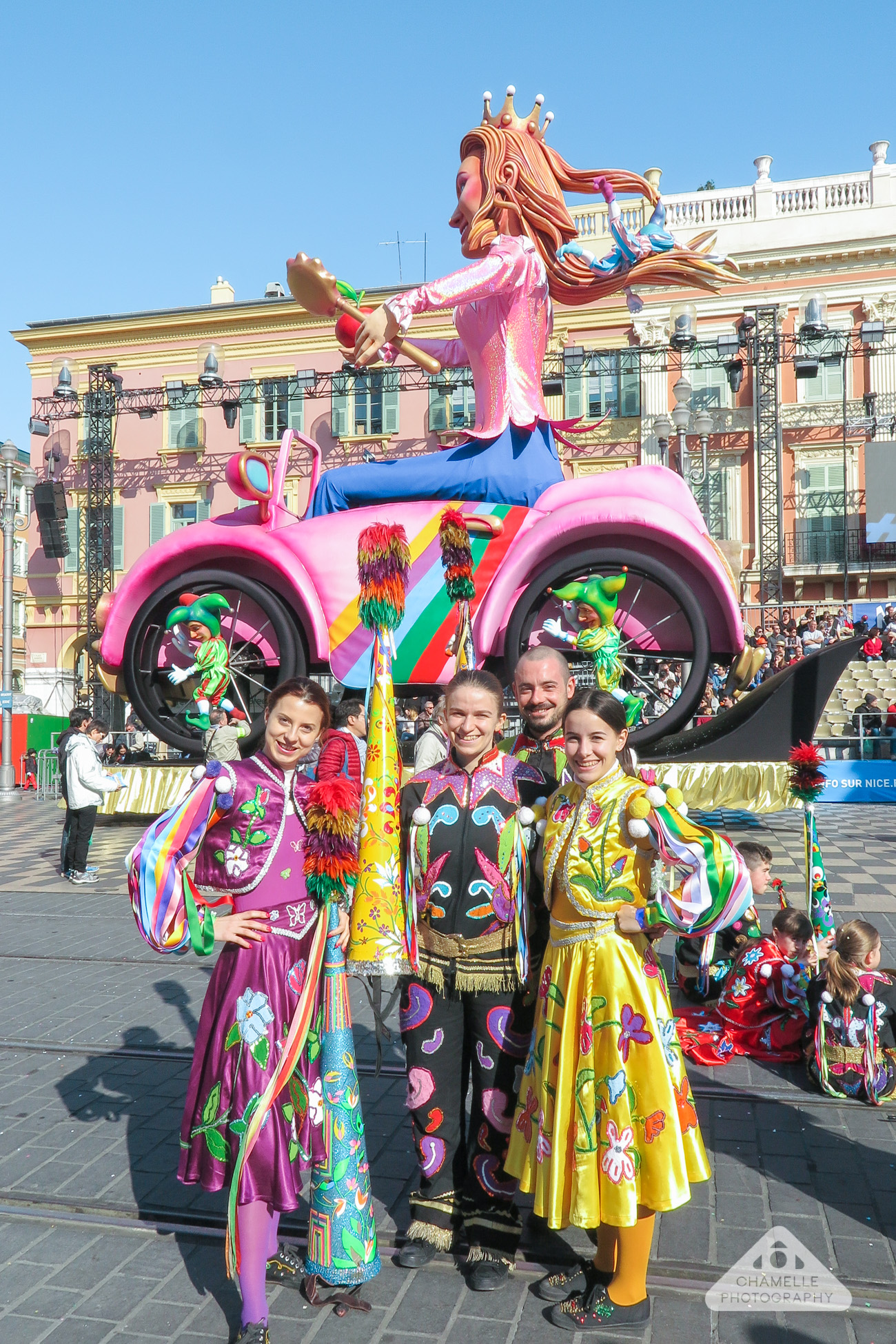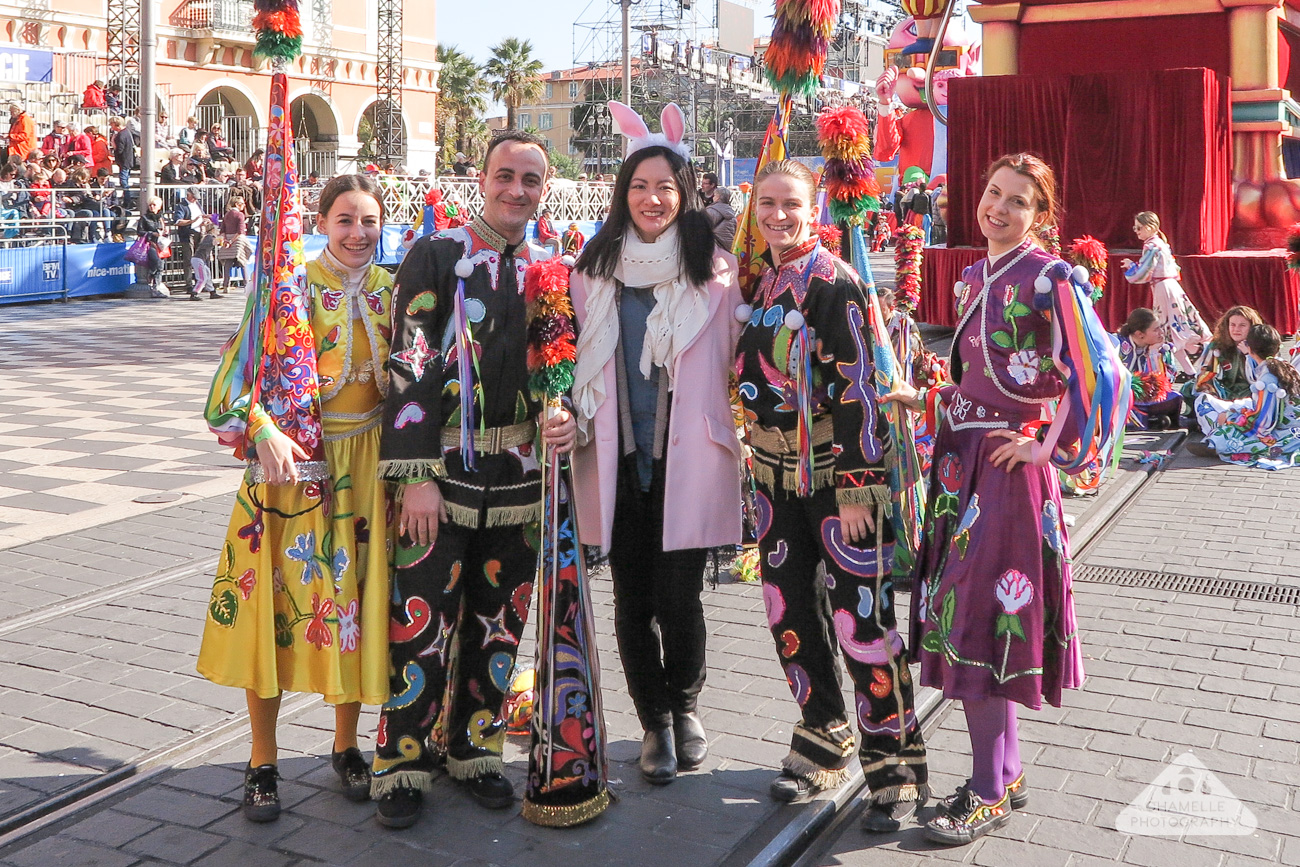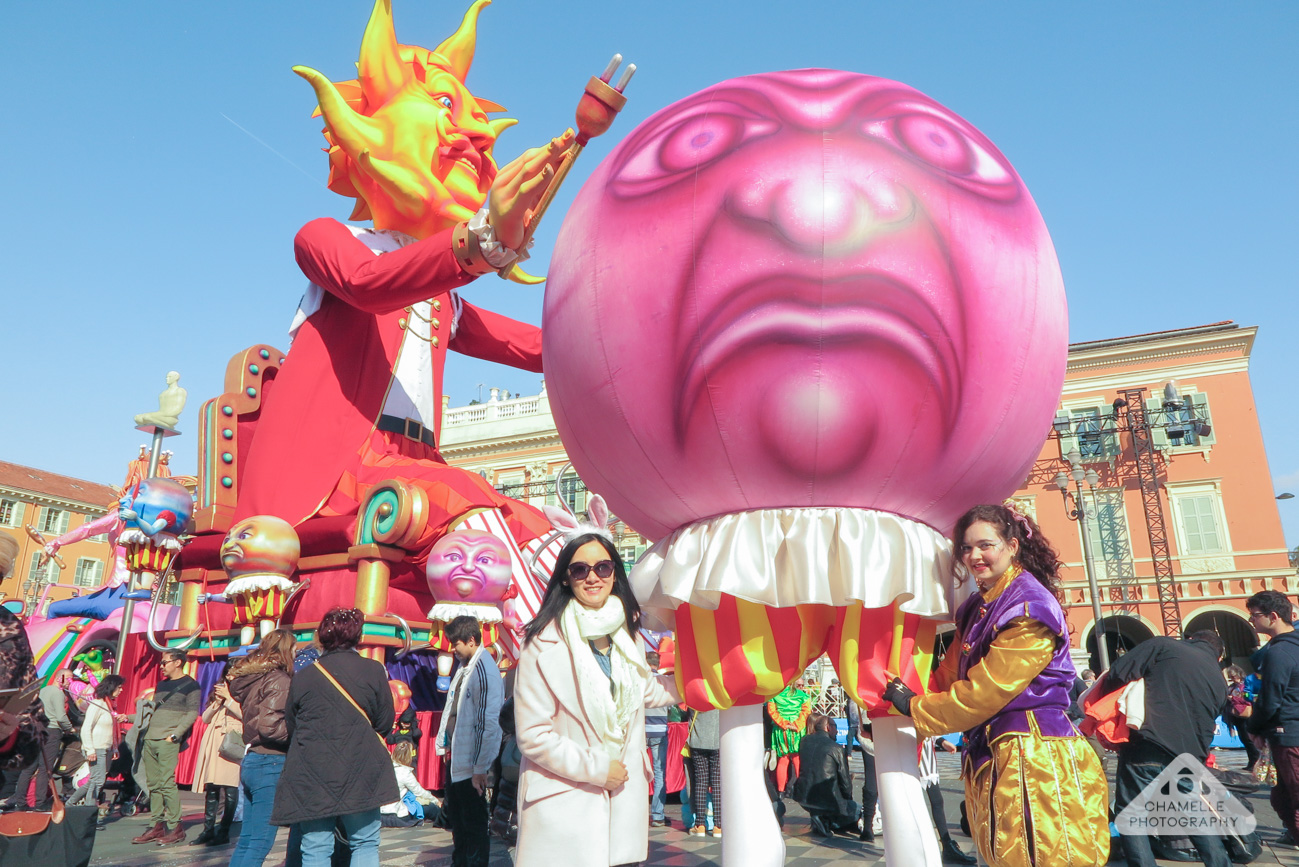 The day parade takes place on a Sunday halfway through the two-week festival. This was the main event I came to Nice to see! It was awesome!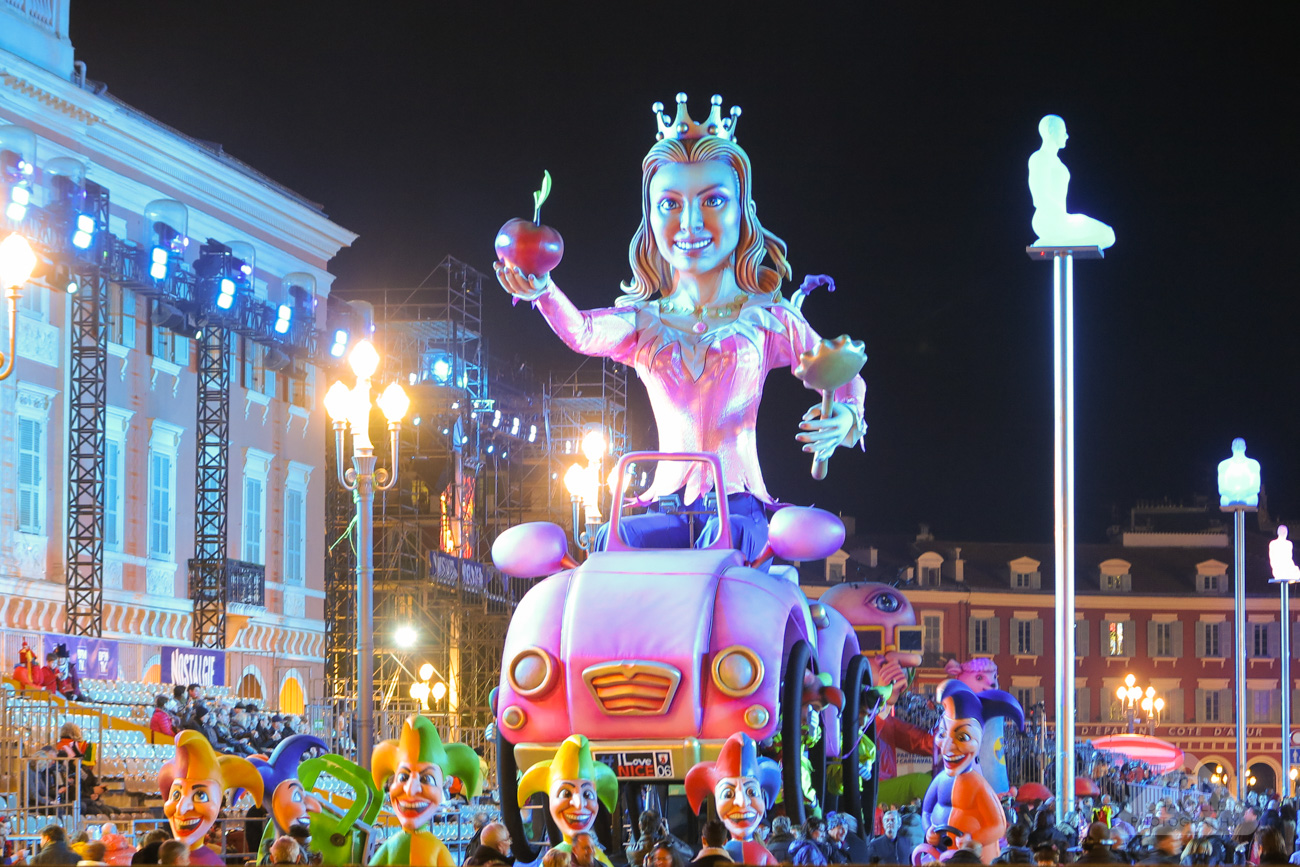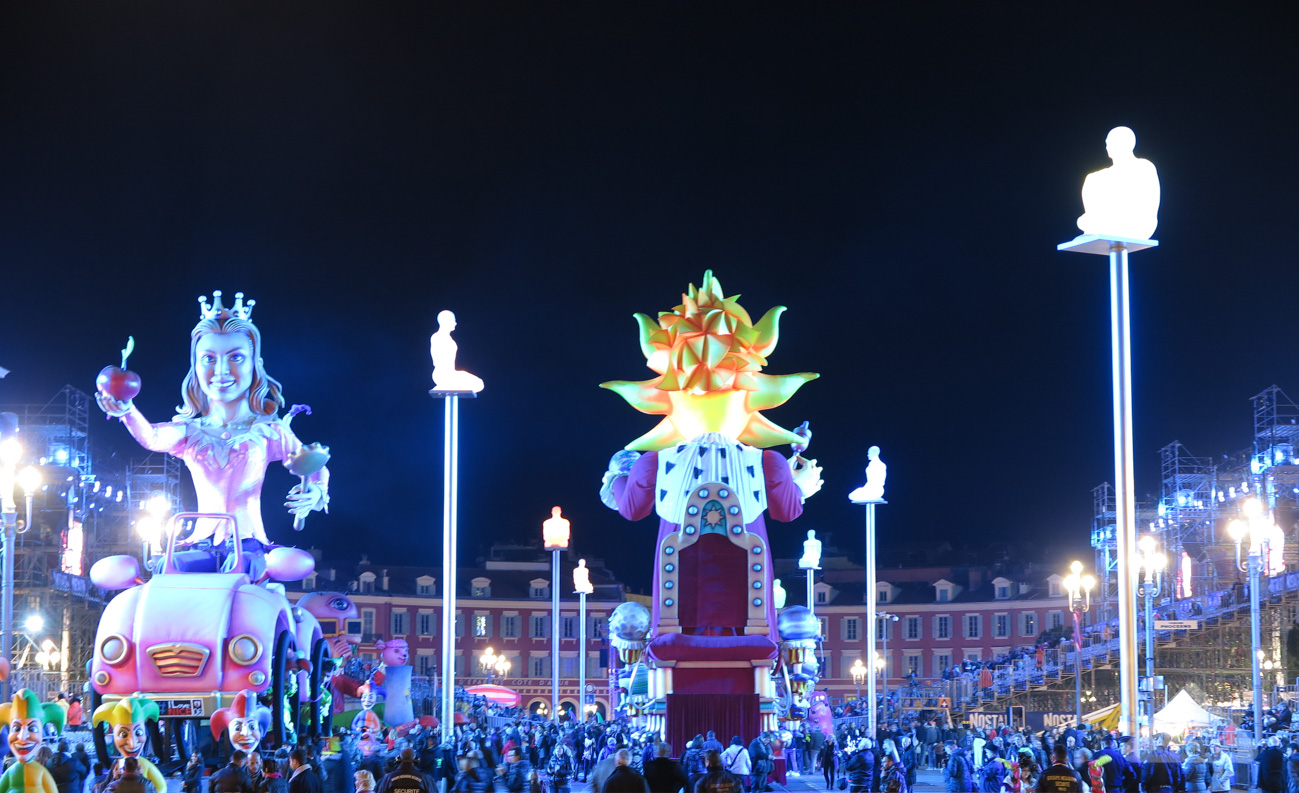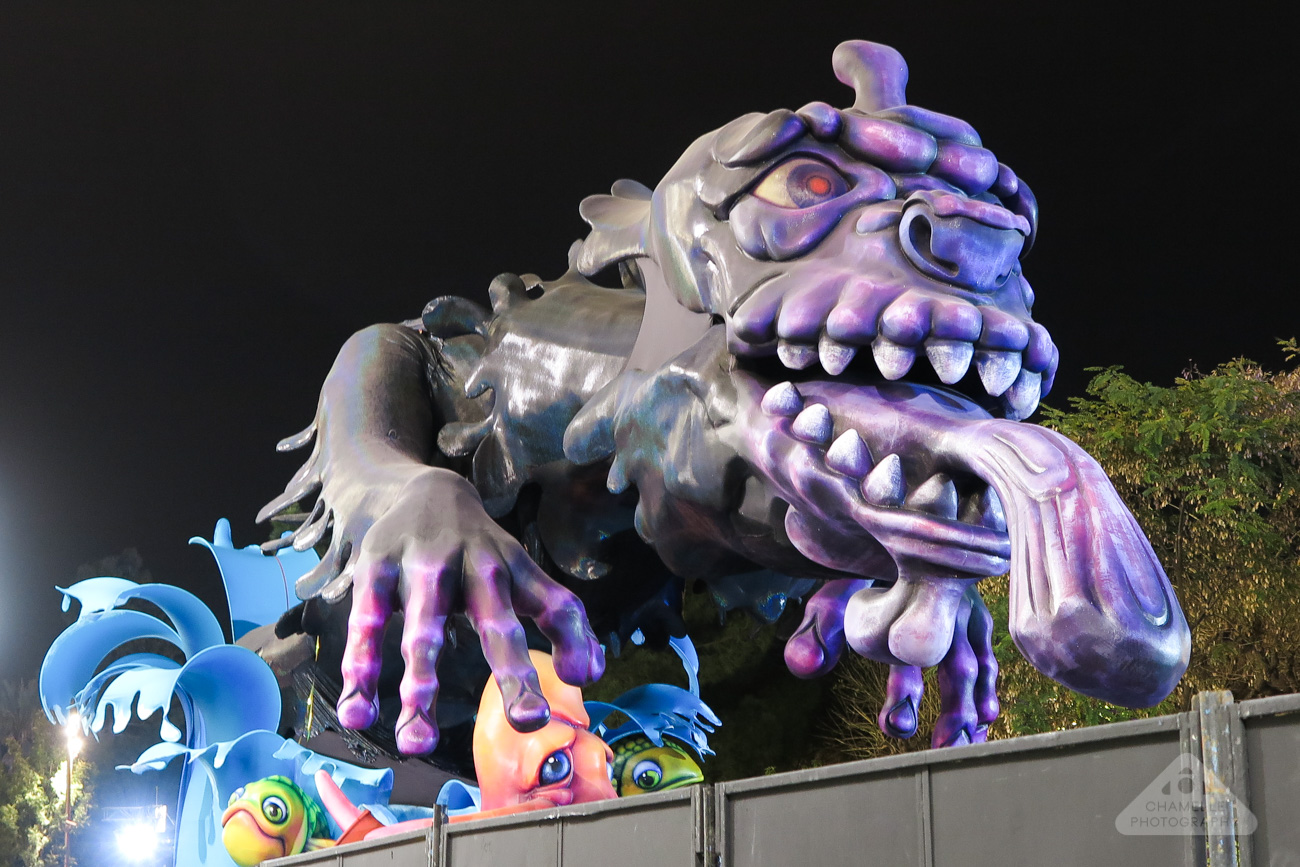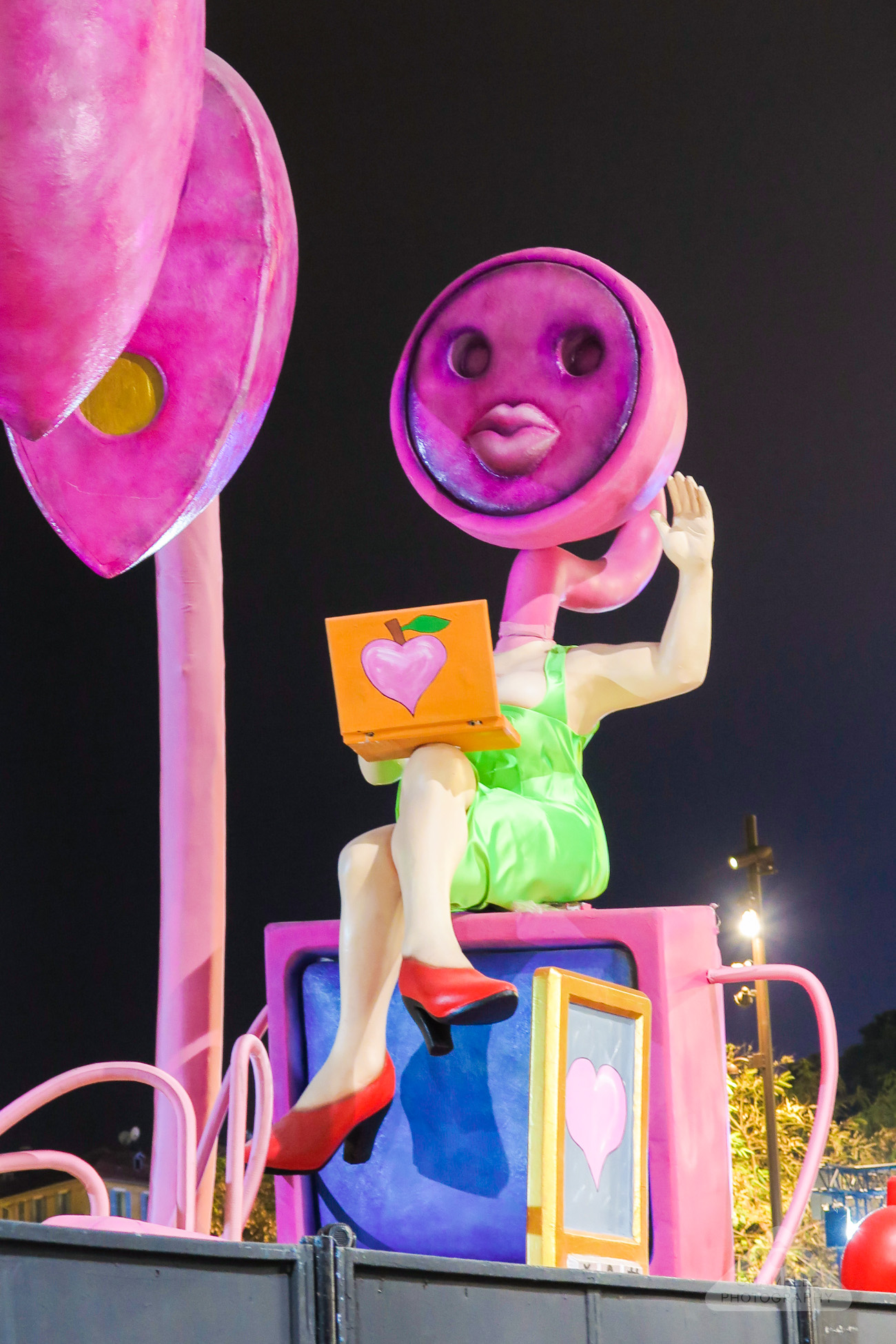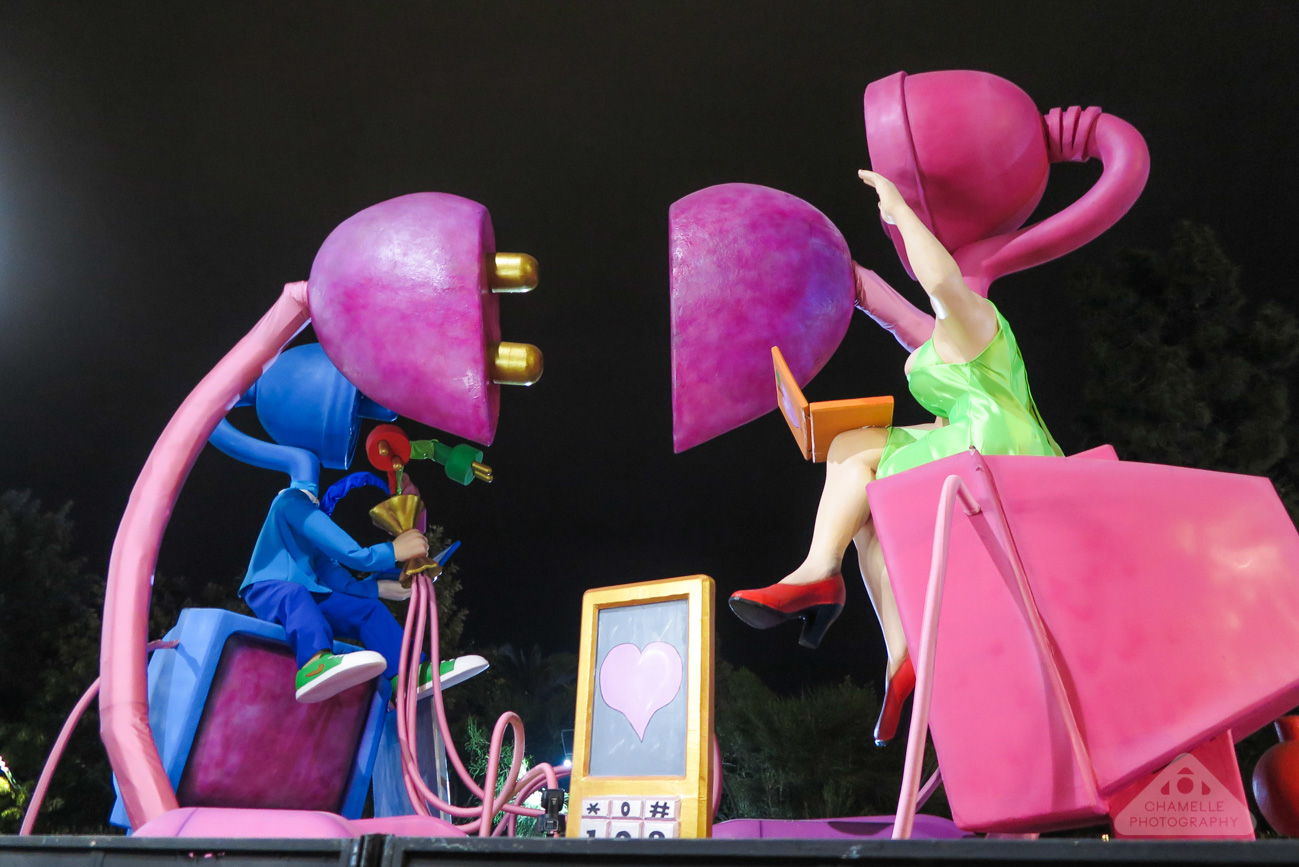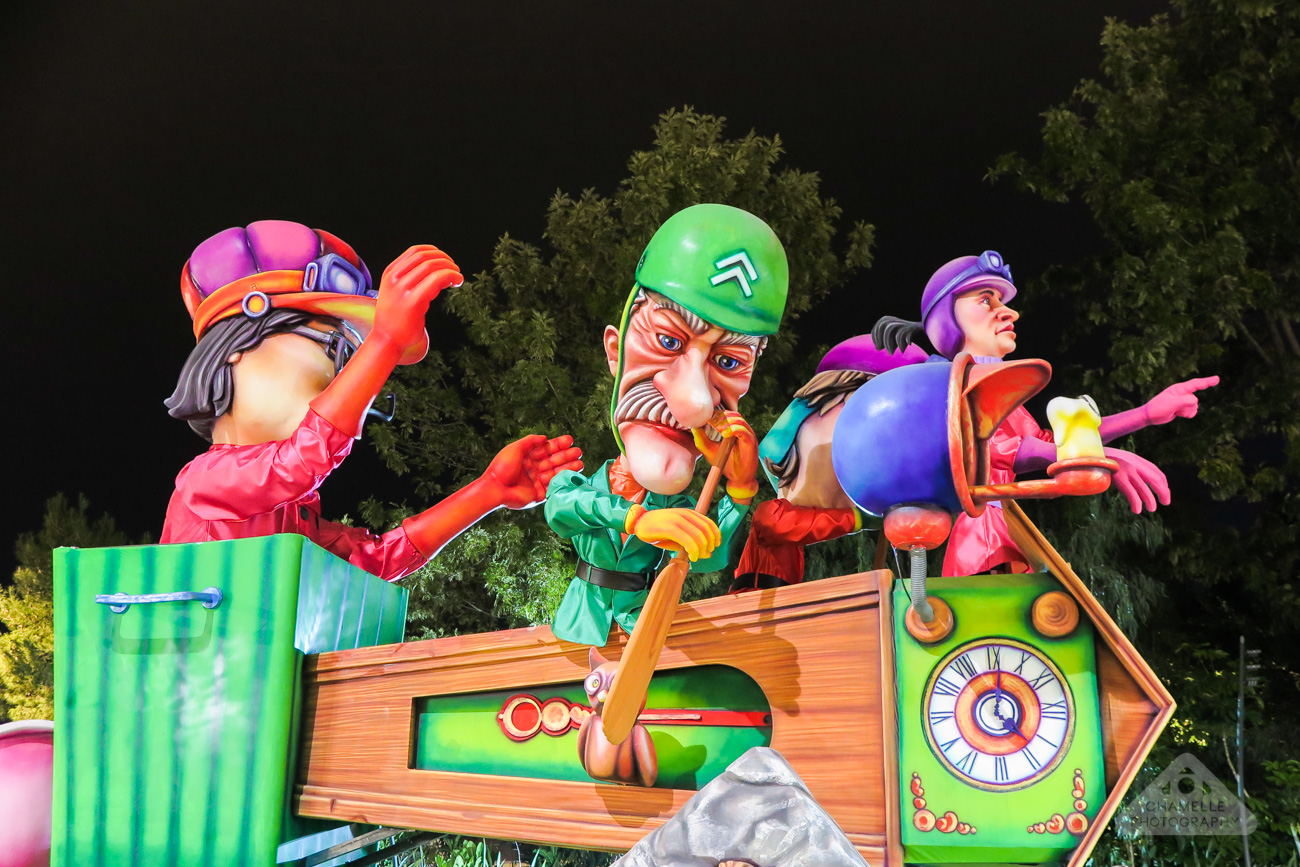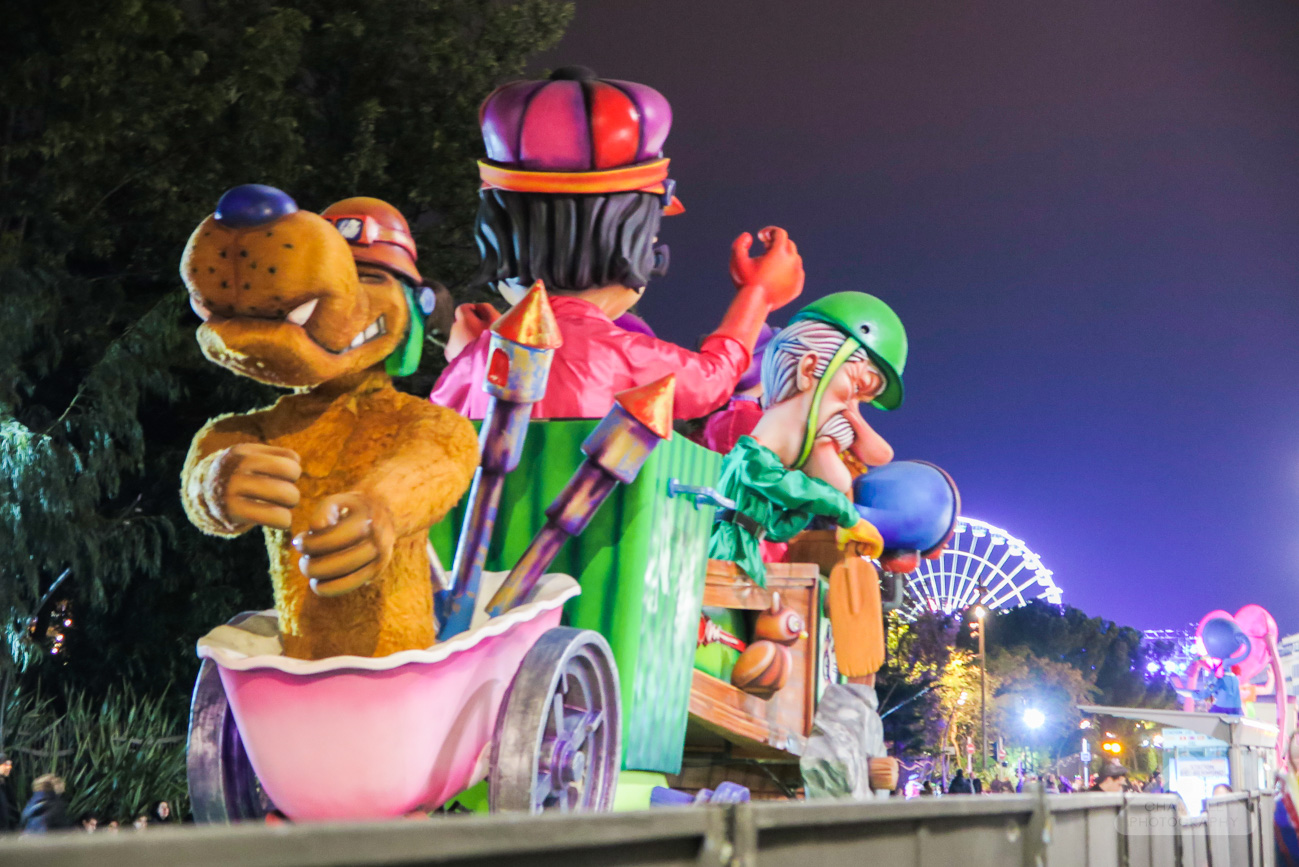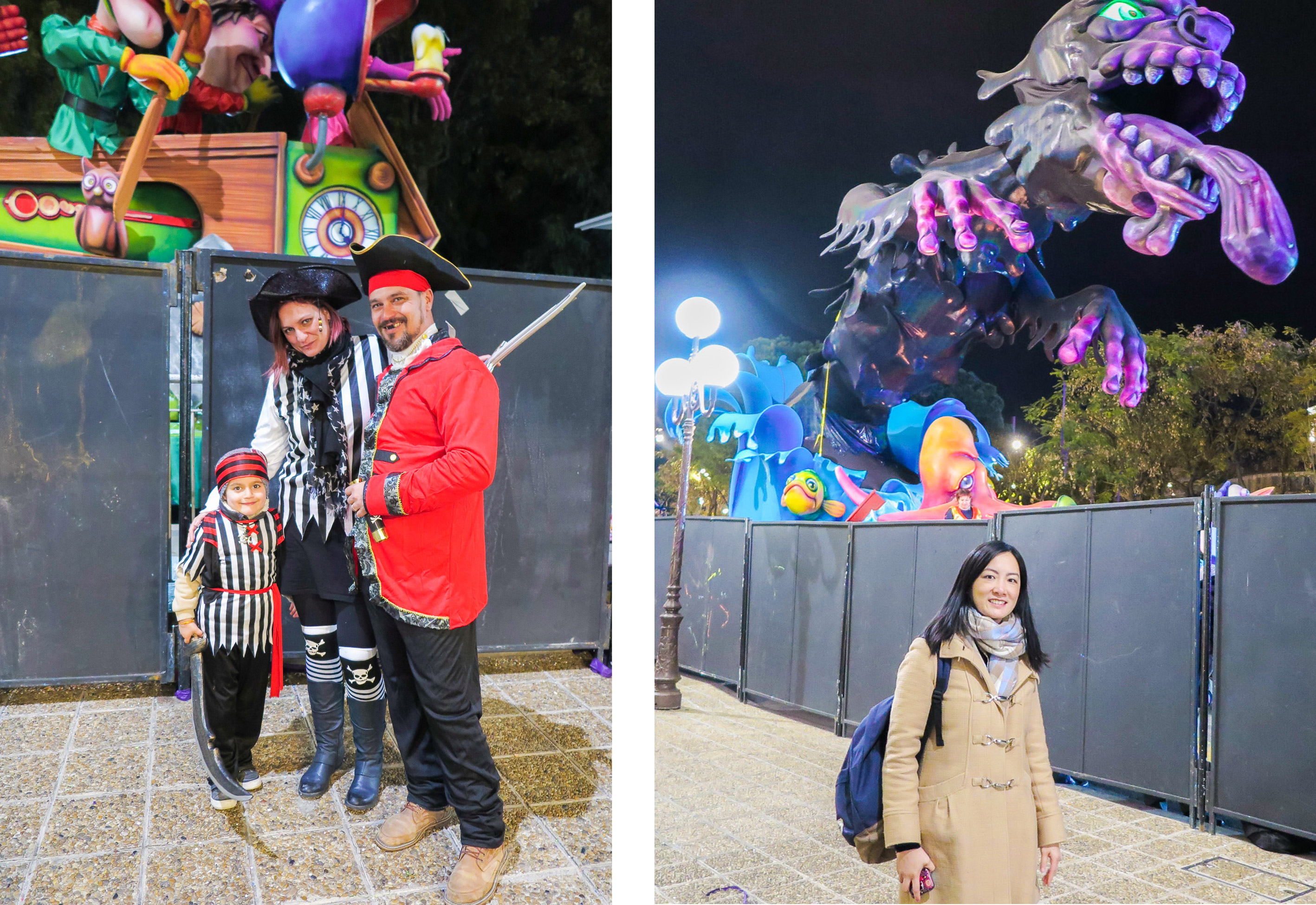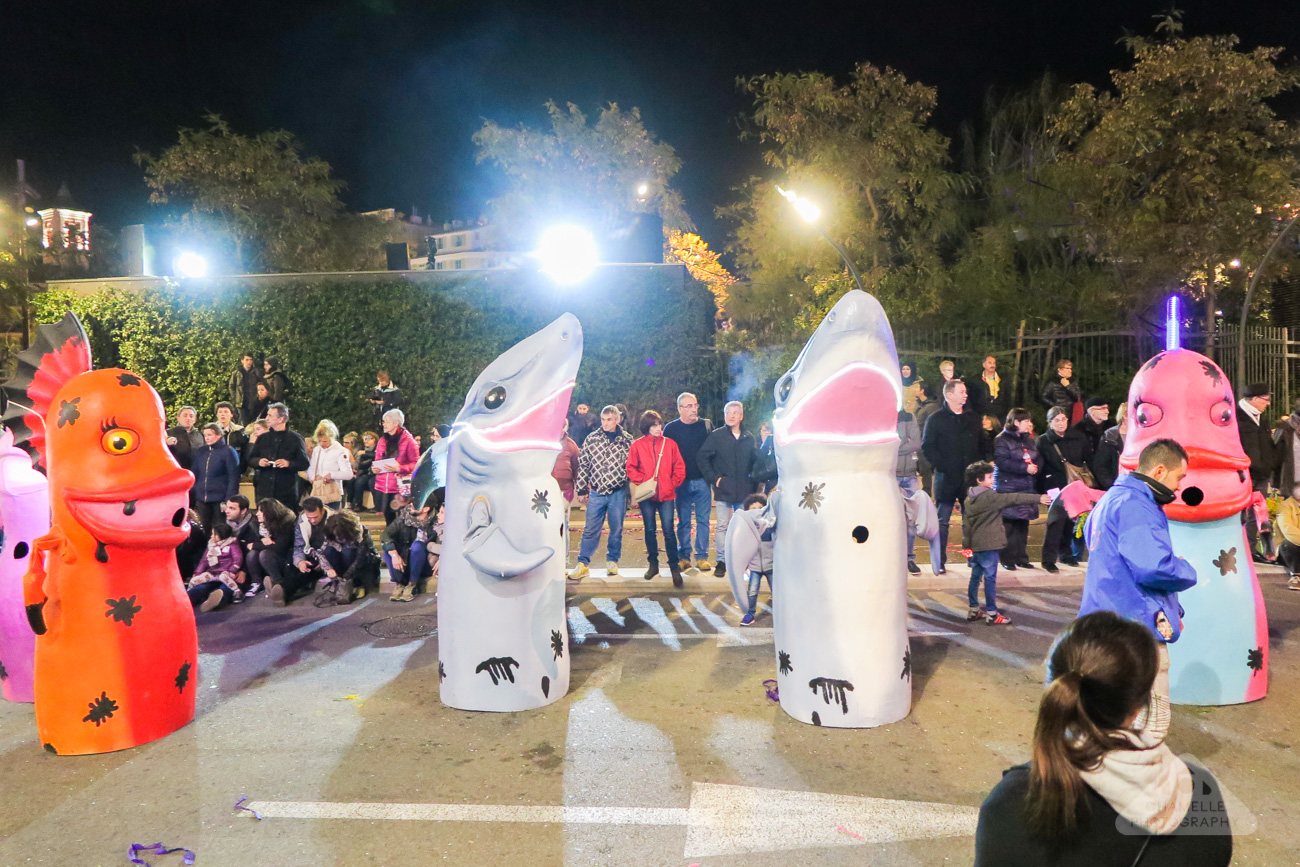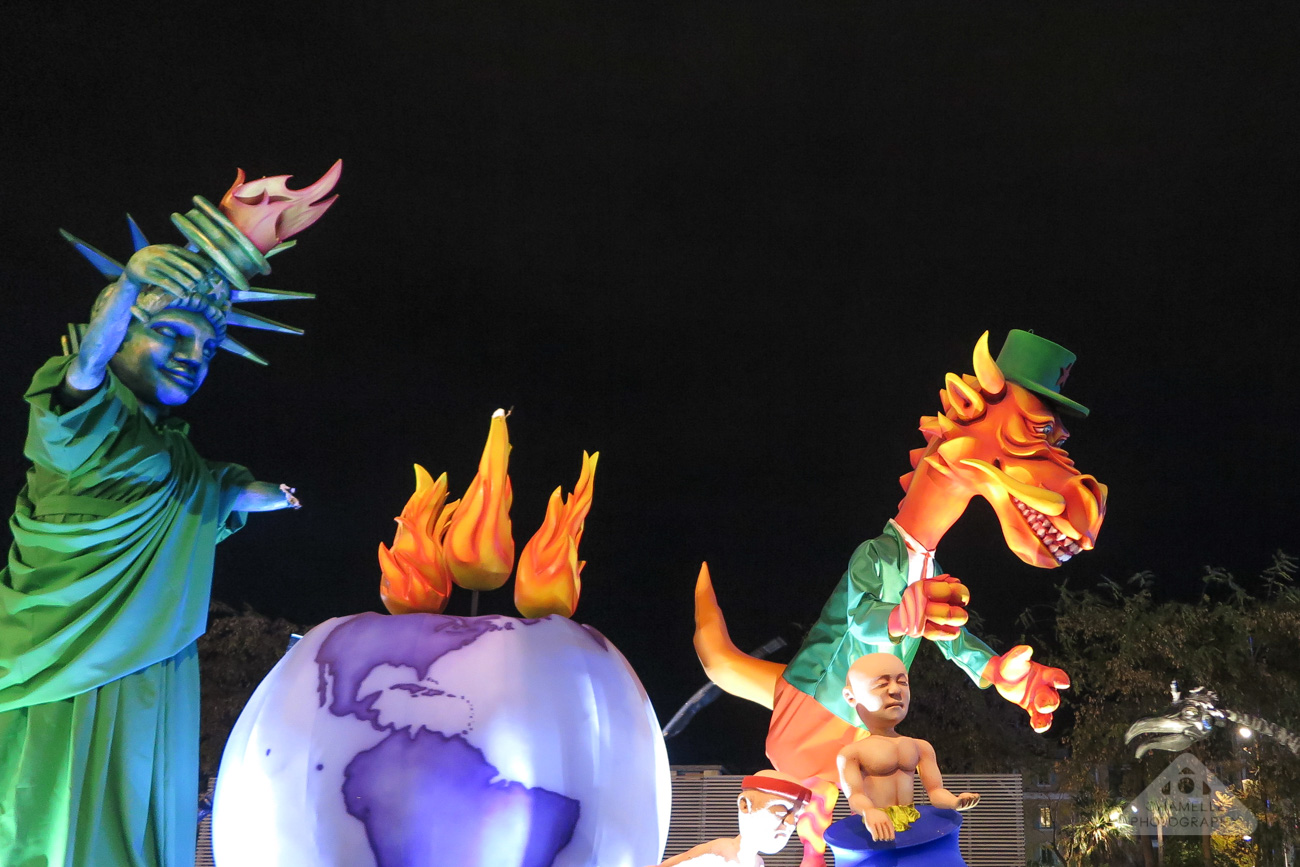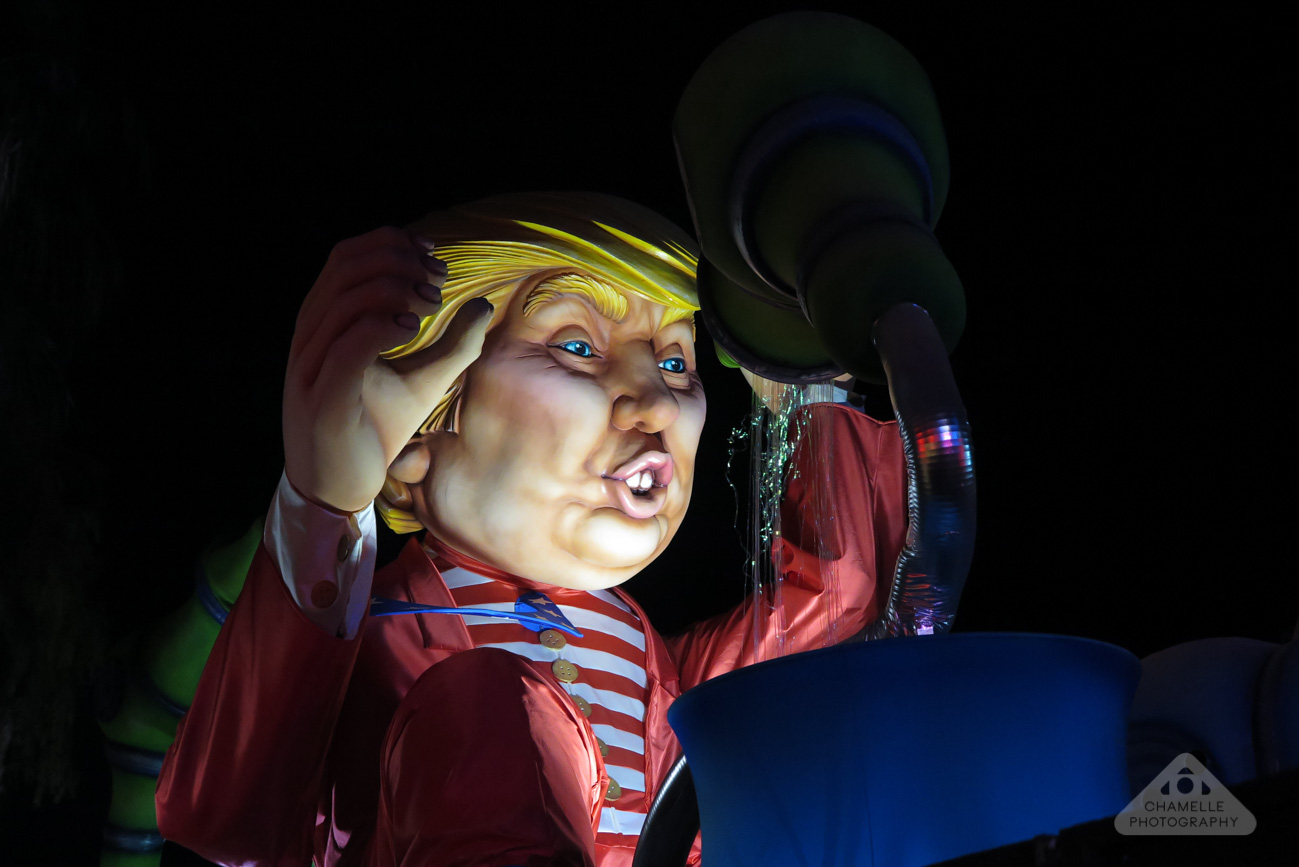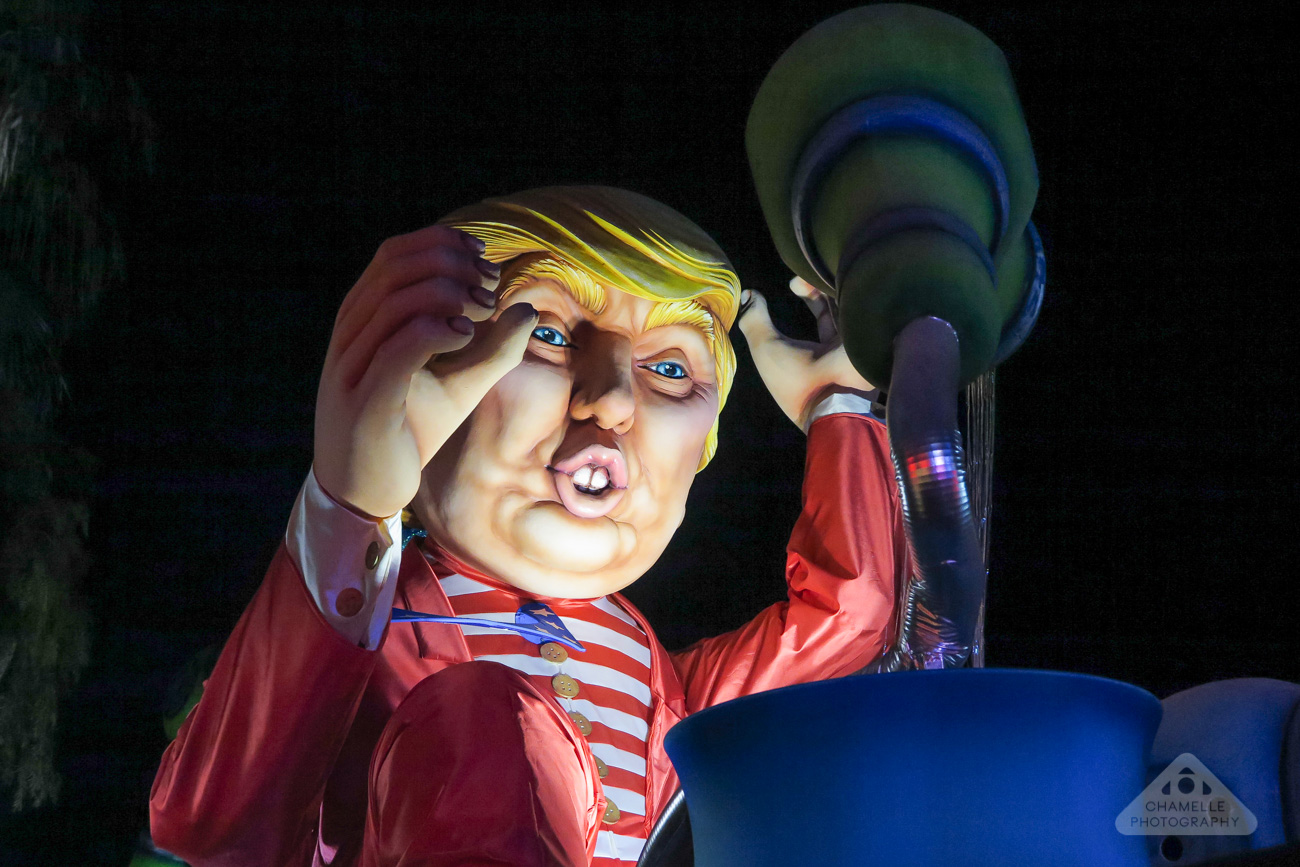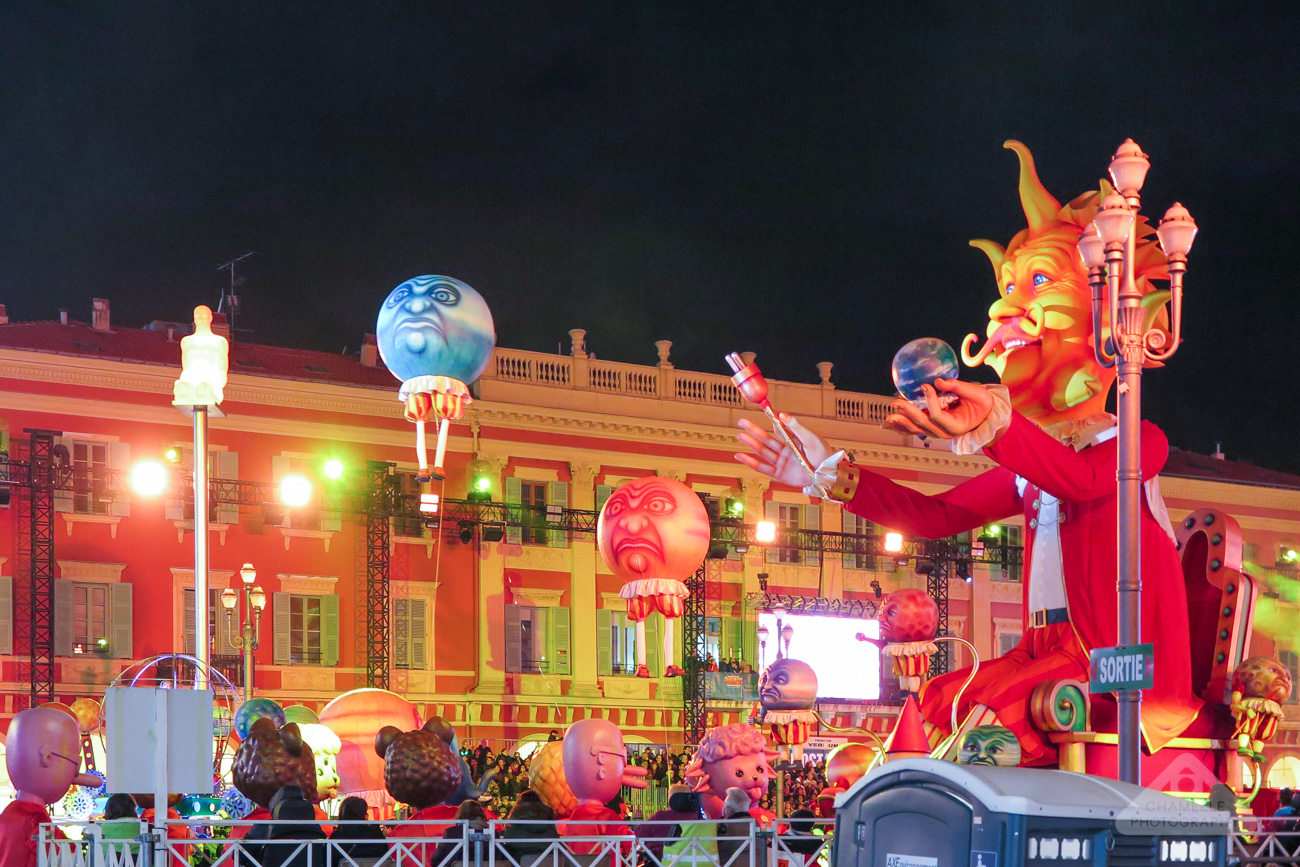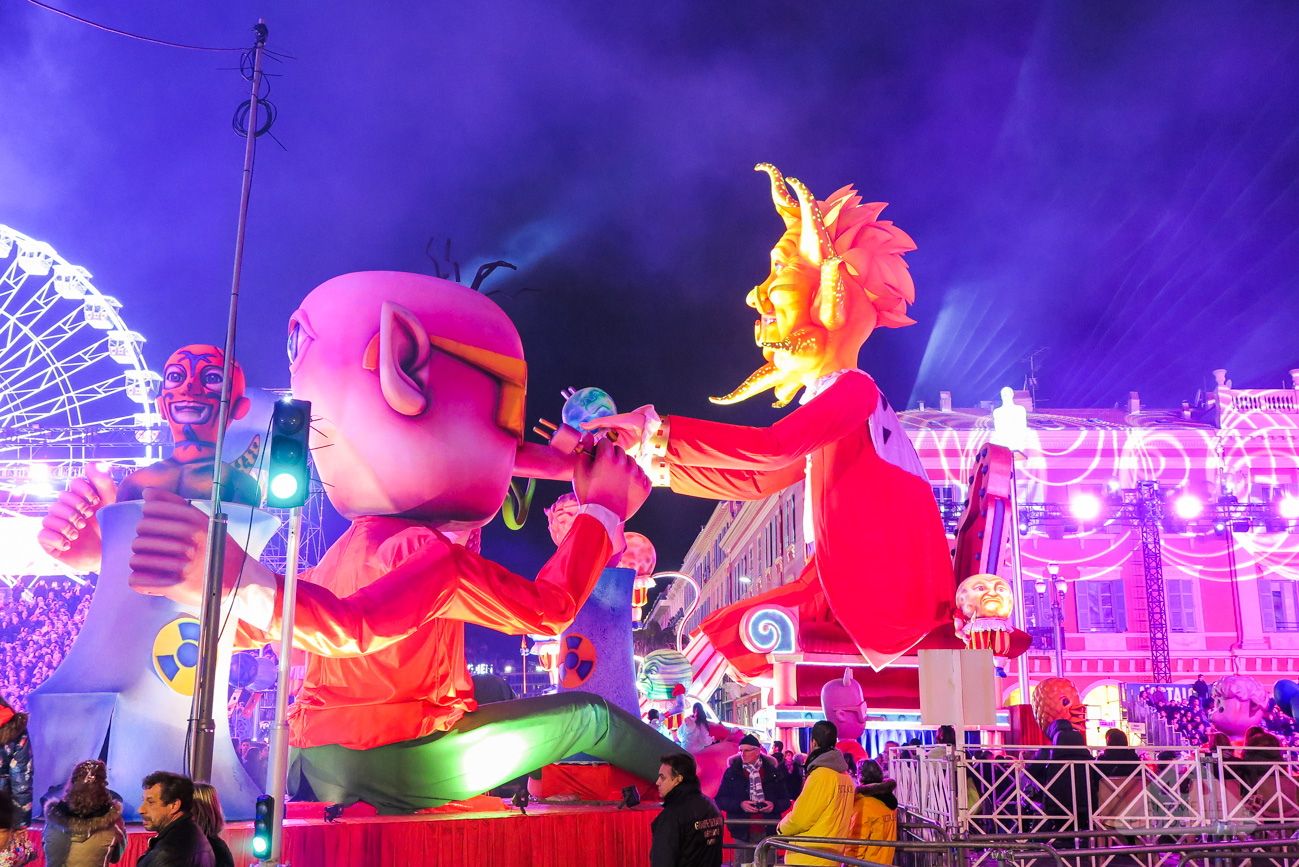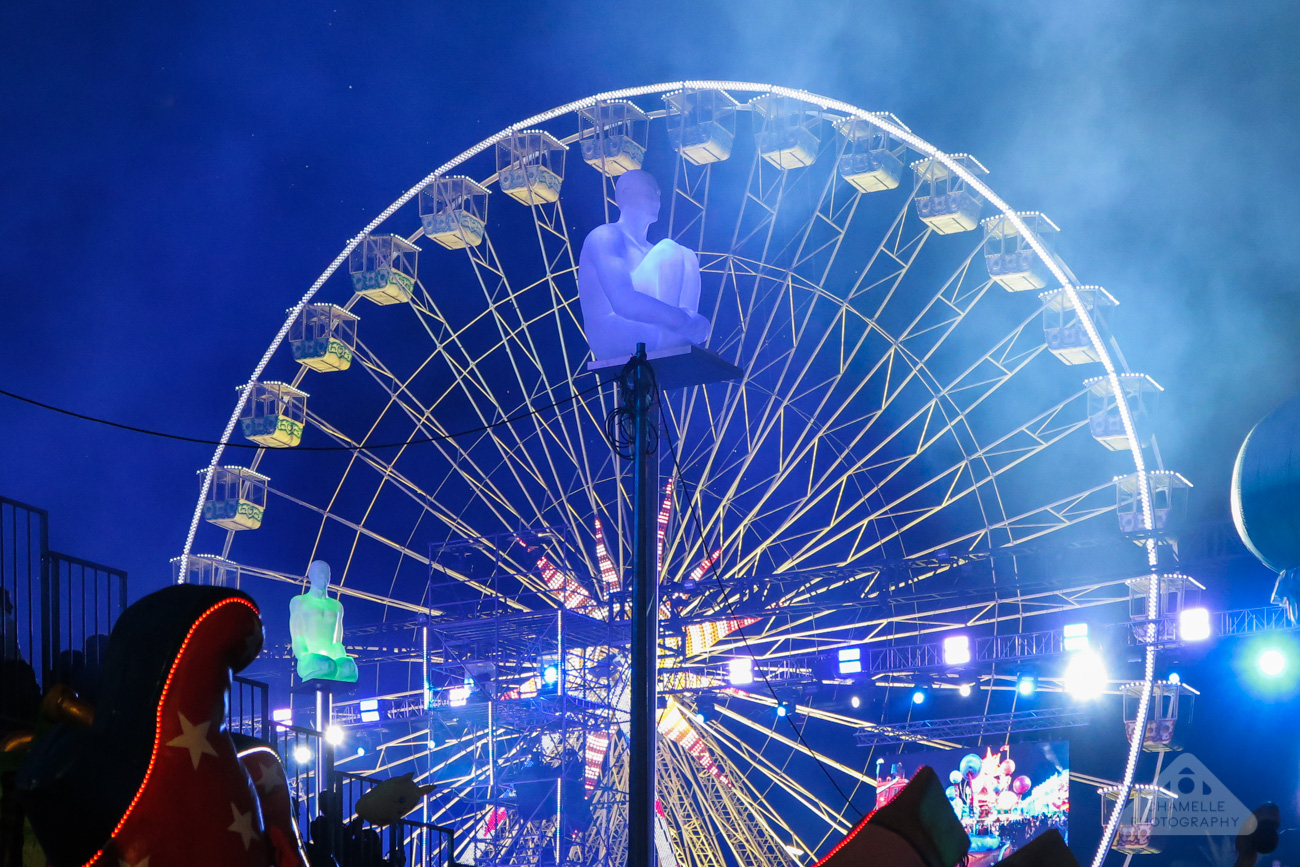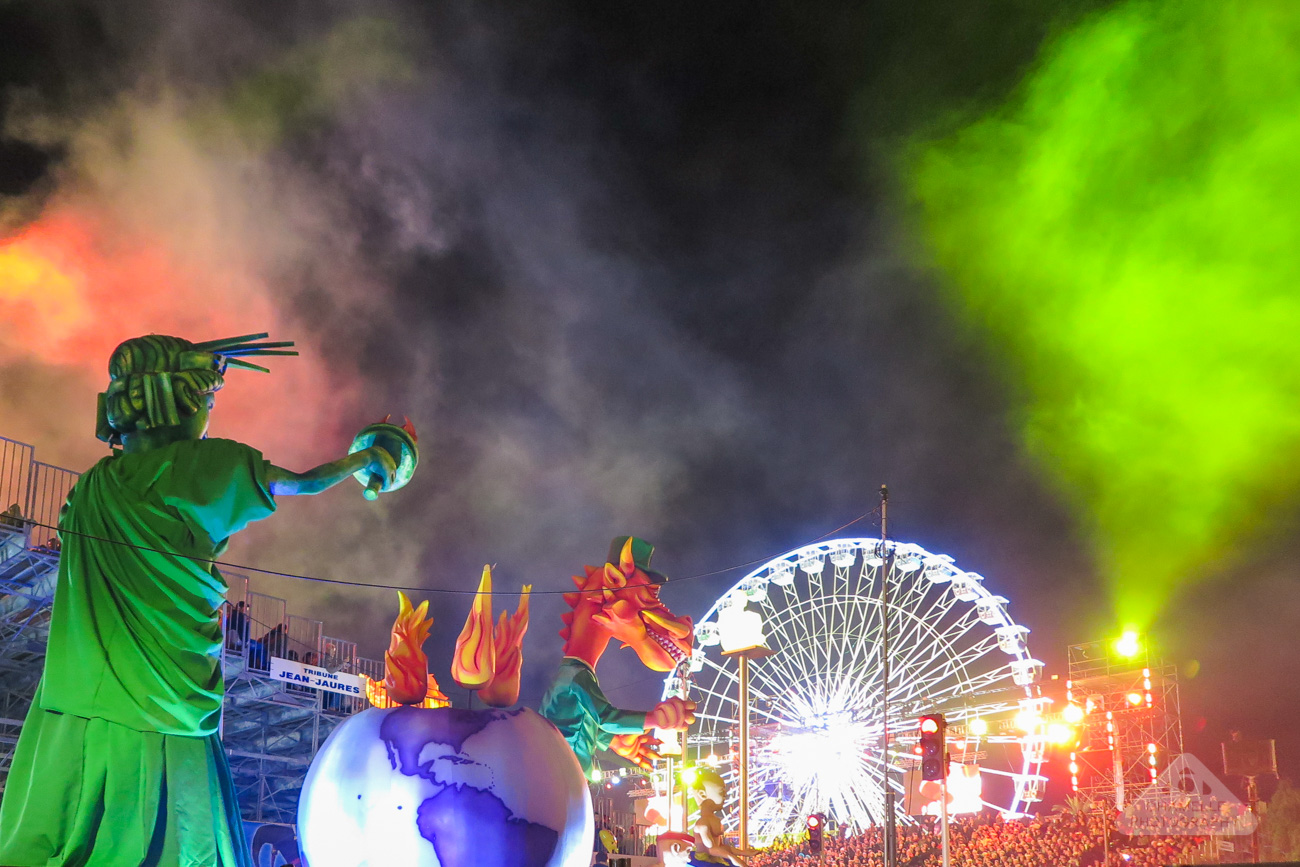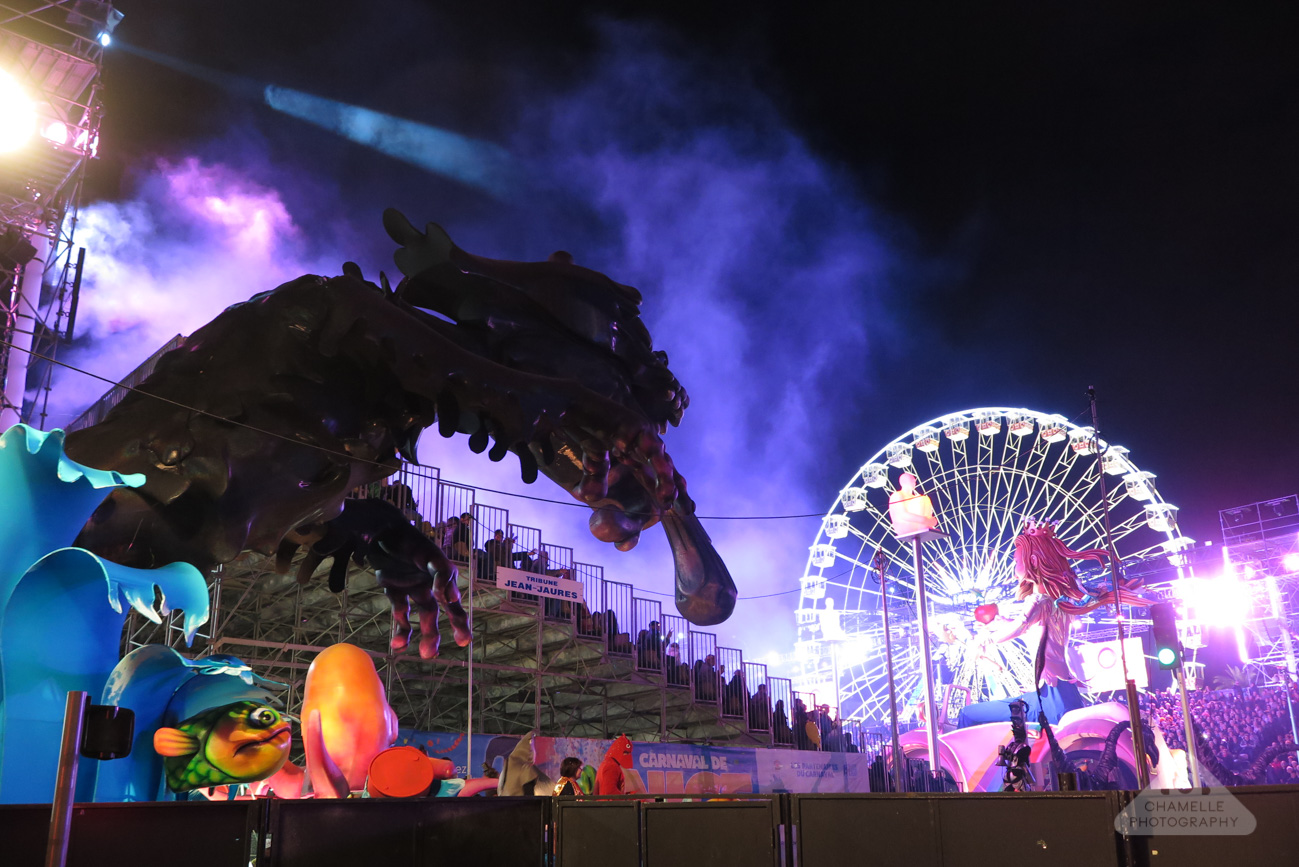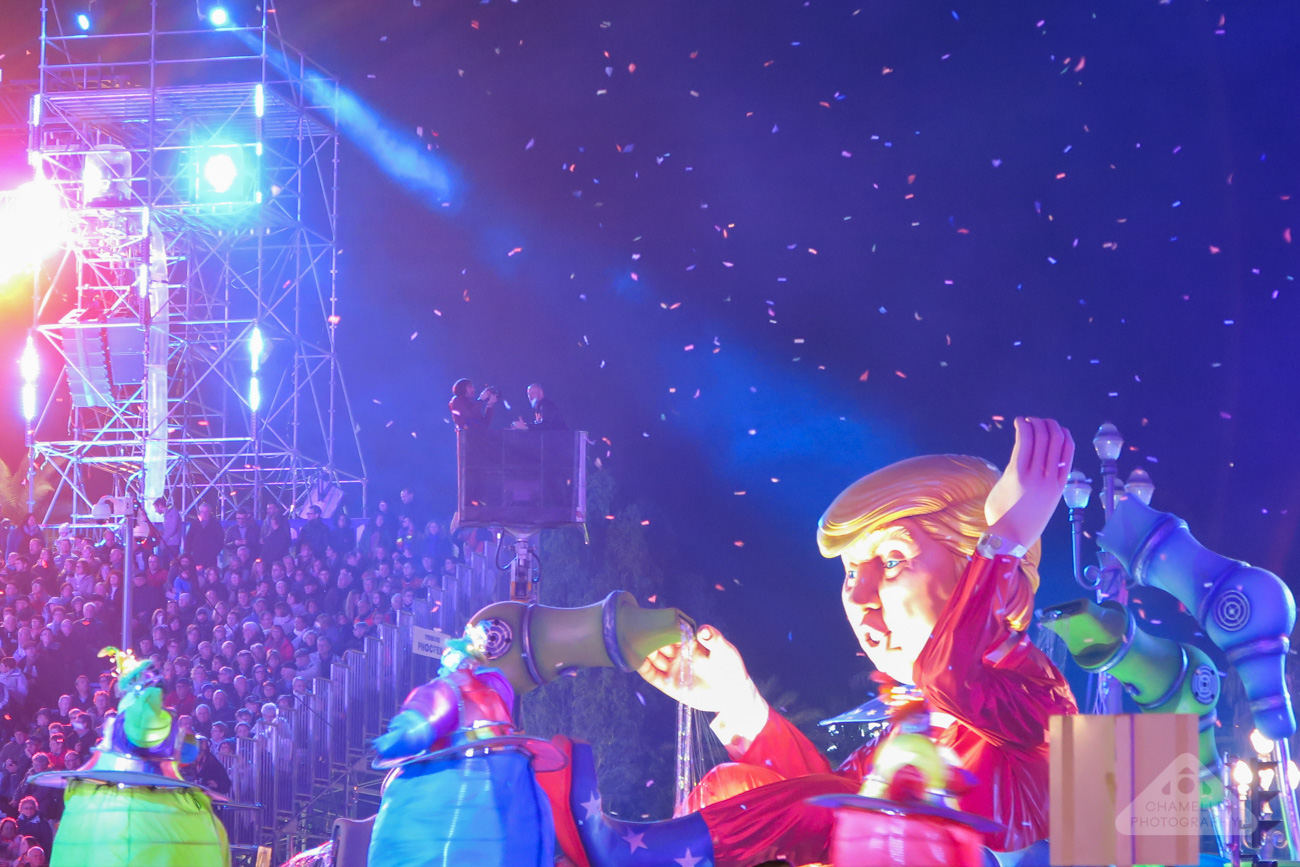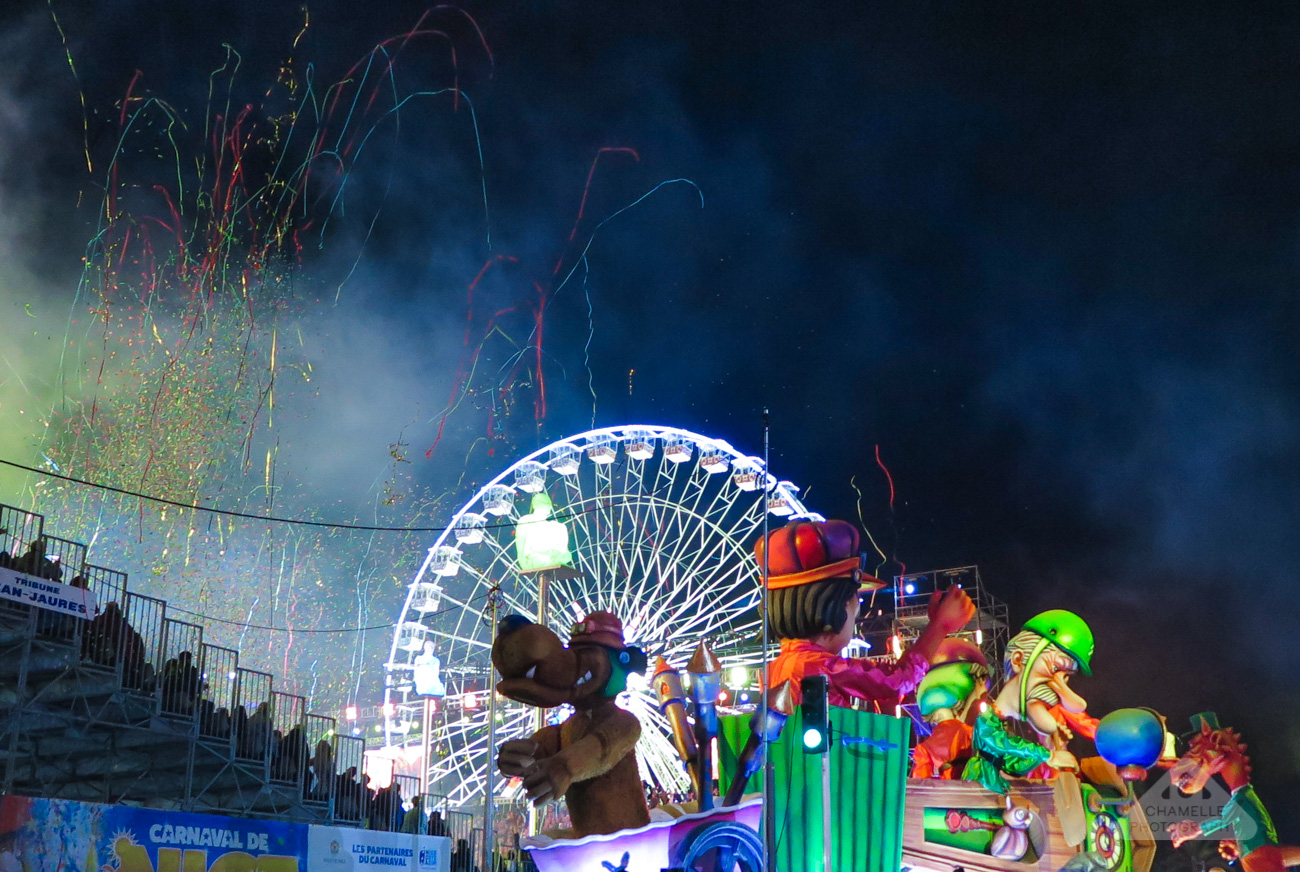 I arrived the night before the main carnival parade (ie Saturday night) not expecting to do much other than check into my hotel. Little did I know I could (sort of) see the night parade for free! I just kept walking and walking until I found a decent spot… I also hadn't eaten so I found a little café where I was able to enjoy a quick meal and watch all the floats go by (albeit behind a high fence) but still, I could manage to see a lot and it got me so excited! I couldn't believe I found this hidden spot where I wasn't surrounded by crowds and I could even sit down.. it was great! It made me all hyped up ready to see the parade I HAD paid tickets for the very next day.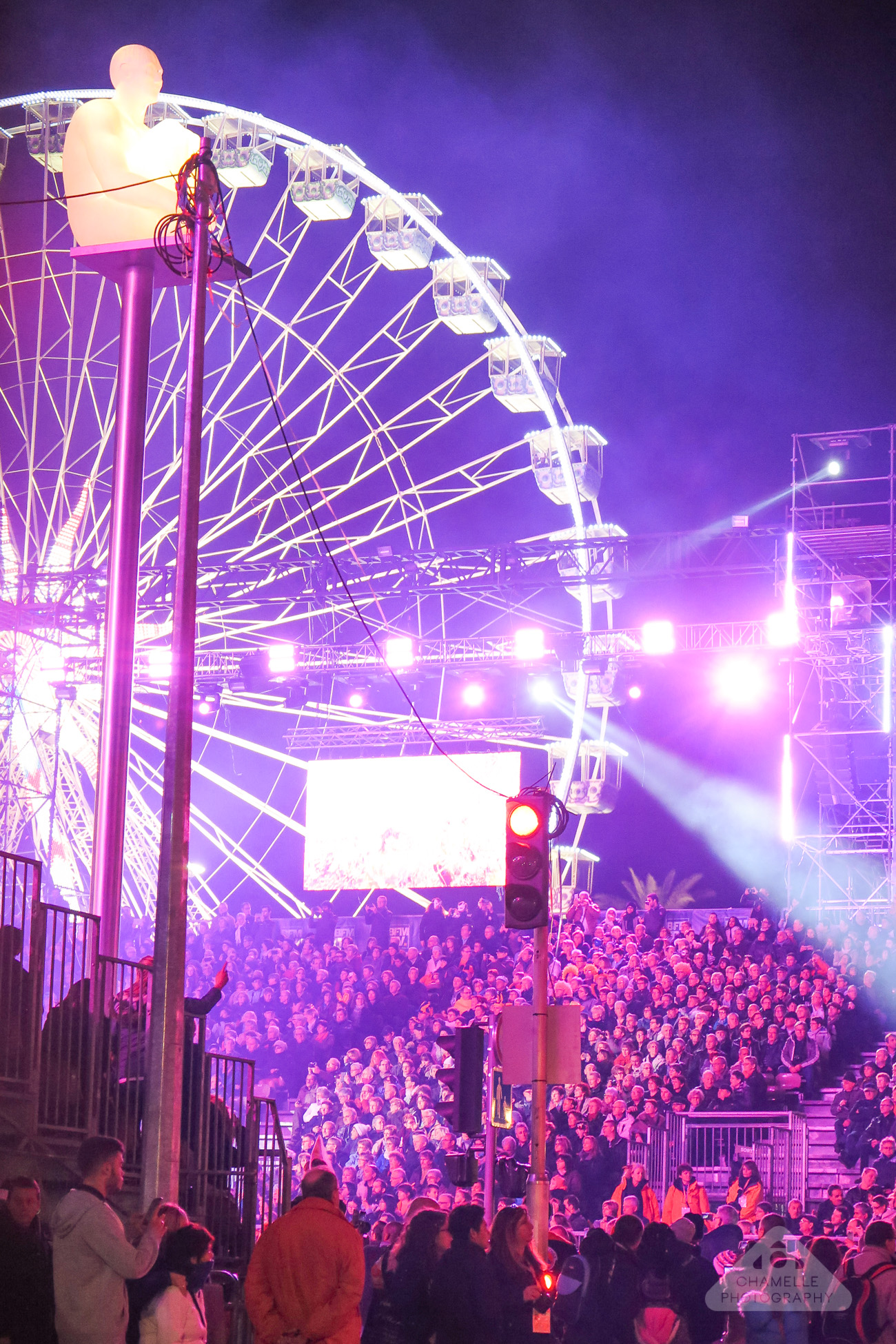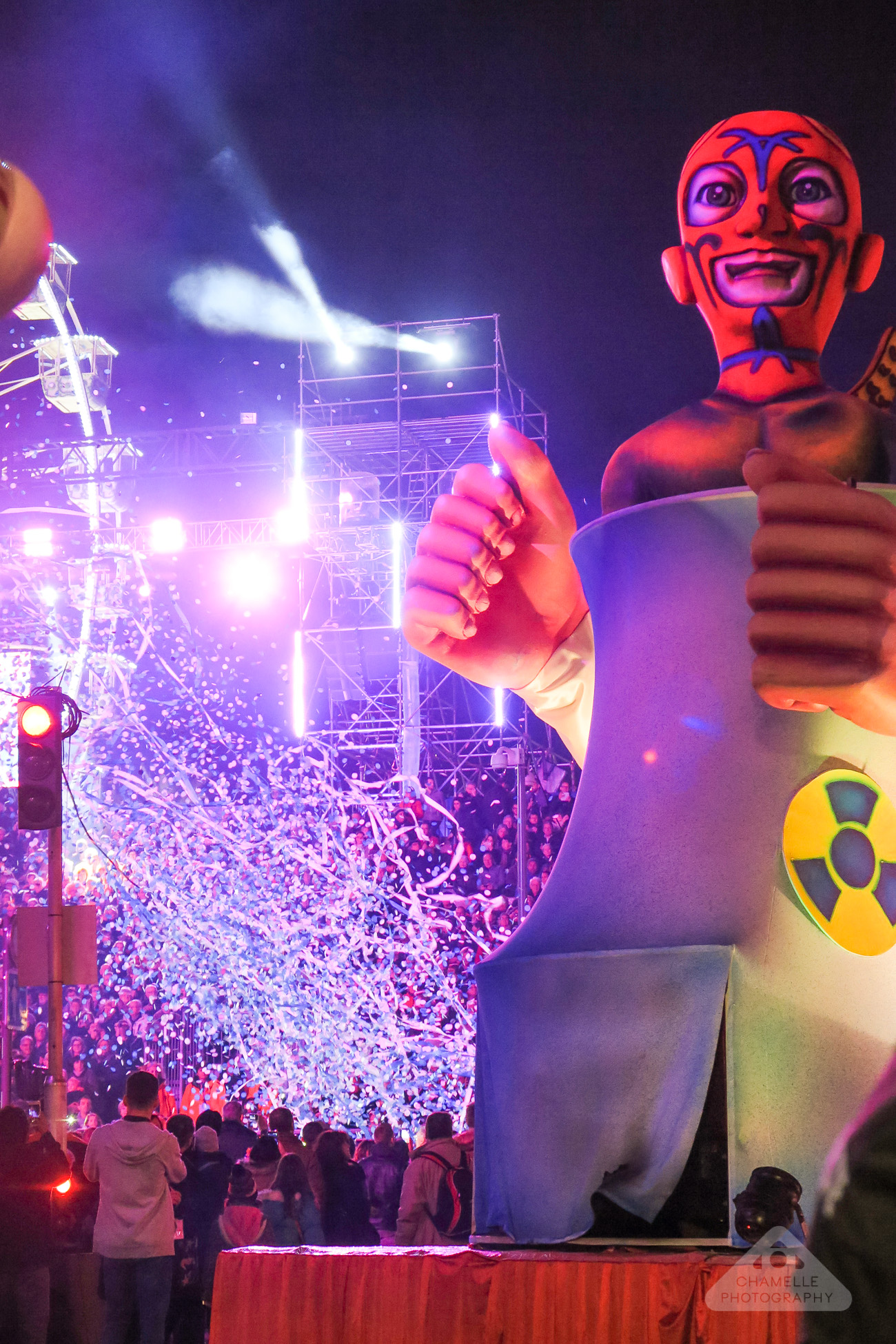 WHY SHOULD YOU GO TO THE NICE CARNIVAL?
Because it's one of the best carnivals in the world! and it's held in one of the most beautiful cities in the world. The costumes, floats and parades are out of this world.
1. GO – HOW TO GET AROUND NICE
Nice (pronounced Neece) is located on the southern coast of France. It is in the region of Provence-Alpes-Côte d'Azur (PACA) (ie the French Riviera) and the department of Alpes-Maritimes. It is the 5th most populous city of France.
Getting to Nice by car
Getting to Nice by car is fairly easy. It's parking that will be a hassle. Check that your hotel offers parking, if not, ask there where you can park and find out how much it is. ParcAzur are a chain of parking lots. If you pay for a round trip on the tram you can park there for free (but not overnight).
Getting to Nice by taxi
I assume you'll arrive either at Nice airport or the major train station (Gare de Nice-ville). Taxis are plentiful and easy to catch.
Getting to Nice by bus
When I arrived in Nice by plane I took the bus into the city (when I arrived by train I just walked it or took the tram). The airport express buses 98 and 99 require an Aero ticket which cost €6 one way.
Getting around Nice
Once you're in the city it's very easy to walk around. However if you have luggage or young kids or elderly with you, the tram is very easy to take (which is why I'd advise you to book your accommodation close to the tram line). Trams run every 5 to 10 minutes between 4.30am – 11.30pm every day and tickets cost €1.50 each, day passes cost €5.00, 10 tickets cost €10.00 and a 7 day pass costs €15.00.
The ticket machines only take coins or credit cards with a chip.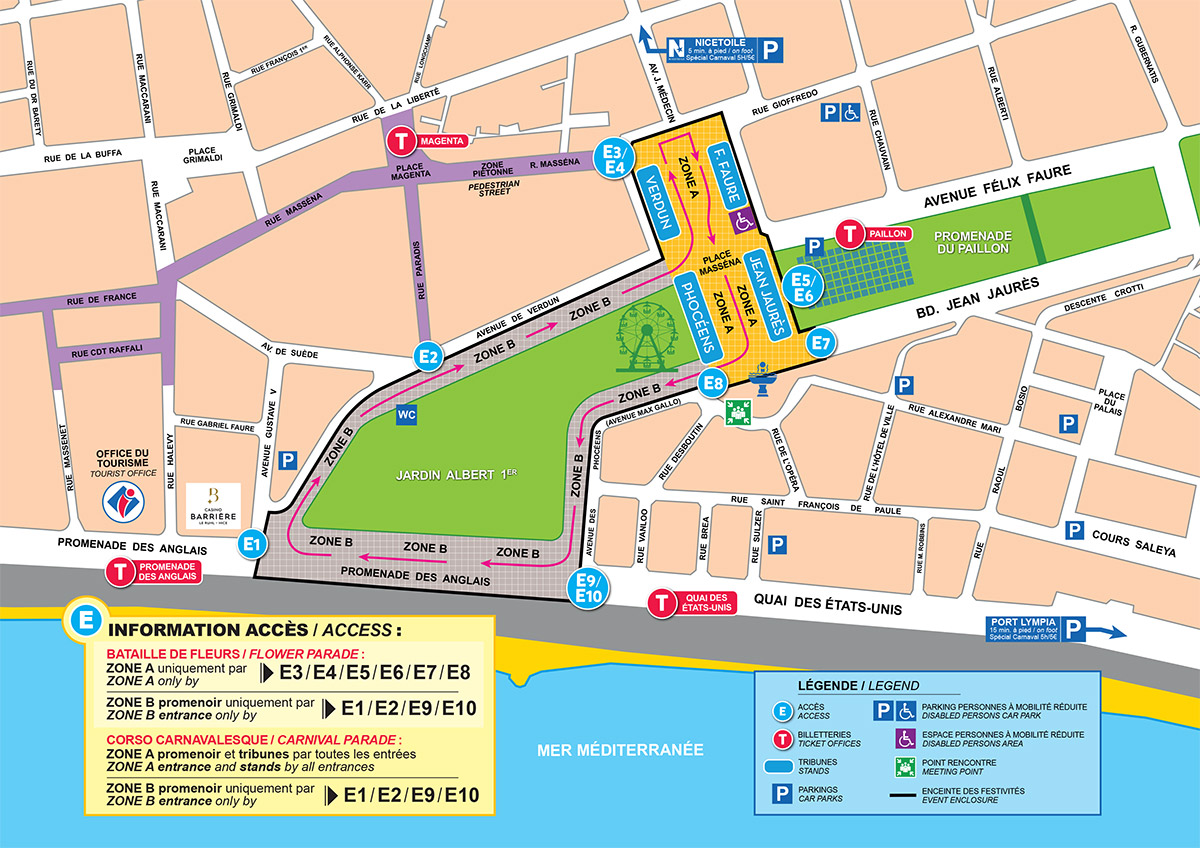 Where is the Nice Carnival held?
It is centred around Place Masséna, Jardin Albert Premier and the Promenade des Anglais (the beachfront road).
2. When should we visit the Nice Carnival?
The Nice Carnival starts on the second or third Saturday of February of each year and runs for two weeks. This year the dates are 17th February – 3rd March 2018.
Note that daytime temperatures in February are around 12-16°C (53-61°F) max so it's not as warm as you'd think, but it's very sunny so you forget how cold it is.
The Flower Parade runs Wednesday and Saturday afternoons
The Main Parade (Day) runs once only on the Sunday halfway through the festival
The Parade of Lights (night) runs Tuesday and Saturday evenings
The Main Parade and the Parade of Lights are the same thing so it's not worth seeing both. It just depends if you prefer daytime or nighttime. Tickets to the Main Parade are much harder to get though, since it only runs once. The Flower Parade is something entirely different though.
There are no events on Mondays, Thursdays or Fridays. You could use these days to do sightseeing in Nice or see Menton's Lemon Festival.
On the last night during the Parade of Lights the Roi (King) gets incinerated.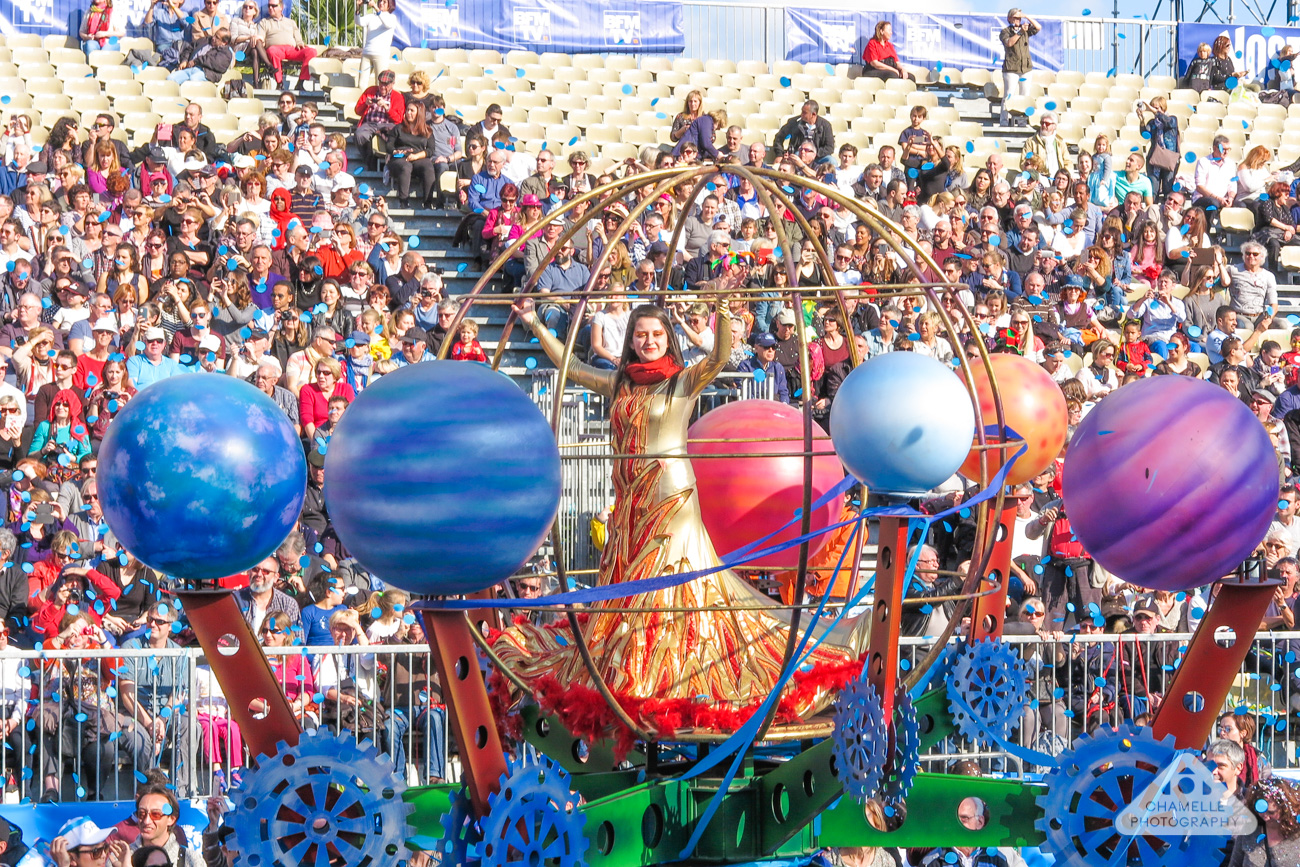 3. How Much does it cost to go to the Nice Carnival?
For such a grand spectacle, I found the ticket prices very reasonable. And if you'd really like to go to the Nice Carnival but can't afford it you can even see it (standing zone only) for FREE! There is a small catch though, you must come dressed in costume! I must admit I was tempted to do this as I have so many costumes and love to dress up in them but I didn't have enough room in my luggage space and also I wanted to get great photos which is hard to do when you're on the ground. If you'd like to do this you must come dressed head to toe in full costume. A simple wig or hat is not acceptable.
Bataille de Fleurs (Flower Parade)
Promenoirs (Standing) Zone B: Adults/Older Children: 12,00 €, Children 6-10 years: 5,00 €, Children Under 5: Free
Stand (Sitting): Adults/Older Children: 26,00 €, Children 6-10 years: 10,00 €, Children Under 5: Free
Corso Carnavalesque (Carnival Parade)
Promenoirs (Standing) Zone A: Adults/Older Children: 12,00 €, Children 6-10 years: 5,00 €, Children Under 5: Free
Promenoirs (Standing) Zone B: Adults/Older Children: 5,00 €, Children Under 11: Free
Stand (Sitting): Adults/Older Children: 21,00 €, Children 6-10 years: 10,00 €, Children Under 5: Free
Carnival Parade of Lights
Same as above except the Sitting Adults/Older Children seats are 26,00€.
Special Deal: Combined adult tickets for the Flower Parade and the Main Parade (Day only) is 40,00€. (Saturdays not included).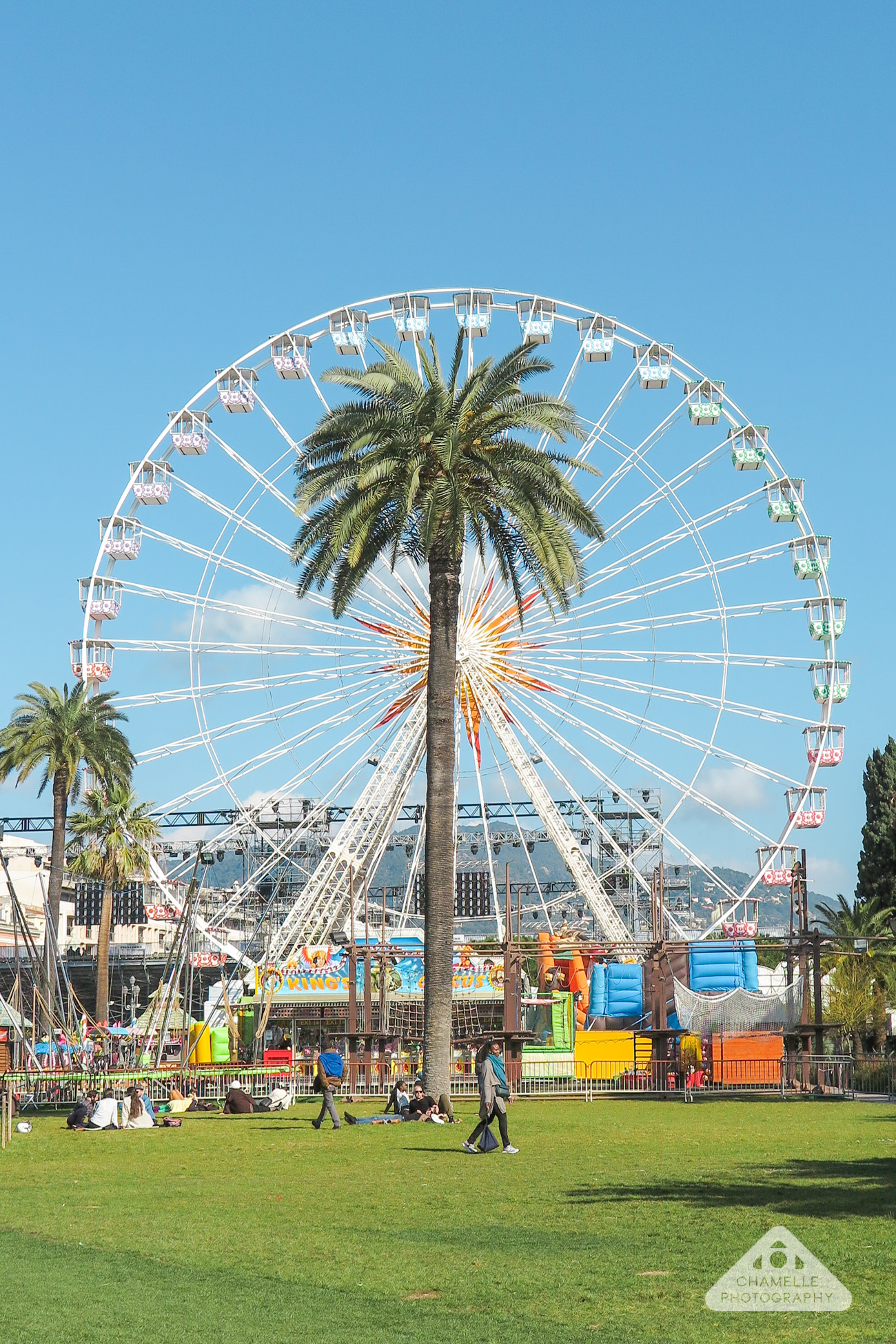 4. How to get the best seats for the Nice Carnival
Buy your tickets as early as possible. If you're going to buy Stand (sitting) tickets (Zone A) I would recommend the Phocéens area and towards the front for the best view as you can see the floats coming and going. Also, on this side you won't have the sun in your eyes if you're watching the day parade.
No matter if you have standing or sitting tickets, get there early! Security checks take a long time (well getting through the queue takes a long time, the check itself is fast) and if you get there earlier you'll have a chance to get up close and personal to the floats and performers before they start which is awesome!
5. How long should we spend at the Nice Carnival?
I would recommend a minimum of 2 days if you want to see the carnival and Nice itself. But if you have more time (3-5 days) you could also visit nearby Menton  for the Fête du Citron (Lemon Festival) [February 17 to march 07, 2018], Villefranche-sur-mer for the Combat naval fleuri (Naval Flower Battles) [19 February 2018], Mandelieu La Napoule for the Fête du Mimosa (Mimosa (Wattle) Festival)  [20 – 28 February 28, 2018] or Monte Carlo, Monaco.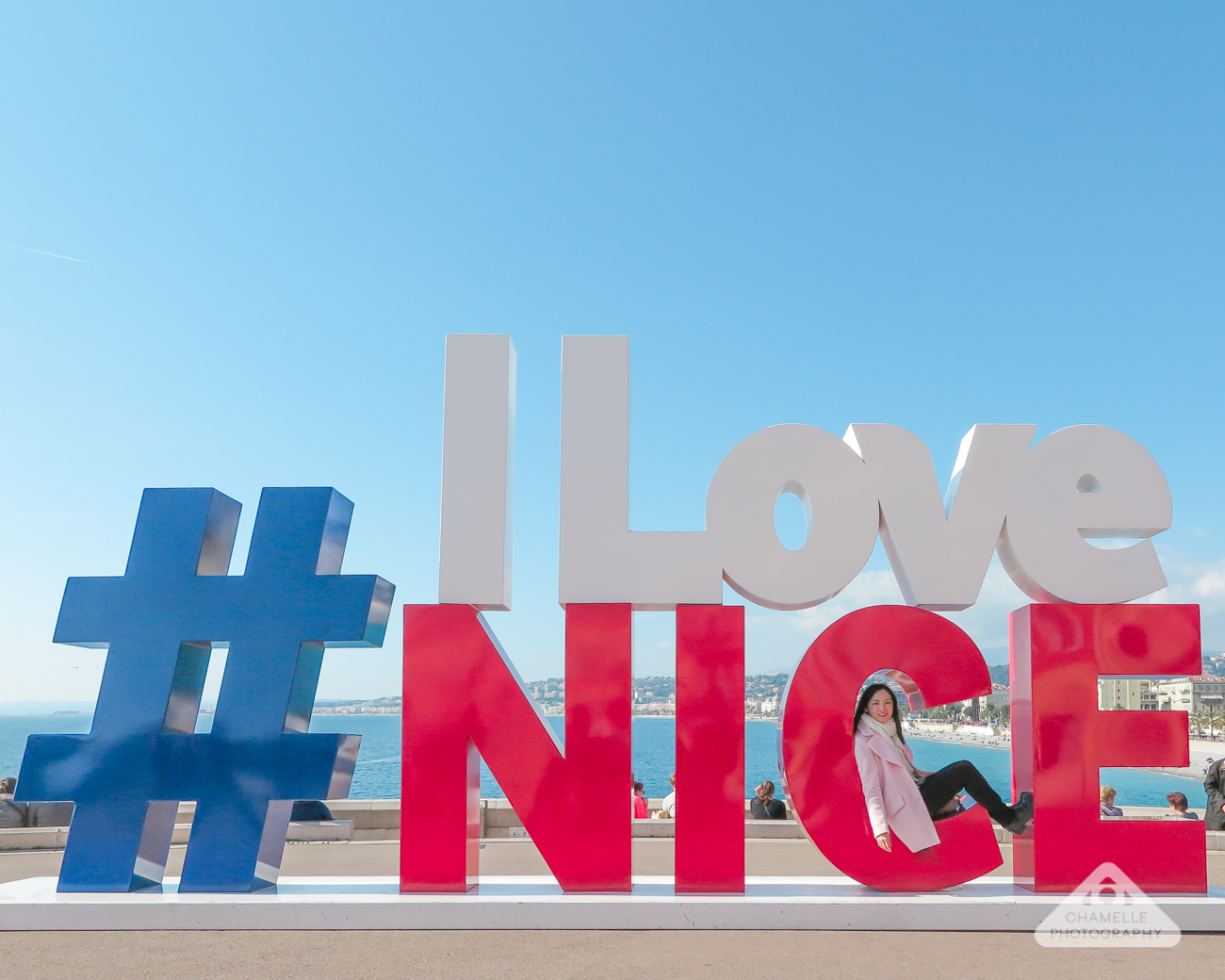 6. STAY
Finding a hotel in Nice was surprisingly easy for such a popular period…
As I was travelling alone I chose a simple, inexpensive hotel, the Hotel de Verdun.
The best part of this hotel was its location. When I book accommodation I'm more about location than anything else. Seconds away from the main shopping strip Avenue Jean Médecin and the viewing area (Zone A) for the parade. You have to remember that it can get crowded during and after carnival times and many streets are blocked off. Being so close to the action allows you to get 'home' quicker after the parade is over. If you need to take the tram this hotel is also seconds away from the tram stop.
Normally I would have stayed in an Airbnb but I didn't have enough time to organise it. The previous year (for the trip I didn't take) I had booked an Airbnb.
Want to try it?  Get 25-30 euros off your first Airbnb rental when you use my coupon code!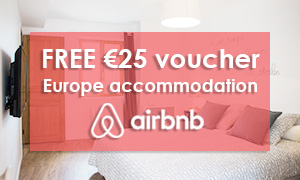 7. SEE
Musée de la Photographie
This is a must if you're a photography fan like me! 🙂
Address: 1 Place Pierre Gautier, 06300 Nice, France
Tram stop: Opéra vieille ville
Telephone: +33 (0)4 97 13 42 20
Hours: Tuesdays-Saturday
11am-6pm  2 January-22 June, 16 October-21 December
10am-6pm  23 June-15 October
Admission: 10€ (access to all municipal museums in Nice for 24 hours)
Site: http://museephotographie.nice.fr/
Since this isn't a blogpost about Nice the city, I'll leave my list of sights to see for another post.

8. EAT
You can't go wrong with food in the South of France. I never have. If you've ever been to a bad restaurant let me know in the comments below!
Fenocchio Glacier
I remember it like it was yesterday (actually 2011). A French friend took me here so I have to trust their opinion… and this was the place that made me fall in love with real gelato. And from that day on, I could not eat crappy soft serve, supermarket or industrial/commercial/chain store ice cream ever again. The 'artisanal' home made ice cream stores in Europe are the best. Freshly made in small batches, they have to be tasted to be believed. You can taste the real ingredients. And you can actually see the 'black dots' in the vanilla flavoured one as it's made from vanilla pods, not vanilla essence. Of course the best gelato is in Italy but France and Switzerland also make a mean gelato to rival the best of them. I know because I practically live in them during the European summer! And remember that Nice is almost on the border of Italy and the people who run this have an Italian name so.. that pretty much speaks for itself! Fenocchio has almost 100 flavours and that's no mean feat!
Address: 2 Pl. Rossetti, 06300 Nice, France
Telephone: +33 (0)4 93 80 72 52
Hours: 7 days a week
9am – 5pm or 9am-midnight (call to check)
Site: http://www.fenocchio.fr/eng_qui.html
La Maison de Marie
Hubby took me here once for my birthday. He prefers the easygoing French way of not booking everything in advance and letting us just discover things naturally… so we wandered down a mysterious path and into this courtyard and found this little gem. We got the 'menu' which is always a great deal – a 3 course meal for the price of 1 or 2 courses.
Address: 5 Rue Massena, 06000 Nice, France
Telephone: +33 (0)4 93 82 15 93
Hours: 7 days a week
12–2:30pm, 7–11pm
Site: http://www.lamaisondemarie.com/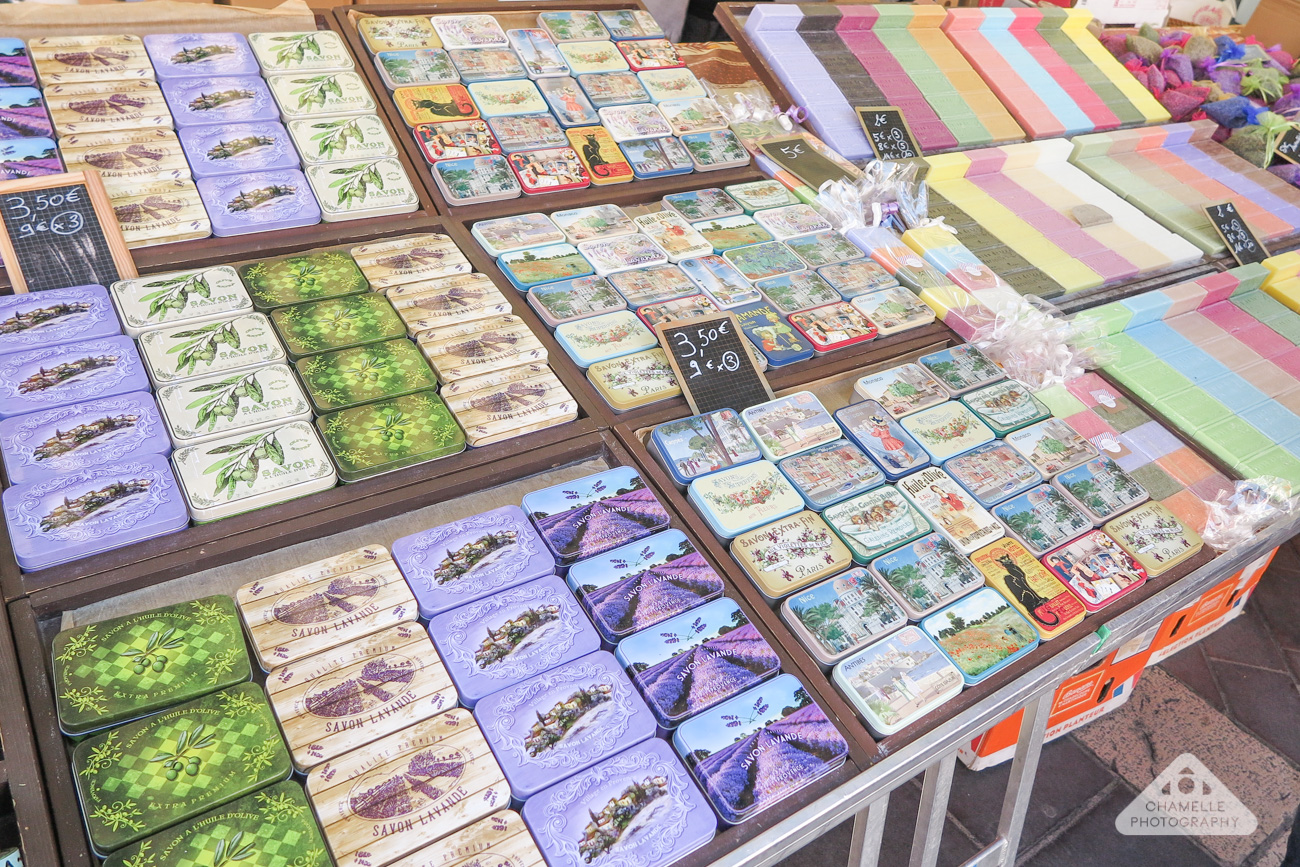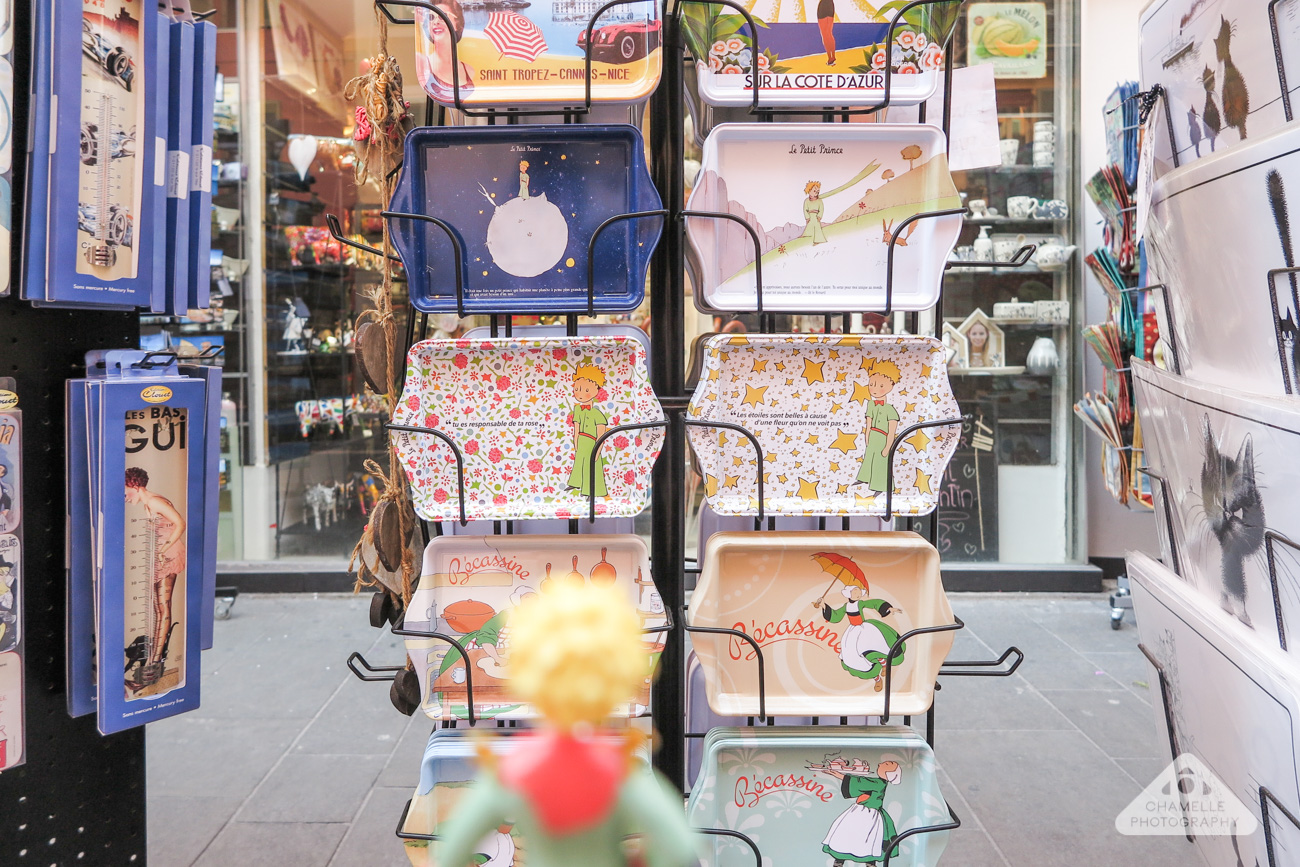 9. SHOP
For the best souvenirs go to the market area around Cours Saleya in the old town (vieille ville). Here you'll also find the fruit and vege market and the flower market. It is paradise!
Here is a list of stores and what local goodies you can find at each one!
10. PHOTO TIPS
As Nice can get crowded (even more so with the Carnival on) the best tip I can give is to get up early and shoot early in the morning. For the carnival it's also easier to shoot if you can get there as early as you can. And book early to get the best seats so you can take the best photos! 🙂
Tell me: What would you like to see most if you went there? If you have any further questions please leave them below, Thanks! 🙂
Don't forget to check out my next blogpost where I take you to cute little pastel-coloured Menton and tell you all about its awesome Lemon Festival! 🙂