Places I've been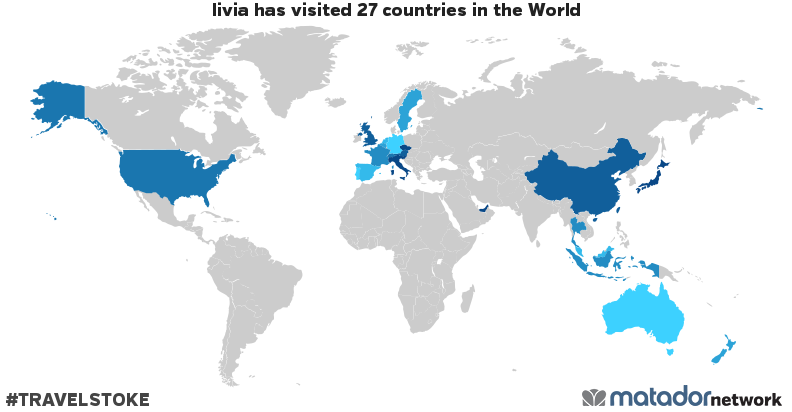 I have been to: Australia, Austria, ,Belgium, People's Republic of China, Czech Republic, France, Germany, Hong Kong, Indonesia, Italy, Japan, Macao, Malaysia, Malta, Monaco, Netherlands, New Zealand, Portugal, Singapore, Spain, Sweden, Switzerland, Taiwan, Thailand, United Arab Emirates, United Kingdom, United States.
By Place

View AUSTRALIA & OCEANIA in a larger map
---
---
By Date
2017:
September: Seoul, Sydney (moved back to Sydney)
August: Marseille and Ile d'If | Geneva | London, Vouvray, Château du Rivau, Château de Chambord
July: Arles, Aix-en-Provence, Saint-Rémy-de-Provence, Bonnieux, L'Isle sur la Sorgue, Avignon | Paris, Auvers-sur-Oise, Salzburg (Austria), Vouvray, Tours, Domaine de la Tortinière, Château de Jallanges, Château de Beaulieu, Château d'Ussé, Château de Longue Plaine, Château de Véretz, Lyon (home – got married! 🙂 )
June: Geneva, Annecy, Corseaux, Vevey, Château de Chillon, Montreux
May: Melbourne | Singapore, Lyon (home)
March: ..Sydney (home)
February: Menton, Monte Carlo, Nice | Paris, Kaohsiung, Taipei..
2016:
December: Saint Etienne | Paris | Tours, Vouvray, Trôo, Palaiseau
November: Saint Etienne | Saint Paul de Vence, Antibes, Èze, Beaulieu-sur-Mer, Villefranche-sur-Mer, Saint Jean Cap Ferrat, Nice
October: Paris, France
August: Road trip 2 continued: Rouen, Saint Malo (inc. Fort National, Petit Bé and Grand Bé), Rennes, Sallertaine, Saint-Hilaire-de-Riez, Saint-Gilles-Croix-de-Vie, Saint-Jean-de-Monts, Bordeaux, Pérouges, Parc Miribel-Jonage (Lyon), Annecy
July: Road trip 1: Saint-Rémy-de-Provence, Les Baux de Provence, Gordes (Abbey de Sénanque), Roussillon, Forcalquier, Manosque, Plateau de Valensole, Aix-en-Provence  |  Road trip 2: Bourges Cathedral, Vouvray, Château de Villandry, Tours, Château d'Ussé, Château de Cheverny, Château de Chambord, Château de Chaumont-sur-Loire, Amboise, Château de Blois, Chartres Cathedral, Auffay, Pourville-sur-mer, Château de Miromesnil, Veules-les-Roses, Saint-Valéry-en-Caux, Sassetot-le-Mauconduit (Château de Sissi), Yport, Étretat
June: Vallon Pont d'Arc and Gorges de l'Ardèche, France
May: Aigues Mortes and Carcassonne, France | Girona and Costa Brava, Spain
February: Amsterdam, Netherlands | Paris and Versailles, France
2015:
December: Tours, Vouvray and Amboise, France
November: Toulouse, France | Mallorca, Spain
September: Brussels and Bruges, Belgium | Paris, France x 2, Versailles, France | Giverny, Le Havre, Pont l'Evêque, Colleville-sur-Mer, Le Mont Saint Michel, Rennes, France
August: Sydney, Australia (home), Kaohsiung and Taipei, Taiwan, Guangzhou, China
July: Malta
May: Paris, France
March: Lyon, France (moved to Lyon)
February: Lisbon, Cascais and Sintra, Portugal
January: Annecy, France

|

Lyon, France
2014:
December: Lyon, France

|

Evian-les-Bains, France
October: Vevey, Switzerland

|

Evian-les-Bains and Yvoire, France

|

Lavaux, Switzerland
September: Fribourg and Bern(e), Switzerland

|

Annecy, France
August: ..Bad Mergentheim, Dresden and Berlin, Germany

|

Gruyères and Broc, Switzerland
July: Chalon-sur-Saône and Strasbourg, France..
June: Lanzarote, Canary Islands, Spain

|

Tenerife, Canary Islands, Spain

|

Annecy, France
May: Montpellier and Aigues Mortes, France
March: Leukerbad and Basel (Bâle), Switzerland
January: Bern(e), Switzerland
2013:
December: Lausanne, Switzerland
November: Barcelona, Spain

|

Montreux and Lausanne, Switzerland
September: Cologne (Köln), Germany, Stuttgart, Germany

, 

Dornbin and Bregenz, Austria, Zürich, Switzerland
August: Naples (Napoli), Salerno, Positano and Amalfi, Italy

|

Lavaux and Montreux, Switzerland

|

Verbier, Switzerland (paragliding)
July: Bern(e), Switzerland

|

Nîmes, France

|

Stockholm, Sweden
June: Annecy, France
May: Cannes, Juan-les-Pins and Antibes, France
April: Lisbon, Portugal

|

Valencia, Spain

|

Lugano, Switzerland

|

Paris, France
March: Chamonix (Brévent-Flégère), France (for skiing)
February: Lavey-les-Bains and Monthey, Switzerland
January: Sydney, Australia

(home),

 Tokyo, Japan
2012:
December: Prague (Praha), Czech Republic

|

London, UK
September: Nice, France

|

Monte Carlo, Monaco

|

Malaga and Nerja, Spain

|

Vevey, Switzerland

|

Cologne (Köln), Germany
July: Arles, France
June: Lake Maggiore (Lago Maggiore), Lake di Garda (Lago di Garda) and Lake d'Idro (Lago d'Idro), Italy

|

Vallée de Joux, Switzerland
April: Marseille and Aix-en-Provence, France, Annecy, France
March: Champéry, Switzerland (skiing)

|

Morges, Switzerland
February: Versoix, Switzerland
January: Château d'Oex, Switzerland
2011:
December: Zürich, Lucerne (Luzern) and Mount Pilatus, Switzerland

|

Taipei and Kaoshiung, Taiwan
November: Lavey-les-Bains, Switzerland
October: Paris, France
September: Annecy, France, Vallée de Joux and Rolle, Switzerland
August: Versoix, Switzerland
July: Paris, France
June: Würzburg, Germany

|

Barcelona, Spain
May: Geneva, Switzerland (moved to Geneva)
April: Paris, France

|

Nice and Cannes, France

|

Turin (Torino), Italy

|

Genova (Genoa), Italy

|

Florence (Firenze), Italy

|

Pisa, Italy

|

Rome (Roma), Italy
March: Geneva, Switzerland
February: Avignon and Arles, France

|

Grenoble, France

|

Châtel and Montreux, Switzerland
January: Bourg-en-Bresse, France

|

Geneva, Switzerland

|

Chambéry, France
2010:
December: Lyon, France

|

La Rochelle, France

|

Ile de Ré, France

|

Nantes, France

|

Freiburg im Breisgau, Germany

|

Paris, France
November: Lyon, France

|

Chambéry, France
October: Lyon, France

|

Geneva, Switzerland

|

Annecy, France

|

Colmar, France, Evian-les-Bains, France, Lausanne, Switzerland

|

Grenoble, France
September: Kuala Lumpar and Langkawi, Malaysia, Singapore 

|

Paris, France

|

Bellegarde, France (moved to Bellegarde)
April: South Coast, Australia (Wollongong, Kiama…) and Canberra, Australia
2009:
December: Blue Mountains, Australia
February: Gold Coast, Australia
2008:
December: Blue Mountains, Australia
May: Zhujiajiao, China

|

Hong Kong, China | Sydney, Australia (moved back to Sydney)
January: Taipei and Kaohsiung, Taiwan

|

Hong Kong, China
2007:
October: Okinawa, Kyoto and Osaka, Japan
May: Shanghai, China (moved to Shanghai)
February: Hawaii (Oahu and Big Island), USA
January: Gold Coast, Australia

|

Hunter Valley, Australia
2006:
December: Brisbane, Australia
July: Newcastle, Australia
2005:
September: Dubbo (Zoo), Australia

|

Auckland and Rotorua, New Zealand
August: Blue Mountains, Australia
April: Blue Mountains, Australia
February: Taipei, Taiwan, Hong Kong, China, Shipai, Xingping, Yangshuo, Guilin, Shanghai, China
January: Hong Kong, China, Kaohsiung and Donggang, Taiwan
2004:
October: ..Paris, France, Amsterdam, Netherlands, Würzburg, Rothenburg, Nördlingen, Günzburg, Augsburg, Odelzhausen, Dachau and Munich (München) Germany, Salzburg and Vienna (Wien), Austria, Dubai, UAE
September: Singapore, Winchester, Stonehenge, Dartmouth, Poole, Bournemouth, Brighton, London, UK..
January: Gold Coast, Australia
2003:
September: Melbourne, Australia
March: Ayutthaya, Bangkok, Chiang Mai and Koh Samui, Thailand
February: Port Macquarie, Australia
2001:
2000 and earlier:
Various, mostly places around Australia, Taiwan and Hong Kong
By Festival/Event/Exhibition
Fête du Citron (Lemon Festival), Menton, France (February 2017)
Nice Carnavale, Nice, France (February 2017)
Lyon BD (comic book) festival, France (June 2016)
Temps de Flors (Flower Festival), Girona, Spain (May 2016)
Foire de Lyon (Trade Fair), Lyon, France (March 2016)
Le Nouvel An Chinois (Chinese New Year) parade Paris, France (February 2016)
Fête de la Bande Dessinée (Comic Book festival), Brussels, Belgium (September 2015)
Roses Festival, Lyon, France (June 2015)
Le Fabuleux Village des Flottins (Sculptures made from recycled timber Christmas festivities), Evian-les-bains, France (December 2014)
Titanic, Geneva, Switzerland (December 2014)
Les Automnales (Trade Fair), Geneva, Switzerland (December 2014)
Images Photo Festival, Vevey, Switzerland (September 2014)
(Festival de) Chalon dans la Rue, Chalon-sur-Saône, France (July 2014)
Basel Faschnacht (Carnivale), Switzerland (March 2014)
Montreux Noël (Christmas market/fair) and Smurfs vegetation sculptures, Montreux, Switzerland (November 2013)
Cannes Film Festival, France (May 2013)
Carnaval de Monthey, Switzerland (February 2013)
New Year's Eve fireworks, London, UK (December 2012)
Prague Christmas Market, Czech Republic (December 2012)
Photokina Photo/Video Trade Fair, Cologne, Germany (September 2012)
Les Rencontres d'Arles (Photo Festival/Exhibition), France (July 2012 and July 2017)
Festival International de Ballons (Hot Air Balloon Festival), Château d'Oex, Switzerland (January 2012)

Paris Photo, Photo Trade Fair and Exhibition, France (October 2011)
Fêtes de Genève, Geneva, Switzerland (July-August 2011, 2012, 2013, 2014)
Lyon Fête des Lumières (Lights Festival), France (December 2010 and December 2016)
Map mania
I have also collected a ton of map related pictures on Pinterest: