21

min read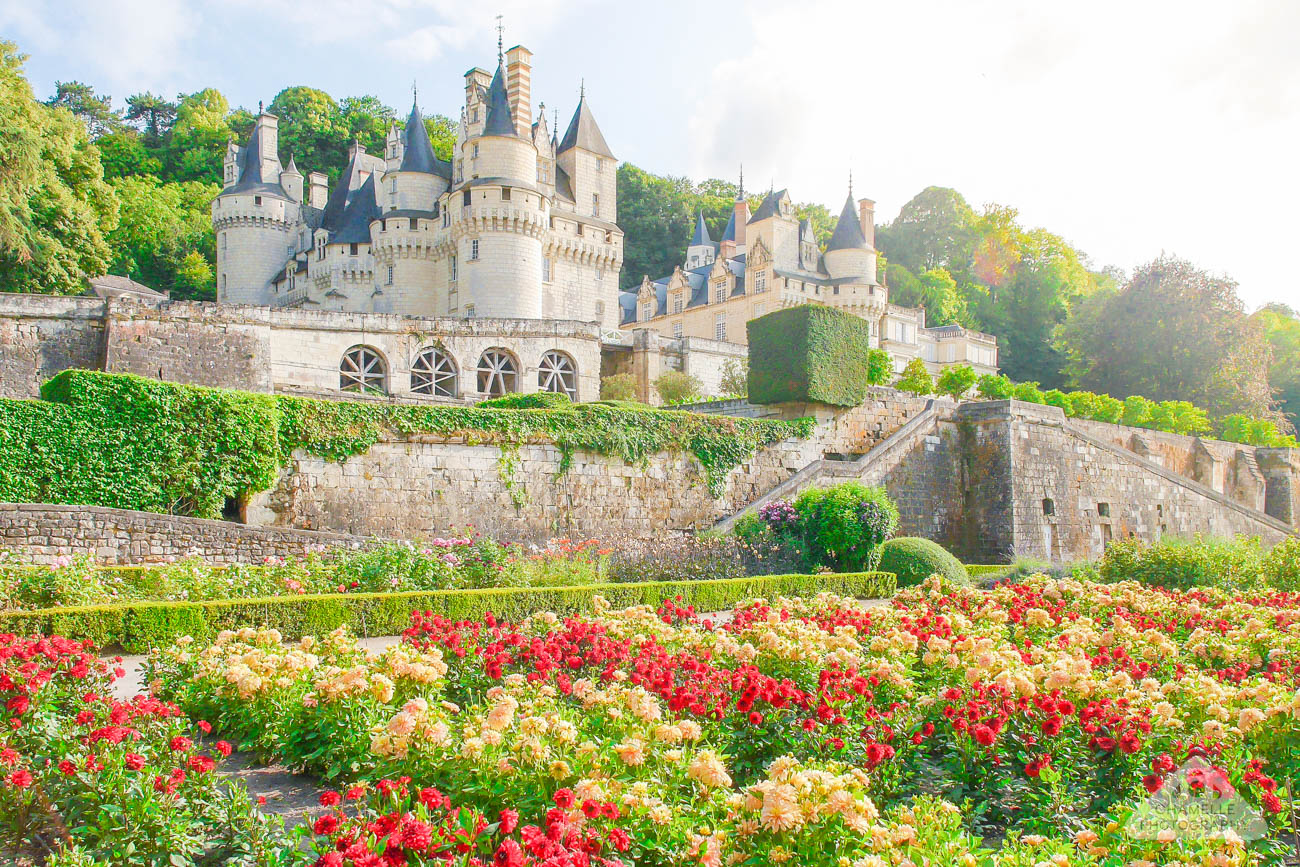 (Château d'Ussé)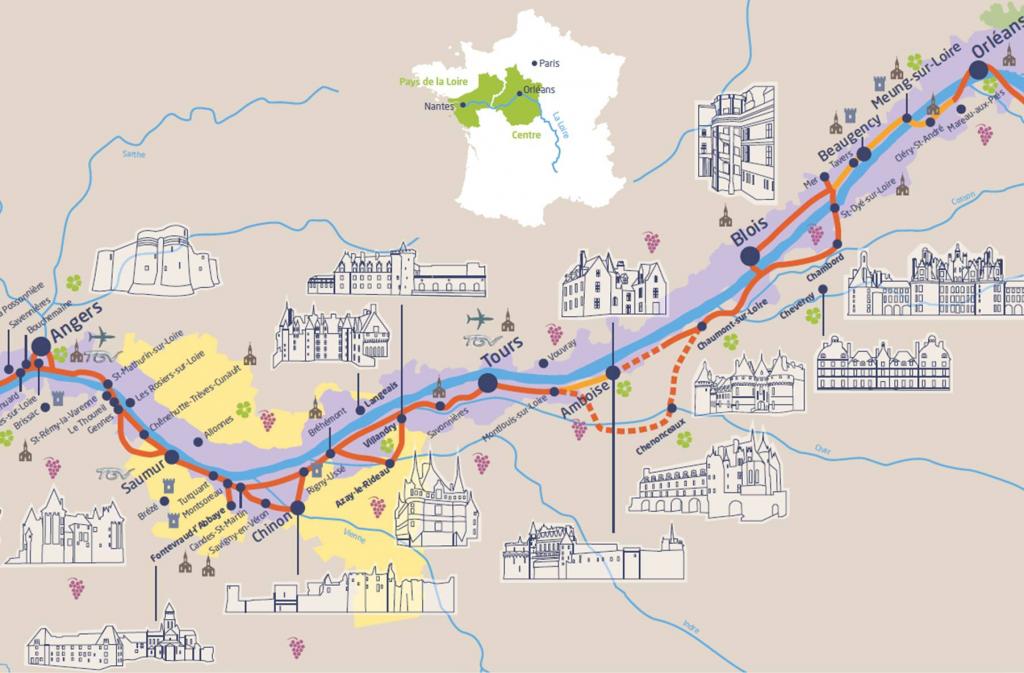 The Loire is the longest river in France at over 1000km (600 miles) long and the stunning Loire Valley (Val de Loire) spanning 280km (70 miles) of the centre portion is a UNESCO heritage listed site. It is located approximately 200km south-west of Paris and is known as the "Valley of the Kings" for its sheer number of castles.
Numerous castles are located here because the Loire was strategically important during the Hundred Years' War (when France and England battled between 1337 and 1453). In the heyday of the Renaissance period, fortified castles were slowing being replaced by these stunning 'pleasure palaces' as the Loire became a fashionable place among Paris' rich and royal to hang out. Looking at the castles in the area it seems that everyone was trying to outdo one another by creating the most lavish castles imaginable.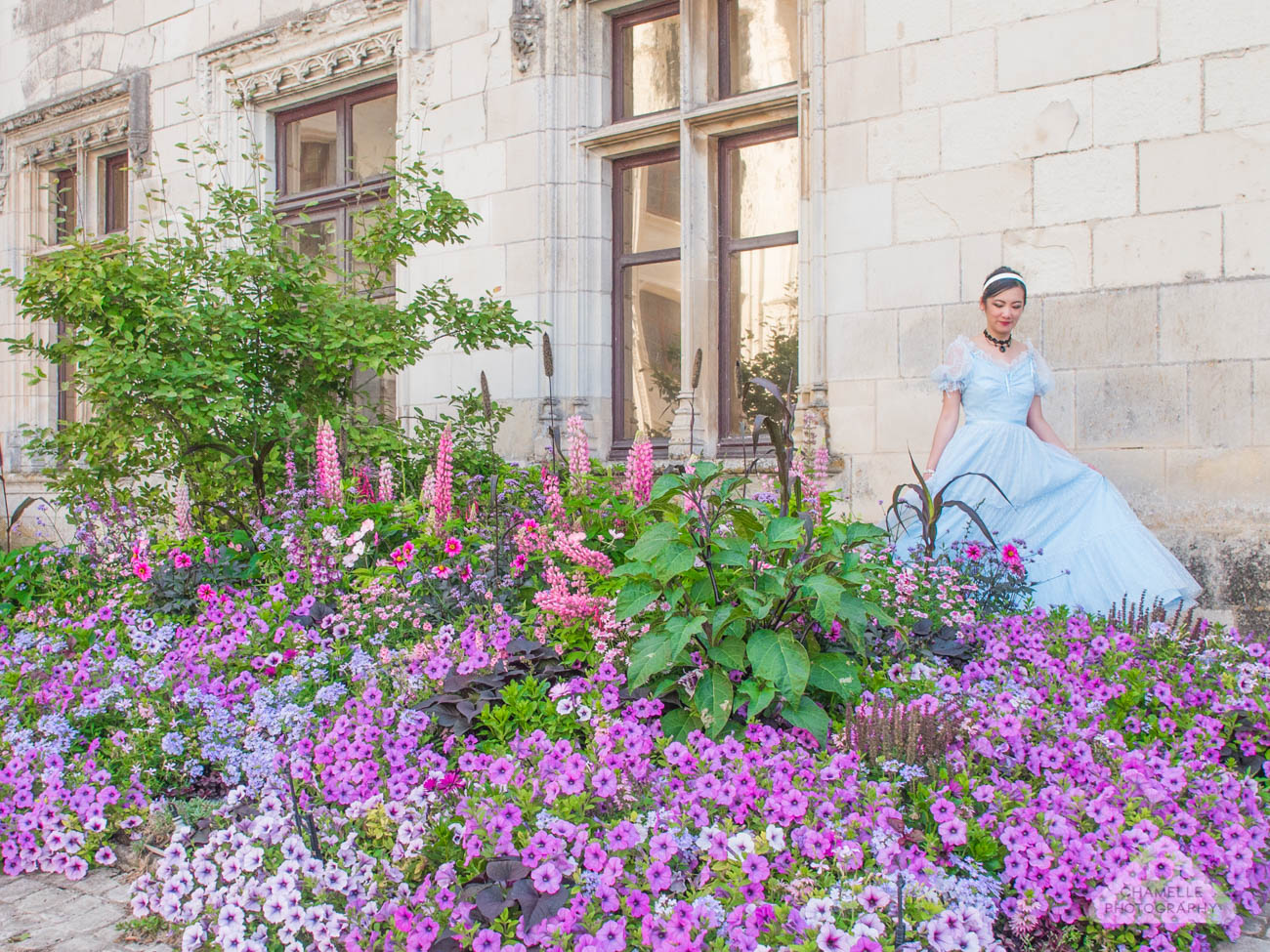 (Château de Chaumont)
1   How do we choose which Loire Valley chateaux to visit?
As there are several hundred châteaux in the Loire Valley, with about 100 open to the public, it's quite difficult. As usual, it's a question of time and money and to visit the castles you need both.

I had been planning a trip to the Loire Valley for about 7 months. I had passed through the region last December but we didn't have enough time to visit the castles then, and I didn't want to either as I really don't like travelling much in central Europe during winter (and let's face it, most trees and flowers are dead so that doesn't make for pretty pictures, does it girls? Nor does wearing a goosedown coat!)…. so we made plans to come back in summer! And come back we did!
This time 'round I'd wanted to visit Clos Lucé in Amboise (because of its connection to the genius Leonardo da Vinci and it's now been turned into a sort of Leonardo da Vinci museum), Château de Chenonceau for its incredible design of having the river Cher running right through it) and Château de Villandry for its spectacular and immense gardens, and more! All up I wanted to visit 9 castles but we didn't have enough days and it would get extremely expensive and exhausting.

(Château de Chambord)
So how did I narrow it down?
If you know me in real life or through my blog or social media you'll know I like to do things a little differently. While most Australians who work or study abroad choose to go to the UK or USA or Asia, I chose to go to France. While most foreigners who come to France choose to live in Paris, I chose Lyon.
For me, travelling is as much about taking and producing amazing photos as it is about seeing sights. So I started to do some research… Since I'm a huge fan of costumes (and because I used to take photos of models in such costumes, I've amassed quite a number of them) I decided I would visit castles related to Disney fairytales and turn up dressed as the relevant Disney princesses.
It turns out that many castles in the Loire Valley (Val de Loire) region were used as inspiration for the Disney fairytale films.
You could narrow it down and tailor the list to your needs based on some of my comments and observations further below.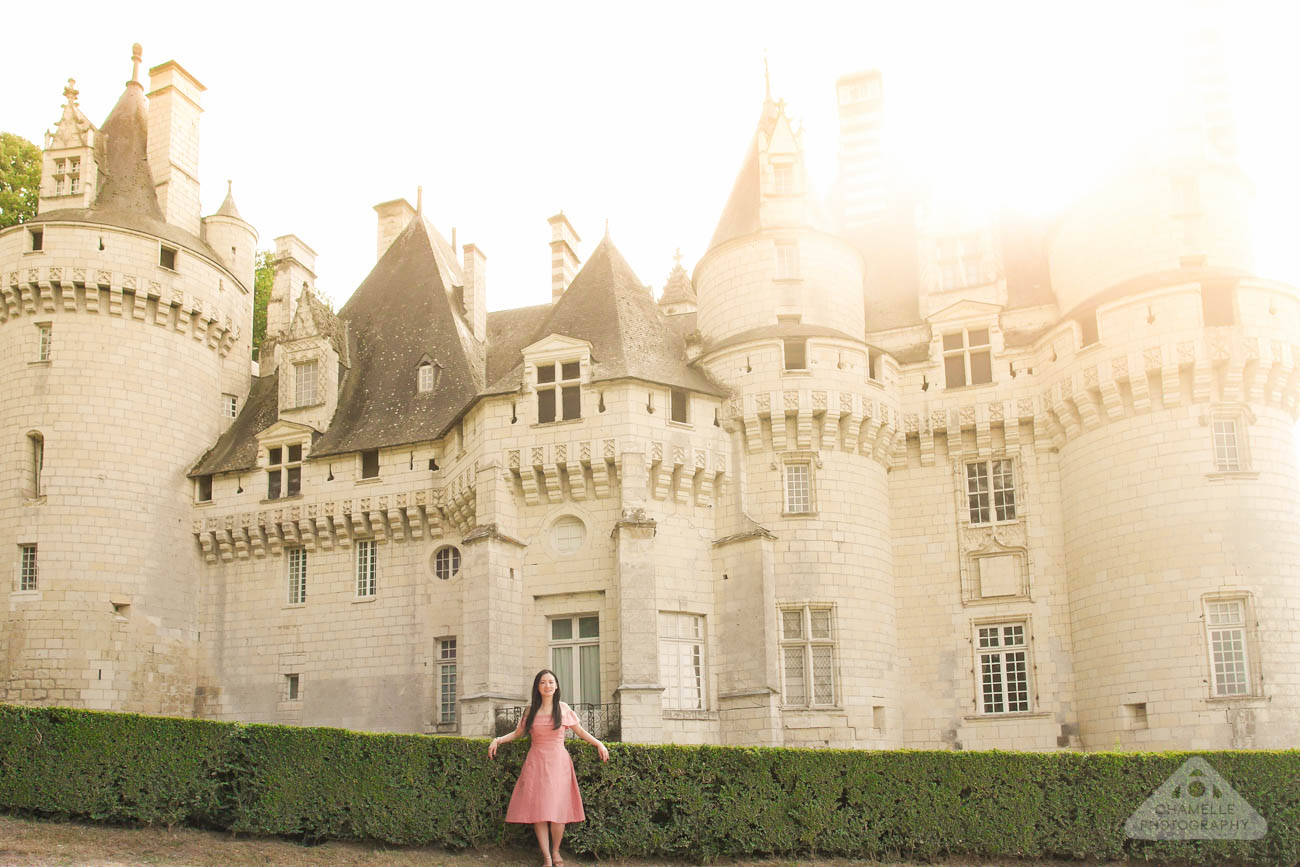 (Château d'Ussé – Sleeping Beauty Castle)
SOME POPULAR LOIRE VALLEY CHATEAUX
So we ended up visiting these castles:
Château d'Ussé (in Rigny-Ussé) – Sleeping Beauty Castle
Château de Chaumont-sur-Loire – Cinderella Castle
Château de Chambord – Beast's Castle (Beauty and the Beast)
Château de Cheverny – Not really a Disney fairytale castle, but it gave me the chance to dress up as Tintin as it used as the inspiration for the design of Chateau MoulinsArt (Marlinspike Hall) in a Tintin comic book
Château de Villandry for its gardens and
Château de Blois for its spectacular rooms, night light and sound show and the cute little town
(stay tuned, individual blogposts for each of these castles coming soon!)
All up we visited 6 Loire Valley castles in 5 days
(the ones marked purple on the map. the red ones are other castles I was considering visiting and you could too, the ones in orange are the medieval style ones, not the 'pretty' ones)
2   TICKET PRICES
As it ends up being quite pricey if you visit more than 1-2 châteaux, the best bet is to get a Pass Châteaux. If you live in Europe you can buy them online and they will send the tickets to you in the mail within 10 days. If you live outside of Europe you could get them sent to where you'll be staying, or buy them in person from one of the Tourism Offices in Blois, Cheverny or Chaumont-sur-Loire. We got ours from Cheverny right before entering the castle. They offer 15 different packages for castles in the region as well as for the Zooparc de Beauval.
For the castles not part in the package deals (generally those situated west of Tours) and for extras such as the Tintin museum you can buy those separately once on site. The tickets are only for full-priced adults so you'll also need to buy already discounted tickets (students, children, etc) separately once on site. AFAIK there is no date so you can use them whenever you want.
The Tourism Office of Amboise also has their own discount deals.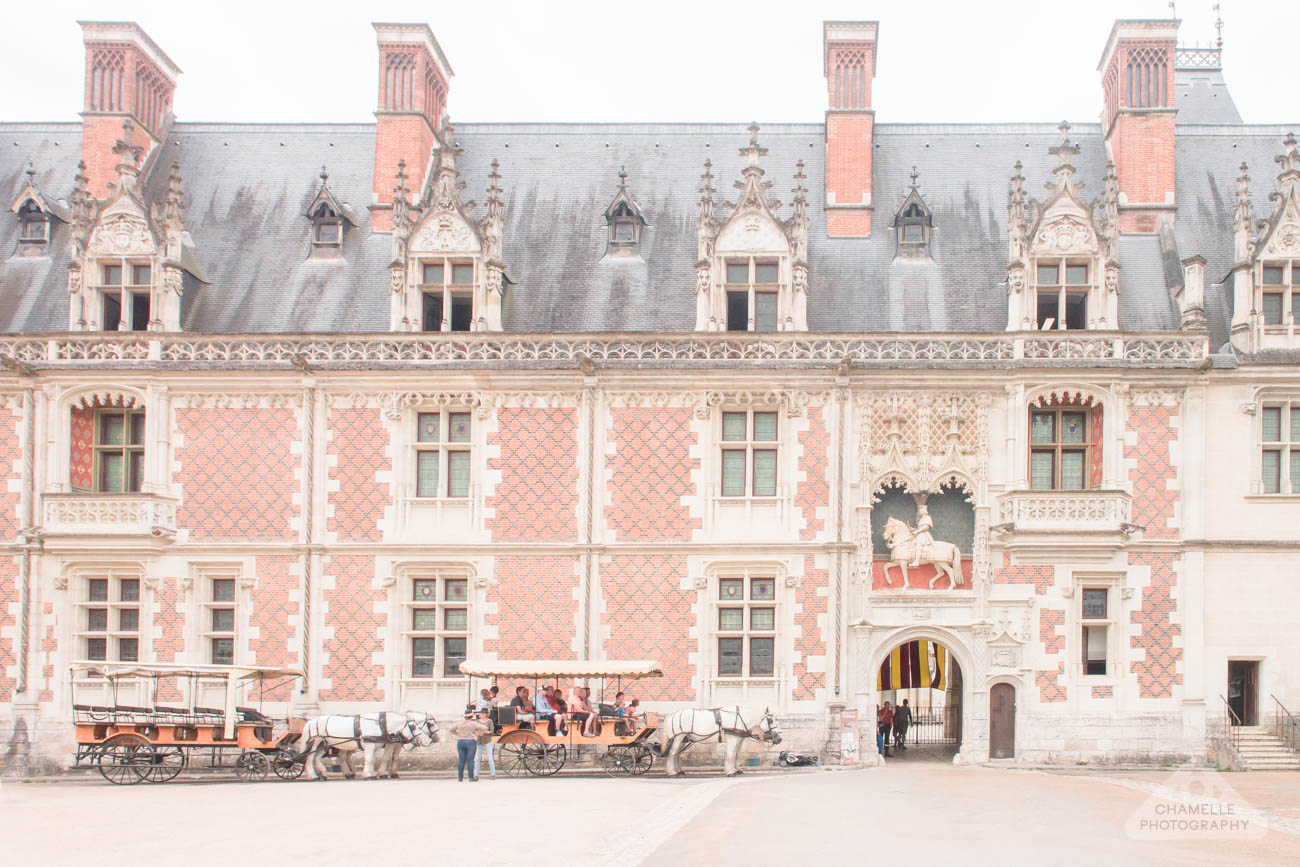 (Château de Blois)
3   WHEN TO GO?
I personally wouldn't go in winter because everything would be grey and gloomy and there wouldn't be anything much in bloom (very important for the Château de Villandry). Besides, many are closed during winter anyway. I think between April and October would be the nicest (we went in July). Note that in July and August it is extremely hot (and they don't have air-conditioning) and in August it would be the most crowded due to the summer school holidays. Even though it's a little crowded it's nothing like the popular sites in large cities such as Paris, Rome, London, Berlin, etc where you might have to wait hours and hours to get in. I would still prefer to go in July-August because it feels more festive, the nights are warm and long, and there are bonus things to see at night (Read the 'SEE' paragraph below).
See also the 'PHOTO TIPS' section below for the best times to arrive.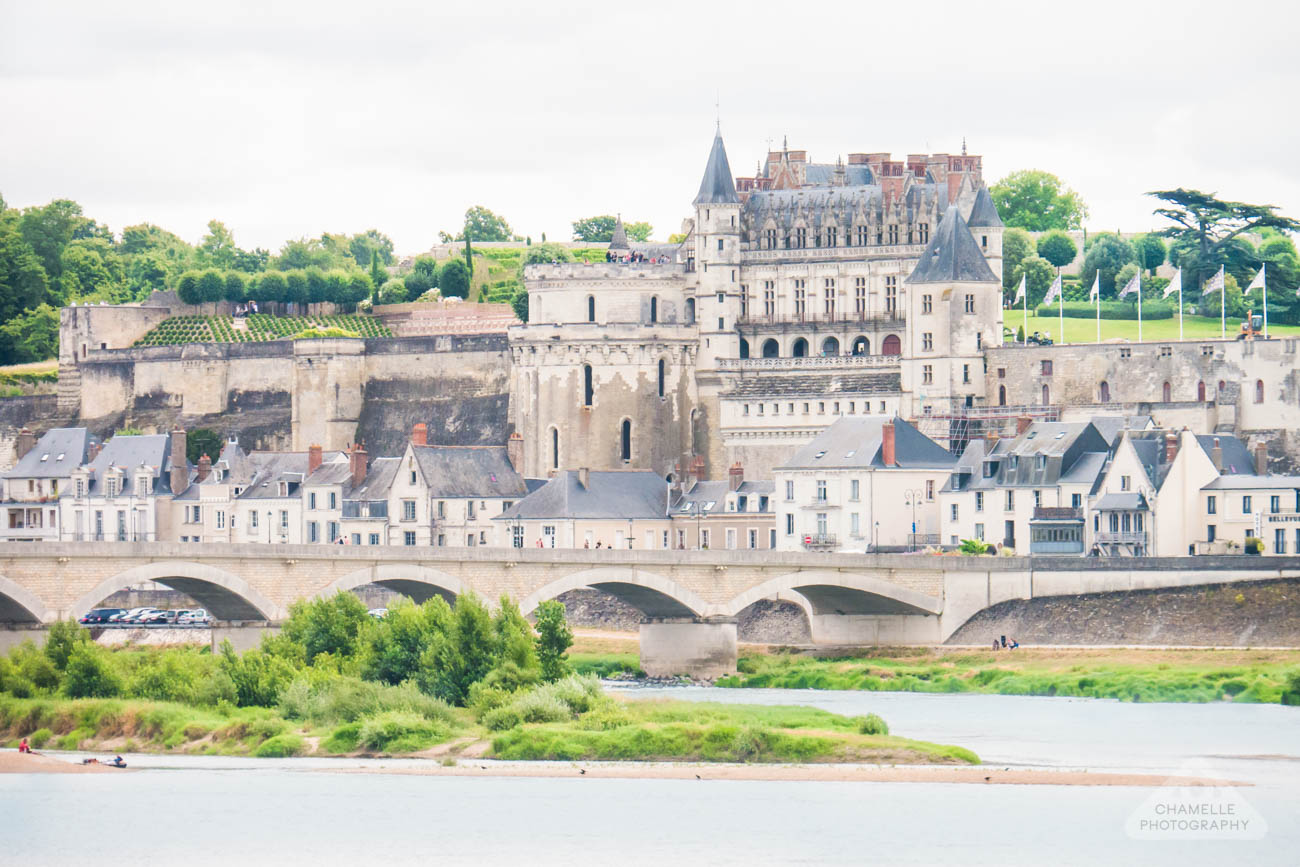 (Château d'Amboise)
4   HOW MANY DAYS TO SEE THE LOIRE VALLEY CHATEAUX?
This is a hard question to answer as it all depends on how many chateaux you want to see and if you want to do anything else apart from visiting the chateaux? I would recommend at least one day for Tours, especially if you are not staying there, then a minimum of 2 other days to visit at least 2 chateaux, so a total of 3 days. As they are not that big you only need half a day to see each one but be aware of driving times and distances between then, and you need to factor in where and how long you'll take to eat lunch too. If you're going in the hot summer months I personally wouldn't try to 'do' 2 chateaux in one day, it is quite tiring with the heat. We only did this on one day, the rest of the time we only 'did' 1 chateau per day. Ideally I'd recommend least 5-6 days though as there are actually more things to see and do besides the châteaux so please read on!
I would recommend a minimum of 3 full days to visit the Loire Valley chateaux, but ideally 5-6.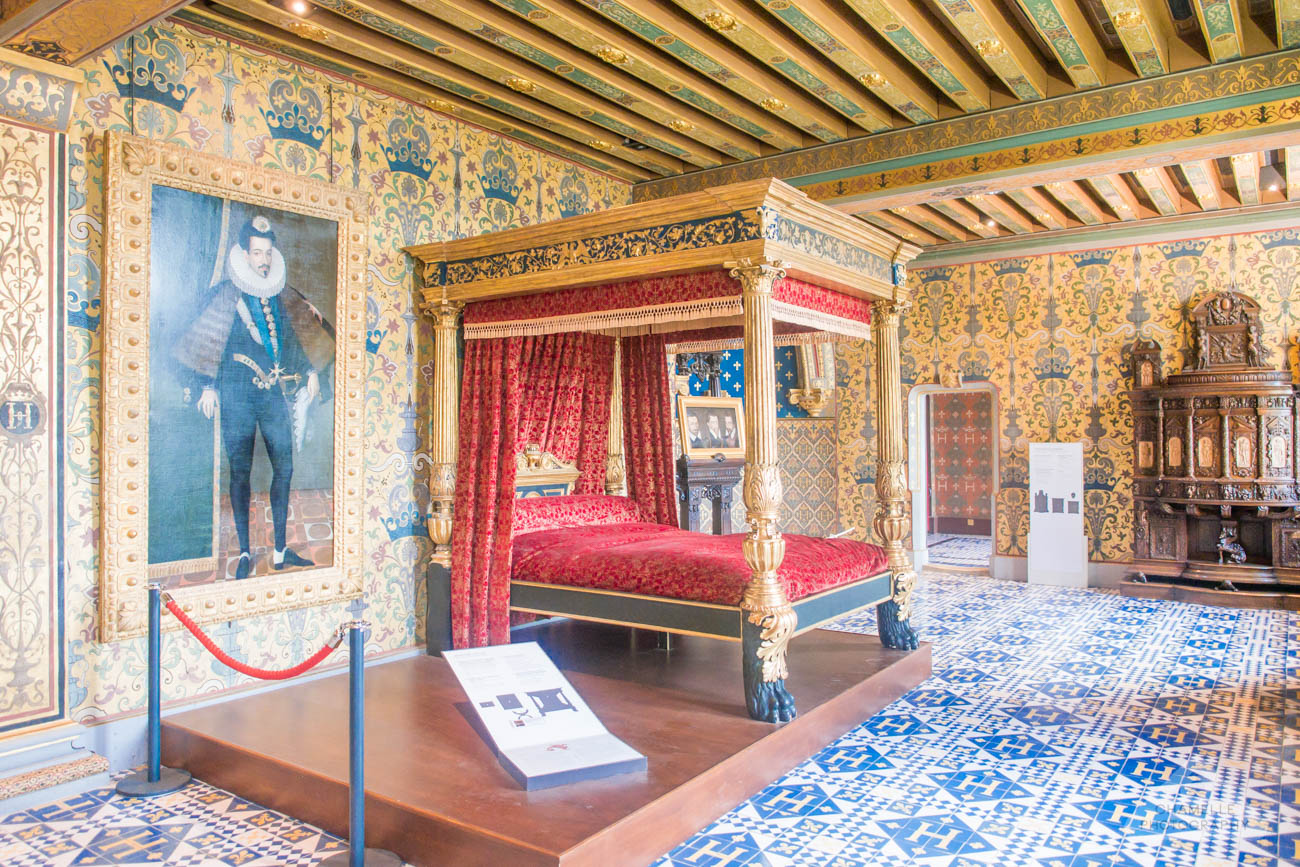 (Château de Blois)
GO 
Tours (pronounced Tour without the 's') is located in the middle of the castles area. It is a good place to base yourself since it's a 'real' city. It is only a 1 hour TGV train ride (or a 2.5-3 hour drive) from Paris. The train stops in Saint-Pierre-des-Corps station (3km/2 miles from Tours). There is a shuttle train connecting you to Tours main station in the centre of town.
5   ACCOMMODATION – WHERE SHOULD WE STAY TO SEE THE LOIRE VALLEY CHATEAUX?
We stayed with family smack bang in middle of 'castle country' near Tours, which made it easy for us to explore the region. All the castles are relatively close to one another. Most of the castles are located in very small villages in the countryside where there is nothing much other than the castle itself, with some exceptions being Amboise and Blois.
You could also base yourself in Orléans (which is a similar size to Tours with about 100,000+ population and great for Joan of Arc history buffs) if you are only seeing the popular chateaux (starting with "Ch-") located east of Tours. If you'd prefer something smaller and charming consider Amboise or Blois.
If I didn't already have accommodation sorted I'd love to stay in a château – because – why not? Who wouldn't want to live out their fairytale princess dreams while in Castle Country in the Loire Valley? 🙂 Fortunately, there are a ton of choices such as these hotels (most are 4 star):
Cave Houses (Troglodytes)
For something truly unique, you could also stay in a troglodyte, a real life 'Barbapapa' style cave house built out of limestone (tuffeau) which are found all over this region, although sometimes you'd have to look very hard as they are often carved into cliff faces or are hidden underground. Once used as wine cellars for their low and constant temperature, many of them have now been turned into private residences and some have also been turned into hotels, such as: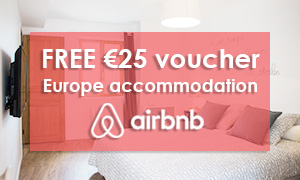 Can't decide between the two? You can have both castle and troglodyte at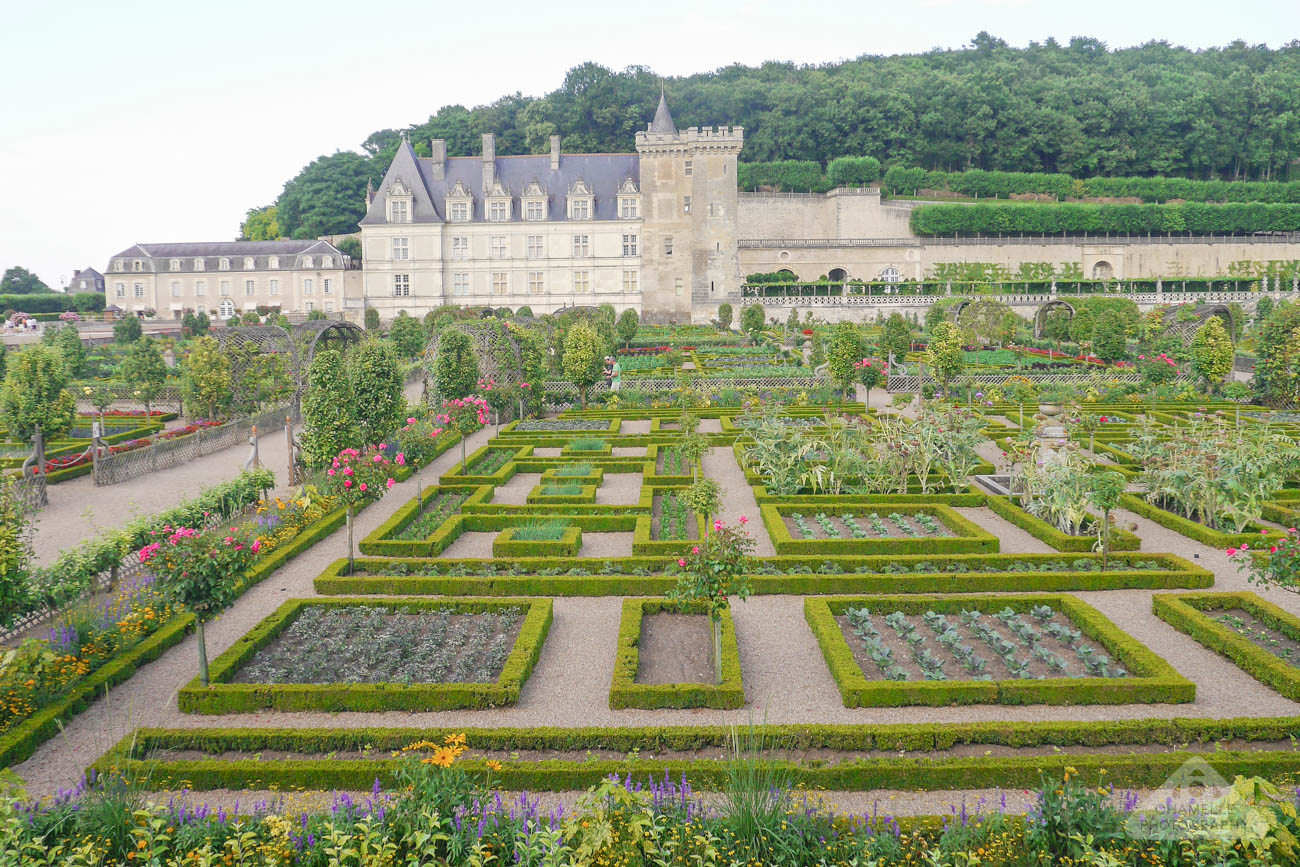 (Château de Villandry)
6   TRANSPORT – HOW DO WE GET AROUND TO SEE THE LOIRE VALLEY CHATEAUX?
There are a few car hire companies located in Tours, including Avis and Hertz and a few others. The TGV station in Saint-Pierre-des-Corps also has lots of companies.
If you can't drive or don't feel like driving there are day tours operating from both Paris and Tours. Your hotel or host should be able to recommend one to you.
The French are huge on cycling (vélo) and although this place is called a valley, it's actually really flat, which makes it perfect for cycling.
Cycling Loire has an extensive list of bike hire places and possible routes.
Les Châteaux à Vélo have prepared four routes you can follow (based around either Blois, Chambord, Cheverny or Chaumont-sur-Loire).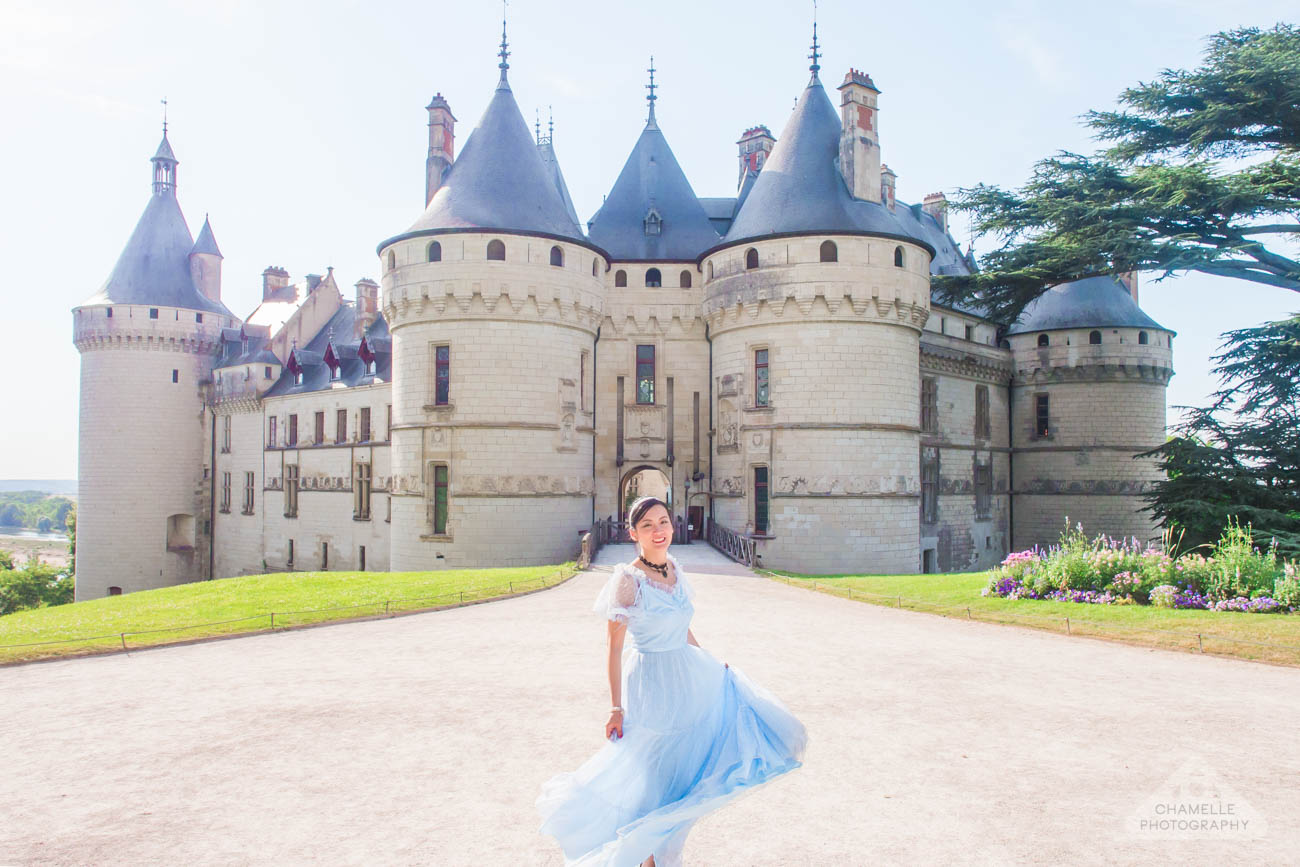 (Château de Chaumont – Cinderella Castle)
MY FAVOURITE LOIRE VALLEY CHATEAUX – The Verdict

It was hard to compare but my favourite was definitely the Château de Chaumont-sur-Loire (the Cinderella Castle)  for many reasons: its spectacular location above the Loire River (I think Amboise is the only other one like this), for its variety of things to see from the castle itself to the multitude of modern art exhibition spaces and its gorgeous gardens and parks.
I liked Château de Cheverny for its novelty aspect with the hunting dogs, the Tintin museum/house and the cool (temporary) Lego exhibition. The interiors, the Orangerie building and the gardens were also really nice.
Château de Blois had the most stunning colourful interiors and the best designed signage and information stands which made it super easy to navigate. They also put on a theatrical performance with fencing which was fun to watch.  There is also a light and sound show at night which recounts the history surrounding the castle.
We didn't visit the Château de Villandry, only its gardens which have to be seen to believed. IMHO I don't think even the gardens of Versailles can compare. The sheer variety of plants, flowers, fruits, vegetables, the riot of colour and the landscaping are just jaw-droppingly WOW. This is definitely not one to be missed.
Château d'Ussé was really beautiful as were its gardens but the interiors seemed a bit run down like it hadn't been updated in decades, which is a shame. It was also the least 'commercial' and barely advertised anywhere. A plus is that it's not as well known as some of the others so it was the least crowded of the ones we visited.
I was quite disappointed by Château de Chambord for several reasons: It's the biggest of all the castles and therefore the most popular and most crowded (by far) and it was the only one where you had to pay for parking (which is a bit much given the entrance fees are already steep). For that it really did feel like a real life Disneyland. Due to its size, layout and narrow corridors people would bump into each other all the time, and on top of that, there were renovations and scaffolding in many places on the roof.  Unlike the other castles where I found it relaxing to wander I felt kind of stressed here. The being sad, the double helix renaissance staircases and rooftop architecture were out of this world impressive. However I would like to go back again during a less busy period and when the renovations to the rooftop are finished to give it a proper judgement.
(I cannot comment on other castles as I did not see them.)
On my next trip I plan to visit some or all of these: Château de Villandry (since we only saw the gardens this time), Château de Chenonceau, Château d'Amboise, Clos Lucé and Chateau d'Azay-le-Rideau.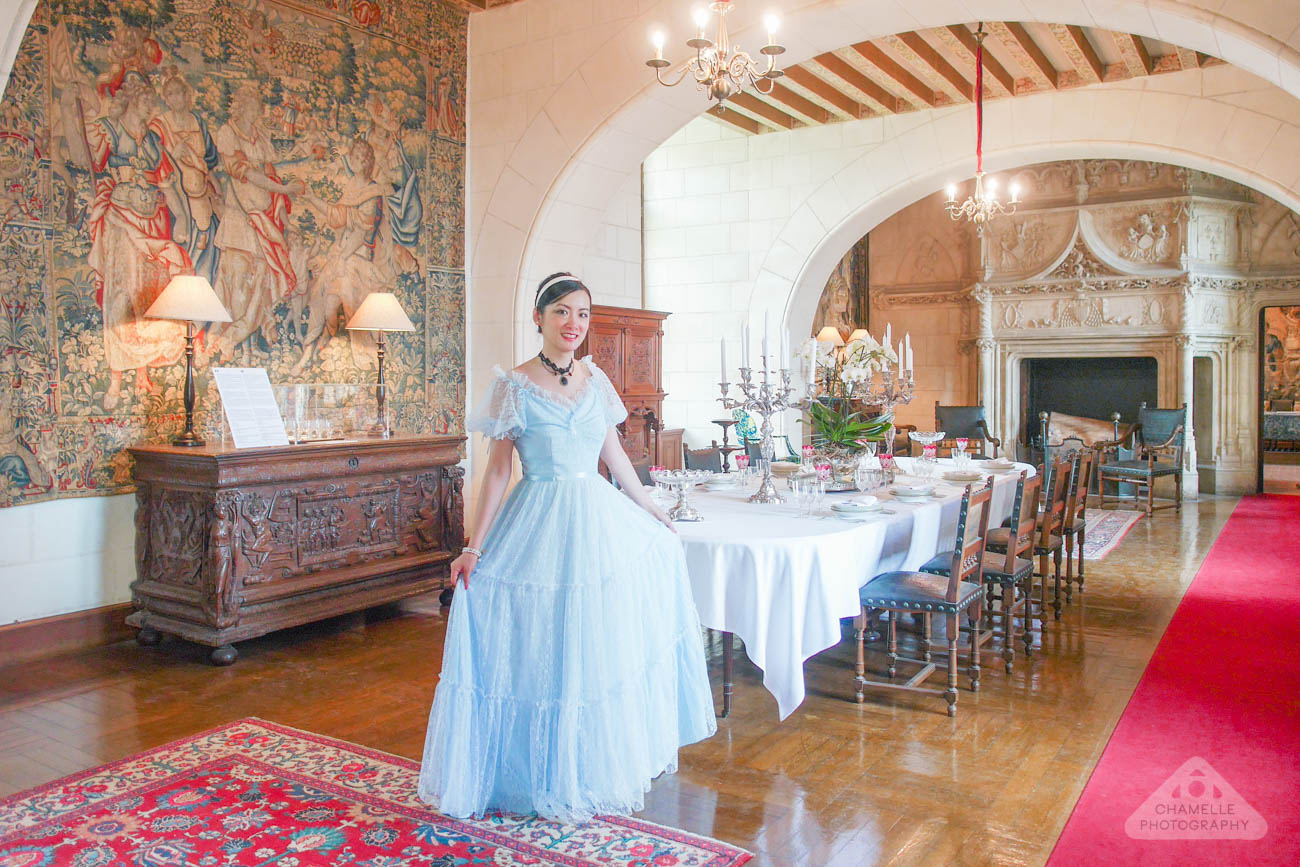 (Château de Chaumont)
7   SEE
ILLUMINATED EVENING EVENTS
To take advantage of the warm evenings and 9-10pm sunsets, during July and August you can see some extra illuminated events (paid) in the evening such as:
(please check details before you go as performances, events, dates and times may change from year to year)
OTHER
If visiting the castles isn't enough for you, or you want to see something a bit different, check out the Royal Abbey Fontevraud (Abbaye Notre Dame de Fontevraud) constructed in 1101. It is one of the largest surviving monastic cities from the Middle Ages consisting of a stunning collection of buildings with a fascinating history. It's located near Chinon and Saumur.
If you are interested in seeing some troglodytes (cave houses) but don't want to stay in one, Rochemenier, near Saumur is a real life troglodyte village that you can visit (closed December and January).
If you have kids the Zooparc de Beauval is a must see. It's noted as having the largest variety of animals of any zoo in France (4500) and is one of the top zoos in France and in Europe. It was voted as being the 10th best zoo in the world in the Tripadvisor Traveller's Choice awards.

(Château de Cheverny)
8   DO
If you are interested in wine do check out one of the many excellent wineries throughout the region to sample and buy their wines. As there are so many to choose from and I did not visit any I found this post which will help you choose.
This is definitely one for the bucket list and a must-do if you can afford it. There are a few companies operating hot air balloon (montgolfière) rides around the Loire Valley, leaving from Amboise around sunset time. We saw quite a few in the sky. Balloon Revolution is one of the companies that offers such trips.
Real life Escape Room game – I hadn't heard of these till recently when my friend told me it's a craze that has been sweeping the world the last few years. The Fortress of Chinon (Forteresse de Chinon) offers this for groups of 2-6 people. How cool! Bookings essential.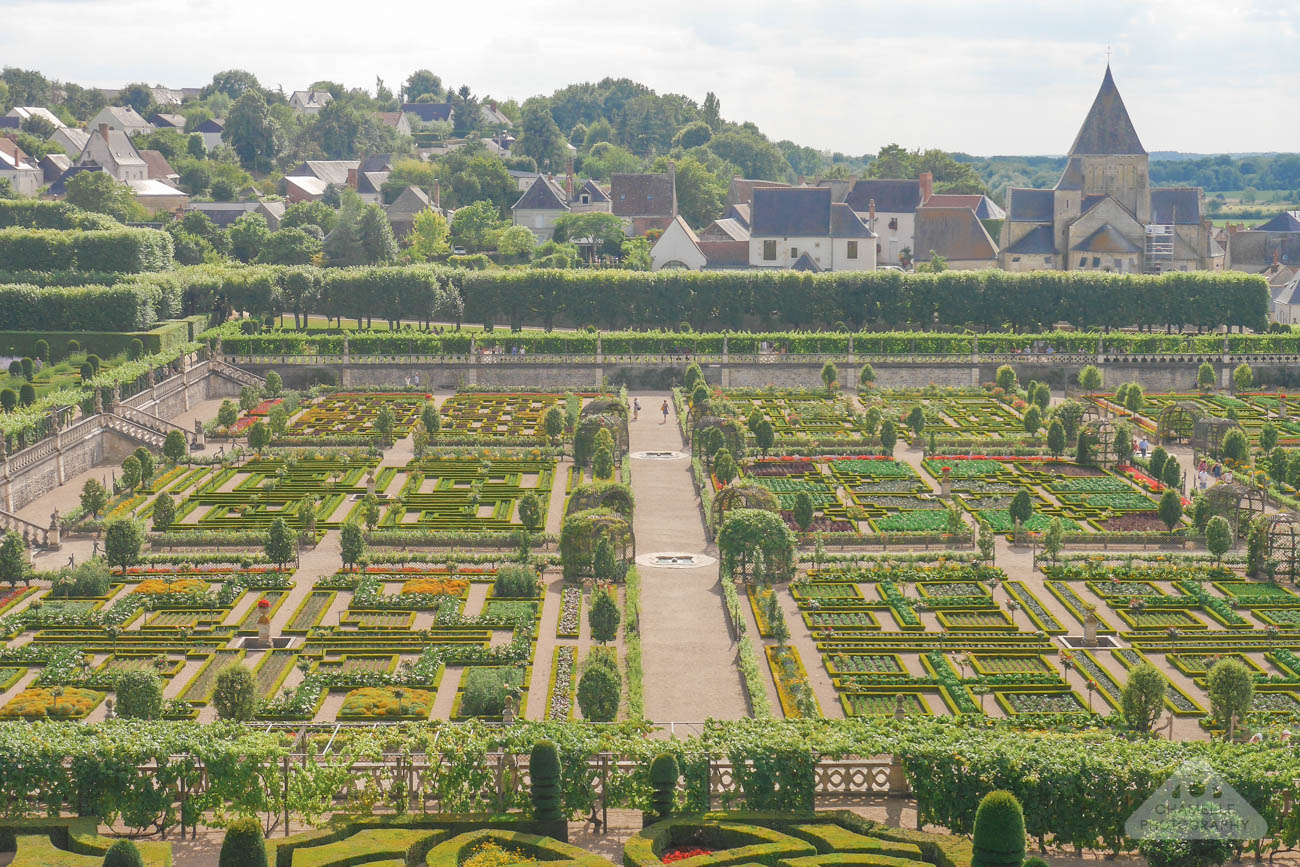 (Jardins de Villandry)
9  EAT
There are good restaurants located in Tours, Amboise and other nearby castle towns.
The Loire Valley region's notable foods include (vegetarians can look away now! ;) ):
Game Meat – Wild boar (sanglier), deer (cerf), duck (canard), quail (caille), pigeon and rabbit (lapin).
Fish – Commonly served fish in this region include pike perch/zander (sandre), bream (brème)  and eels (anguilles). They are usually served with a butter sauce (beurre blanc).
Goat's Cheese (chevre) such as Saint Maure, Pouligny-St-Pierre, Selles-sur-Cher and Crottin de Chavigno.*
Rillettes – usually made using pork, it's a textured pâté and served spread on bread.
Touraine rillons (Rillons de Touraine) – slow-cooked pork belly cubes.
Caramelised Apple pie (Tarte Tatin) – this famous dessert comes from this region, specifically Sologne.
LOIRE VALLEY WINES
This is not only the land of hundreds of castles, it's the land of hundreds of wines!
There are more than 100 AOCs* (appellation d'origine contrôlées) and IGPs* (indication géographiques protégées).
White Wines: Sancerre, Pouilly-Fumé, Quincy and Menetou-Salon (Sauvignon Blanc); Vouvray (Chenin Blanc); Muscadet (Melon de Bourgogne) and Coteaux du Layon (Chenin Blanc), etc.
Red Wines: Chinon and Saint-Nicolas de Bourgueil (Cabernet Franc); Sancerre and Mennetou-Salon (Pinot Noir); Saumur-Champigny (Cabernet Franc, Cabernet Sauvignon), etc.
Rosé Wines: Rosé d'Anjou (Cabernet Franc, Cabernet Sauvignon), etc.
Sparkling Wines: Saumur (Chenin Blanc, Sauvignon Blanc and Cabernet Franc) and Vouvray (Chenin Blanc).
*AOC and IGP are French official registered quality certifications granted to certain geographical regions dedicated to producing local agricultural products such as wines, cheeses and butters. Each region's products are specified as having their own unique character and taste.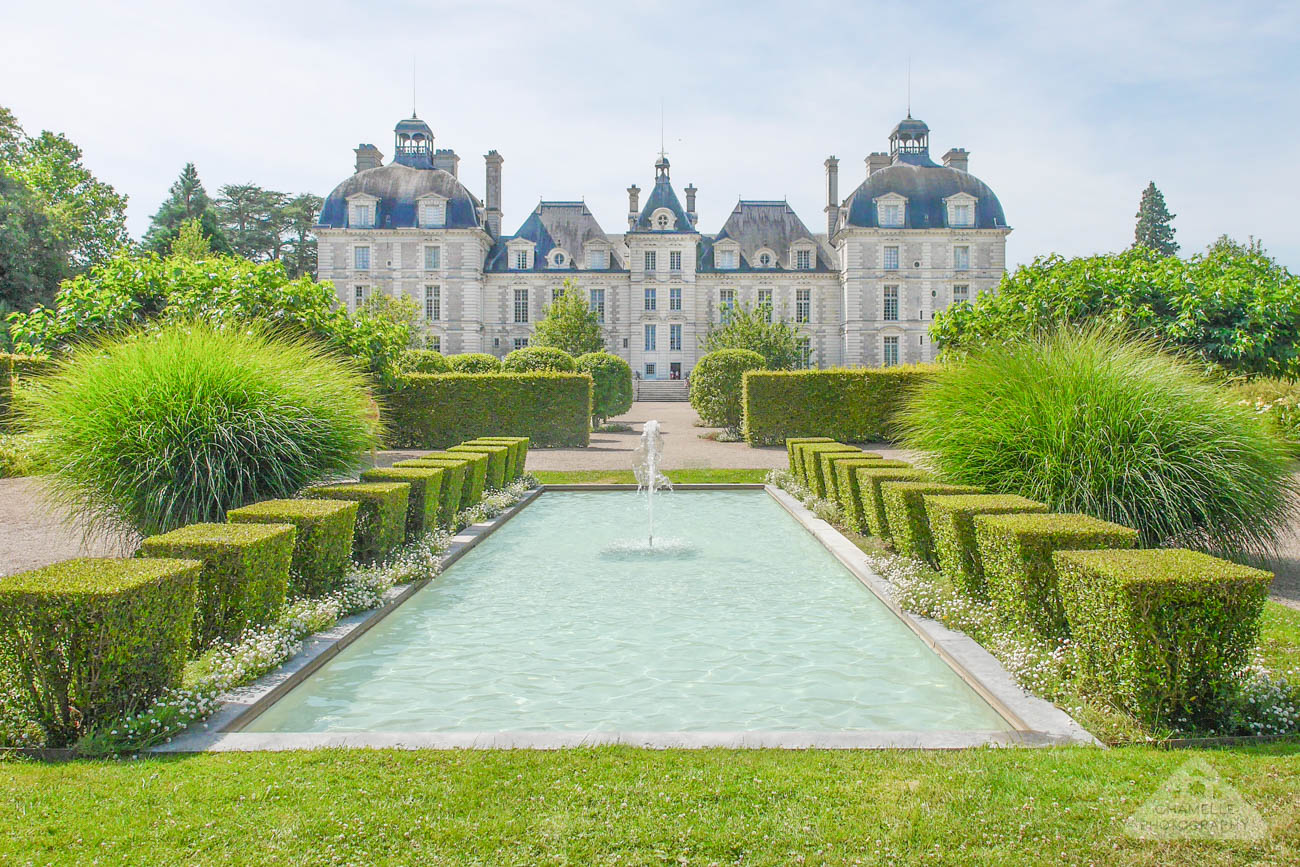 (Château de Cheverny)
10   BONUS TIPS
SHOP
Nearly all the castles have big and impressive souvenir stores full of castle and medieval-related merchandise. I bought a book called "Châteaux de la Loire" to read more about the castles, it's available in French and English and a few other languages too.
You could also bring back a few bottles of wine, along with some cheese!
TRAVEL TIPS
We spent about 3 hours at each château (for a non photographer you'd only need 1-2 hours, none of these castles are as huge and crowded as Versailles). However, you could easily spend an entire day at each one, especially at those with large, pretty gardens such as Villandry, Cheverny and Chaumont (but for me it was impossible to do so in July due to the heat).
PHOTO TIPS
Apart from the Château de Cheverny, we arrived in the late afternoon for all of them, around 4pm. This actually wasn't intentional. It was caused by sleeping in, extreme heat, associated fatigue and me taking ages to do my hair and makeup for the Disney Princess photoshoots… but it actually turned out to be a good thing! From experience there are most crowds around 11am and 3pm. Many are eating lunch somewhere during lunchtime so there are slightly less crowds then but to really beat the crowds arrive either first thing before they even open OR a few hours before they close (like we did). From an hour or so before closing time onwards there was almost noone. We had to wait a really long time for everyone to leave Château de Chambord though, and there will always be people in front of the Château de Blois because there are no gates and it faces onto a public square/courtyard.
Château de Chambord was strict with security and I wasn't allowed to bring my tripod in. The other castles didn't really have any security nor long queues for that matter!
From experience there are most crowds around 11am and 3pm.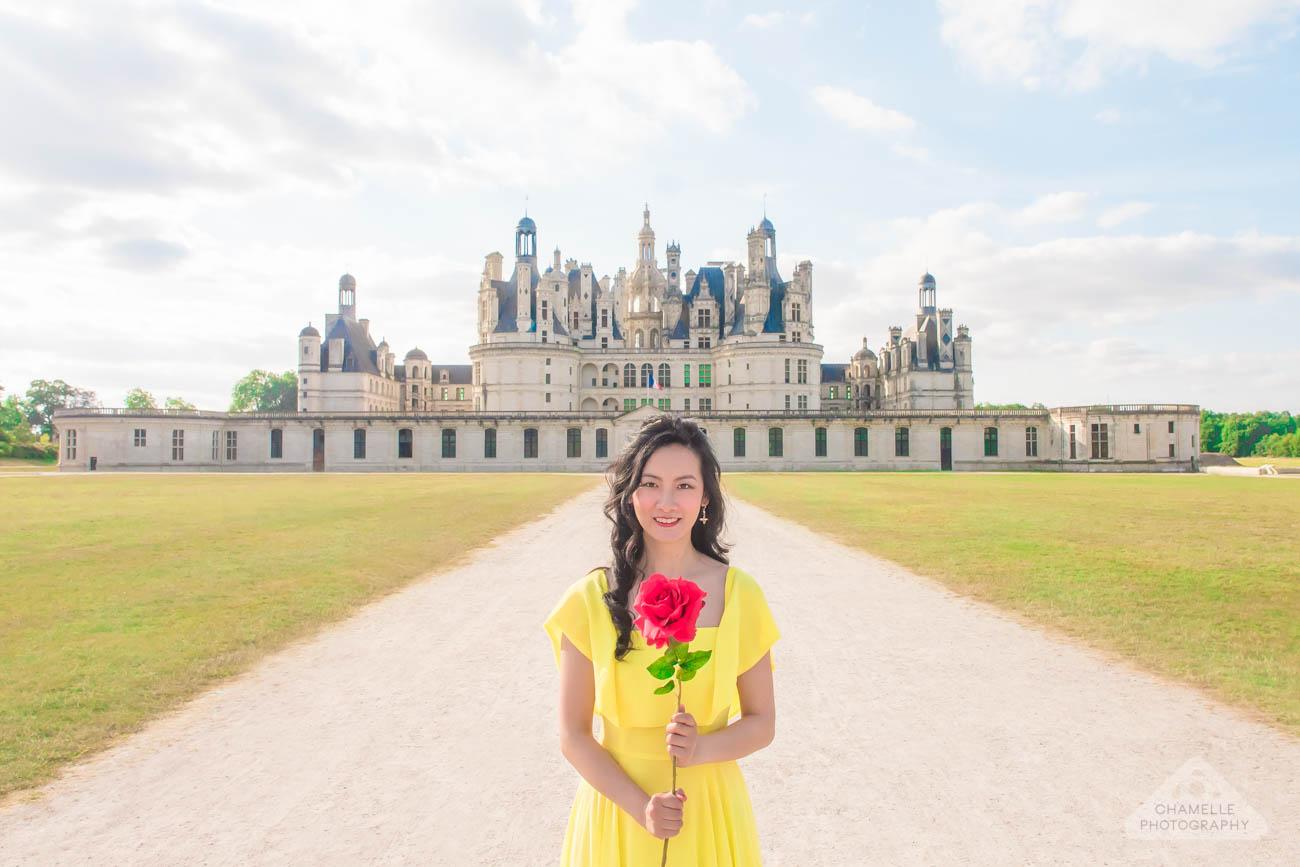 (Château de Chambord – The Beast's castle)
LOIRE VALLEY CASTLES – GENERAL INFORMATION
(I've only listed adult prices as there are too many price variations to list them all)
Château d'Amboise
Address: 37400 Amboise
Open all year round (except 1 January and 25 December)
Adults: 11.20€
Château d'Azay-le-Rideau
Address: Rue de Pineau, 37190 Azay-le-Rideau
Open all year round (except 1 January, 1 May and 25 December)
Adults: 6.50€
Château de Beauregard
Address: 12 Chemin de la Fontaine, 41120 Cellettes
(near Chambord, Blois and Cheverny)
Open all year round (closed mid November-mid February)
Adults: 12.50€
Château de Blois
Address: 6 Place du Château, 41000 Blois
Open all year round (except 1 January and 25 December)
Adults: 10€ (Château only)
15€ (Château and Sound and Light show OR Château and House of Magic)
20€ (All three)
Château de Bouges
Address: 15 Rue du Château, 36110 Bouges-le-Château
Opening dates: 1 March – 31 December
Adults: 5.50€
Château de Chambord
Address: 41250, Chambord
Open all year round (except 1 January, last Monday of January, 2 September and 25 December)
Adults: 11€
Parking: 6€
Château de Chaumont-sur-Loire
Address: 41150 Chaumont-sur-Loire
Open all year round (except 1 January and 25 December)
Adults: 12€ (Château only)
14€ (Festival International des Jardins)
18€ (both)
Château de Chenonceau
Address: 37150 Chenonceaux
Open all year
Adults: 11€ (Château only)
Château de Cheverny
Address: 41700 Cheverny
Open all year round (except 1 January and 25 December)
Feeding the hunting dogs: 11:30am
Adults: 10.50€ (Château and gardens)
15.00€ (Château, gardens and Moulinsart/Marlinspike Hall Tintin museum)
15.50€ (Château, gardens and ride on electric boats and cars)
20.00€ (everything)
Château de Langeais
Address: Place Pierre de Brosse, 37130 Langeais
Open all year
Adults: 9€ (Château only)
11€ (Theatre peformance "Secrets de cour, secrets de femme" ("Court secrets, Women's secrets")
(in French and during summer only)
18€ (both)
Château du Rivau
Address: Rue du Château, 37120 Lémeré
Opening dates: 26 March – 2 November
Adults: 10.50€ (Château and gardens)
Château de Saumur
Address: 49400 Saumur
Opening dates: 26 March – 3 November
Adults: 7€ (6€ low season)
Château d'Ussé
Address: 37420 Rigny-Ussé
Opening dates: 14 February – 13 November
Adults: 14€
Château de Valençay
Address: 2 Rue de Blois, 36600 Valençay
Opening dates: 26 March – 13 November, 17 December – 1 January
Adults: 12.50€ (Château only)
16.50€ (Château and Car Museum)
Château de Villandry
Address: 3 rue Principale, 37510 Villandry
Château opening dates: 6 February – 13 November
Gardens opening dates: Open all year
Adults: 10.50€ (Château and Gardens)
6.50€ (Gardens only)
Close Lucé (Leonardi Da Vinci house and park)
Address: 2 rue du Clos Lucé, 37400 Amboise
Open all year round except 1 January and 25 December
Adults: 13€ (low season), 15€ (high season)
Abbaye Royale du Fontevraud
Address: 49590 Fontevraud-l'Abbaye
Open all year round (except 4-28 January and 25 December)
Adults: 11€
So what are you waiting for? Start planning! 😉 Once you see the Loire Valley for yourself you'll easily see the Kings and Queens decided to settle there.
PIN THIS!